He is too short, small, and slow; such comments are pretty harsh for a person who wants to pursue an American football career. Some people refuse to accept such criticism and believe in themselves.
Jamal Agnew is a perfect example who faced similar criticism during his way up in his football career but did not let it break his confidence.
He rose beyond criticism and became an NFL player like his ideal. Agnew is an American football player who plays for the Jacksonville Jaguars as a wide receiver and return specialist.
Moreover, he played college football at San Diego College as a cornerback and returned kicks. Also, it took a while for Jamal to prove himself as a capable NFL candidate.
The ambitious player was drafted in the 2017 NFL Draft by the Detroit Lions in the fifth round.
Moreover, Jamal grew up admiring Eric Allen, a famous American Football cornerback, and wanted to join the fraternity he was involved in, i.e., the National Football League (NFL).
Before going further about the ambitious player's life and career, let's check quick facts.
Quick Facts:
| | |
| --- | --- |
| Full Name | Jamal Agnew |
| Birth Date | April 3, 1995 |
| Birth Place | San Diego, California, USA |
| Nick Name | Not Available |
| Religion | Not Available |
| Nationality | American |
| Ethnicity | African-American |
| Education | San Diego Point Loma, University of San Diego |
| Horoscope | Aries |
| Father's Name | Quidachay Jones |
| Mother's Name | Not Available |
| Siblings | Not Available |
| Age | 27 Years Old |
| Weight | 190 lbs (86 kg) |
| Height | 5 feet 10 inches |
| Build | Athletic |
| Married | No |
| Profession | Professional American Football Player |
| Position | Wide receiver, cornerback |
| Team | Detroit Lions |
| Net Worth (2021) | $2 million to $5 million |
| Merchandise | Jersey |
| Social Media | Twitter, Instagram |
| Last Update | March, 2023 |
How old is Jamal Agnew? Age, Height & Horoscope
The NFL star, Jamal, was born in San Diego, California, on April 3, 1995. He is 27 years old as of 2023.
Moreover, Agnew is 5 feet 10 inches tall, which may not be ideal for a football player.
Proper height and weight are essential for American football players but not necessary. Not all great football players are taller than 6 feet and heavier.
Many successful players are under 6 feet and lighter than average weight, but they are tall and heavy. The good stature helps them perform well in American football.
The wide receiver Jamal is one of those shorter than most players but is a great player.
Similarly, he weighs around 86 kilograms, which is not that heavy but seems to work for Jamal as a wide receiver. He is endowed with an athletic spirit and an attractive look.
Being born on April 3 makes Jamal an Aries in Western Astrology. Aries people are passionate about life and what they do. They are cheerful yet possess relentless determination.
Moreover, Agnew is a Pig in Chinese Astrology. Pigs usually are diligent and compassionate people. They are understanding and sympathetic people. All of these seem to match the football star, Jamal.
Jamal Agnew | Early Life & College
The star player Agnew grew up watching Eric Allen, a former NFL cornerback. The six-time Pro Bowl, Allen was Jamal's true inspiration.
Jamal would watch him on television and think all he wanted to do was play like him when he grew up. Agnew recalls him playing with Eric's son Austin Allen when they were kids.
Moreover, Agnew went to San Diego Point Loma High School. There he proved himself as one of the best players in high school.
Mike Hastings, Point Loma High School head coach, remembers Jamal as an aggressive and determined player.
Jamal Agnew's Family
Besides being an ambitious football player, Jamal is a family-oriented person. Agnew is the son of Arlene Bermudes Quidachay Jones and grandson of Joseph Chaco Quidachay.
His family comes from Guam, a U.S island territory in Micronesia. It looks like Jamal has a strong bond with his grandparents.
Joseph was nostalgic about his grandson's NFL draft in 2017. Joseph said that he and his family were jumping in glee and pride during his selection.
Moreover, Jamal seems to have a special connection with his grandmother. When he got selected for the NBA, he went to his ill grandmother and said he did it for her.
You might also want to read: <<Jaden Springer Bio: Early Life, College, Girlfriend & Net Worth >>
Difficulty Getting in the NFL
Despite Jamal's excellent performance in high school, he did not get any Division 1 scholarship for college because of his stature.
Moreover, people told Jamal that he was neither big nor fast enough.
Therefore Agnew decided to go to the University of San Diego, and he calls it one of his best decisions. Yet, the college star, Jamal, did not get a chance to go to the NFL combine.
The NFL Combine is a week-long showcase for college football players to perform their mental and physical conditions in front of coaches, managers, and scouts.
Luckily Agnew got a chance to participate in USD pro day; that day, he proved himself to be the right fit for the NFL.
Jamal Agnew | Football Career and Position
The Lions star, Jamal, started playing American football from a young age. He aspired to be a football star. Therefore he continued playing in high school and college.
The aggressive player Jamal went to Point Loma High School in San Diego. He showed all qualities of a future football star.
Similarly, Jamal was a great player at the University of San Diego. After many trials and struggles, Jamal made it to the NFL in 2017.
College Stats
| | | | | | | | |
| --- | --- | --- | --- | --- | --- | --- | --- |
| Year | G | AV | Rec | Yds | Y/R | TD | FantPt |
| Career | 56 | 17 | 40 | 334 | 8.4 | 1 | 95.3 |
NFL Career
Initially, Jamal entered the 2017 NFLPA Collegiate Bowl. Then he was picked by the Detroit Lions in the 5th round of the 2017 NFL Draft.
The rising star Agnew signed a four-year contract worth $2.65 million on May 12.
In Week 3, Agnew scored his first touchdown on Monday Night Football on an 88-yard punt return against the New York Giants.
It was a win for the Lions with a 24-10. This performance got him the NFC Special Team Player of the Week.
In week 6, he scored a 74-yard punt return touchdown in the fourth quarter against the New Orleans Saints.
Moreover, in week 8, he scored his first NFL reception with a 12-yard catch against Pittsburgh Steelers.
The football star Jamal finished 2017 in the right node with 29 punt returns for 447 net yards and two punt return touchdowns with 11 kickoff returns for 196 net yards.
In October 2018, Agnew ended up on injured reserve due to a knee injury. He returned in December and played six games that season.
Moreover, Jamal completed the 2018 season with 8 kickoff returns for 216 net yards and 12 punt returns for 57 net yards.
Further, in the 2019 season Week 3, the Lions got a victory against the Philadelphia Eagles 27-24. That is when Agnew returned a kick for a 100-yard touchdown.
In Week 16, the Detroit Lions played against the Denver Broncos and lost the game. Yet Agnew performed well and scored a 64-yard punt return for a touchdown.
A significant change occurred in Jamal's career in October 2020, when he transitioned from a cornerback to a full-time wide receiver.
The offensive abilities of Lions offensive coordinator Darrell Bevell Agnew will bloom more in that position. Recently, he made a 109-yard return touchdown, and sports commentator Gus Johnson lost his mind.
Summary Career stats
| | | | | | | | |
| --- | --- | --- | --- | --- | --- | --- | --- |
| SUMMARY | G | AV | Rec | Yds | Y/R | TD | FantPt |
| 2021 | 10 | – | 24 | 229 | 9.5 | 1 | 52.0 |
| Career | 56 | 14 | 40 | 334 | 8.4 | 1 | 95.3 |
Learn more about his stats and scouting report on NFL Combine Results.
Jamal Agnew | Injury and Achievements
Ever since his 2017 draft, Agnew has been portraying notable games in the display. Indeed, he has quite an impressive skill set, balancing his speed and agility.
Alongside his perfect gameplay, he has also fallen into injuries at times.
As an unexpected event, some of his injuries are discussed here. Getting a flashback to 2017, Agnew suffered from a knee strain in Week 17. He missed out on three games.
Likewise, he also had an ACL tear in 2018 during Week 6. Due to it, he had missed a total of 11 games. Furthermore, he had an ankle sprain in Week 11 of 2019, which put him away for three games.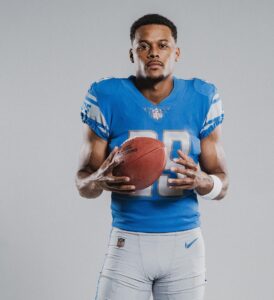 Lastly, his recent injury was in Week 8 of 2020, when he had a rib injury, which had him miss out on two games.
Overall, to the last year, 2020, Agnew has maintained total return yards of 2,560 with 105 receiving yards.
Additionally, he has posted 28 tackles, one forced fumble, 6 fumble recoveries, 68 rushing yards, 16 receptions, and 5 touchdowns.
You can quickly check another NFL linebacker, LaVar Arrington: <<LaVar Arrington Bio: Family, Career, NFL & Net Worth >>
Career highlights and achievements
Some of Jamal Agnew's achievements to date are listed below.
First-team All-Pro (2017)
PFWA All-Rookie Team (2017)
Jamal Agnew | Net Worth and Salary
The Lion's wide receiver Jamal has been playing for NBA for the last four years. Agnew has earned most of his net worth playing football. As of 2023
"Agnew has an estimated net worth of $3 million to $5 million."
When Jamal signed a four-year contract worth $2,658,376, he got a signing bonus of $258,376.
His base salary has gone up every year from 2017, which was $465,000, and in 2023, he received a total amount of $889594 with the bonus.
The aggressive player Jamal has a bright career ahead of him. As a result, the NFL player's net worth will likely increase.
Who knows how many new ventures he will explore that may add to his worth? The ratio of increase is pretty high.
Hopefully, the ratio will keep going up for Jamal in the upcoming years. But now, he starts as an unrestricted free agent.
Who Is Jamal Agnew's GirlFriend? Personal life
Nobody knows whether the dashing NFL star Jamal is currently engaged or not. There are few Instagram posts where he has intimately posed with a mysterious lady.
Agnew has not commented anything on the post yet. Therefore, we cannot say anything for sure about his engagement.
If there is anything for real, it will come forth sooner or later. For the time being, Jamal is probably focused on his football career, which is excellent news for football fans.
A new player must focus on his game more than anything else, and Jamal seems to be following that.
Also, read about another American Football quarterback, Eli Manning: <<Eli Manning Bio: NFL, Family, Career & Net Worth >>
Social Media Presence:
The NFL star Jamal Agnew is engaging in his social occurring. Jamal has a Twitter account with 12.6K followers and 481 followings.
His Twitter profile goes by his real name, Jamal Agnew (@jamalagnew), which is filled with posts related to career events and other news related to football.
Jamal's Instagram looks a little individual, where he has added posts with his family, friends, and a few mysterious people.
His Instagram handle goes by his real name, Jamal Agnew (@two_6ix), and he has 31.1k followers and 999 followings.
Let's check interesting Instagram posts from Jamal where a bunch of guys are posing.
Some FAQs:
Is Jamal still playing for the Detroit Lions?
Yes. Jamal is playing for Detroit Lions, an NBA team. Jamal signed a four-year contract with the Lions in 2017, which will expire in 2021. He will become a free agent if his contract is not renewed.
Why did Jamal not get any Division 1 scholarship?
It was probably due to his stature. He is 5 feet and 10 inches, which is less than average for an American football player. Jamal was a star player in both school and college.
Yet his NFL selection happened a little later than expected. Despite not receiving any scholarship, Agnew made it to the NFL in the 2017 draft.
Is Jamal Agnew a running back?
No, the athlete is a wide receiver for the Jacksonville Jaguars. Besides that, he is also a kick returner or a return specialist.
What is the recent injury Jamal Agnew faced?
In November 2020, Jamal Agnew had a rib injury during the match against the Colts. Thus, he had to exit the game soon.
What is Jamal Agnew Madden's 22 rating?
Jamal Agnew has an overall madden rating of #73 on Madden NFL 22.
Is Ray Agnew III the brother of Jamal Agnew?
Although Ray Agnew III and Jamal Agnew share the same surname, they are not brothers.
Is Jamal Agnew injured?
Yes, the player suffered a hip injury.
Did Jamal Agnew play for Minnesota Vikings?
No, Jamal Agnew hasn't played for Minnesota Vikings. However, his interviews with the Pick 6 podcast revealed that the Vikings pursued him pretty seriously. He mentioned saying,
"A team that had a lot of interest in me was Minnesota. I wouldn't have minded going to Minnesota and playing Detroit a couple of times a year."