LaVar Arrington, one of the most feared linebackers in the late 1990s, recently became the 19th Penn State player to enter the College Hall of Fame in 2022. Broadcaster Arrington was again invested by Fox Sports Radio to add a new podcast to his channel with comedian and influencer, Bubba Dub.
Many football players have made their names and money in the NFL's century-long history.
Not everyone has a long successful career, but just entering the NFL creates a remarkable impact on their lives.
LaVar Arrington is one unforgettable name on the list of NFL players. He is a former American professional football linebacker who played in the National Football League (NFL).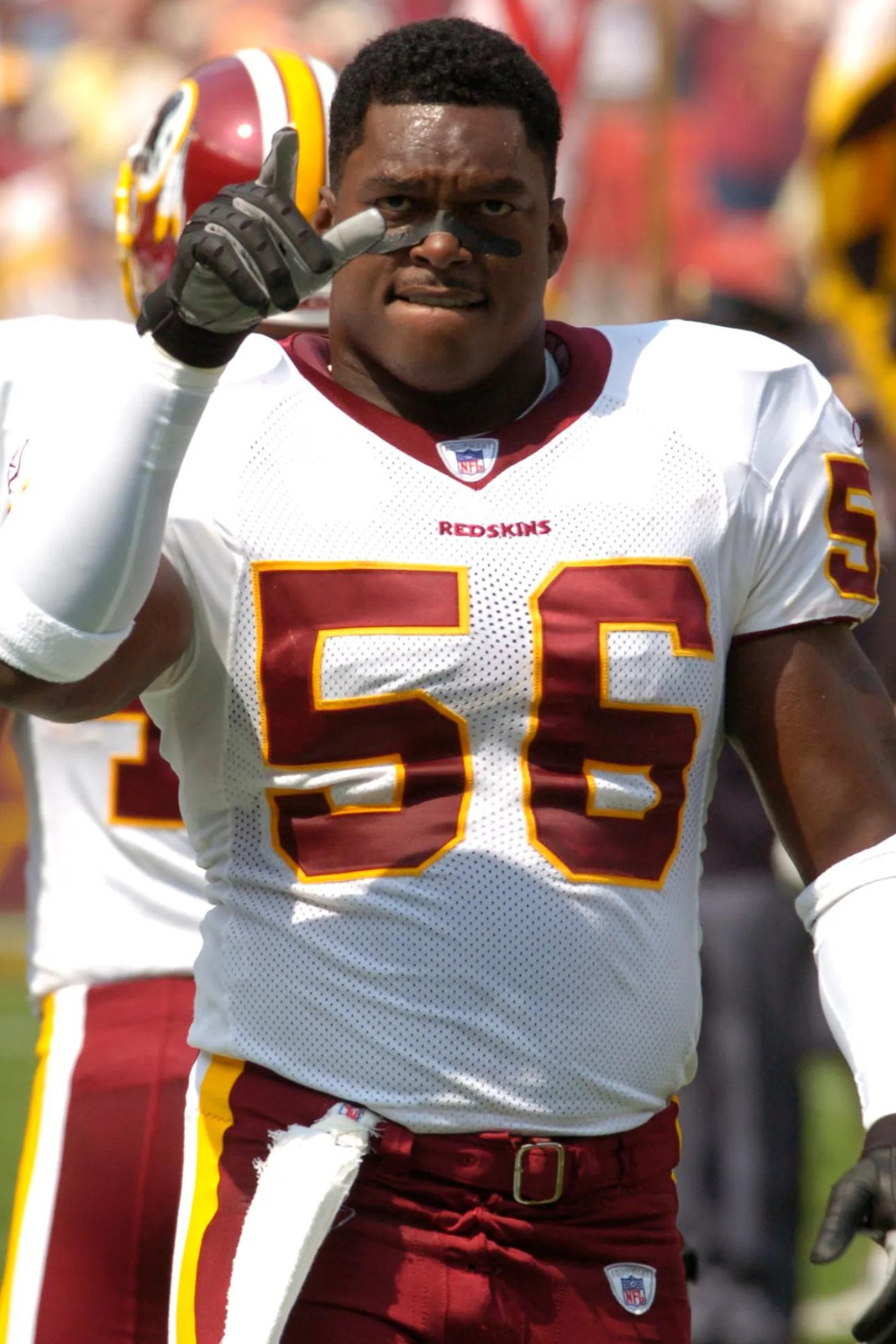 The professional American football team Washington Redskins selected Arrington in the 2000 NFL Draft. Moreover, LaVar played in the NFL for seven seasons until he retired in 2007.
Even after ending his football career, Arrington continued experimenting with himself as a broadcaster and an entrepreneur.
Likewise, he did not stop basking himself on fame and money. LaVar seems to have strong willpower to continue even after some significant setbacks in his life.
Today, we will take a closer look at his life and everything we are unaware of. But, before that, let's look at quick facts about the great athlete LaVar Arrington.
LaVar Arrington | Quick Facts
| | |
| --- | --- |
| Full Name | LaVar RaShad Arrington |
| Birth Date | June 20, 1978 |
| Birth Place | Pittsburgh, Pennsylvania, USA |
| Nick Name | Not Available |
| Religion | Not Available |
| Nationality | American |
| Ethnicity | African-American |
| Education | Penn State University |
| Horoscope | Gemini |
| Father's Name | Michael Arrington |
| Mother's Name | Carolyn Arrington |
| Siblings | Michael, Eric |
| Age | 44 Years Old |
| Weight | 116.6 kg/257 lb. |
| Height | 6'3″/1.91 m/191 cm |
| Hair Color | Black |
| Team | Washington Redskins and New York Giants |
| Build | Athletic |
| Married | Yes (Trishia Arrington) |
| Profession | Professional Football Player (2000-2007)/ Broadcaster (NFL Network) |
| Children | Marlee Arrington, Laila Arrington, LaVar Arrington, Penn Arrington |
| Net Worth | $45 million |
| Retirement | 2007 |
| Social Media | Twitter, Instagram |
| Merch | Autograph card, Autograph photo |
| Last Update | June, 2023 |
Where Is LaVar Arrington From? Early life, Family and Education
LaVar Rashad Arrington shortly, LaVar Arrington was born on June 20, 1978, in Pittsburgh, Pennsylvania, USA.
LaVar was named after the actor LeVar Burton after watching his portrait in the miniseries Roots.
He was born to parents Michael Arrington (father) and Carolyn Arrington (mother).
Besides his parents, LaVar grew up with his two brothers, Michael Arrington (elder) and Eric Arrington (younger).
LaVar's father, Michael, loved playing football, but he lost his legs during the Vietnam war. So he could not pursue his career in football. Yet, he encouraged his sons in sports.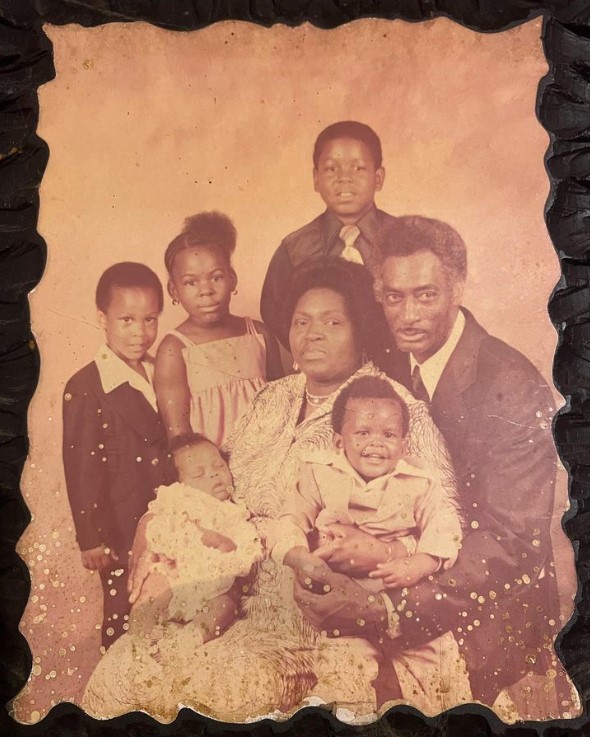 His father worked as an ordained minister after retiring from the military, and his mother worked as a special education teacher in the Pittsburgh public school system.
Talking about LaVar's educational background, he attended North Hills Senior high School in Pittsburgh for his high school education.
After that, he attended Penn State University for his college. There he played for coach Joe Paterno's Penn State Nittany Lions football team, which led him to his successful football career.
LaVar Arrington | Career
Early Career
The energetic footballer started his career early on as a teenager. He played as a linebacker and running back at North Hills Senior High School.
After senior high, he bagged many titles like the 1996 Parade National Player of the Year, Bobby Dodd National High School Back of the Year, The Gatorade Player of the Year, and other titles.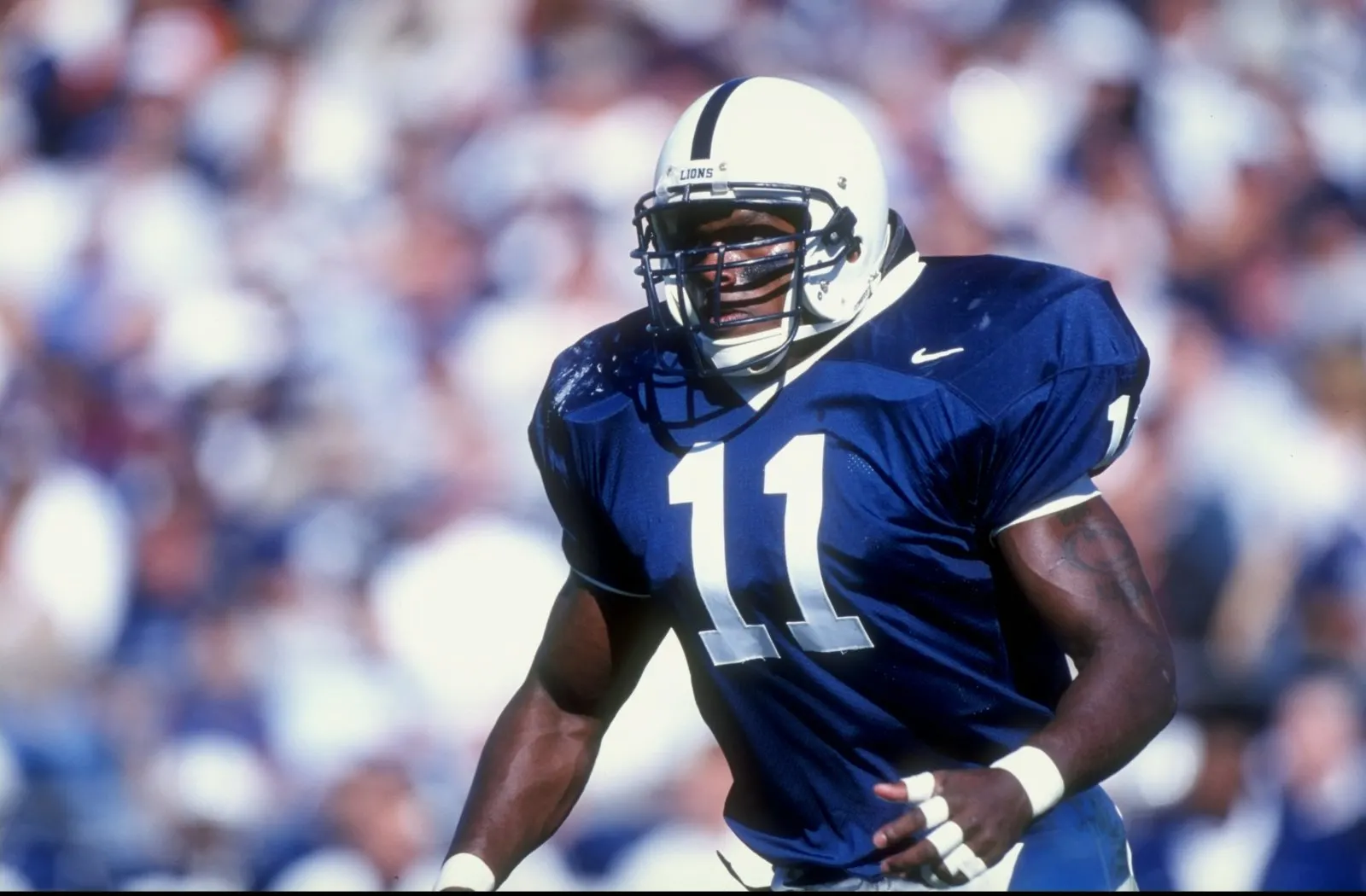 Similarly, LaVar played the 1997 Big 33 Football Classic between Ohio and Pennsylvania's best high school footballers. He had already started steps toward his dream.
Most of us do not know that LaVar was also good at basketball; he dunked really well.
He either wanted to become a football star or a basketball star. Eventually, he chose football as his career.
While at Penn State, Joe Paterno coached him. LaVar received many honors during his college career, such as Big Ten co-defensive player of the year (1998), Butkus Award (1999), Chuck Bednarik Award (1999), and Lambert Award (1999).
After his junior season, he left Penn State to participate in the NFL draft. LaVar already had the star quality while he was playing at Penn State.
Professional Career
One does not need much to spot a rising star, and LaVar was one of the brightest stars during the NFL Draft in 2000 when he got drafted as the second pick in the first round by the Washington Redskins.
He entered the NFL with higher expectations, but his career ended soon with a major knee injury.
Despite a short career, LaVar seized three significant contracts with the Washington Redskins and the New York Giants.
During Arrington's seven years career, he played with the Redskins from 2000 to 2005.
After four successful seasons, LaVar signed an eight-year contract with the Redskins. The National Football League Players' Association (NFLPA) suspended his agent, Carl Poston, for mishandling his contract.
Unfortunately, injuries and conflicts with the coaches led to his career ending with the Redskins. Yet, he had high hope and confidence to further his career.
Career Stats
| Year | Team | G | Tackles | Sacks | INTs | INTTDs | FFums | DefTDs | PD |
| --- | --- | --- | --- | --- | --- | --- | --- | --- | --- |
| 2000 | Washington | 16 | 55 | 4.0 | 0 | 0 | 0 | 0 | 4 |
| 2001 | Washington | 14 | 99 | 0.5 | 3 | 1 | 0 | 1 | 9 |
| 2002 | Washington | 16 | 95 | 11 | 0 | 0 | 4 | 1 | 8 |
| 2003 | Washington | 16 | 90 | 6 | 0 | 0 | 6 | 0 | 11 |
| 2004 | Washington | 4 | 15 | 1 | 0 | 0 | 0 | 0 | 2 |
| 2005 | Washington | 12 | 47 | 0 | 1 | 0 | 0 | 0 | 1 |
| 2006 | NY Giants | 6 | 14 | 1 | 0 | 0 | 0 | 0 | 3 |
| Totals | | 84 | 415 | 23.5 | 4 | 1 | 10 | 2 | 38 |
Retirement From NFL And Contracts
On June 18, 2007, LaVar suffered broken lower vertebrae, deep cuts to his legs, and a broken right forearm. He was issued two citations; one for operating a bike without a proper license and one for failing to control speed to avoid a collision.
After many speculations, LaVar announced his retirement in September 2007.
Contracts
During the trying time, in 2006, LaVar signed a seven-year, $49 million contract with the New York Giants. This opportunity would give him to play against the Redskins twice a year.
The agreement was signed between Arrington and the Giants with a base salary worth around $3.7 million a year and a $5.25 million signing bonus. Arrington was seeking as much as $18 million guaranteed and a $58 million deal but could not get the deal.
Again after seven weeks, LaVar got injured as he tore his Achilles' tendon.
As he could not play the rest of the season, the New York Giants released LaVar in February 2007.
Life After Football
For some people, success and fame do not stay for long despite their effort and determination. No one would have thought that LaVar's career would end at just 28.
However, the apple does not fall far from the tree. He may not have been able to play professional football, but he found a way to stay connected with football.
He worked as an analyst for the Redskins for a few years.
LaVar also did a weekday afternoon radio talk show titled "The LaVar Arrington Show with Chad Dukes" and on July 10, 2014, Arrington joined NFL Network's NFL AM program.
After a couple of years, in 2019, he started working as a football analyst on FS1 in a sports talk program.
LaVar Arrington also tried some entrepreneurial ventures. In 2008, he formed a sports agency, Leap Management, LLC, and founded Xtreme Procision (XP) in 2010, which offered training camps all around the country.
Moreover, Lavar had also opened a restaurant after his football career, which went bankrupt due to misfortune events.
LaVar once said he does not like life as scripted; he likes to write a new chapter every day with his strong will and charisma.
As an experienced athlete and entrepreneur, LaVar advises people to stay away from fake friends and encourages them to make deep bonds.
The adventurous linebacker is an excellent example of success, struggle, and inspiration.
How Much Is LaVar Arrington Worth? Net Worth & Salary
The agile football player Arrington made millions of dollars after he was drafted by Washington Redskins.
Further, he had a contract with the New York Giants in 2006. He earned most of his net worth from playing football as a linebacker.
After he retired from football, he also tried his career in broadcasting and other entrepreneurial ventures.
As of 2023, Arrington has an estimated net worth of $45 million.
Reportedly, he earns $75,637 annually as a broadcaster from his NFL network. Arrington was listed on the top 20, the highest net-worth NFL players list.
Unfortunately, details regarding his assets such as houses, cars, and properties are not mentioned anywhere. However, we can assume that professional football player lives lavish life.
You may also want to read about another NFL football player: <<Jordan Cameron Age, Height, Net Worth, Salary, Sister, Stats, Wife, NFL>>
Net Worth Of LaVar Arrington In Different Currencies
Here is the net worth of LaVar Arrington in different currencies, including Cryptocurrency and BitCoin.
Currency
Net Worth
Euro
€

38,931,075

Pound Sterling
£

33,009,075

Australian Dollar
A$

61,215,345

Canadian Dollar
C$

56,022,525

Indian Rupee
₹

3,392,264,250

BitCoin
฿

820
Who Is LaVar Arrington Married To? Personal life, Wife and Children
LaVar is happily married to his wife, Trishia Johnson. LaVar and Trishia met at one of LaVar's charity functions in DC. They have been together for more than 14 years.
Moreover, LaVar and Trishia are blessed with four beautiful children three daughters named Marlee Arrington, Laila Arrington, and Penn Arrington, and a son named LaVar Arrington.
LaVar considers himself a lucky man for having his wife and children. The couple remains strong together, and there have been no signs of divorce.
Not to mention there were also rumors of LaVar dating Serena Williams, an American tennis player. But it is unknown when and for how long.
You may also want to read about great quotes from Serena Williams>>
LaVar Arrington | Age, Height & Weight
LaVar, the unstoppable backer, is 44 years old, 1.91 m, and weighs around 257 lbs.
His muscular build, agility, and confidence made him a must-have contender for the Washington Redskins.
LaVar Arrington | Some Popular Quotes
That might be an omen that I need to leave whatever I brought from there and just start completely over.
I've slowed everything down, … I slowed how I view things. I slowed how I react to things. Not just in football but in life. I used to create something in my mind and make myself go 100 miles an hour toward whatever that was.
LaVar Arrington | Social Media Presence:
Arrington is found on different social media platforms. He is available on Instagram using the handle @king_of_the_mammals and on Twitter @LaVarArrington.
Instagram: 23k followers
View this post on Instagram
Twitter: 78.1k followers
LaVar Arrington | Popularity
LaVar is among the popular names in the field of football and broadcasting.
The above image illustrates Arrington's popularity in America over a period of one year.
LaVar Arrington | FAQs:
Was LaVar dating Serena Williams?
Yes, there were rumors of Arrington and Serena Williams dating each other.
Did Arrington play for the New York Giants?
Yes, LaVar signed a seven-year contract with the Giants in 2006, but he couldn't play more than seven weeks for the Giants due to a serious injury.
Where is LaVar Arrington now?
Lavar lives in Annapolis, Maryland, with his wife, Trishia, and his four children.
What is the Lavar Leap play?
In a 1998 game between Illinois and Penn State Nittany Lions on a fourth and short-yardage play, LaVar anticipated the snap count and jumped over the offensive line to tackle the runner in the backfield.
Arrington brought him down short of the first down. This play was known as "The LaVar Leap."
What number was LaVar Arrington at Penn State?
LaVar Arrington was number #11 at Penn State.
Why did Arrington retire from the NFL?
While playing for the Giants, LaVar ruptured his Achilles tendon, which led him to end his career. Officially, he retired on February 12, 2007.
What happened between LaVar Arrington and Greg DeBolt?
On Sept. 11, 1999, in the Penn State-Pitt game, Arrington knocked Greg to the ground and threw a punch.
Likewise, DeBolt mentioned that he used a single-leg wrestling move to extricate himself from the situation.
Later, Mike Cerimele, Penn State running back, summed up the game, saying: "It was an old-fashioned bar fight out in the back alley."
What was LaVar Arrington 2000 NFL Combine?
LaVar Arrington 2000 NFL Combine numbers are:
Height: 6'3″
Weight: 250 lb.
40-yard dash: 4.53
Is LaVar Arrington in the Hall of Fame?
LaVar was inducted into the WPIAL Hall of Fame in 2011 and the 2022 College Hall of Fame class.
Why was LaVar Arrington not in Madden Rating?
He was not represented by the NFL players association at the time, so he was not in the Madden Rating.
Learn about the top 12 linebackers of this year>>