If something triggers you in your heart, then you should let it out.
It is about following your passion and the dreams that can keep you happy, or the rest might leave you feeling imprisoned.
A similar scenario must have happened with James Karinchak, and here he is, astounding us in the MLB world.
For those who are still not acquainted with his identification, James Stephen Karinchak is a professional baseball player.
He is a pitcher for the Cleveland Indians of Major League Baseball (MLB). Before that, he remained a collegiate player for the Bryant Bulldogs Baseball.
Well, fastball velocity has been his calling card to date. The righty guy with the number 99 is a big check for pitching, movement, location, and deception.
James covers it all and can throw the ball real harder.
We shall surely share his relentless journey from playing Little League Baseball at Bradley Park to pitching in the Major Leagues at Progressive Field in Cleveland.
Okay, that must have been a heck of a long route.
But before that, how about catching a quirky look at the easy-peasy and must-known quick facts about the pitcher guy, James Karinchak?
Quick Facts:
| | |
| --- | --- |
| Full Name | James Stephen Karinchak |
| Birth Date | September 22, 1995 |
| Birth Place | Newburgh, New York |
| Nick Name | Wild Thing |
| Religion | Not known |
| Nationality | American |
| Ethnicity | White |
| Education | Valley Central High School, Bryant University, |
| Horoscope | Virgo |
| Father'sName | Stephen Karinchak |
| Mother'sName | Suzan Karinchak |
| Siblings | Brendyn and Nicole |
| Age | 27 years old |
| Height | 1,91m (6 feet 2 inches) |
| Weight | 104 kg (229 lb) |
| Play Style | Bats: Right Throws: Right |
| Hair Color | Dark Brown |
| Eye Color | Black |
| Jersey No | 99 |
| Build | Athlete |
| Marital Status | Single |
| Girlfriend | Not known |
| Position | Pitcher |
| Profession | MLB player |
| Net Worth | Under Review |
| Salary | 5,75,000 annual average salary |
| Currently Plays for/ League | Cleveland Indians/ MLB |
| Merchandise | Autographed Rookie Card |
| Active Since | 2019- present |
| Social Media | Twitter, Instagram |
| Last Update | March, 2023 |
James Karinchak | Early Life, Family, and Education
Starting with the fundamental fact, James Karinchak was born on September 22, 1995, to his parents, Suzan Karinchak and Stephen Karinchak, in New Burgh, New York.
He grew up playing alongside his siblings, Brendyn Karinchak and Nicole Karinchak. James is an American by nationality and belongs to white ethnic background.
Sadly, the internet has not disclosed much about his parents, early life, and childhood.
Moreover, James was inclined toward maintaining a relentless work ethic from a very early age, according to one of his high school teammates, Jon Avila.
As a kid, James played Little League Baseball at Bradley Park in Walden, and he used to come up to practice while his brother, Brynden, also played for the team.
In an interview, Bob Campbell said, "He was just eight." Campbell was his Little League coach.
When James turned nine, he showed up with the 11-12 division team and earned 26 RBIs. He and his brother were both excellent ballplayers.
Bob coached him for at least four seasons. As per Bob, James always disliked failure; he was driven.
He was both a hitter and a pitcher both. To emphasize, he was a lights-out pitcher.
James Karinchak | High School Career
James enrolled at Valley Central High School in Montgomery, New York. And there, he got teamed up with some other talents, Cullen Dana and Austin Bodrato.
Dana, who has recently signed with the San Diego Padres organization, expressed a subtle opinion on him, saying, "A lot of success comes from his confidence."
Unfortunately, the trio, which included James, Dana, and Austin, remained incomplete as Dana and Austin had to switch to another high school later.
While playing for his sophomore season, James saw some similar faces.
He had his Little League teammate, Franklin Jennings, as his high school teammate, soon to be divisional opponents in college.
James graduated in 2014 from Valley Central High School, where he notched a 13 – 0 with a 0.77 ERA against Section 9 opponents in his career.
Ever since he got into baseball, he has followed his brother's footprints. James won the Varsity 845 Player of the Year and a Section 9 Championship in his high school career.
As per the Valley Central manager, Eric Battle,
"He was fostered into improving himself but also had his teammates work during drills and practice.
It built up confidence, knowing they would probably win when he pitched."
Coach Rosenberger was the one who trained him each winter and had to improve his baseball mechanics. He made sure that his concentration never got diverted from his work ethic.
Moreover, Rosenberger also knew that there was something about him, and he also predicted early in Jame's sophomore year that James was a Division 1 Prospect.
You might be interested in reading: <<Zach Eflin Bio: Career, Family, Baseball, MLB & Net worth >>
James Karinchak | College Career
Following that, James, undrafted out of high school, went to Bryant University in Smithfield, RI, in 2015 and played college baseball for Bryants Bulldogs baseball.
During his first year, he did a great job, where he grabbed the 2015 Northeast Conference's Rookie of the Year.
However, if we talk about his sophomore year, his production did not grow as it was expected to grow in a loop.
He went 12-3 with a 2.00 ERA but set a program record of 112 strikeouts. He also grasped the NEC Pitcher of the Year award.
Moreover, if you remember Franklin Jennings, whom we mentioned in the previous section, he and James showed up in combat at Central Connecticut State University.
Franklin regards James as one of the best competitors and one of the hardest workers that he has ever played with.
During his junior season, James faced a shoulder injury and had to sum up his college career there and decided to let go of his senior season.
As a result, he announced the 2017 Major League Baseball Amateur Draft.
Before that, when James showed up a brilliant performance against New Mexico State, everyone saw him as a deserving candidate for the MLB draft.
He was a hell lot dominant and furious on the field. James also played for the Chatham Anglers of the Cape Cod Baseball League.
College Stats
| | | | | | | | | | | |
| --- | --- | --- | --- | --- | --- | --- | --- | --- | --- | --- |
| Year | WAR | W | L | ERA | G | GS | SV | IP | SO | WHIP |
| Career | 1.7 | 8 | 6 | 3.49 | 92 | 0 | 12 | 87.2 | 139 | 1.152 |
Learn more about his stats and highlights on Fox Sports.
James Karinchak | Professional Career
Everyone knew how outstanding James stood as an athlete during his high school and college days.
After the announcement and further legal procedures, the Cleveland Indians hired James in the ninth round of the 2017 MLB draft.
Further, his first professional gameplay was held with the Mahoning Valley Scrappers in 2017, where he went 2-2 with a 5.79 ERA over 23 innings.
He played the following season with Lake County Captains, Lynchburg Hillcats, and Akron RubberDucks, amalgamating 4-2 with a 1.29 ERA over ​48 and a half innings.
James kicked off the 2019 season with the Double-A Akron RubberDucks, playing ten games initially, and was promoted to the Triple-A Columbus Clippers.
Later he faced a significant hamstring injury in May, common in athletes, that weakened his performance.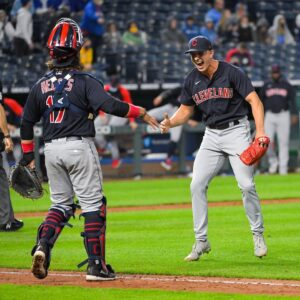 Looking at his strikeout scoring, everyone marked him as a definition of a gamer. September 14, 2019, must be a precious date on his calendar.
James was officially hired by the Indians from the Columbus Clippers and placed on the 40-man roster.
James dreamed of pitching in the majors; he played at Progressive Field in Cleveland. It is a memoir for a lifetime. He let that triggered thing out and possible.
James has gotten there through his immense hard work and persistence. He shall do anything that it takes to make it big there.
You can find the latest news, results, stats, and game logs related to James Karinchak on the ESPN website.
Is James Karinchak seeing someone? Personal Life and Girlfriend
Coming to the unique aspects of his life, we are all very familiar with the fact that James is quite a charm. No one can deny his enticing personality.
That leaves us bound to think of something personal. However, there is still a question mark regarding his relationship status.
We tried navigating about him on the best internet websites that provide the best information on athletes.
Sadly, we are sorry to bring this here; we cannot conclude. We are still not aware of accurate facts. As per sources, James must probably be single.
He is not into someone else. Or it might be he has kept his relationship private. Not a single rumor was caught during the survey.
Well, James is an intelligent player with the best pitching potential. However, he must be prudent towards his future and career.
Besides all these, James also seems like a chirpy, happy guy. He often appears to be partying around with his fellas or out for practice and pitching.
Don't forget to check out: <<Curt Hawkins: Bio, Wife, Wrestling, Net Worth & Social Media >>
James Karinchak | Net Worth and Salary
It is no doubt that James is soon going to reach the heights of success, always keeping his eyes on his roots. He is a committed guy to work and work ethic.
Nothing can come in between, as the chain he has created with his work and work ethic is unbreakable. Talking about his salary and net worth, nothing appropriate could be seized.
But, yes, aligning with the facts revealed by Spotrac.com, James earns an annual average salary of $5,85,000 from the Cleveland Indians. You can give a check by clicking here.
He has signed a 1 year worth $585,000 contract with the Cleveland Indians.
Interestingly, Carlos Santana is the highest-paid player from Cleveland Indians, who make around $60,000,000. But unfortunately, nothing as such about James' net worth could be discovered.
You might also want to check out: <<Deone Bucannon Bio: Wife, Net Worth, College, Draft & NFL >>
Social Media Presence:
There is no getting worried about James regarding his social media presence, and he is quite a finite character. We can easily spy on him on his Twitter and Instagram profiles.
The links to his social media handles are listed below. You can surely go and give him a random follow.
Twitter: 190 followers
Instagram: 28.6k followers
Some FAQs:
What is James Karinchak's next trigger or dream?
James deliberately wants to be the World Series Championship winner after living the majors' lifelong dream.
He is seeking that one ample opportunity, and he is all set to grab and let his name make rounds in the MLB world.
Who is James Karinchak Idol?
Scrolling down his Instagram posts, we realized that James is a huge fan of Kobe Bryant. He even ordered a Kobe jersey after facing a hamstring injury. He truly is inspired by Kobe.
How fast does James Karinchak throw?
James Karinchak throws in 83.2 MPH on average and topped out at 85.4 MPH.
Is James Karinchak a free agent?
No, the MLB player is not a free agent.
What was in James Karinchak's glove during the game with White Sox?
According to sources, a sticky substance was found in James Krinchak's glove during the Cleveland Indians and Chicago White Sox game on Jun 01, 2021.
Likewise, White Sox broadcasters also pointed out some skeptical videos of James reaching for a dark, shiny spot inside his glove with his fingers.
However, there is no conclusive evidence of James doing anything illegal, so nothing is confirmed.
What is James Karinchak's entrance or walkup song?
James Karinchas's walkup song is "Wild Thing" by X.
When did James Karinchak make his debut as a Columbus Clippers player?
The baseballer made his debut with the Columbus Clippers on March 26, 2020.
What did James Karinchak post about COVID vaccines?
James posted an anti-vaccine post from Jay Nera on his Instagram story, creating a social media controversy.
The post contained a quote attributed to Nazi Hermann Goering about how it is possible to control people through fear and a msg saying, "No freedom unless you get a vaccine."
He didn't add any further context or elaborate further details on what he meant by the post. But later, he did end up deleting the post from his account.