In sports, there is a popular saying: "Form is temporary, but class is permanent." This fits perfectly with the darts player James Wade.
After his debut as a professional dart player, James had no major wins for three years. It seemed as if James wouldn't achieve much as a dart player in his initial years.
But with consistent effort and dedication, James proved them all wrong and now, he has won every major dart competition in his career.
The player is ranked fifth best dart player in the world and has won eleven major PDC titles and many other titles, including Jocy Wilson Cup, Irish Masters, Swiss Open, and many more.
This article will take you on the life journey of PDC Champion James Wade. Furthermore, the article summarizes his personal as well as professional life.
But before we dig deep, let's take a look at some of his Quick facts.
Quick Facts
Name
James Wade
Full Name
James Martin Wade
Nickname
009, Spectacular, The Gladiator, The Machine
Date of Birth
April 6, 1983
Age
39 years old
Birth Place
Aldershot, United Kingdom
Residence
Aldershot, United Kingdom
Religion
Christian
Nationality
English
Ethnicity
White
Education
Not available
Hair Color
Brown
Eye Color
Hazel
Body Type
Fit
Zodiac Sign
Aries
Height
5 feet 11 inch
Weight
95 kg (209 lbs)
Father's Name
Martin Wade
Mother's Name
Not available
Siblings
Not available
Sexual Orientation
Straight
Marital Status
Married
Spouse
Sammi Marsh
Marriage Year
2015
Children
One son; Arthur Wade
Hobbies
Fishing, shooting
Previous Profession
Mechanic
Profession
Professional Darts Player
Associated Teams

British Darts Organization (2001-2004)
Professional Darts Corporation Events(2004 – Present)

Active Years
1997-Present
Major Achievements

PDC Young Player of the Year (2006)
Three Nine dart finishes (2006)
PDC Player of the Year (2007)

PDPA Players' Player of the Year and 2008 PDC Player of the Year and (2008)

Darts
20g Unicorn James Wade
Laterality
Left-handed
Current World Ranking
5 (As of March 20, 2022)
Net worth
$1 million-$5 million
Social Media
Instagram, Twitter
Website
Jameswade.co.uk
Merch
James Wade's Merchandise
Last updated
March 2023
James Wade | Early Life
James Martin Wade was born on 6th April 1983 in the city of Aldershot in Hampshire, England. His father's name is Martin Wade, but his mother's whereabouts aren't known.
Unfortunately, not much is known about James Wade's family background and education.
But it is known that Wade started playing darts seriously at the age of 14 and won the Basingstoke Open, his first competitive tournament.
After that, he represented England at the youth-level dart competition. Though he failed the competition, the people acknowledged his talent and skills.
Thus, even though he was working as a mechanic, he decided to pursue darts as his career.
James Wade | Professional Darts Career Highlights
Professional Darts Corporation (PDC)
Wade joined the Professional Darts Corporation in May 2004. However, James had to face a lot of failures and couldn't win any major title in his initial years.
Though not winning any titles or matches, James continued to improve and work on his shortcomings, hoping that he would win the title someday.
That day came after three years of his debut. Wade finally won the 2007 World Matchplay in Blackpool's Winter Gardens, becoming the youngest player ever to do it.
Furthermore, Wade also won the PDC's World Grand Prix in Dublin in October of that year. As a result, he was crowned the 2007 PDC Player of the Year and PDPA Players' Player of the Year.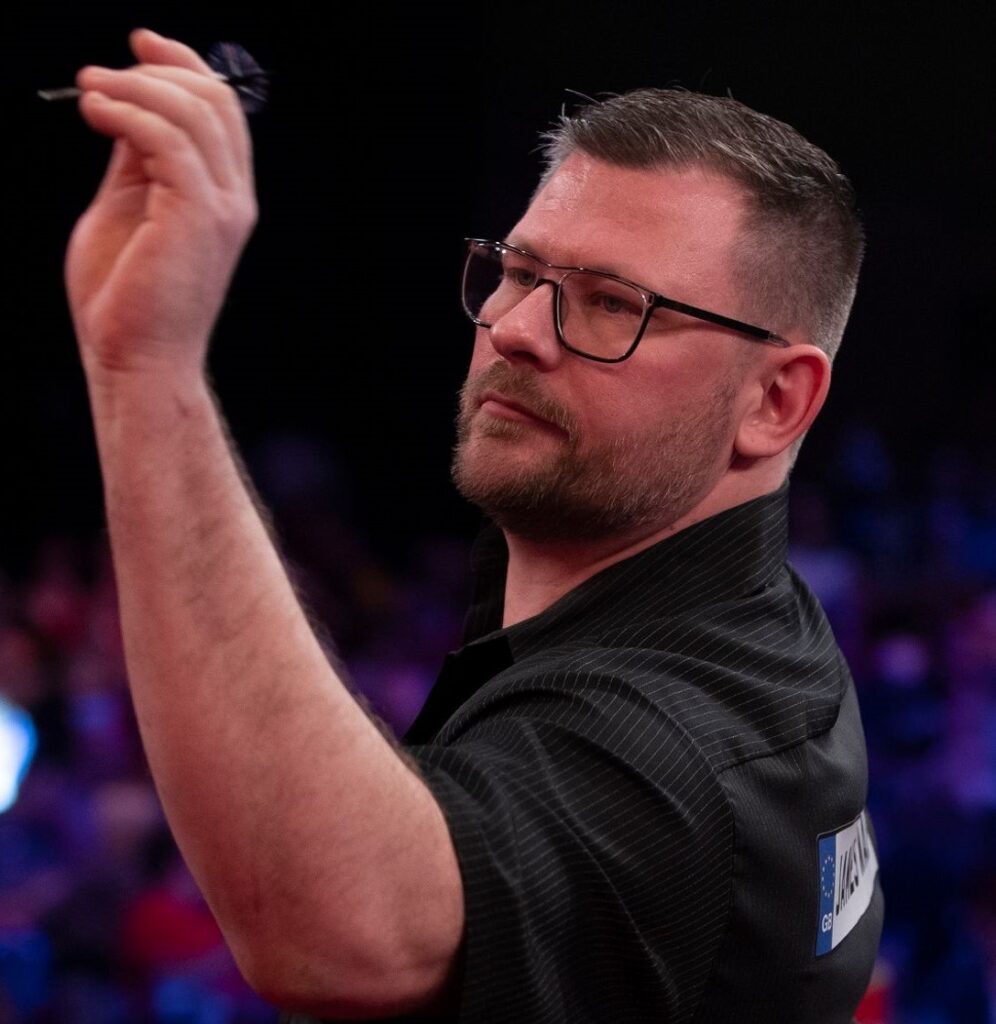 In 2008, Wade competed in UK Open and won the championship. The same year he competed in LA Desert Classic and World Matchplay but was defeated in the finals by Phil Taylor.
He won Premier League in 2009 and became the runner-up in 2010. He won his second World Grand Prix title and first championship league the same year.
In 2011, Wade was ranked #2 in the world after winning the World Grand Prix and Champions League Darts. He won his second UK open title and ended up becoming runner-up in World Matchplay.
Wade was qualified for the Players Championship Finals after all 33 ProTour tournaments in 2012. He won his Master's in 2014 and won his first European championship in 2018.
Furthermore, he also won the World Series of Dart finals and won his second master's title in 2019.
Wade earned the runner-up title in the European Championship in 2020 and won his third UK Open title in 2021.
King of the Nine Dart Finishes
In 2006, Wade made history by being the first player to complete three tournaments with nine darts finishes.
James won the North-West UK Open Regional Final, PDPA Players Championship, and Vauxhall Men's Open. Unfortunately, none of these achievements were televised.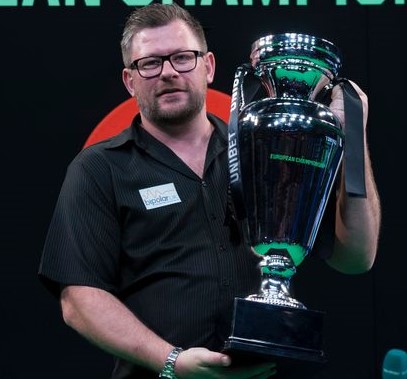 Furthermore, Wade achieved his first nine-darter in the 2008 Grand Slam of Darts. As a result, Wade became the first guy to smash a nine-dart finish in a major televised event in the UK.
Wade is also the first player to hit a live nine-darter from the left side of the plate. Also, James became the second player in history to throw a double-start nine-darter at the World Grand Prix.
Apart from this, the player is the first player in the PDC history to win a televised 9 darter in both double and open start formats.
James Wade | Nicknames
Wade has had various nicknames over his career. His nickname, The Gladiator, was given to him in 2006, his breakout year.
But later, Wade renamed his nickname to 009, a pun on James Bond's 007. Also, Wade was once known as Spectacular since he was one of the few players who played with glasses.
Furthermore, Wade was also known as The Wingman. This name was disregarded after James showed his displeasure with the name.
In 2008, Wade gained a new nickname, The Machine, for his Premier League debut in January 2008, which has been his nickname for years now.
James Wade | Age, Height, and Body Measurements
Wade was born in the year 1983. As a result, he is now [calculate years datestring="04/06/1983″] years old.
James was born in the Chinese year of the pig. Furthermore, James is 185 cm tall and weighs 95 kg.
Also, Wade has hazel eyes and brown hair. His ethnicity is white, and he has the nationality of the United Kingdom.
Furthermore, Wade is an Aries, having been born in April. Aries born on April 6 has exceptional creativity and talent. These people can persuade others without being pervasive. Thus, Wade is true Aries.
You may also like reading about: Darts Player, Phil Taylor Career Highlights & Net Worth>>>
James Wade | Awards and Achievements
James Wade is one of the successful darts players with several tournament wins and awards. Here are some of his awards and achievements:
Awards and Titles
Bournemouth Men's Singles-2010
Bournemouth Open-2010
Cosham Xmas Open-2003
Irish Masters-2005
Jocky Wilson Cup-2009
Vauxhall Autumn Open-2006
Players Championship (BAR)-2015
Players Championship (CRA)-2014
Championship of Darts-2010
Players Championship (EMI)-2009
Players Championship (GER)-2011
Pro Celebrity Challenge-2008
Players Championship (GIB)-2008
Players Championship (HOL)-2008, 2010
Swiss Open-2002
Players Championship (NUL)-2009
Players Championship (SCO)-2008
William Cross Pro-Am-2007, 2008
Players Championship (SPA)-2011
Players Championship (WIG)-2015
Achievements and Records
PDC Youngest Player of the Year (2006)
Three Nine dart finishes (2006)
PDC Player of the Year (2007)

PDPA Players' Player of the Year and PDC Player of the Year (2008)

The second player to hit a double-start nine-dart finish at the World Grand Prix (2014)
The first player to hit nine-dart finishes in the same match (2014)
You may also like reading about: 12 Top Darts Players of All Time>>>
James Wade | Wife and Children
In 2008, James briefly dated Soccer AM presenter Helen Chamberlain, but they parted their ways after two years of dating.
But, as the saying goes, true love finds you during unexpected times. James met the true love of his life in 2013, Sammi Marsh.
Marsh was a PDC "walk-on" girl who regularly joined Wade on stage. That's how love sparked between these two couples.
After dating for a while and knowing each other, they finally married on August 8, 2015. She currently works as Wade's manager, taking care of him professionally and personally.
James and Helen welcomed a baby boy named Arthur, who was born on October 8, 2018. But, they had to endure a miscarriage and emotional investment in IVF therapy before welcoming their first child.
James revealed in an interview that the couple had gone through a lot of turmoil and stress over the last two years after losing their child to miscarriage.
Thus, they hid the pregnancy and everyone was shocked when they shared that they were blessed with a son.
James Wade | Net Worth
The net worth of James Wade is estimated to be $3 million. James earned his net worth as a professional darts player.
Apart from this, the darts player also earns fortunes through investments, sponsorships and endorsements.
You may also like reading about: Raymond Van Barneveld: Career Highlights & Net Worth>>>
Social Media Handles
Some Facts about James Wade
James Wade's role model is Steve Backley.
Wade is a big-time foodie and loves eating Asian foods. He loves drinking tropical fruit drinks.
Wade loves listening to R&B and his walk-on music is Thin Lizzy – The boys are back in town.
James's favorite holiday destination is Las Vegas.
Frequently Asked Questions (FAQs)
Why is James Wade called The Machine?
James Wade was a mechanic before he switched to becoming a full-time dart player. He worked as a mechanic and had founded a company, namely Precision Auto Services, with his father in 2012.
Since he was a mechanic and part-time dart player before he fully switched to full-time dart playing, he is called The Machine.
Is James Wade a millionaire?
Yes, the estimated net worth of James Wade is $3 million, making him a millionaire. Apart from this, James is one of the richest dart players following his success as a dart player.