As a single day progresses, it is bound to see a new and fresh face every time. Likewise, it takes a few years to choose a talent from the crowd of players.
Hence, Jarrad Davis has taken quite a limelight after entering the arena through the 2017 NFL Draft.
As many must be unknown, the athlete, Jarrad Davis, is a football linebacker playing for the National Football League (NFL).
Moreover, he was drafted by the Detroit Lions in the 2017 NFL draft while playing college football in Florida. He currently plays for the New York Jets of the NFL.
With three seasons in the big leagues, Davis has showcased terrific production and playmaking ability and has maintained 259 career tackles and 10 sacks.
Thus, with it, we will take a deep plunge into his life after a quick dose of general get-to-go facts.
Quick Facts:
Full Name
Jarrad Davis
Date of Birth
November 16, 1994
Birth Place
Kingsland, Georgia
Nick Name
JD
Religion
Christianity
Nationality
American
Ethnicity
Black
Zodiac Sign
Scorpio
Age
29 Years Old
Height
6 ft 1 in (1.85 m)
Weight
245 lb (111 kg)
Hair Color
Black
Eye Color
Black
Build
Athletic
Father's Name
John Davis
Mother's Name
Amy Davis
Siblings
None
Education
Camden County High School
University of Florida
Marital Status
Unmarried
Girlfriend
None
Jersey number
40
Profession
Football player
Position
Linebacker
Affiliations
Detroit Lions (2017–present)
NFL Draft
2017 / Round: 1 / Pick: 21
Free Agent
2022/UFA
Active Years
2017-present
Net Worth
$1 million
Social Media
Twitter
Last Update
December, 2023
Jarrad Davis | Early Life, Family & Education
Davis was born on November 16, 1994, under Scorpio's sun sign to his parents, Amy Davis and John Davis.
Growing up in Kingsland, Georgia, Davis had no difficulty in his early days; however, he experienced tough love from his parents.
To elaborate, Davis, as a child, was a hard-headed kid who needed some yelling and belts at the time.
Altogether, getting strict parents helped him in the long run, and later as he grew up, he enrolled in Camden County High School.
Davis partook in the football team Wildcats during his high school tenure, where he posted 114 tackles and three forced fumbles by the end.
After high school graduation, Davis attended Auburn University. Back then, he decided to play on the college team.
However, he later transferred to the University of Florida due to undisclosed reasons.
Altogether, he starred as tye 2013 freshman and recorded 24 tackles during his 12 games, out of which one was started by him.
Similarly, as a sophomore, he missed three games due to his torn meniscus and only appeared in nine games. By the end of his college, Davis had posted 98 tackles, 3.5 sacks, and one interception.
"My mom, my dad, they took care of me at a young age. I learned which way was the right way to go, and I knew the belt was coming if I went the other way. But if I went the right way, good things would come. That's how I attack things in life each and every day. If I do the hard thing now, later on, I'm going to reap the benefits. So that's how I try to approach things in my daily life."
-Jarrad Davis
How old is Jarrad Davis? Age, Height, and Body Measurements
Jarrad Davis is a chocolatey-skinned man with built muscles that flaunts a ripped physique. Additionally, he portrays his nearly shaved black hair and eyes of a similar color.
As for his statistics, he towers at the height of 6 ft 1 in (1.85 m) while weighing 245 lb (111 kg).
Furthermore, Davis stands strong with his towering mass and portrays 33½" arm's length with a hand size of 9¾".
Moving on, at present, Davis is trained by David Lawrence, who helps him with sport-specific strength & conditioning, high-end personal training, and functional sports nutrition.
To illustrate, his workout regimen includes two bars, plates, a squat stand, and a bench with two training sessions a day and also running two times a week.
You might be interested in reading: <<Jamal Agnew Bio Family, College, Career, Position, Salary>>>
Jarrad Davis | Professional Career
Prior to finishing his senior years of college, Jarrad Davis was already making his way to the professional arena when he announced to partook in the 2017 Super Bowl.
With things in a smooth turn, it took a collapse after Davis sprained his ankle. However, Jarrad made it till the 2017 NFL Draft, where he couldn't flex his drill on his first try due to his former injury.
Therefore, during Florida's Pro Day, he showcased all his areas of expertise alongside private visits and workouts with the Detroit Lions and Pittsburgh Steelers.
Overall, Detroit Lions drafted Davis in the first round as the 21st overall pick. He achieved the feat during his draft as the second-fastest 40-yard dash among all linebackers at the NFL Combine.
According to NFLDraftScout.com, Davis stood as the second-best inside linebacker in the draft, while he was the third-best by NFL analysts Bucky Brooks and Mike Mayock.
Detroit Lions
After the draft, Jarrad Davis signed a four-year deal with the Detroit Lions, which was worth $10.96 million with $8.54 million guaranteed and a $6.11 million sign bonus.
Later, Davis made his entry for the team under the head coach Jim Caldwell as the starting middle linebacker.
Likewise, his professional debut came against the Arizona Cardinals in the season-opening game.
Altogether, he maintained the stat of nine solo tackles followed by his first sack over New York Giants quarterback Eli Manning.
At the same time, Davis faced a concussion during the very game after Giants' wide receiver Odell Beckham Jr. blocked him.
Therefore, he retired from the field until the match against the Tampa Bay Buccaneers.
Right after that, he recorded season-high 12 combined tackles, which ended his rookie season with 96 combined tackles (65 solos), three pass deflections, two sacks, and an interception.
Furthermore, he had started a total of 14 games where he also had a forced fumble and a fumble recovery.
Likewise, advancing into another year had him stand with 63 tackles, two sacks, and three forced fumbles.
During the whole year, he appeared as the Lions starting middle linebacker and started 11 games. Consequently, 2020 came as a long hiatus for each of us.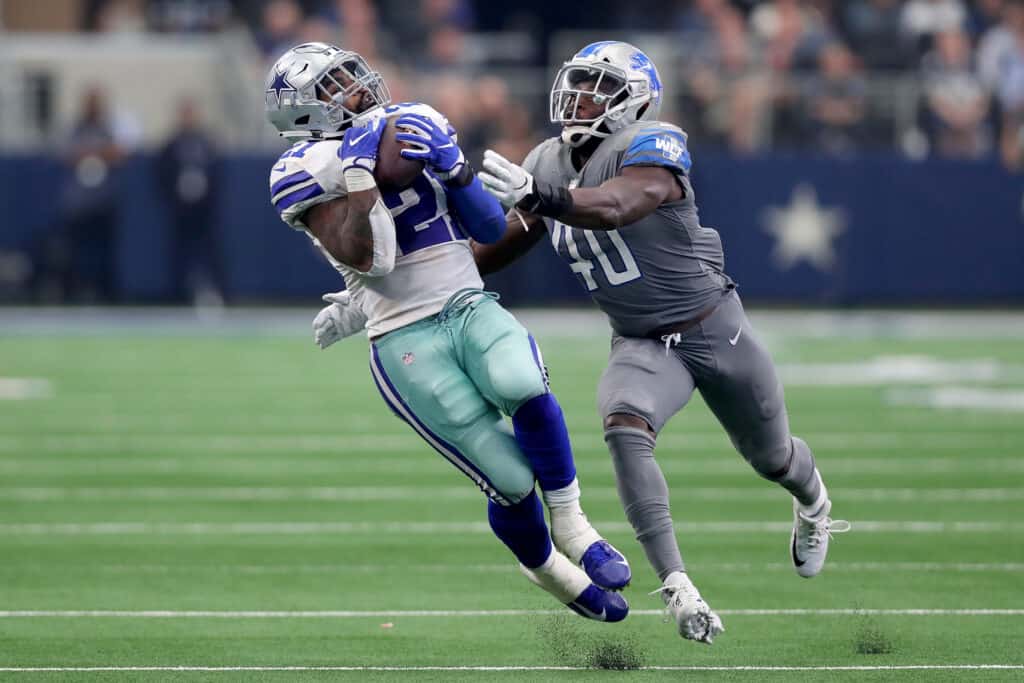 Similarly, for Jarrad Davis, the first was that the Lions declined the fifth-year option in his contract.
Secondly, he also served on the reserve/COVID-19 list for a total of six days. As for his stats, he played in 14 games where he had 46 tackles, a half-sack, and two forced fumbles.
You can find the latest news, career stats, analysis, scouting report, and game log of Jarrad Davis on the SportsForecaster website.
New York Jets
Davis signed a one-year contract with the New York Jets on March 18, 2021. However, he was placed on the injured reserve on September 1, 2021.
Jarrad Davis | Net Worth and Salary
Jarrad has made a successful career out of his games. Along with the name, Davis has accumulated impressive wealth as well.
"As of 2023, Jarrad Davis has an estimated net worth of $1 million."
He has signed a one-year deal worth $7 million with the New York Jets, including a $2,500,000 signing bonus and $5,500,000 guaranteed money.
Likewise, under the terms of the deal, Davis will receive an average annual salary of $5,500,000.
Recently, Jarrad also bought his own house near the Lions' Allen Park training facility. He still has many years left to name himself and earn even more cash in his career.
Jarrad Davis | Personal Life
As in the personal life of Jarrad Davis, he took advertising as his major field while he graduated.
Furthermore, he idolizes football player Ray Lewis. Apparently, Davis doesn't have any girlfriends to date.
Additionally, he hasn't indulged in any scandals or rumors or such. Well, we can say Jarrad is a private man who likes to keep his ongoing life in the shade.
Therewith there is no information regarding his social account "Instagram." However, you can follow him on Twitter via this link.
Some FAQs:
Who does Jarrad Davis play for?
Jarrad Davis currently plays as the linebacker for the professional American football team New York Jets of the National Football League.
Is Jarrad Davis injured?
In the second snap of the Detroit Lions' third preseason game, Jarrad Davis hurt his ankle. As a result, Jarrad could return to action for the first time since he suffered a severe high ankle sprain.
According to Lion's injury report, Jarrad has been practicing on a limited basis since his injury, and his workload has gone down.
Did the New York Jets get Jarrad Davis in free agency?
Yes, the New York Jets general manager Joe Douglas signed Jarrad Davis along with 11 other players in free agency. Joe Douglas also re-signed WR Vyncint Smith and RB Josh Adams.