Jason Richardson, the winner of the NBA Dunk Contest in 2002 and 2003, is a retired professional basketball player from the United States who spent 14 seasons in the NBA.
After playing college basketball at Michigan State University, Richardson was selected by the Golden State Warriors as the fifth overall choice in the 2001 NBA Draft.
Today, we have compiled information on Jason Richardson, his basketball career, net worth, family, and other topics.
Also, you will learn why Jason is synonymous with the word "dunk". First, look at some quick information on the former NBA player.
Quick Facts
Full Name
Jason Anthoney Richardson
Birth Date
January 20, 1981
Birth Place
Saginaw, Michigan
Nick Name
J- Rich
Religion
Christianity
Nationality
American
Ethnicity
Black
High School
Arthur Hill High School
College
Michigan State University
Playing Career
2001 – 2015
Zodiac
Aquarius
Chinese Zodiac
Rooster
Father's Name
Elaine Richardson-Cook
Mother's Name
Not Available
Siblings

Three Brothers; Duane, Damond, & Terrene
Two Sisters; Tiffany & Trameka

Age
42 Years Old
Height
6'6″/ 1.98 m/ 198 cm
Weight
102 kg/ 225 lb.
NBA Debut
2001
Shoots
Right
Tattoos
Yes
Food Habits
Non-Vegetarian
NBA Draft
2001, Pick: 5th Overall, Round: 1 (Selected By The Golden State Warriors)
Hair Color
Black
Eye Color
Brown
Career Highlights & Awards

2× NBA Slam Dunk Contest Champion (2002, 2003)
2002 NBA All-Rookie First Team
NCAA champion (2000)
Consensus second-team All-American (2001)
First-team All-Big Ten (2001)
Second-team Parade All-American (1999)
McDonald's All-American (1999)
Mr. Basketball of Michigan (1999)

Children

Two Sons; Jason II & Jackson
One Daughter; Jaela Richardson

Wife
Jackie Paul (2011)
Jersey Number
23
Position
Shooting Guard / Small Forward
Profession
Basketball Player
League
NBA
Net Worth
$45 Million
Social Media
Instagram, Twitter
Merch
NBA Basketball Card
Last Update
November 2023
Early Life & Family
The NBA player Jason Richardson was born in Saginaw, Michigan, on January 20, 1981. The player's father's name is Elaine Richardson-Cook.
Unfortunately, his mother's name is unknown. However, it is known that he has always admired his mother and uncle in his life.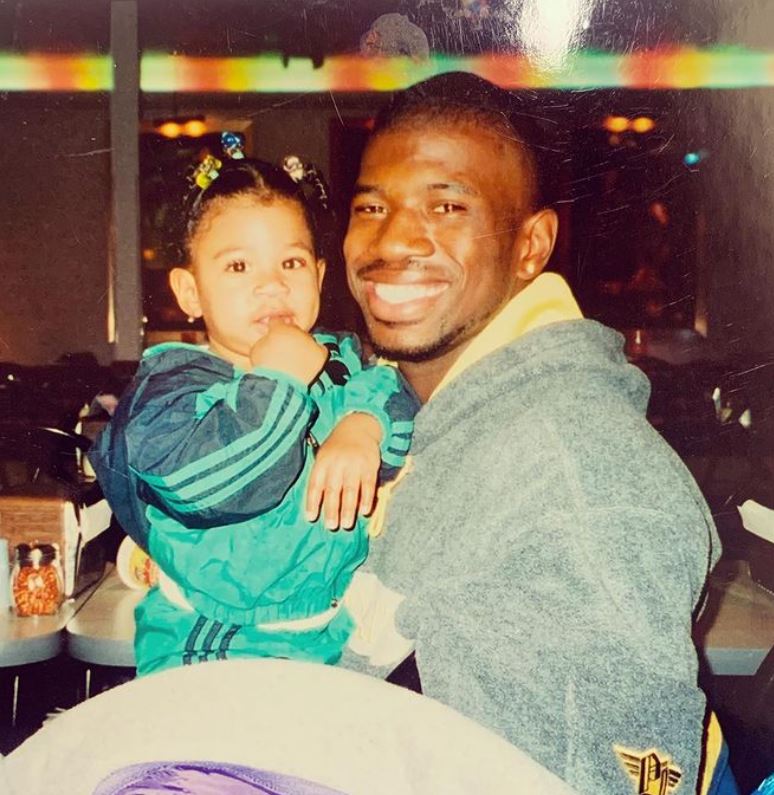 Jason grew up in a big family; he has five siblings, two sisters: Tiffany Richardson & Trameka Richardson, and three brothers: Duane Richardson, Damond Richardson, and Terrene Richardson.
For his education, the player attended Arthur Hill High School. Later, he joined Michigan State University and was enrolled in the child psychology degree program.
J-Rich enjoyed playing hockey in high school as well. As his height increased, he realized he could incorporate basketball into his life.
Professional Career
The Warriors selected Michigan State's Jason Richardson as the fifth overall pick in the 2001 NBA Draft.
The player took part in the Rookie Challenge as a rookie in 2002 and as a sophomore in 2003. His teams won both years, and as a rookie, he was named Rookie Challenge MVP.
The player was traded to the Charlotte Bobcats (now Charlotte Hornets) in June 2007. The trade acquired the Warriors the draft rights for the round-one 8th overall pick (Brandan Wright) and round-two 36th overall pick (Jermareo Davidson).
Jason was traded to the Phoenix Suns on December 10, 2008, along with Jared Dudley and a 2010 second-round pick in exchange for Boris Diaw, Raja Bell, and Sean Singletary.
After three seasons with Phoenix Suns, he was traded to Orlando Magic along with Hedo Türkoğlu and Earl Clark.
In return, the Suns got Vince Carter, Marcin Gortat, Mickaël Piétrus, a 2011 first-round draft pick, and $3 million cash.
In 2011, Jason signed a four-year contract worth $24 million with the Magic.
However, he played for only one season & was traded to the Philadelphia 76ers as part of a four-team transaction that sent Dwight Howard to the Los Angeles Lakers.
He had to miss an entire season in 2013 after he had surgery on his left knee.
Retirement
Jason signed with the Atlanta Hawks on August 18, 2015. However, Richardson began having discomfort in his right knee less than a month later, and an MRI indicated bone spurs.
On September 23, 2015, the player announced his retirement from the NBA, claiming his worry that continuing to play might hinder his ability to walk for the rest of his life.
Favorite Basketball Player
From the '80s and '90s, Jason's favorite basketball player was Dominique Wilkins, aka "The Human Highlight Film."
Wilkins is a retired professional basketball player who was a nine-time NBA All-Star and an acrobatic slam dunker.
Jason Richardson is also fond of Michael Jordan and Kobe Bryant.
For years, the player thought that he had Kobe figured out; however, Kobe just kept adding things to his game he couldn't prevent.
Jason says that Kobe was fun to compete with as he always wanted to win, made the tricky shots, and always showed up for the game.
Apology
The player rose to prominence with the Golden State Warriors because of his great scoring, ability to dunk, devotion to the team and fans, and ethical maturity.
Richardson, the Warriors' long-time captain, prepared a letter of apology to Warrior supporters in 2005 after the team failed to make the playoffs for the 12th consecutive season.
The letter was published in various Bay Area newspapers.
Body Measurements
The retired NBA player Richardson was born in 1981 and is 42 years old.
Regarding Jason's physical appearance, the basketball player has a solid, well-maintained figure that makes him attractive.
Richardson also works out daily to maintain his athletic lifestyle. The American player is 1.98 m tall and weighs roughly 225 lb. Jason's other bodily measurements, however, are still unknown.
Richardson has black hair and brown eyes, complementing his tattooed athletic body. He belongs to the African-American ethnic group.
Tattoos
The former player has many tattoos carved on his body. His upper back and neck are tattooed with the words "THA FACTOR," given to him by his teammates during his tenure with the Golden State Warriors.
Similarly, the player has a tattoo of a muscular guy with the sun beaming behind his head, surrounded by clouds, on his right shoulder. He has also tattooed the phrase "e.l.i.t.e."
The inscription tattooed on his shoulder means "Enjoy Life Until the End." He, his brother, and his cousin all have identical muscular guy tattoos.
Jason's left shoulder and upper arm are covered with a tattoo depicting the Grim Reaper surrounded by flames and smoke.
The player has a symbol with the years "1924-2009" tattooed on his right shoulder. He also has a portrait tattoo of his daughter, Jaela Richardson, on his right forearm.
Moreover, Jason's chest is also tattooed with the names of his family members.
Controversy
Then-Golden State Warriors guard Jason Richardson was convicted of domestic violence in 2003. He was sentenced to 93 days in jail and a $500 fine.
Authorities accused Richardson of shoving his ex-girlfriend with so much force that she fell and struck her head against the wall.
Although Richardson claimed he did it in self-defense.
The incident occurred in April at the woman's apartment when Richardson had gone there to pick up their three-year-old daughter.
Wife & Kids
The former NBA player is happily married to Jackie Paul. The couple has been married for 12 years and has three lovely kids together.
They have two sons, Jason II and Jackson Richardson, and a daughter, Jaela Richardson.
All of his kids have followed the same basketball root as his father. Currently, his daughter Jaela plays for Cal State East Bay, while both his sons play high school basketball at Bishop Gorman High School.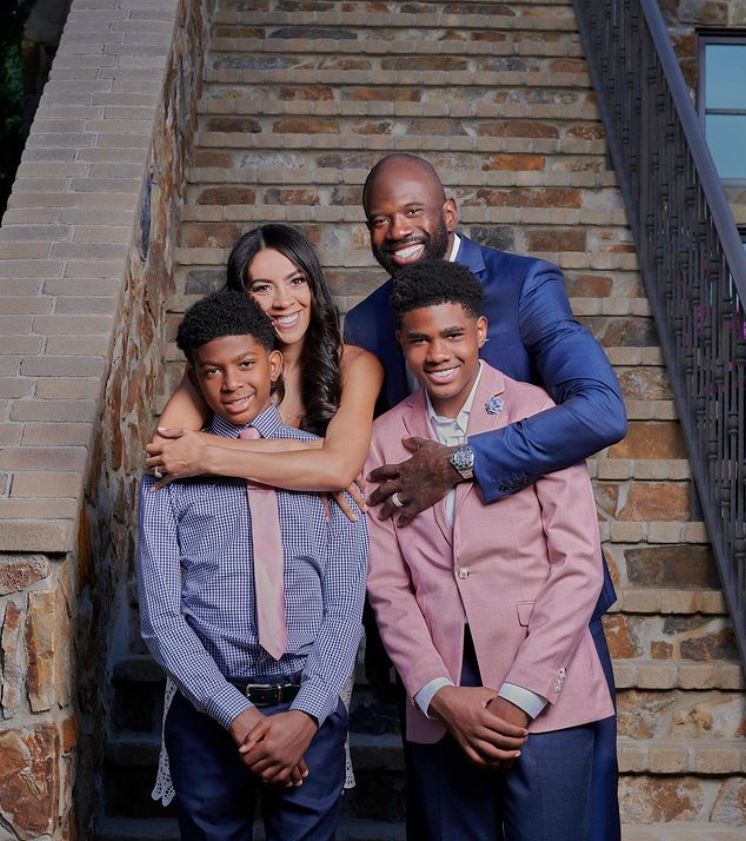 On the occasion of their 10th marriage anniversary, Jason posted a picture with his wife on August 31, 2021, and captioned it:
"Here's to all the wonderful years you have given me! The unconditional love, the encouraging support, the amazing memories, and the joy you bring into my life daily. Happy 10th Anniversary @jackiempaul! May our love continue to grow until the end of time."
Awards
2× NBA Slam Dunk Contest champion (2002, 2003)
2002 NBA All-Rookie First Team
2000 NCAA champion
2001 Consensus second-team All-American
2001 First-team All-Big Ten
1999 Second-team Parade All-American
1999 McDonald's All-American
1999 Mr. Basketball of Michigan
Trivia
Even after departing from the Golden State, Richardson remained one of the most popular Warriors players among fans due to his electrifying style of play.
He is also widely known for his ability to hit three-pointers and the length plus tenacity of his stint with the team.
In a home win over the Phoenix Suns, Richardson established the Warrior franchise mark for three-pointers made in a game without missing.
The player is also well-recognized for his high-flying talents and is considered one of the top dunkers of the 2000s.
Jason won the NBA Slam Dunk Competition in 2002 and 2003. The player also competed in the 2004 contest. However, he was defeated in the finals by Fred Jones.
Hobbies
Apart from playing basketball, the player keeps his interest in other sports. Jason occasionally goes to play golf with his friends and family.
He shares pictures of playing golf on his Instagram handle. Jason also goes cycling, swimming, and snowboarding. No wonder his body is well-maintained and muscular!
Judging from his Instagram pictures, we can say that the player is also fond of traveling. He has visited many famous places with his family, including The Great Wall of China.
Net Worth
Jason Richardson has total career earnings of $104,303,408 from his professional NBA career. His net worth is approximately $45 million as of 2023.
Apart from playing basketball, the player makes money from endorsements and sponsorships.
For instance, the player had previously signed an endorsement deal with PEAK, a Chinese sports brand.
Cannabis Industry
Over the years, Jason sought an opportunity to invest in the emerging cannabis industry. Although the player is not a consumer, he understands the medical benefits of cannabis and its significant growth potential.
In 2020, he met Goldenseed, a cannabis cultivator and retail brand based in Santa Cruz, California, via a mutual friend.
Jason was impressed not only by the brand's quality and genetics but also by the business acumen of its leaders.
Goldenseed is the first cannabis cultivator in the U.S. qualified by the SEC to sell stock to the general public.
The player, along with over 5,000 other people from all 50 states and over 30 countries worldwide, has invested in the Goldenseed.
Social Media Presence
Richardson is a retired basketball player, immensely popular on his social handles.
He keeps his fans updated regarding his life. In 2023, he congratulated his daughter, as Jaela Richardson was named CCAA Player of the Week.
Instagram: 46.6k followers
Twitter: 202.2k followers
Popularity Graph
Richardson was considered the best dunker during his basketball career from 2001 – 2015.
The search graph illustrates the search rate of Jason for the past 12 months.
Frequently Asked Questions (FAQS)
Why did the Phoenix Suns acquire Jason Richardson?
The Suns dealt for Richardson because they needed another backcourt scorer to relieve pressure on Steve Nash.
What do Jason's Chinese tattoos mean?
Jason has three Chinese symbols tattooed on his left forearm. It represents " Father, Strength, and Talent." However, over time, the lettering has faded.
Did Jason Richardson serve as a coach later?
The two-time slam dunk champion coached somewhat 200 young students in India and was way impressed by their disciplined behavior. He went to Ramjas School in New Delhi and MICA in Ahmedabad.