Jeremy Lamb is an American professional basketball player who last played for the Sacramento Kings of the NBA.
The shooting guard is known for his shooting IQ, stamina, and consistent offense on the court.
Lamb is known as "The Shepherd." As a freshman, he was the second-leading scorer on the 2011 national champion UConn Huskies team.
Lamb was named to the National FIBA Under-19 World Cup squad for outstanding performances.
He proved his worth during the tournament and was the only American named to the five-man All-Tournament Team.
Here are the quick facts about Jeremy Lamb.
Quick Facts
Full Name
Jeremy Emmanuel Lamb
Known As
Jeremy Lamb
Nickname
The Shepherd
Birth Date
May 30, 1992
Birth Place
Henrico, Virginia
Residence
Not Available
Religion
Christian
Nationality
American
Ethnicity
Black
Education
University Of Connecticut (2010–2012)
Zodiac Sign
Gemini
Father's Name
Rolando Lamb
Mother's Name
Angela Lamb
Siblings
3 (Jerian, Jerai and Jaelin Grant)
Age
30 Years Old
Height
6 ft 5 in / 1.96 m / 196 cm
Weight
82 kg / 180 lb
Eye Color
Brown
Hair Color
Black
Body Type
Athletic
Profession
Basketball Player
Marital Status
In A Relationship
Girlfriend
Hali Eplin
Children
Halo Amor
Active Since
2012
Teams
Oklahoma City Thunder (2012–2015)
Tulsa 66ers (2012–2013)
Charlotte Hornets (2015–2019)
Indiana Pacers (2019–2022)
Sacramento Kings (2022-Present)
Achievements

First-team All-Big East In 2012
NCAA champion In 2011

Endorsements
Not Available
Net Worth
Estimated $10 Million
NBA Draft Pick
2012/ Round: 1 / Pick: 12th Overall
Position
Shooting Guard / Small Forward
League
NBA
Merch
Basketball Card
Social Media
Facebook, Twitter
Last Update
March 2023
Family
Born Jeremy Emmanuel Lamb in Henrico, Virginia, on May 30, 1992, to Ronaldo (father) and Angela (mother), the basketball player is of African-American descent and holds American citizenship.
His father is a pastor and a former basketball player known for his game-winning buzzer-beater for Virginia Commonwealth.
Rolando was the most influential figure in Jeremy's life as a child.
It's no surprise that Jeremy, 29, decided to devote his life to basketball.
He was the third of four children of his parents; Zach Lamb is one of his brothers. Zach, his brother, was a Cal State Bakersfield basketball player.
Early Career
Jeremy Lamb went to Norcross High School in Norcross, Georgia, where the player captained the basketball team and averaged six rebounds and 20 points per game.
He led Norcross to the regional championship, the Elite 8 of the state playoffs, with excellent leadership and a 27–3 overall record.
UConn recruited him after he caught the eye of coach Jim Calhoun, who saw similarities between Lamb and former UConn star Richard "Rip" Hamilton.
Lamb, a four-star recruit according to Rivals.com, was ranked as the No. 19 shooting guard and No. 76 overall player in the country in 2010.
College Career
Lamb appeared in every game during his first year at UConn. He finished second on the team, scoring 11.1 points per game, trailing only Kemba Walker.
On January 25, 2011, he set a career-high with 24 points against Marquette.
Lamb averaged 14.2 points per game in the 2011 Big East Tournament, helping the 9th-seeded Huskies win the tournament and achieve a #3 seed in the NCAA Tournament.
Lamb increased his scoring output to 16.2 points per game in the 2011 NCAA Tournament and tied his career-high with 24 points against San Diego State in the Sweet 16 on March 24, 2011.
He was 11-for-15 from three-point range in the NCAA Tournament before UConn's Final Four game against Kentucky, the highest all-time percentage by a Final Four player.
In the national championship game, he scored 12 points and grabbed seven rebounds as the Huskies defeated Butler 53–41.
Lamb was the only American named to the five-player All-Tournament Team. Lamb and UConn experienced heartbreak during the 2012 season as they failed to meet expectations, posting a defeating record in Big East plays in the regular season.
UConn bowed out in the first round of the NCAA Tournament after losing to Iowa State. Lamb declared for the NBA Draft after the 2012 season.
Age & Body Measurements
Jeremy Lamb is 30 as of 2023. NBA star was born under the sign of Cancer.
People born under the Cancer sign are emotional and sensitive beings who value family.
In terms of physical appearance, Jeremy has a well-maintained body and appears to be very athletic. He maintains his physical fitness by eating well and working at the gym daily.
The American player stands 1.96 meters tall and weighs approximately 180 lb. The remainder of the player's body measurements is unknown.
Professional Career
Under-19 World Cup
Jeremy Lamb was invited to the 17-man tryouts for the 12-man FIBA Under-19 World Cup team on June 17–24, 2011, by USA Basketball and was eventually selected to be a team member.
From June 30 to July 10, 2011, the 12 selected players competed as Team USA in the FIBA U19 World Cup 2011 in Latvia.
NBA Draft
The Houston Rockets selected Lamb with the 12th overall pick in the 2012 NBA Draft.
Jeremy was traded to the Oklahoma City Thunder on October 27, 2012, with Kevin Martin, two 1st-round draft picks, and a 2nd-round draft pick for James Harden, Cole Aldrich, Lazar Hayward, and Daequan Cook.
During his rookie season, Lamb spent time with the NBA Development League's Tulsa 66ers.
Jeremy was named to the Futures All-Star roster for the 2013 NBA D-League All-Star Game on February 4, 2013.
However, the athlete was replaced by Tony Mitchell because the Thunder had recalled him and thus was not an "active" athlete on a D-League roster at the time of the game.
Lamb set a career-high with 22 points against the Rockets on December 29, 2013. In a loss to the Detroit Pistons on November 14, 2014, he recorded his first double-double with 24 points and ten rebounds.
Charlotte Hornets
Lamb was traded to the Charlotte Hornets on June 25, 2015, for Luke Ridnour and a 2016 second-round draft pick.
The basketball player signed a three-year, $21 million contract extension with the Hornets on November 2, 2015. The next day, he scored 20 points on 9-of-10 shooting in a 130–105 win over the Chicago Bulls.
On January 4, 2016, Jeremy surpassed that mark by scoring 22 points in a 111–101 loss to the Warriors.
Injury
Jeremy made his first debut for the Hornets on November 26, 2016, after recovering from a hamstring injury that kept him out for ten games.
He had a career-best game with 18 points and a career-high 17 rebounds in a 107–102 win over the New York Knicks.
On November 28, Lamb set a season-high in points for the second time.
The athlete scored 21 points and grabbed nine rebounds off the bench in a 104–85 win over the Grizzlies.
Lamb set a career-high with 32 points on 11-of-17 shooting in a 129–111 loss to the Raptors on December 20, 2017. In 15 first-half minutes, he scored 19 points.
Indiana Pacers
Lamb agreed to terms with the Indiana Pacers on a three-year, $31.5 million contract on July 7, 2019.
The Pacers announced on February 24, 2020, that Lamb had suffered a torn left anterior cruciate ligament, a lateral femoral condylar fracture, and a torn lateral meniscus during an 81–127 loss to the Raptors on February 23.
Lamb was sidelined for the rest of the 2019–20 season due to this injury.
What NBA Team Does Jeremy Lamb Play For?
On February 8, 2022, the Sacramento Kings announced that they had acquired guard Jeremy Lamb and a 2023 second-round draft pick from the Pacers in exchange for Tyrese Haliburton, Buddy Hield, and Tristan Thompson.
Swingman Lamb appeared in 39 Pacers games, averaging 7.1 points in 15.7 minutes.
Lamb spent the 2021-22 campaign with the Pacers and the Kings; he averaged 7.3 points, 2.8 rebounds, and 1.4 assists in 56 games while shooting 38.3 percent from the floor.
Girlfriend
Jemery's life outside of court is open to the public. The athlete has publicly dated his girlfriend, Hali Eplin, since 2016.
She works as an asset manager at Northwood Ravin, a multifamily development, construction, and property management firm.
The engaged couple's lives were filled with joy when Hali became pregnant with their child in 2018.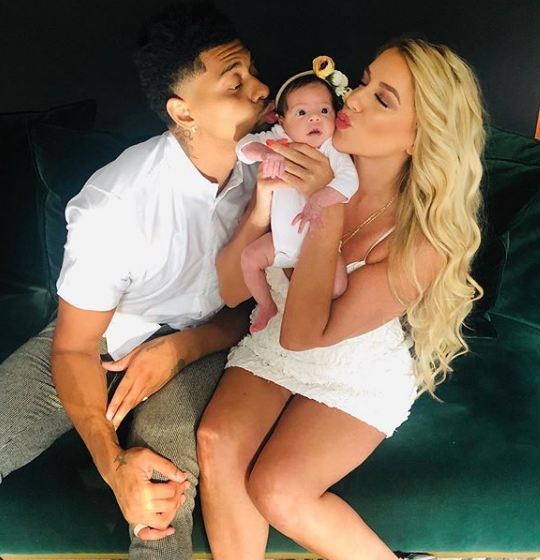 Jeremy and his fiancée were thrilled when their daughter, Halo Amor Lamb, was born on June 26, 2019. The newborn girl weighed 5 lb at the time of her birth.
The new parents continue to show their love and family on Instagram. The couple packed their belongings and left their favorite city in September 2019.
Maybe they'll pursue their romance and marry in their new location. Fans must wait a little longer to see Jeremy marry his girlfriend, Hali.
Net Worth
Jeremy Lamb's estimated net worth is $10 million as of 2023.
The shooting guard has been in the NBA since 2012 and has amassed a sizable fortune through his contracts and salaries with various teams.
In July 2019, Lamb signed a three-year, $31.5 million contract with the Pacers, with the full amount guaranteed and an annual average salary of $10.5 million.
For the 2021-22 season, his salary was $10.5 million.
Cars & Houses
When it comes to cars, Lamb enjoys switching them and actively participates in modifying them. He has a BMW M6 Grand Sport, a Porsche 911 Turbo, and a Maserati Levante.
He once applied a Navy Matte to his BMW M6 Grand Sport. The car was outfitted with gloss black accents and custom brakes painted with PPG.
Aside from cars, Lamb likes investing his millions in real estate. Lamb owned a stunning two-story, 5,200-square-foot home in North Carolina during his time with the Charlotte Hornets.
In 2019, Lamb listed this house for sale for $2.2 million.
Awards & Achievements
Lamb has not achieved his full potential since joining the Thunder in 2012.
Numerous injuries slowed his progress in the league, preventing him from winning significant awards.
Jeremy had a great high school and college career, but when he stepped onto the bigger stage, he could not repeat the feat.
In terms of his NBA career, he has nothing to show for it. Nonetheless, his college performances were impressive enough to merit mention here.
First-team All-Big East in 2012
NCAA champion in 2011
Social Media Presence
Jeremy Lamb shares his daily life routine with his fans on social media.
He has a sizable number of followers on his socials; 269k followers on Facebook and 45.8k followers on Twitter.
Popularity Graph
Frequently Asked Questions (FAQS)
Is Jeremy Lamb a good defender?
Jeremy Lamb shouldn't be playing significant minutes anymore in defense. Lamb has never been considered a tenable defender, so he is vulnerable. He lacks the instincts and physicality to be an effective ball-stopper.
Does Jeremy Lamb have a ring?
No, Jeremy Lamb does not have any championship ring to date. After his college career, he has not been able to show his full potential.
What are Jeremy Lamb's regular season stats?
Jeremy Lamb's regular season stats include 573 games played, 136 games started, 3.6 rebounds per game, 1.6 assists per game, .7 steals per game, 0.4 blocks per game and 10.1 points per game.