Joe Flacco is an American football quarterback for New York Jets in the NFL. He played college football in Delaware after transferring to Pittsburgh. The Baltimore Ravens drafted him in the first round of the 2018 NFL draft.
He majorly played for two big NFL teams, Baltimore Ravens and Denver Broncos. Joe served as a starting quarterback for Ravens from 2008-2018 and helped them to the playoffs six times.
The quarterback won AFC North twice, featured in three AFC championships games, and beat the San Francisco 49ers to win the Super Bowl XLVLL in the 2012 season.
Joe was named Super Bowl XLVII's MVP, concluding a postseason run in which he tied with Joe Montana's single postseason record for touchdown passes (11).
Besides that, he was born into an athletic family. His brothers are former baseball and football players. His father played football and baseball for the University of Pennsylvania.
The player is quite known for his positive outlook and confidence in the NFL. Flacco believes himself to be one of the best quarterbacks in the league.
However, several fans and media have trolled him for his comments. Nevertheless, he has replied that he wouldn't be as successful without believing in himself.
Moving on, Jets coach Robert Saleh announced on December 14, 2022, that Joe was pushed down to No.3 backup for the team. Zach Wilson took the quarterback position while Joe Flacco, who had been back up for the last few games, was pushed down to No. 3.
Here are some quick facts about him before details about the NFL quarterback's life and career.
Joe Flacco | Quick Facts
Full Name
Joseph Vincent Flacco
Birth Date
January 16, 1985
Birth Place

Audubon, New Jersey

Nick Name
January Joe, Joe Cool
Religion
Christian
Nationality
American
Ethnicity
White
Education
University of Delaware

University of Pittsburgh

Audubon High School

Horoscope
Capricorn
Father's Name

Stephen Flacco

Mother's Name

Karen Flacco

Siblings
Five; Stephanie, Mike, John, Brian, and Tom
Age
38 Years Old
Height
6'6″/ 1.98 m/198 cm
Weight
111 kg/245 lbs
Hair Color
Black
Eye Color
Blue
Build
Athletic
Profession
NFL player
Current Team
New York Jets
Position
Quarterback
Active Years
2008-Present
Marital Status
Married
Wife
Dana Grady
Kids
Five: Stephen, Daniel, Francis, Thomas, and Evelyn
Net Worth
$85 million
Social Media
Instagram, Twitter
Merch
Autographed Jersey, Football card
Last Update
September, 2023
Joe Flacco | Early Life, Family, And Education
Joe Vincent Flacco, aka Joe Flacco, was born on January 16, 1985, in Audubon, New Jersey, to loving and supporting parents, Stephen Flacco and Karen Flacco.
His father, Stephen, was a former athlete who played collegiate-level football and baseball for the University of Pennsylvania. He was one of the best players of his time but didn't choose to pursue a career in football.
Nevertheless, he encouraged his sons and daughter to be athletic and play as many sports as they wanted.
Joe is the oldest of five siblings. He has four brothers: Mike, John, Brian, and Tom Flacco. He also has a sister named Stephanie Flacco.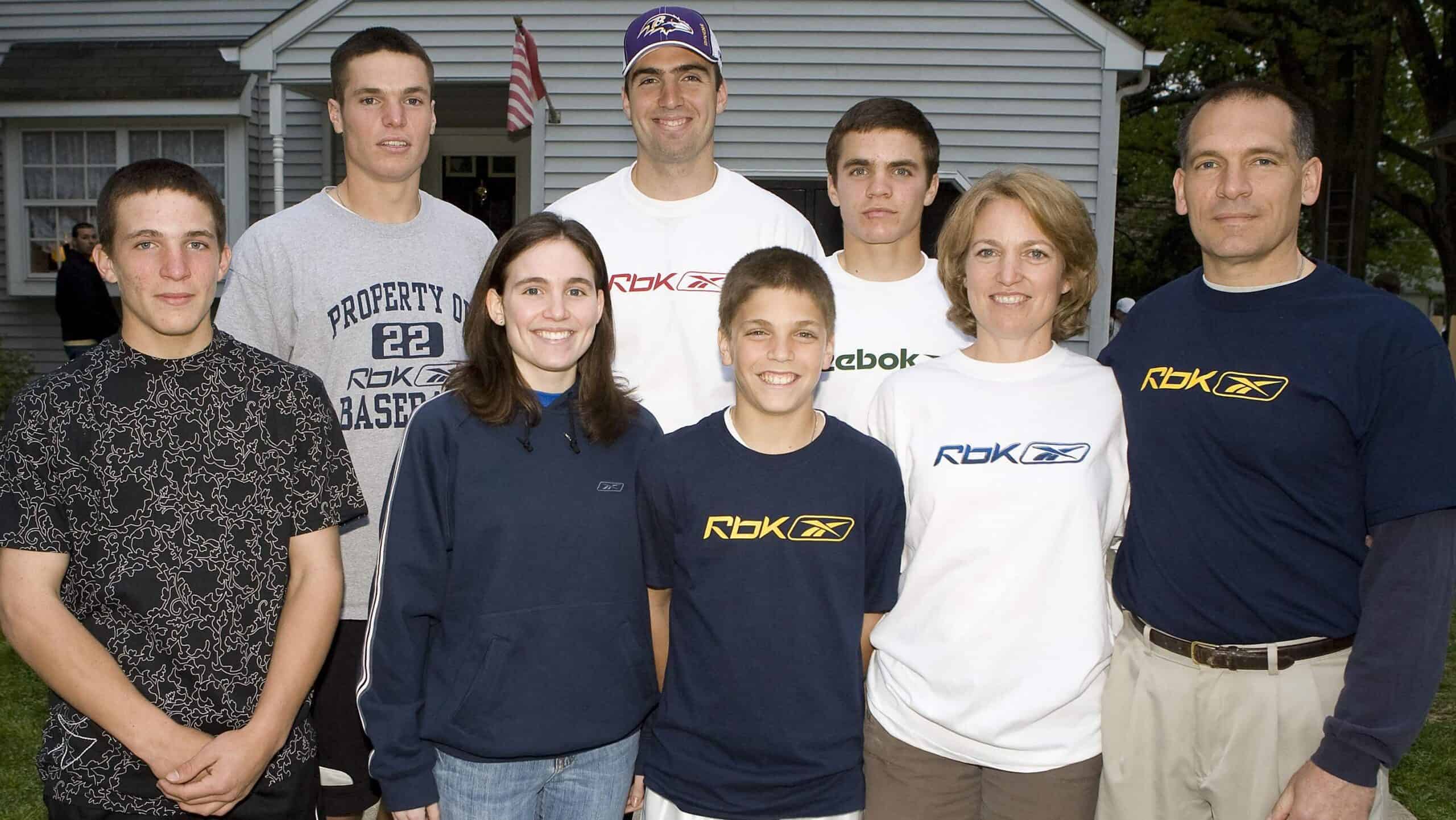 His brother, Mike, was drafted in the 2009 MLB Draft as a former Major League Baseball player. He also played collegiate-level football for the University of New Haven.
Moreover, John also played football at Stanford University. The NFL player's youngest brother Tom served as a quarterback for Towson University.
His siblings even nicknamed him Father Joe. He attended Audubon High School, where he played basketball, baseball, and football.
Initially, he focused a lot on baseball. After that, his father encouraged him to give football a chance.
Following high school graduation, he attended the University of Pittsburgh. However, he transferred to the University of Delaware after two years with Pittsburgh.
Joe Flacco | Age, Height, And Weight
The NFL player is 38 years old as of December 2023. The professional player takes excellent care of his health and only eats a balanced diet.
Hence, he lives a very active and healthy lifestyle. The American quarterback is 1.98 m inches tall and weighs 245 lb. He has short black hair and blue eyes.
Joe Flacco | Football Career
High School And College Career
The athlete was exposed to the sports world at a very young age. His father was a former athlete who taught him to play football, baseball, and basketball.
Furthermore, he attended Audubon High School, where he played high school football. He served as a quarterback for the Green Waves. The NFL player was quite famous for his football skills.
As a result, he received a lot of attention from many well-reputed colleges. At last, he decided to attend the University of Pittsburgh.
As a redshirt, he didn't play in his first year. Then he was a backup quarterback for Pitts starter Tyler Palko.
Later, the American quarterback transferred to the University of Delaware after two years at Pittsburgh. He didn't get a single chance to play during his junior year.
The quarterback showed the Delaware Fightin' Blue Hens football team his potential in his senior year.
He played against well-known teams, such as the Navy, Delaware State Hornets, Northern Iowa Panthers, etc. He also assisted the team in the FCS National Championship Game.
NFL Career
Baltimore Ravens
Following college graduation, Joe entered the 2008 NFL Draft. Initially, he wanted to play baseball in college because he thought he could not get into the NFL.
However, his coach thought otherwise and encouraged him to stay in football.
As a result, the Baltimore Ravens selected the former Raven in the first round. He was the 18th pick overall and signed a five-year contract worth $30 million.
In his rookie season, the athlete was awarded the Week 9 AFC Offensive Player of the Week.
Moreover, he was also the recipient of NFL Rookie of the week, NFLPA Rookie of the week, and NFL Rookie of the Month.
He was also the 2009 Diet Pepsi NFL Rookie of the Year. In addition, Flacco was placed in the 90th rank of the 2011 NFL Top 100 Players.
After reaching the playoffs for the fifth time, he also won the 2012 NFL Championship with the Ravens. The NFL player was also named the 2012 Most Valuable Player.
On July 16, 2008, Ravens signed him for six-year in a contract worth $120.6 million.
They wanted to sign him for $16 million earlier that year. Nevertheless, the six-year contract made him the highest-paid NFL player then.
Furthermore, he was selected for the 2015 Pro Bowl. Later, he was to the Denver Broncos after his contract was up.
Denver Broncos And New York Jets
Following his trade, Joe joined the Broncos for the 2019 season. Again, he performed exceptionally well and showed off his impressive football skills.
In his debut match against Oakland Raiders, he threw for 268 years and touchdowns in a 24-16 road loss. Flacco ended his 2019 season posting 1822 passing yards, six touchdowns, and five interceptions in eight games.
Later, The NFL player was released after a season due to a failed physical designation.
On May 27, 2020, Joe signed a one-year contract worth $1.5 million with the New York Jets. He made his debut in the week four matchup on October 2 after Sam Darnold injured his shoulder.
Because of his surgery, he missed the start of the training camp. Nonetheless, Flacco jumped right into the action for the 2020 season. He played well in the regular season, but the Jets failed to make it to the playoffs.
Shortly after, he underwent neck surgery in April 2020.
Philadelphia Eagles
And New York Jets
After the Jets, the quarterback player joined the Philadelphia Eagles on March 25, 2021. He has joined the Eagles for a year as a backup to 2020 second-round pick Jalen Hurts.
Similarly, on October 25, 2021, Flacco was traded by the Eagles after quarterback Zach Wilson suffered a knee injury.
After his trade, the third-string quarterback Gardner Minshew stepped into the primary backup role behind starter Jalen Hurts.
He was also named the starting quarterback for the Jet's Week 11 game against the Miami Dolphins.
The NFL quarterback resigned with the Jets on March 16, 2022, for one year deal worth $3.5 million. He debuted against the Ravens, completing 37 of 59 passes for 37 yards.
Handoff To Lamar Jackson
In January 2019, Joe Flacco gave the Baltimore Ravens a Super Bowl title. During his game against the Chargers, Flacco delivered one final clutch play.
Before he left the field, Joe turned an awkward transition into a smooth one for Lamar. As Flacco was officially demoted, he said a few words to Lamar, acting as his final comments.
He said, "Listen, finish strong. At some point, you will be proud of how you finished, no matter what happens. This is all part of it. You know, dealing with the situation right now. It's still a game, so go out there and do what you can to get us back in it. Handle yourself how you would like to see yourself handle the situation."
Controversial Hit
In the 2017 NFL season, Flacco sustained a concussion after a hit from former Miami Dolphins linebacker Kiko Alonso.
His helmet went flying off after the hit. Alonso claimed the brutal hit to be a mistake. Nevertheless, the NFL fined him $9,115 instead of receiving a 15-yard penalty for unnecessary roughness.
Several people and the media called for the linebacker's suspension, but he didn't receive one. Instead, Joe thanked his fellow teammate, Ryan Jensen, for having his back after pushing Kiko off him.
Many experts and fans sided with the quarterback and called out the Dolphins' linebacker for the hit. However, a few claimed Flacco slid off late, which resulted in the collision.
Joe Flacco | Achievements
Joe depicts good athletic ability with agility numbers. Additionally, he is one of the players to portray solid fundamentals with his footwork which gives him rhythmic movements.
Flacco can be termed a pocket passer with the ability to extend the time limit from his opponents. He has worked years in the NFL as the starter and depicts an excellent clutch ability.
The NFL quarterback has maintained 6,066 passing attempts, 3,744 passing completions, and 3,744 passing yards.
Furthermore, he has a passer rating of 84.1, with touchdowns-interceptions of 224–144. Likewise, to date, Flacco has posted ten wins in the playoffs.
Some of his awards to date are highlighted below.
Super Bowl champion (XLVII)
Super Bowl MVP (XLVII)
Pepsi NFL Rookie of the Year (2008)
ECAC Player of the Year (2007)
First-team All-CAA (2007)
CAA Co-Offensive Player of the Year (2007)
3× AFC Offensive Player of the Week (Week 9, 2008; Week 1, 2012; & Week 6, 2014)
2× Pepsi NFL Rookie of the Week (Week 8, 2008 & Week 17, 2008)
NFL Top 100 rankings #90 (2011), #74 (2012), #19 (2013), #58 (2014), #97 (2015)
Furthermore, he is one of the best quarterbacks in NFL history. He is often compared with legendary players like Tom Brady, Peyton Manning, and Aaron Rodgers.
Joe Flacco | Career Stats
After resigning with the Jets on March 16, 2022, he made his debut against the Ravens, where he completed 37 of 59 passes for 307 yards, touchdowns, and inception as the jets lost 9-27.
He finished week two with 307 passing yards and four touchdowns against Cleveland Browns.
Joe made a 66-yard pass to Corey Davis, and the jets managed to make an onside kick, allowing him to throw another touchdown with their 31-30 win.
Here is the table stat of Joe Flacco at the time of the writing:
| | | | | | |
| --- | --- | --- | --- | --- | --- |
| Games Played | Passing Attempts | Passing Yards | Passing Touchdowns | Interceptions | Rushing Touchdowns |
| 182 | 6266 | 42,171 | 232 | 147 | 16 |
Joe Flacco | Injury
Indeed, injuries are always the ones to stand as the stumbling boulder in an athlete's path, which is the same for Joe Flacco. Glancing back to his days, Flacco first faced a knee injury on December 16, 2013.
He suffered from left MC back then, which fortunately didn't take long, and he was fine the other week. Following it, on November 22, 2015, Flacco tore his left ACL and MCL late in Week 11 of that season.
His injury missed him the rest of the season, and he even underwent surgery in December. Later, Flacco missed 2016 practice due to his shoulder pain.
Flacco injured his back vertebral disc hernia the following year and was out of the game for a month. Not long after it, in October, he had a cranial head concussion.
On November 4, 2018, Joe Flacco sprained his hip, and the next time, he injured his neck during the game vs. Indianapolis.
Morever, Broncos released the NFL player on March 19, 2020, after he failed the physical designation.
Joe Flacco | Marriage And Kids
The quarterback is married to Dana Grady. The two are high school sweethearts. Furthermore, they met at Audubon High School and grew up in the same town.
The couple is relatively private about their personal life. Hence, little to no information about her work and education is available.
Nevertheless, she is a mother to five beautiful children with her husband, Joe Flacco. The pair tied the knot on June 25, 2011.
Together they welcomed their first child Stephen Flacco in June 2012. Their second son Daniel was born on September 15, 2013.
The two welcomed their third child and son Francis Flacco in January 2015. In September 2016, they gave birth to their one and only daughter, Evelyn Flacco.
Finally, they had their last child and the fourth son Thomas Flacco in April of 2018.
Joe Flacco | Net Worth And Salary
The NFL QB has built impressive wealth through years of football in the National Football League.
Flacco's net worth is over $85 million. He signed a one-year deal/3,500,000 contract with the Jets, which includes a $1,730,000 signing bonus, $2,85,000 guaranteed, and an average annual salary of $3,500,000.
Flacco earns a base salary of $1,120,000, a signing bonus of $1,730,000, and a roaster bonus of $6,50,000 while carrying the cap hit of $3,385,294 and a dead cap value of $2,850,000.
He was also the highest-paid quarterback in 2012 after signing a six-year contract worth $120.6 million with the Broncos.
Besides that, Joe earns pretty well through endorsements and sponsorships. Many well-known brands and companies have invested in him.
To elaborate, Flacco endorsed brands like Nike, Reebok, 1st Mariner Bank, Haribo, McDonald's, Zynga, and a line of women's apparel for Spirit Football Jersey.
Furthermore, he used to be the spokesperson for Pizza Hut, which sold "Flacco's Favorites" products.
Net Worth Of Joe Flacco In Different Currencies
Below is the net worth of Joe Flacco in different currencies, including the Euro and Pound:
Currency
Net Worth
Euro
€

79,912,750

Pound Sterling
£

70,259,300

Australian Dollar

A$126,055,425

Canadian Dollar
C$

115,502,250

Indian Rupee
₹

7,037,192,500

BitCoin
฿

5051.14
Joe Flacco | Social Media Presence
The American quarterback is active on several social media platforms like Instagram and Twitter. His social media post mostly features photos and videos from his games.
Instagram: 109k Followers
View this post on Instagram
Twitter: 325.6k Followers
Apart from that, Joe loves to spend with his family. He travels around the United States with his wife and children for vacation and weekend gateways.
Joe Flanco | Popularity
The NFL player has fans from all over the world who regularly check on him for his games.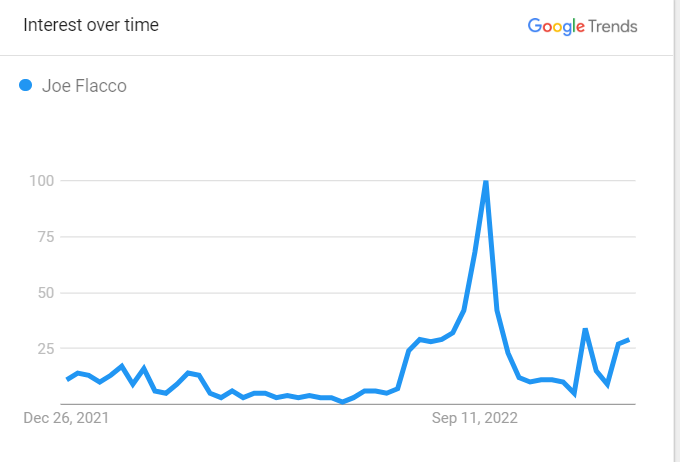 The graph shows his search trends for 12 months.
Joe Flanco | Frequently Asked Questions(FAQs)
What happened to Joe Flacco?
The Denver Broncos released Joe as they didn't deem him fit to play due to his injury. Hence, they terminated his contract because of a failed physical designation. Shortly after, he had neck surgery.
Nevertheless, he was back on the field with the New York Jets for the 2020 season. He signed a year-long contract with them that was worth $1.5 million. He served as a backup quarterback for Sam Darnold.
Did Joe Flacco retire?
No, Joe Flacco has not retired. However, his contract with the Jets is up following the end of the 2020 NFL season. The quarterback hasn't decided whether to continue with the Jets or join another NFL team.
What is the Jersey number of Joe Flacco? What is his Delaware statistic like?
Joe Flacco features in jersey number 5 for the New York Jets.
During his tenure at the University of Delaware, Joe Flacco set an incredible 20 school records. He has 4,263 passing yards, 11 300-yard passing games, and a .634 career completion percentage.
Likewise, he also ranks No. 2 all-time at Delaware with 7,046 career passing yards.
Is Joe Flacco a Hall of Famer?
No, Joe Flacco is not a Hall of Famer. Indeed, he does have his share of glorious days; however, it does not account for him in it.
What is the Eagle's Jersey Number of Flacco?
Flacco wears Jersey Number 7 for the Eagles.
Was Joe Flacco an Elite? What is his college statistic like?
Joe is not an Elite. During Joe's tenure at the Delaware Fightin' Blue Hens, he maintained 7,057 passing yards, 41 touchdowns, 15 interceptions, and 76 brushing yards.
How Many Playoff Records does Joe Flacco have?
Joe has ten playoff records.
How Many Super Bowl Wins does Joe Flacco Have?
Joe has 1 Super Bowl Wins Record.