Dana Grady is well known as the wife of the NFL player Joe Flacco. He is a famous football player positioned as quarterback for the New York Jets of the NFL and was the Super Bowl XLVII's MVP.
Flacco is a successful sportsperson and is widely known for having one of the NFL's strongest arms. As a result, his games are usually mixed with aggressive and long passing.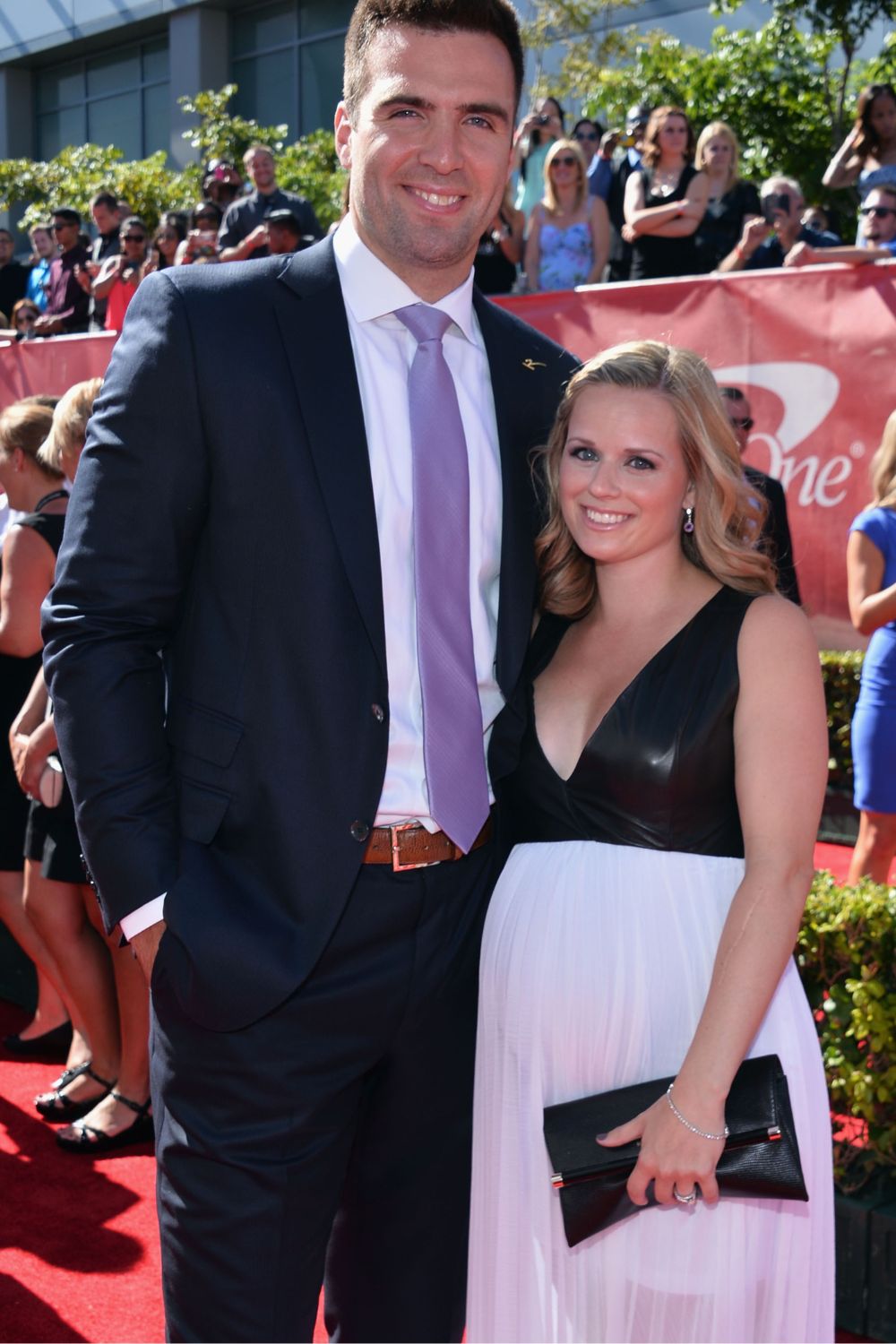 Joe and Dana are high school sweethearts and look very admirable together. Then, it was in June 2010 that they shared their vows and got married.
They have been together since then, with five healthy children. This American footballer is a social media person and shares pictures on his Instagram with his family and team every now and then.
On March 16, 2022, Flacco signed a one-year extension contract with the Jets worth $3.5 million.
His fans on social media are curious and want to know more about his wife, Dany Grady. In this article, we'll get to know Dany Grady more personally and in-depth.
Below are the details about her early life, career, net worth, age, body measurements, height, Instagram, kids, and husband. Let's get started with quick facts.
Dana Grady | Quick Facts
| | |
| --- | --- |
| Full Name | Dana Grady |
| Birth Date | February 24, 1985 |
| Birth Place | New Jersey, USA |
| Known As | Dany Grady |
| Religion | Christian |
| Nationality | American |
| Ethnicity | White |
| Education | Audubon High School |
| Horoscope | Pisces |
| Father's Name | Daniel Grady |
| Mother's Name | Deborah Grady |
| Siblings | 3 Siblings |
| Age | 38 Years Old |
| Height | 5 ft / 1.52 m / 152 cm |
| Hair Color | Blonde |
| Eye Color | Dark Brown |
| Build | Slim, Petite |
| Profession | Housewife |
| Famous As | Wife Of Joe Flacco |
| Marital Status | Married |
| Husband | Joe Flacco |
| Children | Five |
| Net Worth | Under Review |
| Salary | Unknown |
| Merch Of Joe Flacco | Jersey, Trading Cards |
| Last Update | November, 2023 |
Dana Grady | Early Life, Family, & Education
Dana Grady was born on February 24, 1985, in New Jersey and was the fourth child of Daniel Grady and Deborah Grady.
Her star sign is Pisces, as she celebrates her birthday in February.
Dana grew up in a large family with her three siblings, Zachary, Sara, and Lisa. Aside from her family, the football player's wife now has her own family.
She married Joe Flacco and is a mother to their five beautiful children.
Dana Grady is an American by nationality and belongs to the white ethnicity.
Moving on to her educational background, she attended Audubon High School in Camden County, New Jersey, United States.
Dana Grady | Relationship & Children
Relationship
Dana Grady and Joe Flacco together have five children and are a very happy family.
This beautiful couple attended the same school and have been together since then. Like every other relationship, there were ups and downs in their relationship.
However, they worked it out and remained committed to their relationship. After many years of dating, Joe finally proposed to her and married in the beautiful summer of June 2011.
They were married in Holy Savior Church in Philadelphia. It was the same church where Joe's parents had married years before.
Children
After two years of marriage, on June 13, 2012, the couple welcomed their first child, Stephen Vincent Flacco.
Following the next year, they welcomed another baby, Daniel, about an hour before the start of Raven's home opener on September 15, 2013.
While in an interview with CNN's Rachel Nichols, Flacco shared his feeling about his decision to play.
Here is how he felt when he was waiting for the big news:
"It was killer. Especially right at the moment. I was way more fidgety than I normally am – just walking back and forth. I was just so much more amped up, and so, 'Ahhhhhh, what's going to happen?"
After the two babies, Mr. and Mrs. Flacco welcomed their third child, Francis Michael, on January 20, 2015, and Evelyn Renee, on September 27, 2016.
Interestingly, when their third son, Francis Michael, was born, Joe missed the Pro Bowl.
In 2015, played for Baltimore Ravens, and the ex-coach John Harbaugh made a little comment on his situation in The Baltimore Sun.
"They called about the Pro Bowl, and he had to decide, Dana or the Pro Bowl. Flacco was an alternate to the Pro Bowl, but he declined an invitation After several Initially Selected quarterbacks backed out."
Another addition to their family joined on June 4, 2018. Yes, they welcomed a baby boy named Thomas Kevin Flacco that day.
Dana Grady | Husband
Joe Flacco was born Joseph Vincent Flaccoon on January 16, 1985, in Audubon, New Jersey, and the eldest son among five to Karen (nee Madden) and Steve Flacco.
As of 2023, 38 years old, Joe is an NFL player, a quarterback for the New York Jets.
He was in college football at Delaware after transferring from Pittsburgh and was drafted by the Baltimore Ravens in the first round of the 2008 NFL Draft.
Other than that, he has played for teams like:
Baltimore Ravens (2008-2018)
Denver Broncos (2019)
New York Jets (2020)
Philadelphia Eagles (2021)
Awards and Highlights:
Super Bowl champion (XLVII)
Super Bowl MVP (XLVII)
Pepsi NFL Rookie of the Year (2007)
First-team All-CAA (2007)
CAA Co-Offensive Player of the Year (2007)
Recent Career
In the 2021 NFL season, Flacco made the most career passing yards and touchdowns for any quarterback who has never been to a Pro Bowl.
Joe Flacco's NFL career statistic as of Week 14, 2022, is below.
Passing attempts: 6,266
Passing completions: 3,863
Percentage: 61.7%
TD-INT: 232-147
Passing yards: 42,171
Passer rating: 84.1
Signed a 1 year $3.5 million contract with Philadelphia (PHI)
Joe signed a 1 year $3.5 million deal with the Philadephia Eagle.
On October 25, 2021, he was traded to the Jets after starting quarterback Zach Wilson suffered a knee injury.
He was the backup for Mike White and Josh Jhonson for his three games for the New York Jets. Flacco was named the starting quarterback on 17 November 2021 for the Week 11 game against the Miami Dolphins.
He had to be on the reserve/COVID-19 list by the Jets on November 23 as a close contact with the White, who tested positive for COVID-19. He came back to the team on November 30.
Joe was the starter for the first three weeks of the season due to an injury to Zach Wilson. He completed 37 of 59 passes for 307 yards, a touchdown, and an interception while playing against his former team Baltimore Ravens which they lost 9-24.
In Week 2 match against the Cleveland Browns, Flacco finished with 307 passing yards and touchdowns.
Flacco made a 66-yard touchdown pass to Corey Davis with 1:22 left of regulation. The New York Jets successfully executed an onside kick, allowing Flacco to throw a touchdown with 14 seconds left in their 31-30 win.
Flacco played for the New York Jets in Week 4 of the 2022 NFL season.
Dana Grady | Career & Net Worth
You must be wondering what the famous sportsperson's wife does for a living, right? The sportsman's wife is currently not working and is a homemaker by profession.
She lives with her husband and five children and focuses more on her house and family life.
She is an incredibly supportive wife, partner, and, alongside, a lovable mother too. There is no doubt that she is an independent and intelligent person.
But she shares her net worth with her husband, Joe Flacco, a sole earner.
After playing for several teams, he must have accrued a handsome net worth. As of 2023, Joe Flacco net worth is estimated to be at $85 million.
All this amount added to his net worth from the past major contracts with the Baltimore Ravens.
After winning the Super Bowl with the Ravens, he was a free agent and was eligible for a new major contract as he was the Super Bowl MVP in 2013.
Following, he signed an extension contract with the Ravens worth $120.6 million for 6 years, becoming the highest-paid player in NFL history. He also had a base salary of around $20 million.
Social Media Presence
Although the football player's wife is low-key, we still searched all over the social media platforms available but were out of luck.
On the other hand, her husband, Joe Flacco, is on social media platforms like Instagram and Twitter.
View this post on Instagram
On Instagram, he has 109k followers; on Twitter, he has 325.6k followers. He regularly posts pictures of his family, game, and dog Stella.
Popularity Graph
Dana Grady is the wife of a notable NFL player Joe Flacco who plays for the New York Jets in the NFL.
The above graph shows Grady's popularity over the past twelve months.
Frequently Asked Questions (FAQs)
Why is Dana Grady famous?
Dana Grady is famous for being the wife of the talented football player Joe Flacco. Dana keeps her family together and has been with Joe in many events supporting his journey.
Is Dana Grady's husband, Joe Flacco, inducted into the Hall of Fame?
No, as he is currently playing, Joe Flacco is not inducted into the Hall of Fame. Let's hope that he gets inducted in the near future.
Does Doe Dana Grady have endorsements?
No, Dana Grady, Joe's wife, has no endorsements. However, Joe has endorsements with Reebok, Nike, Haribo, Zynga, and McDonald's. He is also a spokesperson for Pizza Hut.