Joe Rogan's family tends to live a low-key life. His wife, Jessica, and daughters have publicly appeared only a handful of times.
Rogan is the father of three daughters, including a stepdaughter, with his longtime girlfriend-turned-wife.
The Rogan family resides in their $14 million home on Lake Austin in Austin, Texas. It comes as no surprise as he owns a net worth of $120 million.
Over the years, Joe got into numerous controversies, which brought him fired back. One of those incidents came in 2023 when his father called him out for calling him an "Italian psychopath."
Born on August 11, 1967, Joseph Rogan is widely popular as the color commentator of the UFC, serving under president Dana White.
Moreover, he also hosts his podcast, The Joe Rogan Experience. He launched the podcast with his friend, Brian Redban, in December 2009.
Some of the sports personalities who appeared in the podcast are Dale Earnhardt Jr., Ronda Rousey, Aaron Rodgers, and Mike Tyson, to name a few.
In 2020, Spotify obtained exclusive distribution rights to his podcast for $200 million.
In addition to that, he is the owner of the Austin-based comedy club Comedy Mothership.
Joe Rogan Family: Wife Jessica Is A Former Waitress
The American comedian-turned-podcaster & commentator leads a blissful married life of 14 years with his wife, Jessica Ditzel.
His wife is a former cocktail waitress whom he married in 2009 after dating for many years. The wedding came amid him railing for years against the uselessness of marriage.
As reported, Joe and Jessica met in 2001 in California when the latter was working as a waitress- they hit off instantly.
Ditzel, born July 18, 1975, is nearly eight years younger than her famous husband. As of 2023, she is 48 years old.
Some sources report that she worked as a model and product analyst.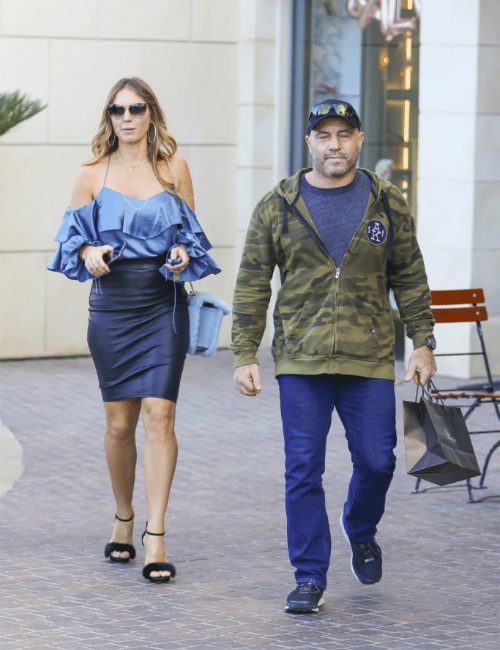 Despite being a celebrity wife, Jessica rarely appears on her beau's podcast.
In 2013, she briefly appeared in an episode of the Joe Rogan Experience and discussed their family life and relationship.
While Jessica remains busy with her work and caring for her daughters, her husband Rogan doesn't back off to talk highly of his wife.
Rogan Is Father Of Three Daughters: A Family Of Five
The former Fear Factor host and his significant half, Jessica, share three children, all daughters: Katja Rose, Rosy, and Lola.
Rogan's eldest daughter, Katja, 27, is his stepdaughter from his wife's previous relationship with her then-ex-boyfriend, H-town singer Keven "Dino" Conner.
Born in Atlanta in 1996, she was seven years old when her biological father, Keven, died in a car accident in 2003.
Now, she is following in her father's footsteps in music and aspires to become a great R&B singer.
Joe legally adopted Katja and shares a good bond with her. In a 2012 segment of "The Rosie Show," he referred to his stepdaughter as 'not just as a daughter but as a true friend.'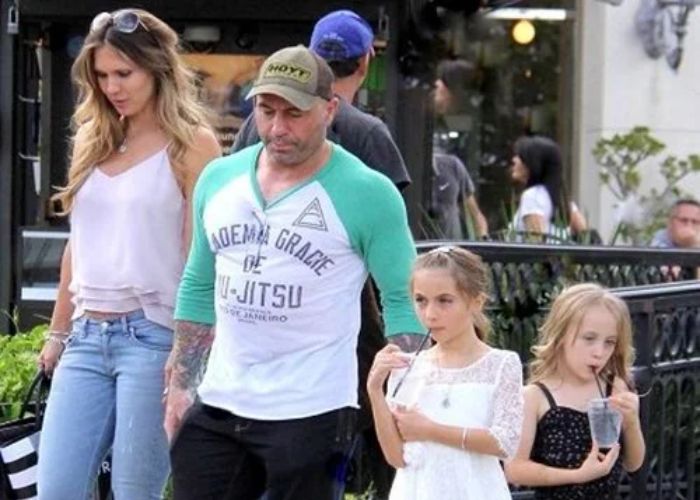 His other two daughters are his biological daughters with his wife. They welcomed Rosy Rogan in 2008, a year before they exchanged vows.
The couple became parents of their youngest daughter, Lola Rogan, born in 2010.
Rogan's daughters, Rosey 15 and Lola 13, refrain from the media spotlight.
Probably, their mother, Jessica, wants to avoid public attention and give them a normal childhood.
Who Are Joe Rogan's Parents?
Rogan, who is of Italian and Irish descent, is the son of Joseph Rogan Sr. and Susan Lembo. His parents divorced when he was only five years old.
So, he went to live with his mother, whom he calls a "free spirit'. At 7, he and his mom moved to San Francisco, California, where she remarried.
Joe stated his stepdad was a hippie sort, but professionally, he was a computer programmer and an architect.
Then, 11-year-old Joseph Rogan moved with his stepfather and mother in Gainesville, Florida. Later, they settled in Newton Upper Falls, Massachusetts.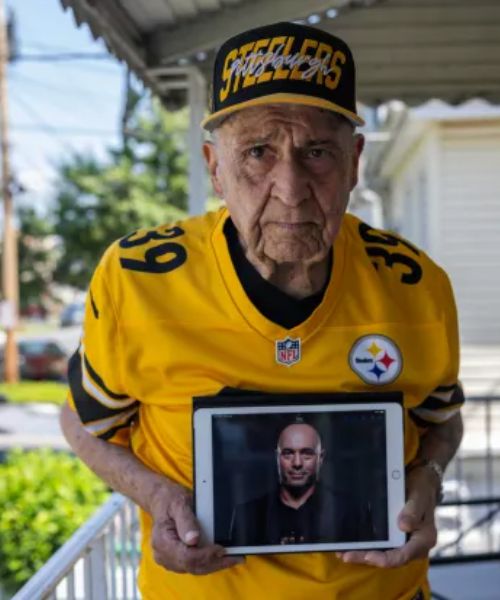 As reported, Joe had not seen his father, Joseph Sr., a retired New Jersey police officer, since he was seven.
But the fate would lead the father-son duo to encounter again after many years- though because of bitter reasons.
Over the years, Rogan portrayed his dad's image as an abusive person in his podcast. He even claimed that it led to their parents' divorce.
However, in September 2022, Joseph Sr. (Joe's father) denied those claims in an interview with The Sun. He also sent his son and Spotify a legal letter to force the podcaster to stop talking about him.
In the interview, he said that he wanted Rogan to meet his twin half-sisters, Bridget Carselda and Rosa, both 43. Rogan had reportedly rebuffed them when his then-19-year-old sisters tried to meet him.