Megan Schobert, the wife of NFL player Joe Schobert, is no stranger to the spotlight. More than just being a supportive spouse, she is an acclaimed social media sensation & a doting mother.
She and Joe are together since high school; while the latter pushed himself for an NFL career, she broadened her skills in dancing & now is a dance instructor.
Her husband Joe, a 2016 NFL Draft, signed with the Tennessee Titans in the 2022-23 season before the team waived him on December 12, 2022.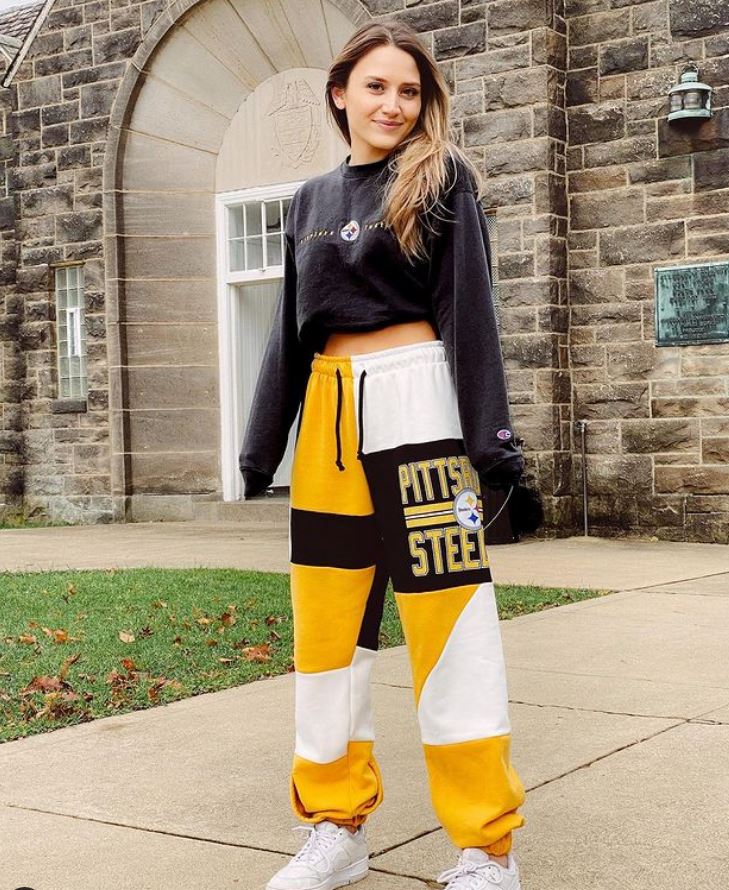 A Tiktok & Instagram star, Megan is also the owner of Schotime Dance Center.
She is a compliant figure of a social media star, a wife & a proud mother- often shares pictures of her adorable family moments.
If you're curious to know more about Megan Schobert- how her relationship with Joe began & many more, be sure to read the full article.
Joe Schobert Wife | Quick Facts
| | |
| --- | --- |
| Full Name | Megan Schobert |
| Birthday | April 15, 1994 |
| Age | 28 Years Old |
| Birth Place | Wisconsin |
| Nick Name | Megan |
| Religion | Christian |
| Nationality | American |
| Ethnicity | White |
| Zodiac Sign | Aeries |
| Hair Color | Brown |
| Body Build | Slim |
| Profession | Dance Teacher, TikTok Star |
| Hobbies | Yoga, Travelling |
| Food Habits | Non-veg |
| Marital Status | Married |
| Husband | Joe Schobert |
| Kids | One son |
| Son's Name | Simon West Schobert |
| Husband's profession | NFL player |
| Net Worth | Under review |
| Husband's Net Worth | $5 Million |
| Social Media | Instagram, TikTok, Twitter |
| Last Update | June 2023 |
Joe Schobert Wife | Megan Schobert's Early Life & Education
Megan Schobert was born on April 15, 1994, in Wisconsin, the United States.
After attending Bethesda Elementary School, she went to Waukesha West High School. Megan then enrolled at the University of Wisconsin, where she graduated with an elementary special education degree in 2016.
Thanks to her creative arts educational background, she excelled in dancing & later became a dance teacher.
Nothing much on Mrs. Schobert's parents or family background is out. But she often shares pictures of her family on social media.
Megan's parents and her NFL player husband Joe Schobert are very supportive of her dance career. She mentions her family members on social media, expressing her gratitude for their love and support.
Megan Schobert (Wife Of Joe Schobert) | Dating From High School To Wedding!
It was at Waukesha West High School that Megan would meet her future husband Joe Schobert.
In her Instagram post of early March 2020, she stated that the couple celebrated their 8th relationship anniversary- meaning they began dating on March 3, 2012.
She first shared a picture with Joe in June 2013.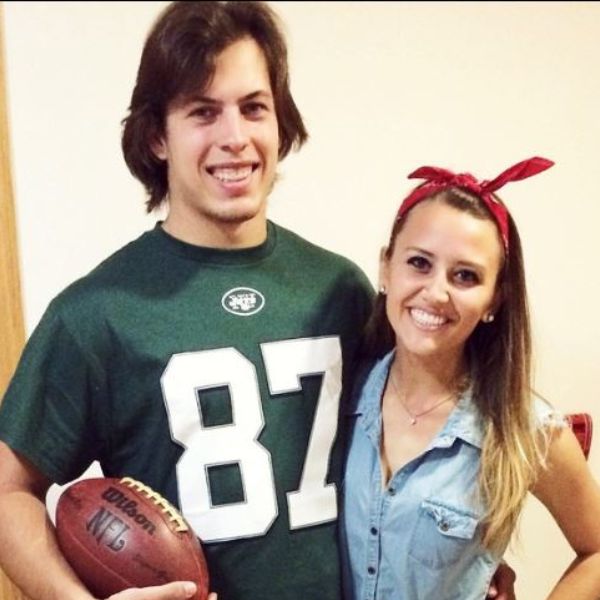 Megan and Joe Schobert even enrolled at the same university, the University of Wisconsin-Madison.
While both were in their struggling phase to track a career path, they became each other's backup for inspiration & support.
Engagement In Eiffel Tower | When Did Joe and Megan Marry?
After dating for 5 years, Joe took Megan on a romantic trip to Paris and proposed in front of the iconic Eiffel Tower.
Reportedly, when the NFL player went to Paris back in high school, his tour guide told him that this was the most romantic spot in all of Paris. And years later, Schobert would have his romantic moment captured at the same spot.
Overjoyed Megan shared the picture of their engagement on Instagram on March 23, 2017.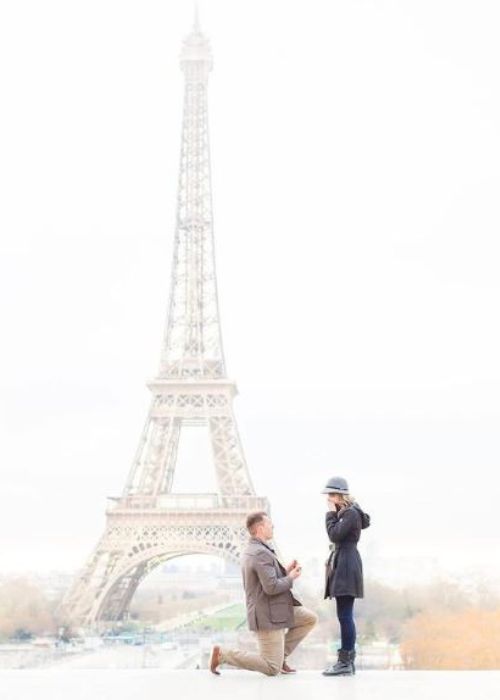 A year after their engagement, the couple married in a private ceremony.
They wed on July 14, 2018, at Villa Bellezza winery & vineyards in Pepin, Wisconsin, as per an Instagram post by Megan Schobert on July 20 that year.
She addressed her wedding day as the "most perfect day" and credited her husband for making every day feel like the best day ever.
And fast forward to November 2019, the duo confirmed that they were expecting their first baby.
Joe Schobert Wife | Megan Shares A Son With Her Husband
The ending of 2019 was all about their upcoming baby.
As Joe and Megan were sharing pictures of their baby bump on their social media, they referred to their future child as "Baby Scho".
As any expectant parent knows, pregnancy can be a rollercoaster of emotions, and Megan and Joe were no exception.
On March 14, 2020, the couple became parents to son Simon West Schobert, three weeks early than the due date of April 3, 2020.
The arrival of Simon marked a new chapter & a bundle of joy in Megan and Joe's relationship.
But also due to the COVID-19 pandemic at the time of Simon's birth, the family of three found themselves quarantined in the hospital.
Megan and Joe were grateful for all of the good wishes they received from their loved ones.
Their son Simon West Schobert is 3 years old as of June 2023.
Megan Schobert | Social Media Profile
The 2017 Pro Bowl Joe's wife Megan has a fan base of her own on social media. She is active on Instagram, Twitter, and TikTok.
Her Instagram account with more than 9.7K followers is all about her family- especially her husband and her son. She joined Twitter in February 2011.
An expressive persona, Megan Schobert is now a TikTok star & often posts about her family and dance challenges on her TikTok videos. As of early 2023, her followers are more than 421.8K.
Growing Audience on TikTok
Megan found success on TikTok during the COVID-19 pandemic, using the platform as an outlet for her creativity.
Not to mention, she escapes the eclipse of her husband's fame & gets public attention as a content creator & amuser on TikTok. Her videos have exploded in popularity, accumulating an impressive 2 billion views.
Fans can't get enough of her content, which often features her baby and husband. But what is it about Megan's videos that have captured the hearts of so many people?
Well, it is the authenticity & simplicity she shows in her videos- from the joys and challenges of parenthood to the everyday moments of married life.
Viewers may feel like they are getting a sneak peek into the inner workings of a happy and loving family, and who wouldn't want a little bit of that in their life, right?
Whether she's dancing with her husband or snuggling with her baby, Megan's videos are sure to bring a smile to anyone's face.
Joe Schobert Wife | Career
Megan is a multifaceted and talented individual, with a diverse background in fields such as dance and special education. Before becoming a social media influencer, the wife of NFL player Joe Schobert worked as a dance teacher in Cleveland.
Megan's journey into a career as a dance teacher began with a bold move and a stroke of luck. Fresh out of college, Megan followed the love of her life to Cleveland, not knowing a single person in the area.
When her boyfriend was away working long hours, Megan took the initiative to contact a local dance studio and inquire about openings.
To Megan's surprise, the studio's owner, Gina Koch, offered her a dream opportunity as a dance teacher. This chance led Megan to teach and choreograph for more than a hundred incredible students.
View this post on Instagram
During their time in Cleveland, Megan taught dance to students of all ages, sharing her passion for movement and self-expression with her students.
After four years in Cleveland, the Schobert family made the move to Jacksonville, Florida when Joe signed with the Jaguars.
The move came with its own set of challenges, as it coincided with the COVID-19 pandemic and the arrival of their new baby boy, Simon.
Megan's career journey is a testament to her adaptability and determination.
From dance teacher to social media influencer and wife of an NFL player, Megan has proven that she is capable of handling whatever life throws her way with grace and positivity.
Schotime Dance Center
Megan is also the founder of Schotime Dance Center, Castle Rock's newest dance experience.
At Schotime, Megan and her team offer a variety of dance lessons for all ages and abilities, all designed to cater to a range of interests and skill levels.
Their mission is to make dance accessible and enjoyable for all, and they go above and beyond to achieve this goal.
Brief About Joe Schobert | Early Life & NFL Career
Born on November 6, 1993, Joseph Robert Schobert is a native of Waukesha, Wisconsin. His parents are Randy Schobert, and Chrisine Schobert.
He was a running back and safety on the high school football team- led the Waukesha West to WIAA Division 1 victory. His senior year playing career saw him 1,452 rushing yards and 23 touchdowns.
Then Schobert attended the University of Wisconsin-Madison and played as an outside linebacker for Wisconsin Badgers. He won the Jack Lambert Trophy in 2015.
The University is also home to NFL players: Russell Wilson, and J. J. Watt.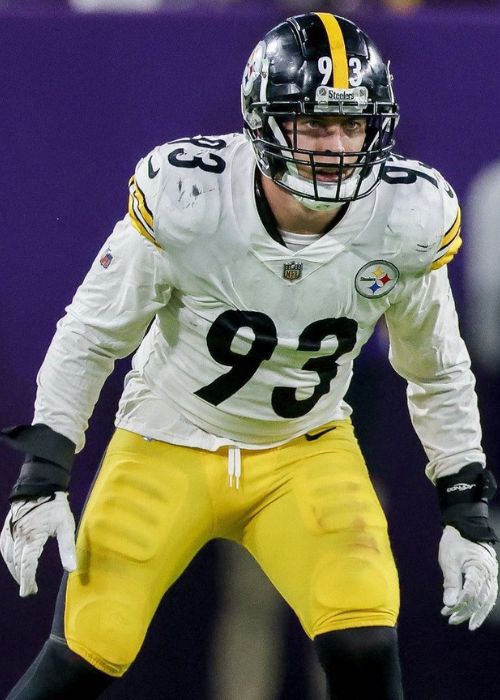 In the 2016 NFL Draft, the Cleveland Browns chose him as the fourth-round (99th overall) pick- joining the draft batch of top prospects like Jared Goff, Joey Bosa, Carson Wentz, and Ezekiel Elliott.
He played for the Browns for four seasons- being named in the 2017 Pro Bowl, before joining the Jacksonville Jaguars in 2020.
In 2021, Joe Schobert went to Pittsburgh Steelers as a part of the trade but only to see a waiver.
The year 2022 turned into a volatile NFL season for him as he signed with Denver Broncos and Tennesse Titans, but both teams released him.
Joe Schobert Wife | Net Worth
Megan Schobert, a TikTok star & a dancer/dance instructor earns a decent sum for herself. As the owner of Schotime Dance Center, she pockets additional earnings too.
Megan's estimated net worth is $300K-$500K as of June 2023.
Her husband, Joe Schobert, an American football linebacker is currently a free agent. His net worth is $5 million.
The player played 7 NFL seasons with teams: Cleveland Browns, Jaguars, Broncos & Steelers. According to Spotract, Joe made $27.53 million in career earnings- thanks to his lucrative contracts, salary & bonus.
In 2016, he signed a four-year $2.97 million contract with the Browns, before the Jaguars offered him $53.75 million for a five-year contract in 2020.
When the Jaguars traded him to Steelers, they allowed him a salary of $3.65 million for the 2021-22 season.
In the 2022-23 season, even without any firm teams with signings, he got more than $500K in cash earnings before going a free agent.
Frequently Asked Questions
When did Joe Schobert first meet his wife?
Joe and Megan are high school sweethearts- they are together since they met at Waukesha West Highschool, Winsconsin. The two attended the same university, the University of Wisconsin-Madison.
What is the age difference between Joe Schobert and Megan Schobert?
Joe Schobert was born on November 6, 1993, and Megan Schobert was born on April 15, 1994. Their age difference is 1 year and 65 days.