Basketball is considered the most loved game in these modern days. Anyone who follows basketball would know that entering NBA is every basketball player's dream.
Likewise, John Starks, a retired basketball player, had the same dream.
Nonetheless, John made it to the NBA, and he is even considered one of the NBA's best players.
However, John had his struggles and hardships. Nevertheless, he overcame them all with his hard work and dedication.
During his basketball career, John has been facilitated with various awards.
Even though he was a good player, John was always considered an underdog. His hard work and dedication went unnoticed for an extended period.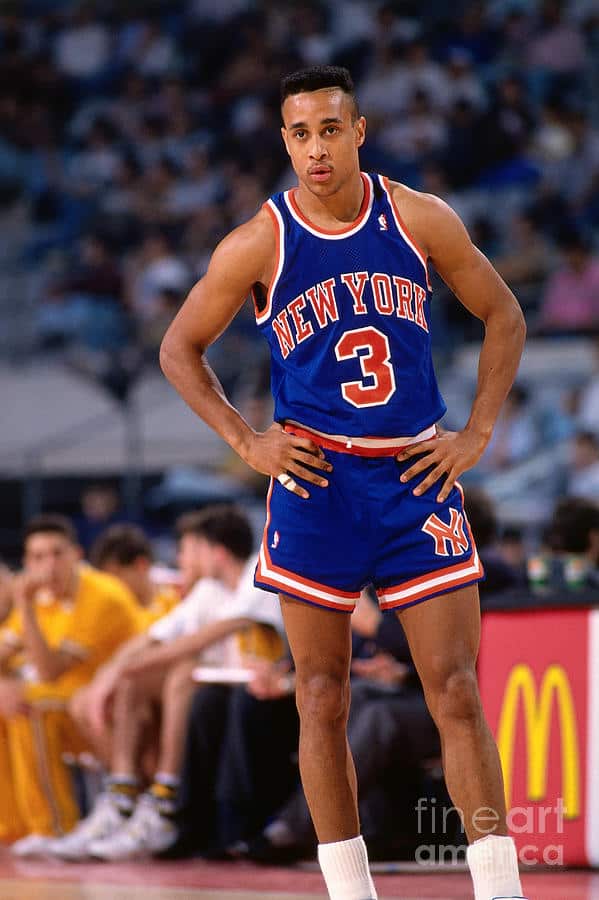 Today, we dive into the life of John Starks. Here, we will discuss his childhood, career, personal life, social life, and many more.
But first, let us have an instant glance at the quick facts.
Quick Facts:
Name
John Levell Starks
Birthplace
Tulsa, Oklahoma, United States
Birthdate
August 10, 1965
Age
58 Years Old
Nationality
American
Ethnicity
Multiracial
Religion
Christianity
Nickname
John-T
Height
6 ft. 3 inch
Weight
86 kg
Hair Color
Dark Brown
Eye Color
Black
Sibling
5
Father Name
Unknown
Mother Name
Irene Starks
Education

Oklahoma State University
Rogers State University
Tulsa Community College Northeast Campus
Central High School, Northern Oklahoma College

Body Shape
Athletic
Horoscope

Leo
Profession
Basketball player (retired)
Affiliation
NBA
Position

Shooting Guard
Number
30, 3, 9
NBA debut
1988/ undrafted
Playing Career
1988-2002
Former Teams
Golden State Warriors, Memphis Rockers, New York Knicks, Cedar Rapids Silver Bullets, Chicago Bulls, Utah Jazz
Rebounds
2.5 RPG
Points
12.5 Ppg
Assists
3.6 APG
Net Worth
$25 million
Career Earnings

$24,958,000

Yearly Salary

2001- 2,475,000
1997- 5,113,000
1988 –

100,000
Sexual Orientation
Straight
Marital Status
Married
Wife
Jackie Starks
Children
3
Achievements

CBA All-Star (1990)
NBA All-Star (1994)
The NBA All-Defensive Second Team (1993)
NBA Sixth Man of the Year (1997)

Social Media
Twitter

Merch
Jersey, Signed Autograph Photo
Last Update
November, 2023
John Starks | Early Life, Family & Education
John Levell Starks was born on August 10, 1965, in Tulsa, Oklahoma, United States. He was born to Irene Starks (mother).
However, his father's name and other things about his father are unknown.
As for education, Starks went to Tulsa Central High School, where he only played basketball for the school team for a year.
Then, after he completed his schooling, he went to Rogers State College. During his college days, John actively participated in basketball matches.
Likewise, he also acted as a substitute for injured players and suspended players. Such players are called taxi-squad.
However, Starks was expelled from his team as he used to hide his fellow player's equipment in retaliation for the other player breaking into his dorm room.
After Stark was expelled in 1985, he was transferred to Northern Oklahoma College. He stayed in jail for 5 days for that previous robbery case.
Starks was doing great, but he left the college after being caught smoking cannabis.
Further, Starks got transferred to Tulsa Junior School to get a degree in business.
While in school, he used to play for the school team, and one day while he was playing, Ken Trickey (former coach of Oral Robert Universi) noticed him.
Besides, Starks was at Tulsa Junior only for a season. Later, Starks got a scholarship to Oklahoma State University, and he decided to complete his education from there.
Undoubtedly, Starks was very naughty as a teenager; he had to change many schools due to his behavior. However, he was doing great in his basketball career.
John Starks | Career Stats
After Stark finished his education, he becomes a basketball player as he is good at it.
However, in 1988 he debuted as a free agent as Golden State Warriors signed him after being undrafted in the 1988 NBA.
Besides, Starks only played a few minutes in games, and later, he had to play in minor leagues due to his injury. However, John was not doing great in the initial days of his career.
However, in 1990 John gets a chance to prove himself, he joins New York Knicks. But unfortunately, he got injured while practicing and couldn't play for a while. As he was injured, the Knicks couldn't release him.
Similarly, after John's recovery, he was determined to make a difference. Hence, he proved himself as a good player after being referred to Ewing. Besides, Starks was also on the list of key players of the team.
Undoubtedly, John had to wait a lot to get that position in his team.
However, he never gave up and kept on going, and not so surprising; he was there with the Knicks for eight seasons.
Mid-Career
After gaining much popularity and fans from the Knicks, John goes back to his previous team. Before leaving Golden State, he was just an ordinary player.
But when John rejoins State, he has a name and fame. But, unfortunately, he has also got the title of "The Dunk."
However, John Starks was there only for a year. Later in 2000, he is again drafted to Chicago Bulls for 3 seasons.
However, Starks was there for 4 marches, which is hardly a year. However, he was not doing much those days as he was aging.
Even though John was a splendid player, he never got a chance to play for NBA due to his fight.
However, he never let that affect his career, John did his best, and it is due to his hard work he has a name and fame today.
Retirement
However, Starks couldn't make a more significant impact in his late-career days. He fails to make a good NBA team and loses a lot of matches.
However, he decided to retire in 2002 with 10,829 career points. Even though he was retired, his passion for his game remained constant. As a result, he starts to work as alumni for the Knicks.
Similarly, he has also worked as a game analyst for MSG Networks.
Besides, he has also become head coach of the Maulers and Westchester Wildfire in 2003 for the US Basketball League.
Nonetheless, Starks also has published his autobiography. Similarly, after his retirement, he also endorses many brands, which has also helped him gain some fame.
John Starks has become an example of hard work pays off. At the beginning of his career, he couldn't perform well in many games.
However, due to his hard work and dedication, he managed to gain a lot of fame, and he became the public's favorite, and they named him "the Dunk."
John fought through every hardship; despite being a minor player, he managed to shine through all those other players.
Undoubtedly, John is an inspiration to many youths, and he inspires everyone to work hard.
John Starks: Body Measurements
At the time of writing, John Starks is 58 years old. He celebrates his birthday every year in August, just a month before Halloween.
Likewise, we would like to add that he is a passionate, hardworking, dedicated, and motivated person. His basketball skills are excellent, and his coaching style is marvelous.
John Starks is one of the best players in basketball. Similarly, Starks is 6 ft.3 inches tall and weighs around 86 kg.
Even though Starks is the shortest player on the team, he shines through them all.
Besides, Starks has beautiful black eyes and dark brown hair. Besides, he has an athletic body type. Also, Starks is an American by nationality and multiracial by ethnicity.
According to John's birth chart, he is a Leo. People with this zodiac sign are usually determined, focused, and hardworking. Undoubtedly, John is one focused and hardworking person.
However, Starks has an outstanding personality, as he is an athlete; even though retired, he has to maintain a good physique.
And there is no doubt that Starks has maintained a perfect physique. Similarly, he follows a strict diet plan to maintain his physique.
John Starks | Net Worth & Contract
The talented basketball player John has earned a good amount of money from his successful basketball career. As of 2023
"John Starks has a net worth of $25 million"
In addition, he has also endorsed many brands, which is also his source of income. Currently, John lives a luxurious life with his family in his lavish house.
Philanthropy
John Starks well uses his money and indulges himself in several humanitarian works from time to time.
Notably, Starks has even established a non-profit organization called "The John Starks Foundation".
The foundation was established in 1994. It mainly focuses on providing financial assistance to high school seniors in the form of monetary grants.
John Starks | Personal Life & Wife
Talking about John Starks's personal life, he is happily married and has a family. John is happily married to his beautiful wife Jackie.
They tied their knot in December of 1986. Shortly after that, the couple welcomed their first child after a year, their son John Jr. in 1987.
Similarly, Chelsea and Tiara are the names of their daughters.
Jackie is John's ultimate support system; this couple has seen many ups and downs in their life.
However, they didn't let bad days affect their relationship and were always by each other's side. John adores Jackie for whatever she has done for their family.
As John was busy, Jackie took care of their family. In his absence, Jackie was the one who handlers the family.
This makes their bond and loves very special. Nonetheless, John and Jackie are living a happy life with their family.
Social Media Presence:
John Starks is not quite active on social media platforms. He only uses Twitter as his social media handle. You can follow him via this link.
Twitter (@StarksTheDunk) : 17.2k Followers
Some FAQs:
Did John Starks ever dunk on Michael Jordan?
John dunked on Michael Jordan on May 25, 1993.
Is John Starks in the Hall of Fame?
John Starks was inducted into the "Tulsa Public Schools Hall of Fame" in Jan 2016.
What is John Starks baseball card value?
John Starks baseball card price ranges from $0.34 to $84.83.
Did John ever play with Reggie Miller?
Yes, he played with Reggie Miller and even butted head with Reggie Miller in the 1993 NBA Playoffs.