Joseph Pedroza Diaz Jr, nicknamed JoJo, is an American professional boxer who held the WBC interim lightweight title from July 2021 to December 2021. He was also undefeated at IBF super featherweight title from 2020 to February 2021.
Popularly known for his aggressive play, Diaz bagged WBC-NABF and WBO-NABO featherweight titles between 2015 and 2018. The Boxer also competed at the 2012 Olympics as a bantamweight.
The professional Boxer currently has 32 wins, three losses, and one draw out of 36 games. Of his 32 wins, JoJo knocked out 15 of his opponents, providing him with a knockout ratio of 47%. His fight lasts 7.6 rounds on average.
Diaz's last boxing match was against William Zepeda on 29th October 2022 in San Diego, United States. Unfortunately, he lost the game by a unanimous decision after 12 rounds.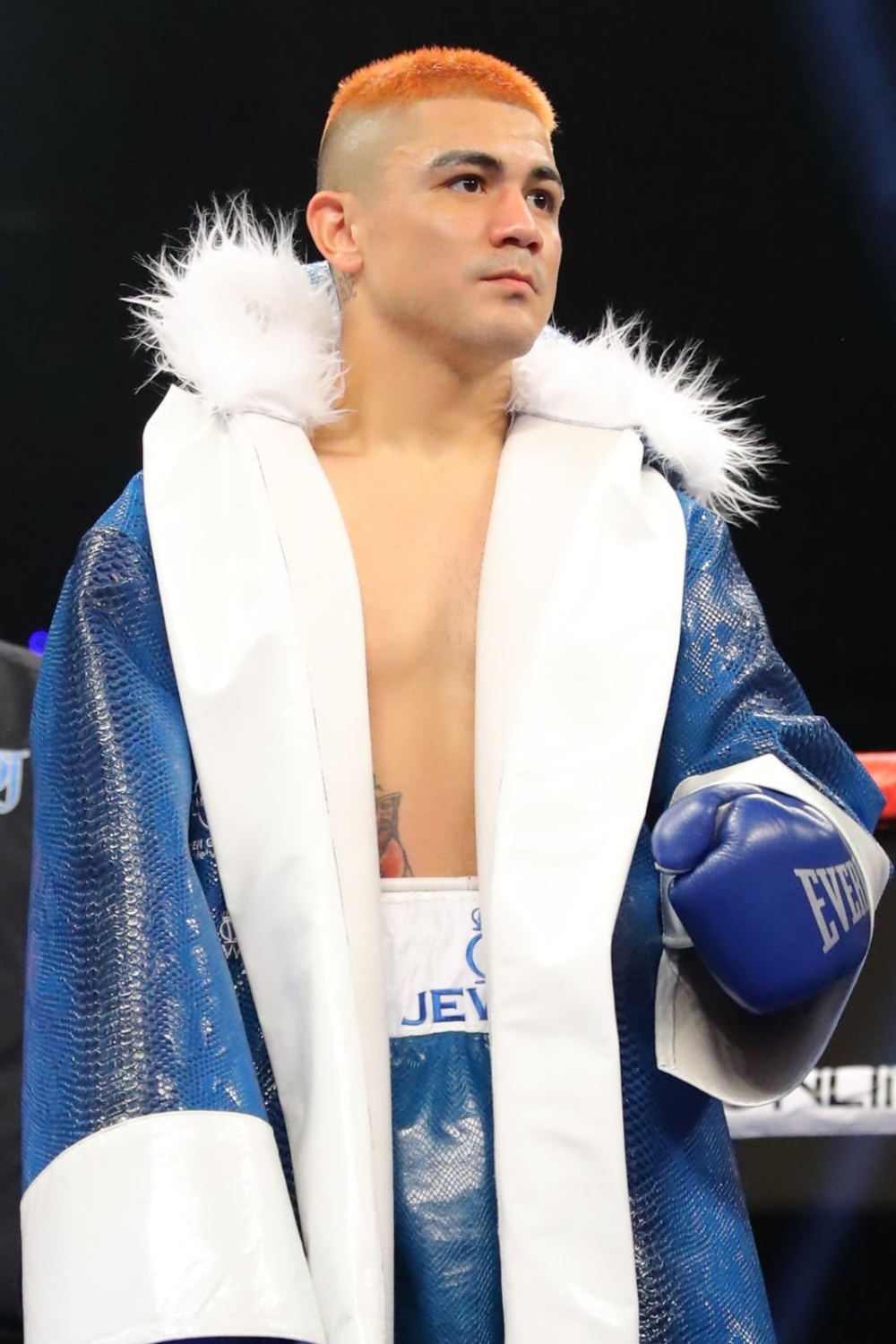 JoJo has battled five fights in 2 years, which correlates to an average battle every six months and 29 days. He fought 60 rounds in five contests, bringing an average of 12 rounds per game.
Apart from boxing, JoJo is a complete family man who got married to his wife, Breezh. Not much about her is known, but she is reported to be working as a journalist.
There are many details about his family, personal life, next fight, and net worth. So, please stick to the article to the end to know everything about him.
JoJo Diaz | Quick Facts
Full Name
Joseph Pedroza Diaz Jr.
Date of Birth
November 23, 1992
Birth Place
South El Monte, California
Nick Name
JoJo
Nationality
American
Ethnicity
Mexican
Zodiac Sign
Sagittarius
Age
30 Years Old
Height
5'6″/1.68m/168 cm
Weight
56 kg/123 lb
Hair Color
Bleached
Eye Color
Black
Build
Athletic
Father's Name
Joseph Diaz Sr.
Mother's Name
Valerie Diaz
Siblings
Three sisters
Education
South El Monte High School

Kranz Intermediate

Marital Status
Married
Wife
Breezh
Kids
A son, Zenith Joseph Diaz
Profession
Boxer
Division
Featherweight
Super featherweight
Stance
Southpaw
Active Year
2012- Present year
Net Worth
$1.4 million
Social Media
Instagram, Twitter
Merch
Autographed Boxing Gloves
Last Update
June, 2023
JoJo Diaz | Early Life
Joseph Pedroza Diaz Jr, popularly known as JoJo Diaz, was born on November 23, 1992, in South El Monte, California.
His father, Joseph Diaz Sr., was a trucker by trade, while his mother, Valerie, was a housewife. JoJo grew up playing with his three sisters.
Diaz faced bullying and harassment during childhood, which he couldn't stand up to. As a result, his father introduced him to boxing and coached him every step of the way.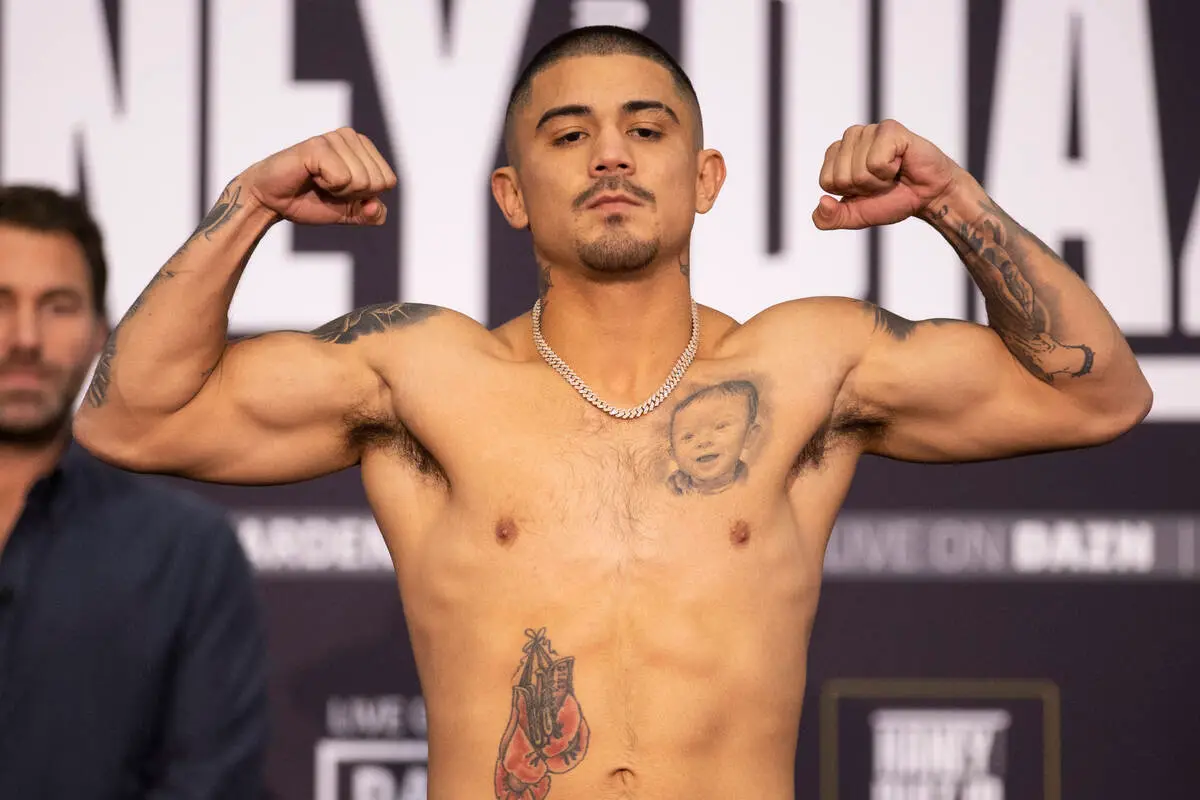 Eventually, he fell in love with boxing and began wowing audiences with his skills and talent between the ropes.
It is safe to say that Diaz was introduced to boxing by his father in an attempt to teach self-defense. Growing up, JoJo attended South El Monte High School.
Introduction And Amateur Career
Initially, Diaz Sr. always saw the dream of his son playing in Major League Baseball(MLB). Diaz was just a four-year-old when he was first taught to catch, throw, and hit the ball.
Diaz was first indulged in baseball, which continued till his teenage days. However, their only concern was Diaz's height.
Joseph stood small compared to his colleague, making him prone to bullying. As a result, his father taught him to defend himself.
Gradually, he enrolled in boxing lessons, and slowly after it, he was taught taekwondo. The twist in the turns was that he got a chance to fight soon after his former bully's enrollment.
Indeed, Diaz panicked but begged for a few days to learn the basics. So, finally, when they sparred, it changed JoJo's life forever.
It might sound like a movie, but JoJo gave him a bloody nose. It was the first time he stood up for himself, which was imprinted in his mind forever.
After the fight, JoJo said, "Gave him a bloody nose! I made him cry. And ever since then, I just got excited. I was determined. I told my dad, 'You know what? I'm focused on making this my dream."
JoJo Diaz | Boxing Career
As an amateur, JoJo Diaz sparred a lot in the Olympic Trials, and before that, the American fighter was the two-time reigning national champion at bantamweight.
Diaz became the first American Boxer to qualify for the 2012 Olympics by becoming the quarter-finalist at the 2011 World Championships.
He won victories over Worapoj Petchkoom of Thailand (2004 Olympic silver medalist) and Óscar Valdez of Mexico (world championship bronze medalist). Sadly, JoJo lost against Lazaro Alvarez.
JoJo participated in the 2010-11 World Series of Boxing. At the same time, he also became the 2011 U.S. National Champion in the featherweight division at the U.S. Olympic Training Center in Colorado Springs, Colorado.
Breakthrough
Jojo earned his first breakthrough in 2012 against Vincent Alfaro, winning by unanimous decision over four rounds and scoring a knockdown in the fourth.
Furthermore, he also had victories over Jose Ruiz of Puerto Rico (technical knockout), Giovanni Delgado (unanimous decision), Hugo Partida, Jayson Vélez, and Victor Proa.
His first and foremost loss as a professional fighter came against Gary Russell Jr. in 2018. Gary won unanimously to retain his featherweight title at the MGM National Harbor.
JoJo Diaz vs. Tevin Farmer
On January 30, 2020, JoJo Diaz faced Tevin Farmer in Miami, screened on DAZN's streaming platform. Farmer hasn't lost a single match since October 2012, and Diaz was short of world titles.
JoJo dominated the Farmer during the fighting tenure, while Farmer didn't seem to be in his best moment. Farmer hurt his right hand while sparring, and Jojo got a gruesome cut on his left eyebrow.
In the end, JoJo Diaz won 31-1, 15 KO.
Speaking after the game, Tevin said, "I did fuck my hand up in the first round. But he put up a hell of a fight; I don't think that played a big part in the fight. I couldn't use my jab how I wanted to, but he capitalized on it, and that's what champions do. He won the fight."
JoJo Diaz Vs Shavkatdzhon Rakhimov
JoJo Diaz faced Shavkatdzhon Rakhimov on February 13, 2021, at Fantasy Springs Resort Casino in Indio, Calif, and didn't earn the desired result.
The American Boxer started the game by trying to finish by countering Rakhimov. However, the game slowed down in the middle, where Rakhmov took advantage by firing hard left hands on more than one occasion.
However, moving till the ninth round, JoJo had taken the lead and was seen getting more aggressive. Altogether, by the final blow of the horn, JoJo Diaz had claimed victory for himself with 115-113.
However, the match ended in a draw, and the IBF title was left vacant.
When asked about the fight, Diaz said, "I'm not disappointed. I know who I am. I'm a disciplined fighter. It just wasn't my night. I'm doing this for myself and my family."
JoJo Diaz Overall
JoJo has 32 wins, three losses, and one draw out of 36 games. Fighting with Southpaw, the American Boxer has knocked 15 of his opponents, which gives him a knockout ratio of 47%.
Diaz Faced injury along the way against the match over Tevin farmer. He had a deep cut on his left eyebrow; fortunately, it wasn't bleeding profusely.
It was also when JoJo became the world champion for the first time in his career. His career seems bright if he keeps working hard and works with ambition.
JoJo Diaz | Personal Life
As we all know, JoJo is a man with a small height of 1.68m while weighing 123 lbs. However, we have also all seen how aggressive and damaging he can be in the ring.
Diaz is a family man and has a loving woman by his side and even a loving son now.
He has a complete little family of his own.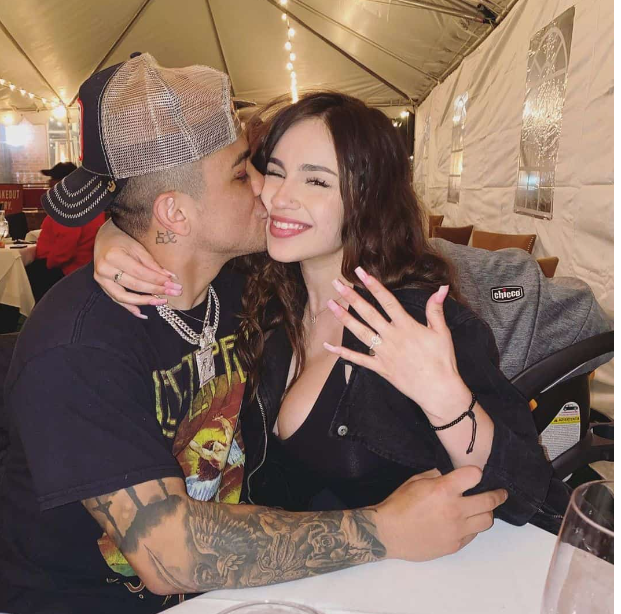 As for the woman beside her, her name is Breezh, a journalist, as some media portals suggest.
Though the duo's background story is unknown, they share a son, Zenith Joseph Diaz. They had him on November 17, 2020.
2020 Was A Great Year
2020 was a year that ran with the global pandemic and suffered a lot. However, for JoJo Diaz, he has had an incredible year as he could make his own family.
In the meantime, Diaz became world champion for the first time by defeating Tevin Farmer. Altogether, he believes that year was a blessing in disguise.
Also, having a son, Diaz changed from being self-centered to caring for people around him. He has been the one who takes careful steps to keep his and his family's future clear.
When asked about the 2020 summary, he said, "I feel like 2020 was the best year of my life. I always wanted a family, and to meet my dream son and have a kid was just a blessing in disguise. And I think now it's just turning up that switch and maturing more as a human being, as a father, and as a grown man."
JoJo Diaz | Social Media Presence
JoJo is active on several social media profiles like Instagram and Twitter. His primary media post includes photos and videos from the boxing ring.
Instagram: 152k followers
View this post on Instagram
Twitter: 28.4k followers
Besides that, the family man loves to spend quality time with his son Zenith Joseph Diaz. On the other hand, his Wife, Breezh, has a private Instagram account with 3,627 followers.
JoJo Diaz | Popularity
Diaz has been quite popular in the boxing world: all thanks to his successful boxing career.
The graph shows his search graph for the period of one year.
JoJo Diaz | FAQs
How much is JoJo Diaz's reach?
JoJo Diaz's reach is 162.6 cm.
When is JoJo Diaz's upcoming fight?
Actually, JoJo Diaz's next fight hasn't been fixed yet. Although, Diaz has been calling out the names of fighters he wants to sparr with, like Gervonta "Tank" Davis, Miguel Berchelt, Jamel Herring, and Oscar Valdez.