Going professional is always a tough choice. Yes, they get paid a lot and get a lot of attention, but many forget that athletes are also prone to injuries, sometimes leading to career-ending.
The same thing happened with Jordan Cameron, one of the stellar football who retired early due to several concussions.
The native of Los Angeles, Jordan, is a former professional footballer who played in the National Football League (NFL) for a short period.
Impressive as a tight end, Cameron was first drafted by Cleveland Browns and then signed by the Miami Dolphins.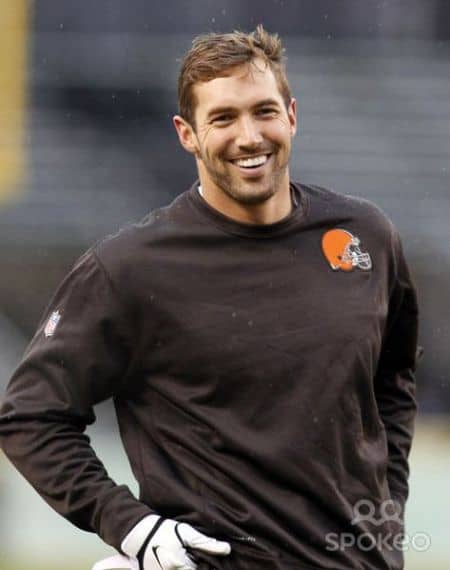 However, before even making a remarkable record, he retired in 2016, only after five years of playing in the NFL. Since then, he has been living a peaceful, injury-free life with his small family.
Besides that, the footballer was well-known for his friendship with NBA player Blake Griffin. Before Jordan became an NFL player, the duo made a video where Griffin can be seen talking up Cameron.
Furthermore, Blake referred to Jordan as the "greatest tight end on the planet." The two had an unlikely friendship as Griffin was already an NBA player then while Cameron was still in college.
By the way, do you know who Jordan is dating at the moment? Well, if you want to know, then you better read the article to find out. More information down below.
Jordan Cameron: Quick Facts
| | |
| --- | --- |
| Full Name | Jordan Cravens Cameron |
| Birth Date | August 7, 1988 |
| Birth Place | Los Angeles, California, US |
| Known as | Jordan Cameron |
| Religion | Unknown |
| Nationality | American |
| Ethnicity | White |
| Education | The University of Southern California, Brigham Young University |
| Horoscope | Leo |
| Father's Name | Stan Cameron |
| Mother's Name | Cathy (nee Cravens) |
| Siblings | Two; Brynn And Colby Cameron |
| Age | 33 years old |
| Height | 6 feet 5 inches (196 cm) |
| Weight | 120 kgs (265 lbs) |
| Build | Athletic |
| Eye color | Dark brown |
| Profession | Professional NFL Player |
| Active years | 2011-present |
| Position | Tight End |
| Team | Miami Dolphins(2016-2016) |
| Jersey Number | 84 |
| Marital Status | Unmarried |
| Spouse/ Partner | Elin Nordegren |
| Net Worth | Under Review |
| Merch | Signed Helmet, Photo Frame |
| Last Update | June, 2022 |
Jordan Cameron | Age, Height, And Body Measurements
Since the men from his family were involved with sports, it did not take long for Jordan to follow in their footsteps.
Thanks to his dedication and involvement, Jordan is blessed with agility and sharp movements though he no longer plays.
Likewise, the former footballer, Jordan, was born on August 7, 1988, which makes him 32 years old. As for his star sign, his birthday falls under Leo, known for their fierce attitude and personality.
Apart from his skills, Cameron was also blessed physically. He stands at 6 feet 5 inches(196 cm) and weighs around 120 kgs(265 lbs). With years of training and running in the field, he has a well-built body and developed reflexes.
Who is Jordan Cameron? What is his nationality?
The former footballer who played tight end for the National Football League(NFL) was born Jordan Cravens Cameron. Born and raised in Los Angeles, California, his family generation has been involved in sports.
Not to mention, his great-grandfather, his grandfather, and his father all had played professional sports in their prime.
Likewise, his great-grandfather, Archie Jones, was a professional track runner, while his grandfather, Jack Cravens, was a basketball player for the Houston Cougars.
On the same note, Cravens's father played professional basketball in the late 1970s. Keeping the family tradition, son of Stan and Cathy Cameron, Jordan also got involved in sports.
Along with him, Jordan's siblings, both Brynn and Colby, also grew up loving sports and later pursued a legit career in it. His sister Brynn played basketball for USC women's basketball team while his brother was an undrafted free agent in NFL.
Besides that, Brynn is well-known for being the ex-fiancé of Jordan's friend Blake Griffin. Moreover, she is the mother of Griffin's two kids, Ford and Finley.
The two had a little falling out when news about Griffin dating model Kendall Jenner surfaced right after they broke up. She accused Blake of stranding her and their children to date Jenner and filed a palimony lawsuit against him.
Thereafter, Griffin reportedly paid $258,000 a month in child support. However, Blake denied the claim saying it wasn't the right amount.
Likewise, Jordan is American by nationality, while his ethnicity is white.
For his education, Cameron went to the Newbury Park High School, where he played football. After his graduation, Jordan enrolled at the University of Southern California with much difficulty, which we will later discuss.
What is Jordan Cameron's net worth?- Salary, Income Estimation, And Contracts
As of 2020, the professional footballer Jordan Cameron has an estimated net worth of $7 million. Even though he played for a short time, Cameron did play rigorously and earned a handsome amount from it.
After the NFL Draft pick, young Cameron signed a contract with Cleveland Brown worth $2.5 million in 2011.
Similarly, in 2012, his salary was raised to $465,000 from the previous amount of $375,000. Not to mention, in 2015, Jordan signed a contract with Miami Dolphins for $15 million, including $1 million as salary.
From the looks of it, Jordan had a bright career for him, but sadly it was cut off short. Nonetheless, the former player is living a comfortable life with his family and loved ones.
Who is Jordan Cameron Dating?- Personal Life, Married, and Kids
Talking about Jordan's personal life, there is not much except that he is in a relationship. At the moment, 32-year-old Cameron is dating Elin Nordegren, the former wife of famous golfer Tiger Woods.
Elin was married to Woods from 2004 to 2010 and had two children; Charli, 11, and Sam, 12. They divorced back in 2009.
Since the two had kept their relationship a secret, not many knew about their affair. But looking at facts, Jordan and Elin probably started dating after Elin's divorce from Tiger.
She officially parted ways with Woods after finding his countless affairs.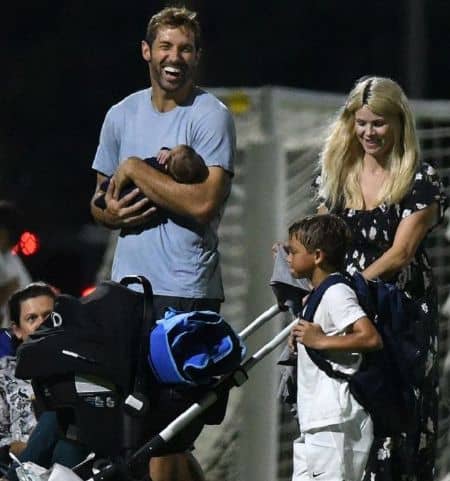 Other than that, the couple has kept their relationship strict and hidden from the media. Aside from that, the couple gave birth to their first child in October 2019. And no, they have not tied the knot.
Furthermore, Cameron has a ten-year-old son named Tristan from his former relationship. Till now, no one knows who Tristan's mother is.
Also, following his retirement, Cameron expressed how he does not want Tristan to play football.
Speaking with ESPN in 2017, he hoped his son does not follow in his footsteps and understands the danger of the sport early.
"Let's be real here. Football is the greatest sport. I really believe that. It's the most difficult. You learn the most about yourself in football. It's a hard sport. You have to be very comfortable with being uncomfortable."
He added how Tristan playing high school football was okay but did not want him to go professional as he did.
"I know what goes on and the hits you take. Everything past the high school level gets more serious, and it's not as much, I would say, fun anymore after high school."
As of recently, the couple lives in a stunning $49.5 million mansion in Florida with their kids. Their house has a great front yard and backyard.
Similarly, the house has a beautiful pool and fireplace and a very calming color tone to it. They reside in a very secluded place and receive plenty of privacy for themselves and their family. Besides that, they also have a house in Los Angeles.
Jordan Cameron | Early Career In High School and College Years
Since his whole family was into sports and even his brother, Colby, was a budding footballer, Jordan took the sport seriously.
With support and determination, young Jordan made it into his school's Newbury Park High School football team. Maybe it was his genes, but Cameron played exceptionally well from the beginning.
Thanks to that, as a junior, Cameron made it into the 'All-Marmonte League' first team. During his senior year, he got into the 'Prep Star All-West team and the 'All-Marmonte League first team.
In his school days, Jordan played a wide receiver, scored 12 touchdowns, and caught 73 passes for 1022 yards.
Despite being approached by many colleges, including Yale, Harvard, and USC, Cameron rejected the offer as he also played volleyball and basketball.
Since he was more into basketball, Cameron joined Brigham Young University to make it into the college's team.
However, Utah's coach Kyle Wittingham saw Cameron's potential as a footballer than a basketball player and hence approached his family to persuade him.
After talking with his family and redshirted by the college team 'Cougars' coach, Cameron jumped into the offer from USC and transferred to the USC football team immediately.
Upon his involvement, Jordan began playing as a wide receiver, but following his former college's credit-transfer issues, he was compelled to join Ventura College.
Because of it, Jordan missed playing football for that year and has to rejoin again next year.
Sadly, his return to the USC team was not celebrated as he failed to score any catches. It was later that his coach realized Jordan's potential as a tight end than a wide receiver.
Thanks to that, in his final season, Cameron caught 16 passed for 126 yards and has one successful touchdown.
Jordan Cameron | Professional Career in (NFL) National Football League
Following his impressive season end and college graduation, Jordan was invited to play at the East-West Shrine game, where he impressed coaches from many teams.
Even though he was not in a lot of demand, Jordan improved his chances during the NFL Combine. By the end of the drill, Cameron ended up in the top three.
Likewise, as expected, in the 2011 NFL Draft, Cleveland Browns picked him as the 102nd pick. For the next two years, Jordan played exceptionally well and, in December 2013, was voted for the Pro Bowl.
By the start of 2015, Jordan moved to Miami Dolphins and signed a $15 million contract with them. Sadly, his career did not take off as expected, as he was placed on injured reserve in November soon after his move.
He suffered from multiple concussions, a total of four in six seasons, and hence, on March 10, 2017, Jordan Cameron officially retired from the NFL.
Of course, Cameron did like ending his flourishing football career as soon he turned 28. He addressed the issue with a heartfelt message.
"If I didn't get concussions, I'd probably keep playing. It's one of those things. I can't risk my mental health in the future. I don't have any symptoms now, I's perfectly fine. But they can't tell me with 100% certainty that if I keep playing and I get more concussions, that I'm going to be OK."
Talking with ESPN in 2017, Cameron then added,
"I'm not risking that at all. There's nothing more than your health. It's just not worth it to me."
Moreover, he also added how he wanted to avoid having a mental disorder or depression. And said he wanted to be there for his family.
Despite his early retirement, in just 66 games, Cameron was able to make an impressive record; 173 catches for 2,046 yards followed by 14 touchdowns.
Jordan Cameron | Stats
Team
Receiving
GP
REC
TGTS
YDS
AVG
LNG
TD
FUM
LST
Total
66
173
300
2,046
11.8
81
14
2
0
Jordan Cameron | Social Media Presence
Sadly, it seems the former footballer is not active on social media.
Jordan Cameron | FAQs
Was Jordan Cameron in Glasgow Sheriff Court?
No, it was a different person with the same name who was booked by police officials on two charges of housebreaking.
Was Jordan Cameron captain of the Leicester Tigers?
No, Jordan was not the captain of the Leicester Tigers. It was a different person named Cameron Jordan.
How much is Jordan Cameron worth?
The former NFL player's net worth is $7 million.
What is Jordan Cameron's job?
Cameron's job was that of an NFL player before. As of now, he relaxes with his girlfriend and kids at the couple's $50 million mansion in Florida.