When something is stuck on your mind, people will get back to it no matter what happens or how much time passes. It surely happened with Jordan Cornette, who transitioned into an anchor in his later years.
Additionally, Cornette is one of the launchers to ACCN and the host to ACCN's signature football studio program.
Despite the numerous ups and downs in his life, Jordan finally chose a broadcasting career, overplaying professional basketball overseas.
And with no waste of time, Jordan was involved in productions as an assistant.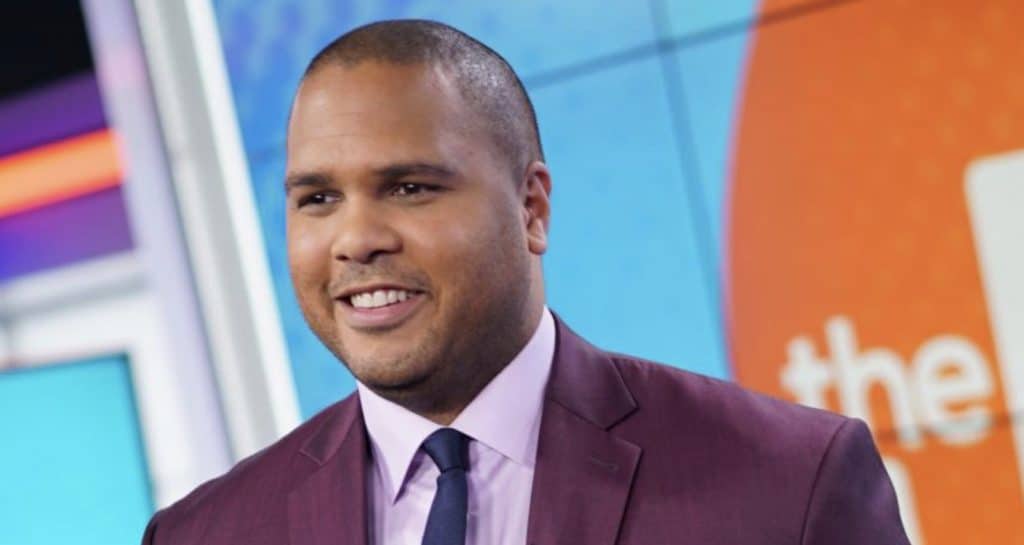 With further information in detail, let's start with quick facts starting from earlier to till now as below:
Quick Facts
| | |
| --- | --- |
| Full Name | Jordan Cornette |
| Known as | Jordan Cornette |
| Nickname | Jody |
| Birth Date | March 31, 1983 |
| Birth Place | Cincinnati, Ohio, United States |
| Residence | Chicago, United States |
| Religion | Christian |
| Nationality | American |
| Ethnicity | Black |
| Education | Notre Dame University |
| Horoscope | Aries |
| Father's Name | Joel Sr. Cornette |
| Mother's Name | Christi Cornette |
| Siblings | 2 (Joel Cornette and Jonathan Cornette) |
| Age | 38 years (as of March 2021) |
| Height | 6 feet 10 inches (208 cm) |
| Weight | 107 kg (236 lb) |
| Eye Color | Brown |
| Hair Color | Dark brown |
| Body type | Athletic |
| Profession | Basketball player, Broadcaster |
| Marital Status | Married |
| Spouse | Shae Peppler |
| Children | 1 |
| Name of Children | Carter Cornette |
| Beginning of Professional Career | 2001 |
| Retirement | 2005 |
| Position | Forward |
| Sports team | Notre Dame (NCAA) |
| Net Worth | $10 million |
| Years at ESPN | Second-year full-time |
| Favorite Team | Cincinnati Bengals |
| Social Media | Instagram, Twitter |
| Notre Dame's Merch | Sweatshirt, Hoodie |
| Last Update | 2021 |
Jordan Cornette | Personal Life
Jordan Cornette, the former player & current analyst, was born on 31st March 1983 in Cincinnati, Ohio. His parents are Joel Sr. and Christi. He also had a brother named Joel Cornette.
This 6 foot 10 giant is currently a Host of the Huddle, ACCN studio anchor, college basketball analyst, and ESPN Radio host.
Basketball Player
Before entering the broadcasting field, Jordan used to be a Basketball player from the Notre Dame team. He served the Notre Dame University's team for five years.
Furthermore, Jordan used to play as a forward. Young Cornette was even NBA eligible drafted for the year 2005.
This former fighting Irish forward used to be a two-time captain. Further, Jordan held the program's career record for blocked shots.
You might also interest in Todd Gurley – Stats, Contract, Injury, Girlfriend & Injury >>
Jordan Cornette | Hosting Career
Starting
Earlier, Jordan had a deep but secret interest in broadcasting. Cornette was much influenced by the playing style and moves of Michael Jordan, but at the same time, enthralled those side voices of broadcasters Marv Albert and Bob Costas.
Later with such a keen motive to receive every kind of experience that he could overcome from himself, Jordan joined the University of Notre Dame. A standout athlete himself, Jordan graduate with an English degree.
Besides that, Jordan wants to soak into TV production, for which he spent his time to networks and asking questions.
Later after earning a degree in both English and TV and credit shy of a film, Jordan finally chose professional basketball overseas and his motivated career.
Consequently, in 2007, he got involved as a production assistant at the Big Ten Network. There he got to learn a little bit of everything. Simultaneously, Jordan also gets familiar with cameras.
Flourishing
Day by day, with lots of improvements, making few close friends, Jordan was able to have gigs as a co-host on "Kap&Co" on ESPN1000 in Chicago.
Jordan was also a host for a local news program that is "The Jam."
Likewise, Jordan spent his two-season again in basketball as a college basketball analyst with CBS Sports Networks.
Leave from "The Jam"
Jordan Cornette was one of the three original co-hosts of the weekday morning news, talk, and entertainment show "The Jam."
This show is Weigel Broadcasting WCIU-Channel 26. And Jordan resigns at the end of April 2019.
Cornette did not feel it necessary to share his next step during his resignation stages but soon announced it.
After experiencing a lot, not just by being a TV personality but Jordan states he got a chance to improve himself in the last two years.
ACCN
Meanwhile, Jordan Cornette joined ESPN in 2018 with the role of college basketball analyst for ESPN. He also helped to launch ACCN in 2019 that remained a staple on the network's 24/7 coverage.
Accordingly, as the studio host and in-game analyst role, Jordan served as a host for ACCN's signature football studio program, The Huddle.
This time, Jordan serves every Saturday throughout the football season. Additionally, there were the Network's flagship nightly news and piece of information.
Ben Simmons responds to an NBA commentator who called him overrated >>
Broadcasting History
To sum up, Jordan Cornette has also been a co-host on Kap&CO weekdays on ESPN1000 in Chicago. He spent two seasons as a college basketball analyst with CBS Sports Network.
Co-host of Davis Kaplan's midday show on ESPN Radio sports/talk WMVP 1000-AM. Commentator for CBS Sports Network and Fox Sports 1.
Furthermore, Jordan announced he would be hosting the NCC football show "The Hound."
Jordan Cornette | Wife & Son
Cornette, the handsome hunk, is not single as of now. He got married in 2019 to his beautiful, athletic, and broadcaster wife, Shae Peppler.
It feels like their love so just needed to happen in such a chaotic and fast-paced world of sportscasting.
Talking about it, Shae was from Indiana University while Cornette played for the Notre Dame University. They started dating in 2014 after Jordan started working alongside Shae at Campus Insiders.
Also, Jordan always feels like Shae is just a much better female version of himself. Besides, Jordan found Shae's outgoing and gregarious personality pretty likable.
And same is from the other side; Shae loves Jordan's big personality and how he makes her laugh, like every time.
Moreover, on 2nd June 2019, the lovely couple tied their knot at 18th Lane of Harbour Town Golf Links, Hilton Head Island. Not to mention, they also became the first married couple to host a show on ESPN Radio.
Contrary to other beliefs, the two are very comfortable and excited about working together. In fact, the two motivates and cheer each other when they work.
"I had reservations at first, I was like, 'We are going to kill each other.'" stated Shae.
"We live together, we work together. But we have so much fun on Sundays. It's really the highlight of my week."
Aside from their unbreakable bond, the two also have a 13-year-old son named Carter. For those unknown, Carter is the son of Cornette's former relationship.
Who is Shae Peppler?
Shae was born in Chicago with her family of sports nuts. But Shae never had any intention to make her career in sports. Once on a fine day at her college, all of her classrooms were made to give a speech for 2 minutes.
Meanwhile, Shae surprised and impressed her professor with 4 minutes speech. Her professor even praised her for giving such random things with ease and suggested joining broadcast journalism.
Shae did exactly that while her love for sports grew more and more after entering the college basketball team.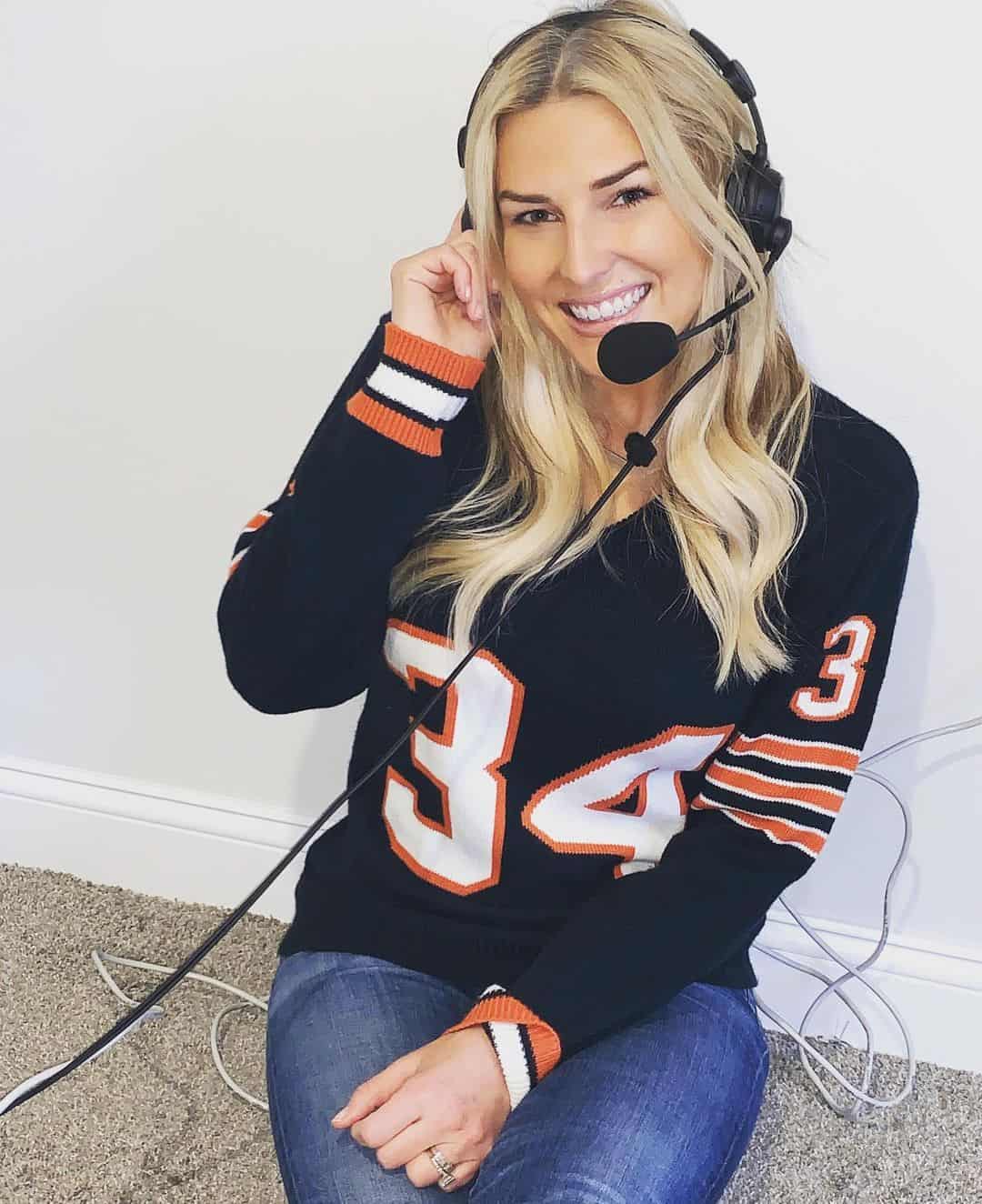 Back in 2008, in the senior year, Kelvin Sampson was forced to resign because of NCAA violations, and Shae was also there to ask students about the coach's firing.
It was fortunate that there were no resources or reporters on the campus for the big news.
And this became an opportunity for Shae as she took the package and sent it to a Big Ten network. Later, Peppler contacted industry leaders and landed an internship for MTV Networks and Showtime Networks.
Similarly, Shae even became a production assistant for Chicago Bears games that broadcasted on CBS.
With the same flow on her achievements, Shae's career in broadcasting took off after graduating with a degree in broadcast journalism and a Kinesiology minor.
Jordan Cornette and Joel Cornette
Jordan also had a younger brother named Joel, who was also a Butler basketball player. He died in 2016.
Jordan has just introduced Joel to Shae. Hence, it came as devastating news for both of them. Likewise, Joel died from coronary atherosclerosis or coronary artery disease at 35.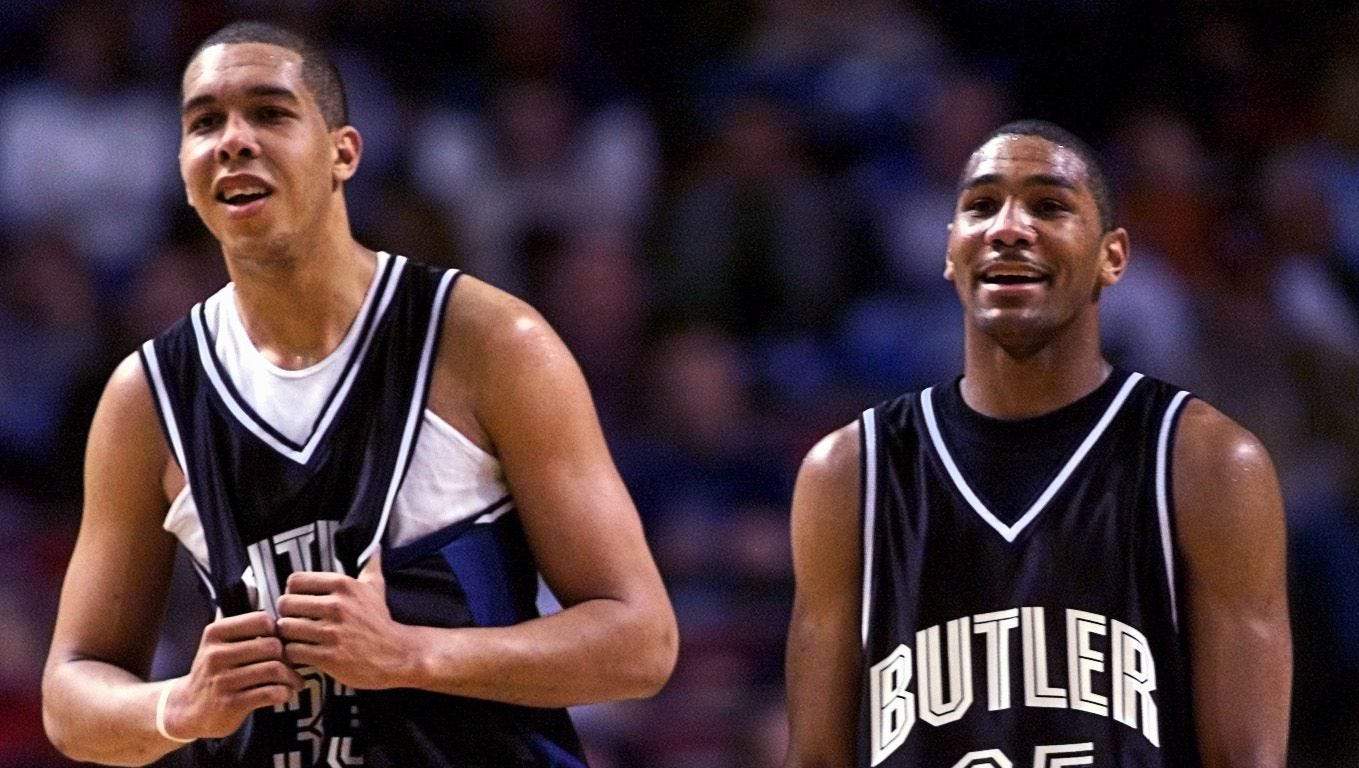 Earlier, Joel played forward and center for Butler and was credited with putting the Bulldogs on the national map. With his such type of motivation, Joel was all loved by his teammates and family.
After the unexpected demise of Joel, Jordan's life became upside down. In such a hard time, Shae became successful in leading and be an anchor for Jordan's life.
Jordan Cornette | Net Worth
After starting my career as a basketball player for about 5 years and currently earning as a broadcaster for famous TV shows on ESPN and All ACC, Jordan has earned a handsome amount of money.
Despite get public, Jordan's net worth was estimated at $700 thousand from some reporters. While as a television anchor, his net worth might be $62,910 annually.
See Net-Worth of Ramtin Abdo: Parents, Net Worth, Religion, Married & Wife >>
Jordan Cornette | Social Media Appearances
Jordan is totally active on social media with an account on Instagram and Twitter.
On Instagram, he seems more to post about special events or posting casual photos with his beautiful wife and family, including his son and dog.
Similarly, on Twitter, he tweets more about basketball and his broadcasting career-related tweets.
Love and Radio. https://t.co/Vmrqgqenth

— jordan cornette (@jordancornette) February 14, 2021
Instagram: 5,851 followers and 1,826 following
Twitter: 13K followers and 1,258 followings
FAQs
Is Jorden Cornette be hosting 'The Huddle?
Yes, just in September 2020, Jorden announced that he will now be with the ACC Network as the football show host, The Huddle.
To which High School does Jorden Cornette belongs?
Jorden Cornette completed his study at St.Xavier High School (Kentucky) and college from Notre Dame.
Who is Jordan Cornette's brother?
Jordan has two younger brothers Joel Cornette a former basketball player, and Jonathan Cornette.