Jordan Miller's parents, Donna and Jeffery Miller Jr, raised him with three older brothers in Virginia. Jordan is the only one in his family to follow the athletic route in his career.
The 23-year-old submitted his name to the NBA Draft in April 2023, hoping an NBA team is out there to get him. His college records show he deserves a spot.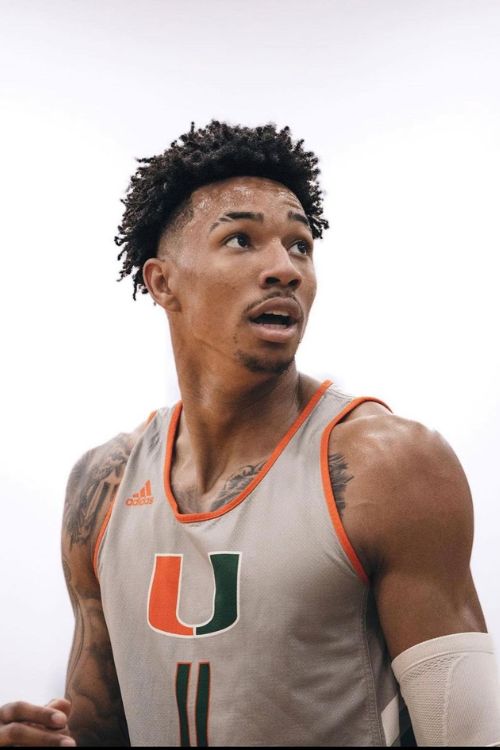 Standing at 6ft 4, Miller played three seasons with George Mason before transferring to the University of Miami. And the transfer helped him become even better, polishing his shooting skills by 10 percent.
Recently, Sports Illustrated alluded Jordan to the likes of Naji Marshall, Bruce Brown, and Dyson Daniels. They have also predicted he will be a second-round pick in the upcoming draft.
Jordan Miller Parents, Donna, And Jeffery Miller Jr
Jordan Miller's parents, Donna and Jeffery Miller Jr, raised four boys in California before moving to Virginia.
The couple, with six-year-old Jordan and his three older brothers, moved to the small Virginia town of Purcellville, with a population of 9000. So, in 2022, when Jordan moved to Miami, it was a huge cultural shock for him.
Donna and Jeffery had a full fledge belief their son would become a basketball superstar. Speaking to DC News Now, Jeffery Miller said he wasn't worried about his son moving to Florida as he believed he would continue to play well.
Before moving to Florida and enrolling at the University of Miami, Jordan was a student at George Mason. Even before Jordan picked college, Donna knew her son would choose one that was near home.
A mama's boy, Donna, with the help of Jordan's teammates at the University of Miami, surprised him with a birthday cake and a remix version of Happy Birthday.
On her Facebook handle, Donna has shared several pictures of her family celebrating every momentous occasion.
Earlier this month, Donna celebrated her 17th wedding anniversary with Jeffery and 42 years of being in a relationship.
Jordan Miller Has Three Older Brothers
Jordan Miller has three older brothers, with one of them even being a former basketball player at Ferrum College.
But it's only Jordan, who is about to make basketball his full-time professional career. All his three brothers, Jeffery Jr, Justyn, and Jovon, have taken up three different professions.
Jeffery Jr Is An Acting Instructor
Jeffery Jr, 34, joined Booker T. Washington High School as an acting instructor in 2021. The oldest of four brothers, Jeffery studied theatre at Christopher Newport University.
He earned his master's degree in Entertainment Business from Full Sail University. While at Christopher Newport Univeristy, Jeffery earned a minor in dance and loves to compete in social ballroom dances in his free time.
As of 2021, Jeffery was pursuing his Masters of Fine Arts in Directing and Theatre Pedagogy from the University of Idaho.
Previously, Jeffery worked as a performer at Walt Disney World and Virginia Musical Theatre. He also worked as an IB theatre teacher at Newport News Public Schools.
Justyn Miller Works At Marine Corps
The second born of Donna and Jeffery Miller Jr, Justyn Miller joined Marine Corps after high school.
He graduated from Loudoun Valley High in 2012 and was part of their basketball team, having been added to the roster in 2011. He currently lives in Winchester, Virginia, with his wife, Cluadiia, and their two kids.
Justyn isn't much active on Facebook, but his wife, Claudiia, has given a few glimpses of their married life.
Jovon Is A Former Basketball Collegiate Basketball Player
Jovon Miller graduated from Ferrum College with a degree in sports management in 2017. During his time at Ferrum, Jovon was also part of the basketball team.
Currently, Jovon works as an operations manager at Fitness International and previously worked as a basketball coach and trainer at Loudon Sports Training.
Previously, Jovon, and their parents, were seen at the ceremony organized by the University of Miami to honor Jordan and other seniors.
The supportive older brother was beaming with pride to see his brother reach greater heights in his basketball career.