Baseball is one of the loved sports in the world, with canny players who get to shape their careers. And Jorge Polanco is one of those canny players who know how to hit it hard.
He really must not be an unfamiliar name in the field of baseball. As recently, he has remained in the news for grabbing hit for the cycle accomplishment.
Jorge Polanco is a professional baseball player for the Minnesota Twins of MLB for those still unaware of this name.
He has been in this field for a very long time serving as an infielder. It's been more than a decade, we guess.
Jorge, the father of two, is also an All-Star award winner for 2019 and is a gifted switch-hitter.
He went on from playing with the minor leagues to becoming a shortstop in the Major League Baseball All-Star Game.
Explore all about his early life, career, wife, kids, and net worth reading this article. We shall also talk about the radical change that made him blossom into a budding star.
But before that, without any further delay, let's start taking a look into the quick facts about the expert infielder, Jorge Polanco.
Jorge Polanco | Quick Facts
| | |
| --- | --- |
| Full Name | Jorge Luis Pacheco Polanco |
| Birth Date | July 5, 1993 |
| Birth Place | San Pedro de Macoris, Dominican Republic |
| Nick Name | Chulo or pretty boy |
| Religion | Not Known |
| Nationality | Dominican |
| Ethnicity | Dominican |
| Education | Not revealed yet |
| Horoscope | Cancer |
| Father'sName | Not known |
| Mother'sName | Ines Pacheco |
| Siblings | Not known |
| Age | 29 Years Old |
| Height | 1.8m (5 feet 9 inches) |
| Weight | 161 lb (75kg) |
| Jersey No. | 11 |
| Hair Color | Black |
| Eye Color | Black |
| Play Style | Bats: Switch, Throws: Left |
| Build | Athlete |
| Marital Status | Married to Lureco (Ramirez) |
| Kids | Jorge Luis, Justin Luis |
| Position | Infielder |
| Profession | MLB player |
| Net Worth | around $5 million |
| Salary | $5,15,000 annual average salary |
| Currently Plays for | Minnesota Twins |
| Merchandise | Autographed baseball, Rookie Card |
| Active Since | 2014-present |
| Social Media | Twitter, Instagram |
| Last Update | March, 2023 |
Jorge Polanco | Early Life
Starting with the utmost basic information, Jorge was born on July 5, 1993, in San Pedro de Macoris, Dominican Republic.
His mother's name is Ines Pacheo, whereas details about his father are still not revealed.
According to the information received on the internet, Jorge has a Dominican nationality and belongs to the white and Dominican ethnicity.
Read another article on Aaron Barrett Bio: Career, Injury & Return to MLB.
Jorge's Grandfather, Maximo Polanco
Nothing much about his early life, childhood could be extracted from the media sources, but yes, Jorge was really close to his grandfather Maximo Polanco.
Maximo raised his grandson, Jorge, for almost sixteen years.
Jorge shifted away when he turned seventeen. It was his grandfather who explored him to the delightful world of baseball.
Hold on, amigos, Maximo was the only person who nicknamed him Chulo, which indicates a handsome boy in Spanish.
As Jorge's father, whose name hasn't been revealed yet, spends most of the time in New York City, it was his grandfather who looked after him all day and night while running a proper management company.
Maximo also took him for a walk, and they spent quality time at his mansion located nearby the hometown. His grandfather owned a few apartments then.
Moreover, with the help of a family friend, Maximo taught Jorge swimming too as he had a pool in the house, and they swam often.
Not only that, Jorge soon became the speediest swimmer in that area.
The whole squad ganged up to spend the blazing hot in the swimming pool of the wealthy businessman.
The meeting used to be full of food, drinks, love, and laughter. His grandfather was a huge man of Minnesota Twins then, but he supported the Yankees or the Red Sox just before his joining.
But after a certain time, Jorge ditched swimming and moved to play baseball. Maximo took his last breath on June 6 at the age of 73.
Friends with Max Kapler
Doing a random search over the internet pages, we realized that Jorge remained a roommate with Max Kapler when he was sixteen in the United States.
Both shared a flat together while experiencing professional baseball for the first time.
Although they did not speak the same language, they navigated life and its hurdles together for ten years.
They ended up becoming baseball buddies. Also, they were into the minor league together and later inked a professional contract with the Twins on the same day.
Moreover, Kepler's mother, Kathy, made them homemade meals, and Lasagna was Jorge's favorite.
Jorge Polanco | Overall Career
Jorge started with the Minnesota Twins as an international free agent approximately eleven years ago.
He showed up for the Dominican Summer League Twins in 2010 and made his legit debut.
Not only that, the same year, he also performed for the Gulf Coast Twins and scored a hit of 233 overall.
Jorge got stuck to the Gulf Coat Twins for the year 2011 and performed for 51 games. The following rider, Jorge, switched to the Elizabethton Twins in 2012.
He made it to five home runs in 115 games.
Jorge was multiplying his intensity of performance with every game. Finally, he showed up for the Cedar Rapids Kernels in the 2013 season, appearing for 115 games and making five home runs.
Also, he played with the Dominican Professional Baseball League's Leones Del Escogido and Fort Myers Miracle.
The Twins added him to the 40-man roster later in November. On June 26, 2014, Jorge was called to play for the majors.
Eventually, he made a proper extensive look in the majors in 2016, all pumped up for 69 games. He was allowed to serve as a primary shortstop for the entire season.
Performance Enhancing Drugs & Recent Career
Talking about the year 2018, it did not go that well for him. First, Jorge was tested positive for Stanozolol, a medication for enhancing drugs.
Following that, Jorge was declared ineligible for the next gameplay.
Jorge was back to the game in the 209, where he made a hit for the cycle, where a batter hits a single, double, or home run in the same game against the Philadelphia Phillies.
The battle, however, took a phase of losing with 10-4.
Jorge signed up to play as a starting shortstop in the 2019 Major League Baseball All-Star Game and ended up notching 22 home runs and 107 runs in 153 games.
Highlights And Awards
2019 All-Star
On April 5, 2019, he was hit for the cycle
Jorge Polanco | Stats
| | | | | | | | | | | |
| --- | --- | --- | --- | --- | --- | --- | --- | --- | --- | --- |
| Year | WAR | AB | H | HR | BA | R | RBI | SB | OBP | SLG |
| Career | 9.4 | 2158 | 593 | 58 | .275 | 298 | 276 | 39 | .334 | .433 |
You can get more details on his stats and game log on ESPN. Furthermore, you can find his projections on RotoChamp.
Jorge Polanco | Personal Life
Many of his fans would like to know about his relationship details coming to his personal aspects of life. For example, is he booked or single?
Here's an easy answer. Jorge is a married man. He is booked by none other than his beautiful wife, Reyna Lureco.
There are no such details about when the couple got married, but we will surely talk about their kids.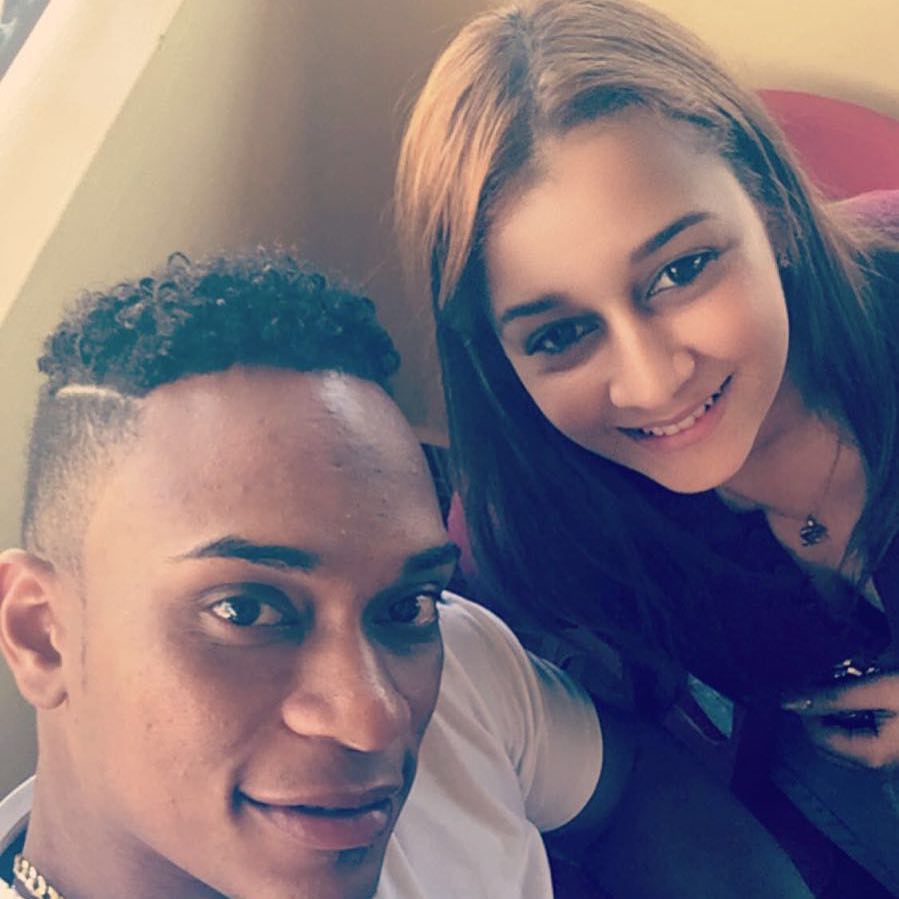 The sudden demise of his grandfather already disheartened Jorge in 2017. That was already proved and visible by the lowest number of hits that he gave during the season.
The pain of losing his grandfather was immeasurable to him. No matter how much he mourned did not decrease the amount of emotional hurt.
But in the same year, Jorge embraced a new member of his family. His wife was eight months pregnant during his tenure with Twins.
They heartily welcomed Jorge Junior on October 26 in New York City.
The duo also welcomed their second baby Justin Louis in 2018. Together, they make a happy family.
The small and sweet family was spotted posing together for the MLB Red Carpet Show hosted by Chevrolet at Progressive Field in Cleveland, Ohio, on July 9, 2019.
Jorge Polanco | Net Worth, Salary & Contracts
Being a proper Dominican by heart, he carried on his journey to the United Kingdom to enhance his homegrown talent and present it in front of the whole wide world.
It was after nine long years that he got to play a major lead in the major league. All his hard work paid off after surviving several circumstances.
Talking about his net worth and salary, we will align with the facts mentioned in spotrac.com.
Jorge has inked a 5-year contract with the Minnesota Twins, which offers him an annual average salary of $5,150,000.
Moreover, for the year 2021, Jorge will be earning a base salary of $4,333,334. Also, if you want to see his salary predictions in the coming years, please, click here.
According to the online sources, Jorge is the 13th best-paid player from the team Minnesota Twins.
At the same time, Nelson Cruz and Marwin Gonzalez are the highest salary receivers of the team, with an annual salary of $14,000,000 and $12,000,000 as of 2019.
Moreover, Jorge ranks in the 304th position when it comes to MLB's highest-paid player in 2019.
As of 2021, Jorge Polanco has an estimated net worth of around $5,000000.
Keeping his salary figures aside, there are no such disclosures on his assets and property valuation.
Read about Tim Locastro Bio: Early Life, MLB, Personal Life & Net Worth.
Jorge Polanco | Social Media Presence
We can overview both his personal and professional life activities on Instagram and Twitter; that is, he is moderately available on two of the social networking sites.
Jorge has only been able to update 13 posts on his Instagram Handle, which is an ultimate sign that shows he is not fond of using social networking sites.
And going through his Twitter account, we also found out that his last retweet was on August 9, 2019, which again shows his inconsistency on his social media handles.
But any of the ways, we can give him a random follow to keep an eye on his life.
Twitter- @Jorge_Polanco1 with 7,842 followers.
Instagram- @jorge_polanco11 with 1,309 followers.
You may also be interested in reading yet another article on Justin Bour Bio: Wife, Net Worth, Team, Contract & MLB.
Jorge Polanco | FAQs
What is Jorge Polanco's defense stats?
His total defense stats is -10.4. For more details on it, you can check out Fangraphs.
Where is Jorge Polanco being traded?
As of now, there is no definite news or rumors regarding his trade. He is currently playing for the Minnesota Twins.
Why is there a Jorge Polanco obituary?
The obituary does not belong to the baseball player. Instead, it belongs to another person sharing the same name who passed away in 2020.