Tim Locastro is an American professional baseball player who is an outfielder and a free agent. He has a record for the most successful stolen bases as a beginner in MLB, with 29. Not only that, but Tim also holds the most hit-by-pitches with fewer than 300 plate appearances in a season (22).
The Yankees signed Tim to a one-year Major League deal on 13 March 2022 but released him in November.
He commenced the 2022 season with the Scranton/Wilkes-Barre RailRiders and was promoted to the major leagues on April 17.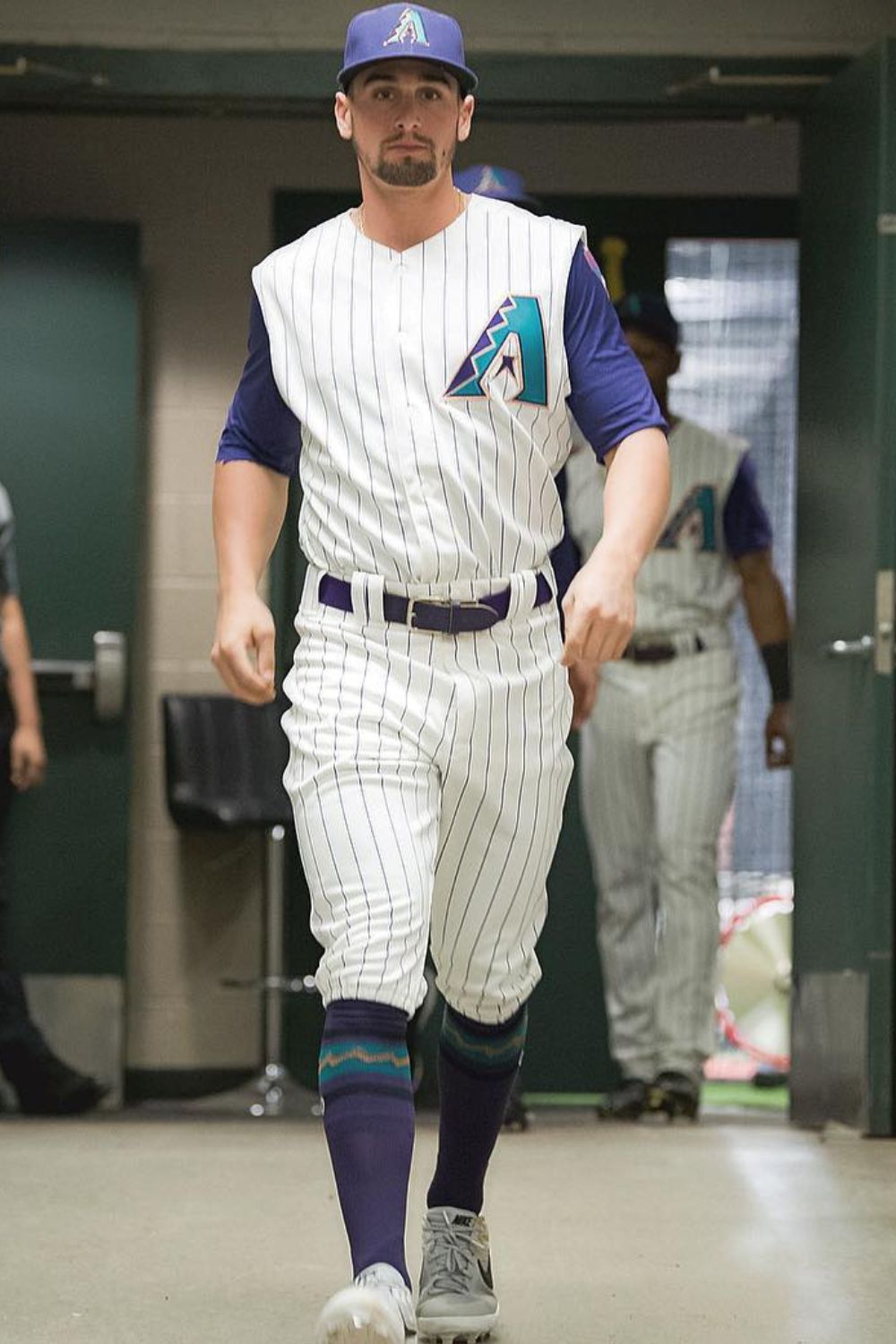 Locastro kicked off his career in 2013 and is still actively playing in the MLB. He has played for Toronto Blue Jays, Los Angeles Dodgers, Arizona Diamondbacks, and New York Yankees.
Baseball is one of the most loved and privileged sports of all time. The fan following in this bat-and-ball game is much bigger than we think in the sports genre.
We shall learn about his untold past and his career in MLB, and his career-high and low points in this article.
But before that, let's have a sneak peek into the go-getter quick facts about the outfielder boy "Tim Locastro."
Tim Locastro | Quick Facts
| | |
| --- | --- |
| Full Name | Timothy Donald Locastro |
| Birth Date | July 14, 1992 |
| Birth Place | Syracuse, New York, United States |
| Nick Name | Timmylo, Timmy |
| Jersey No. | 16 |
| Nationality | American |
| Ethnicity | White |
| Education | Auburn High School, Ithaca College |
| Horoscope | Cancer |
| Father's Name | Tim Locastro, Sr. |
| Mother's Name | Colleen Locastro |
| Siblings | Not Known |
| Age | 31 Years Old |
| Height | 1.85 m / 6 ft 1 in / 185 cm |
| Weight | 91 kg / 200 lb |
| Career Statistics | Batting Average-.227, Home Runs-7, Runs Batted In-35, Stolen Bases-39 |
| Hair Color | Dark Brown |
| Eye Color | Light Brown |
| Playstyle | Bats: Right, Throws: Right |
| Build | Athlete |
| Marital Status | Single |
| Girlfriend | Jenn Fox |
| Position | Outfielder |
| Profession | MLB Player |
| Net Worth | $5 Million |
| Salary | $519,225 |
| Currently Plays For | New York Yankees |
| League | MLB |
| Active Since | 2013-Present |
| Social Media | Instagram, Twitter |
| Merch | Rookie Cards |
| Last Update | November 2023 |
Tim Locastro | Early Life
Tim Locastro was born on July 14, 1992, to his parents, Tim Locastro Sr. and Colleen Locastro, in Syracuse, New York, United States.
He was named after his father, Tim Locastro Senior. There is no such information about his sibling.
Locastro's family used to call him with the nickname Timmy. According to his mother, Colleen, he always wanted to play for the Little League World Series in Williamsport.
Despite winning regionals, his dream of playing for the little league never came true.
Tim always remained courageous and strong-headed. He would jump off the diving board to swim without fear of drowning when he was just two years old.
As Tim grew older, he would ride his bike at full speed, crash into the tree, fall, get back up again and keep trying until he rode safely.
Timmy's grandmother used to race him to school in the morning; a long time ago, he got fascinated by baseball with this rebelling kind of spirit.
He goes for the pitching deliberately; it came naturally; he just knew it since childhood.
Tim's parents have always stayed supportive of him, no matter what decision he makes.
Tim Locastro | High School & College
Locastro went to Auburn High School and played baseball there. He was recognized as one of the upcoming talents in baseball in his junior year of high school.
And later, his coach, an Ithaca College alum, helped him extensively send him to the next level.
He attended Ithaca College and presented himself as a potential player there. Ithaca's baseball program included him in NCAA Division III.
Tim batted .436 with 13 doubles, six triples, and four homers in his junior year and set a single-season record for Ithaca's.
He also amassed a staggering 29 times, full of vim and vigor, which also was the highest mark in all of Division III.
In other words, Tim was officially the Empire 8 player of the year in 2013, where he set a lively example for runs and stolen bases.
Tim Locastro | Professional Career
Toronto Blue Jays (2013-2015)
Tim always had his clear-cut intention to get his entrance into MLB real soon. And unsurprisingly, that plan did happen soon.
Toronto drafted him in the 13th round of the 2013 MLB draft. And coincidently, it was the 13th round, 13th June, and the year 2013.
Locastro performed for the Bluefield Blue Jays of the Appalachian League in 2013, scoring a solid .283 hit in 43 games.
Subsequently, he joined Vancouver Canadians, where he enrolled in the Northwest League midseason all-star game. He deliberately hit .313 in 67 games and edged 32 bases while being caught only four times.
Tim started the 2015 season playing for the Lansing Lugnuts of the Midwest League, where he appeared in 30 games scoring .310 hits with 30 steals in 70 games.
Los Angeles Dodgers (2015-2016)
The Toronto Blue Jays traded Locastro to Los Angeles alongside Chase De Jong on July 2, 2015. It was heard that they were substituted for three international signing slots.
He played for the Rancho Cucamonga Quakes and led them to the California League championship the same year.
Timmy continued with the Quakes in 2016, but later, he got elevated to the Double-A Tulsa Drillers during the midseason. Nevertheless, Tim collected .285 hits, with 24 steals appearing in 131 games.
Eventually, The Dodgers placed him in the Glendale Desert Dogs of the Arizona Fall League the following season.
He also was appointed to the Texas League mid-season all-star game. He made a score of .308 hit with 34 steals in 127 games.
2017 (Debut To Major League)
Tim was playing for the minor leagues until now, but the day finally came as he was called upon to make his official MLB debut for Corey Seager on September 29, 2017.
He was initially appointed as a pinch-runner in the playoffs and later played an inning in left field against the Colorado Rockies.
Tim was getting through it. After Glen Cook, who played in nine games for Texas Rangers in 1985, he was the first Ithaca to appear in MLB.
Locastro again played as a pinch-runner the next day and proved his skills by collecting third base for his first major league steal.
He finally got a chance to do an at-bat in his third and final performance for the Dodgers on October 1, 2021. He recorded a hit against Adam Ottavino and came second. The sad part was Locastro was still not listed on the post-season roster.
Arizona Diamondbacks
Before getting traded to Arizona, he was sent on loan to the New York Yankees in exchange for minor league pitcher Drew Finley and cash.
Tim was traded to Arizona on January 16, 2019, for minor league pitcher Ronald Roman and cash from the Yankees.
He gathered .250 hits and grabbed 17 bases there without being caught. Ultimately, he was leading the major leagues in stolen base percentage.
Moreover, Tim had the fastest sprint speed of all major league players, at 30.8 feet/second. He conquered the season with a .243 hit on ground balls.
He again aced the base percentage with the most hit-by-pitches (22, or 8.8%) in fewer than 300 plate appearances. Tim set records in MLB by these scores.
Timmy still played for the Diamondbacks and set records high and unbeatable for the fastest sprint speed.
Needless to say, he held the record for the fastest sprint speed at 30.7 feet/second as of 2020.
He also chose his nickname "Timmylo" for his player weekend jersey in Arizona.
In April 2021, He made a new record for the number of stolen bases to start a career without being caught stealing (28), a record previously held by Tim Raines.
On April 17, Yan Gomes of the Washington Nationals caught Timmylo stealing for the first time and was thrown out.
In 2021, in 55 games with Arizona, Locastro slashed .178/.271/.220 with one home run and five RBIs.
New York Yankees
Tim was traded to the New York Yankees on 1 July 2021 from the Diamondbacks in exchange for Keegan Curtis.
He hit his first Yankees home run against Framber Valdez of the Houston Astros on July 11.
Timmylo appeared in nine matches (batting 4-for-21) for the Yankees before suffering a torn anterior cruciate ligament while catching a fly ball off the bat of Boston Red Sox outfielder Alex Verdugo on July 17, which ended his 2021 season.
He had the fastest sprint speed of all major league center fielders, and the second-fastest sprint speed in the major leagues, at 30.7 feet per second (9.4 m/s).
Locastro was claimed off waivers by the Boston Red Sox on November 5, 2021, but was non-tendered on November 30, making him a free agent.
He was signed by the Yankees on a 1-year deal and played his 2022 season with Scranton/Wilkes-Barre RailRiders, which got him promoted to the Major Leagues on April 17.
During the 2022 regular season, he appeared in 38 Major League games.
Injury
Timmylo missed 17 days due to a finger injury while playing for Diamondbacks in April 2021 and got paid $53,839.
He injured his knee and ankle and missed games from July 18, 2021, for 78 days; New York Yankees paid him $247,026 during that period.
On May 8, 2022, Tim took leave because of his back injury; at that time, New York Yankees paid him $135,492.
Tim Locastro | Relationship, Girlfriend & Children
There is not much information available regarding his romantic involvement. But yes, he shares a loving relationship with Jenn Fox.
Tim proposed to his girlfriend, Jenn, on November 8, 2020, and she definitely said yes to this handsome player.
We can get a hold of her on Tim's Instagram. As claimed by the sources, Tim and Jenn met during their college days at Ithaca. Also, they were paired together for a prom night.
There is no accurate time on when did they start dating each other. But yes, Tim disclosed mid-2017 via an Instagram post.
Jenn Fox is a Doctor now (2022) as she graduated from Vilanova University.
We can easily get an idea from his Instagram posts that Tim has been in a long-distance relationship with his girlfriend.
Family
He is a loyal boyfriend to Jenn Fox and a good son to his proud parents.
Tim has always been a loving son to his parents. He is a responsible and careful man in person, always inviting his parents to be with him in every milestone he achieves.
When Tim was assigned to play at Yankee Stadium, he called his parents to be there and watch him play.
As soon as he finished his pitch, he bumped into his parents and kissed his father on the cheeks It was his dream to play professional baseball.
According to his mother, Colleen, " He's just a good kid. He has a big heart." "He perseveres, no matter what it is."
He's determined to get what he wants; that's what he's doing now. He's living his dream right now, and so are we."
Colleen also concluded by saying it is really a big deal to make it here, from a little town in central New York. With this kind of resiliency, Tim is like a town hero to everybody in New York.
Tim Locastro | Net Worth
Locastro has just begun his career. There is much more to achieve besides this. However, he is living his dreams and playing exceptionally well.
He is just on the verge of establishing himself. Though he has not grabbed any awards and honors in his name, he strives hard for them and relevantly tries to add more value to his net worth numerically.
As reported by online sources, Locastro signed a one-year contract with Arizona Diamondbacks on January 16, 2019, worth $555,000.
Before that, he played for the Dodgers, receiving $535,000 as payroll salary while his acclimated salary was $90,613.
He signed a year deal worth $900,000 with New York Yankees.
According to the report by Spotrac, Timmylo's salary is estimated at $519,225 as of 2022.
Tim has an accumulated net worth of $5 million as of 2023.
Social Media Presence
Coming to his social media presence section, Tim seems balanced and stable. He is not that fond of paparazzi and social attention.
Nonetheless, we can still find him on Instagram and Twitter, where he lets us peek into his personal and professional lives.
View this post on Instagram
He keeps posting about his family, friends, tournament, and outdoor destinations.
Twitter- @timmyLo16 and has 7921 followers.
Instagram- @timmyloand has 20.4k followers.
Popularity Graph
Tim Locastro is a baseball player as an outfielder and is a free agent; he lastly played for New York Yankees.
Information regarding his current team and his stolen base percentage were highly searched on the internet.
Frequently Asked Questions (FAQs)
Is Tim Locastro out of the injured list?
Yes, Tim Locastro was out of the injured list after dislocating his left pinkie finger. For illustration, he entered while sliding into second base on a steal attempt on April 17 in Washington.
What is Tim Locastro's top sprint speed?
Tim Locastro's top sprint speed is 30.8 feet/second, and Tim Locastro's walk-up song is 'Sunday Best' by the Surfaces.
Is Tim Locastro married?
No, Tim is not married but is in a long-term relationship with his fiance Jenn Fox.
He posts a lot about her on his social media platforms.