A combo pack of self-dedication & a basketball bloodline, Josh Green made a swift move to NBA at 20 as the first-round pick. Currently, he plays shooting guard for Dallas Mavericks (2020- now).
Green's parents were both semi-professional basketball players & now his brothers are in the same shoes.
Joshua, an alumnus of the University of Arizona, played for only one season with the Wildcats before entering the NBA draft.
In the 2020 NBA Draft, Joshua became the 18th overall pick by Dallas Mavericks & signed a four-year rookie-contract. The deal is effective throughout the 2023-24 season.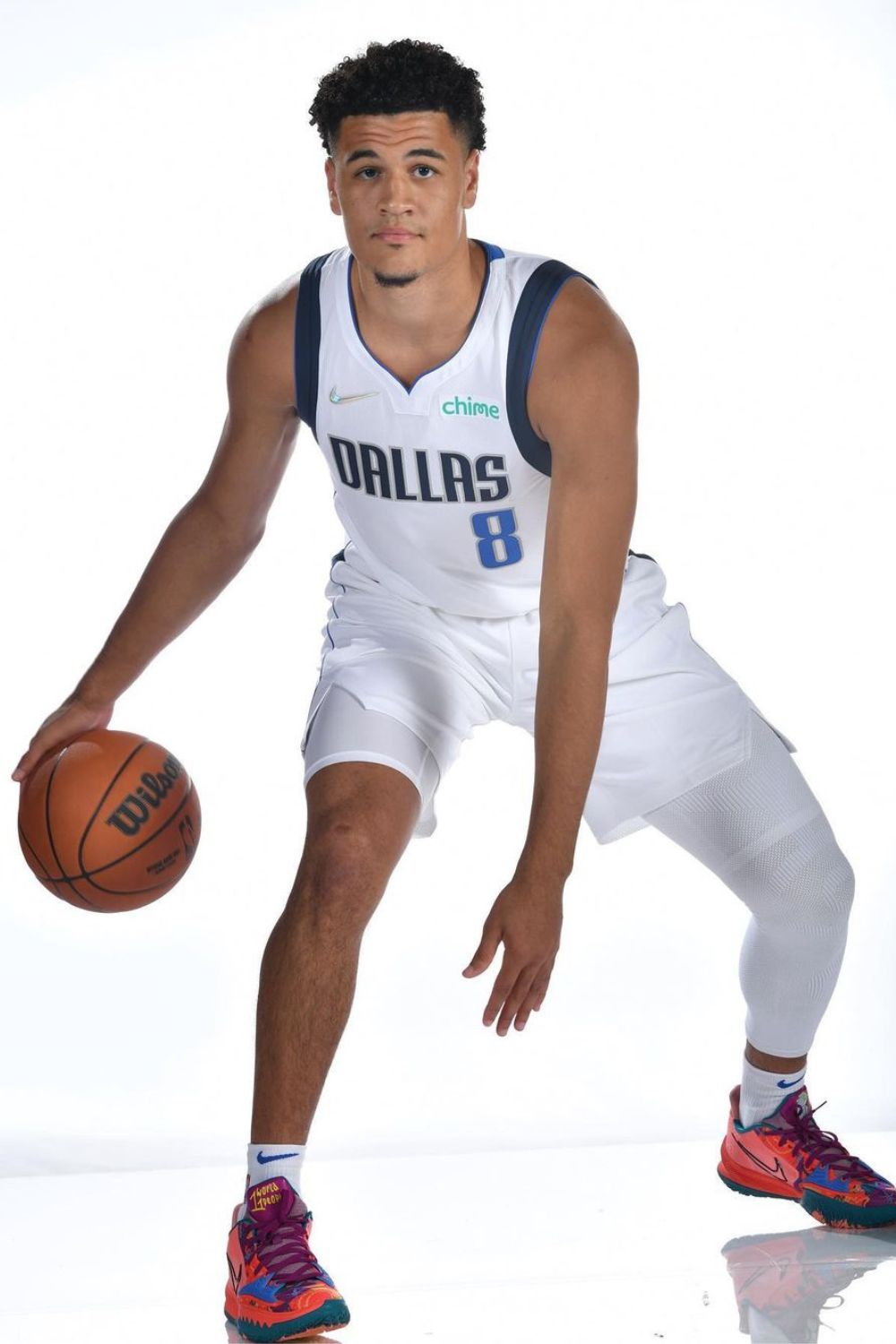 In addition to NBA, he also played in the Australian national basketball team. With Australia's senior team, Green played in the 2020 Tokyo Olympics & won a bronze medal.
Want to know more about the NBA player? In this article, we have gathered all the available information about Josh Green's personal & professional life. So, keep on scrolling further.
Quick Facts
Full Name
Joshua Benjamin Green
Date of Birth
November 16, 2000
Birth Place
Sydney, Australia
Current Residence
Dallas, Texas
Age
22 Years Old
Nationality
Australian
Religion
Christianity
Zodiac Sign
Scorpio
Chinese zodiac
Dragon
Height
6 feet 5 inches/ 1.96 m/ 196 cm
Weight
95 kg/ 210 lbs
High School

The King's School
Mountain Ridge High School
IMG Academy

University
University of Arizona (2019-20)
Father's Name
Delmas Green
Mother's Name
Cahla Green
Siblings
Three (Jay, Ky & Maya)
Tattoos
None
Girlfriend
N/A
Children
None
Profession
Basketball player
League
NBA
Position
Shooting Guard
Playing Career
2020- Present
NBA Draft
2020 Draft, Round: 1, Pick: 18th overall (by Dallas Mavericks)
Current Team
Dallas Mavericks
Jersey Number
8
Net Worth
$3-$5 Million
Social Media
Instagram, Twitter
Merch
Signed Rookie Card
Last Update
March 2023
Josh Green's Family & Siblings
Joshua Benjamin Green was born on November 16, 2000, in Sydney, Australia.
His father, Delmas, is an American-born who played basketball at Oregon Tech, while his mother, Cahla, is an Australian former basketball player.
Josh's parents met while playing basketball in Australia. They later settled in Sydney, where Josh grew up with his older brother Jay & two younger siblings: Ky and Maya.
Then, at the age of 13, Green's family moved to the United States & settled in Phoenix, Arizona.
Older Brother Jay Green Played College Basketball
Josh's brother Jay Green (b. December 12, 1997), the eldest of all, is a former college basketball player.
An attendant of Hillcrest Academy, Jay later went to Mountain Ridge High School after his family moved to the United States. While at high school, Green averaged 24 points per game.
Then, from 2017 to 2020, he enrolled at the University of Nevada, Las Vegas (UNLV); he red-shirted his sophomore year (2018-19).
In the 2019-20 season, he appeared in 17 games for UNLV & scored only 16 points with 39 rebounds & 6 assists.
As a college transfer, he enrolled at Northern Arizona University & played for two seasons.
Jay Green averaged 3.2 points (64 points), 1.8 rebounds, and 1.1 assists per game from 20 games in 2020-21.
Then, in 2021-22, he totaled 93 points through 28 games, averaging 3.3 points, 1.7 rebounds & 0.6 assists.
In December 2021, Jay graduated with a Master's degree in Human Relations from Northern-Arizona University. He is the recipient of the 2022 Golden Eagle Scholar-Athlete Award.
Younger Siblings | Ky Green & Maya Green
The Australian basketball player has two younger siblings: a brother named Ky Green & a sister named Maya Green.
The basketball gene runs in Ky's veins, too; currently, he plays for Liberty High School & wears jersey number #32. He stands 6 feet 6 inches (1.98 m) & weighs 90 kg (200 lbs).
Ky Green is active on Twitter (@KyGreen0) & Instagram (@kyjgreen).
Green's youngest sibling is sister Maya Green. Nothing much about her is known, except she was born when Josh was in fifth grade.
The NBA player often shares pictures of his sister on his Instagram.
A Multi-Sport Prodigy
During his early days, Josh was a mutli-sport wonder. As a child, he tried his hand at an array of sports, including Australian rules football, athletics, basketball, soccer, and swimming.
Some of his childhood achievements are listed below:
At the age of 10, Josh was selected to represent his home state of New South Wales in no less than nine different sports.
At 11, Josh captained the under-12 NSW Metro state team to a national title.
Green played Australian rules football, regularly attending Sydney Swans games with his father and playing locally for the Westbrook Bulldogs.
Both the Swans and Greater Western Sydney Giants offered him a place in their junior developmental academies. At the age of 13, Josh accepted an offer to join the Giants' academy.
However, in November 2014, Josh's family relocated to Phoenix, Arizona, because of his father's work commitments. As a result, the player was forced to give up his beloved Australian rules football.
Despite this setback, Green continued to focus on basketball and has since become one of the top prospects in his class, with a bright future ahead of him.
Attendant Of University Of Arizona
Josh Green started his education in Australia, attending The King's School in Sydney. However, In 2015, the Green family relocated to Phoenix, Arizona, and Josh enrolled at Mountain Ridge High School.
The player later transferred to the IMG Academy in Florida, where he led the school basketball team to a national championship victory.
Josh then attended the University of Arizona and played for only one season there before declaring the NBA Draft.
With the Arizona Wildcats, Green started in all 30 games and totaled 359 points; his college stat read 12.0 points, 4.6 rebounds, 2.6 assists & 1.5 steals per game.
NBA Career & Injury
In the 2020 NBA Draft, the Dallas Mavericks picked Josh as the 18th overall pick, where he joined fellow Mavs pick Tyrell Terry (of round-two).
On December 23, 2020, Green made his NBA debut in a 106-102 loss to the Suns, where he scored two points.
Moreover, as a rookie, he made his playoff debut with the Mavericks in the 2021 NBA Playoffs, but they lost to the LA Clippers in the first round.
In the 2021-22 season, Josh Green's regular season averaged 4.8 points, 2.4 rebounds & 1.2 assists per game.
He played in the 2022 NBA Playoffs (2021-22 season); the Mavs lost to Golden State Warriors in the Western Conference Finals by 1-4 in the game series.
In the 2022-23 season, Josh scored his career-high 29 points in a 124-111 victory over Utah Jazz on February 6, 2023.
Underwent Surgery On Shoulder
Josh Green faced an elbow injury during a match against the Milwaukee Bucks on December 9, 2022. This resulted in him missing 20 consecutive games.
However, he made a comeback on January 18, 2023, and scored 9 points in a defeat to the Atlanta Hawks.
Previously, in April 2019, Josh underwent surgery on his left shoulder.
The labrum in his shoulder had been torn for some time and eventually dislocated during the Hoop Summit game, leading to the need for surgery.
After the surgery, Josh took to Instagram to express his gratitude towards his supporters, acknowledging the support he received during his recovery period.
Career Highlights & Awards
2019 McDonald's All-American
Bronze Medal at the 2020 Tokyo Olympics (With the Australian Men's Basketball team)
Is Josh Green Dating Anyone?
Green prefers to keep his personal life access limited to the media, especially when it comes to his relationship. Many fans are eager to know if the young NBA star is currently dating.
Though, so far, there are no records of his dating profile or any girlfriend.
Due to lack of proof to support his relationship claims, we can't assume his relationship status.
But it doesn't mean that fans & media won't stop digging; rather, they have prying eyes on the player & his social media accounts.
The player is active on Instagram, with the IG handle @JoshBGreen. Since June 2015, he has been active on Twitter as @JoshBGreen.
His social media profiles mostly feature his NBA journey & his family moments.
Age, Height & Body Measurements
The shooting guard for Dallas Mavericks is currently 22 years old. According to the Chinese calendar, Josh was born in the Dragon year, and his zodiac sign is Scorpio.
An athletic build with a height of 6 ft. 5 in. (1.96 m), Green has brown eyes & black hair with a trade-marked goatee beard.
The 95 kg (210 lbs) weighing hunk recorded 6 ft. 10 in. (2.08 m) of wingspan & a standing reach of 2.62 m.
Net Worth | NBA Contracts & Salary
Already with three NBA seasons on his rookie contract, the Australian basketball star totaled career earnings of $8.872 million.
As of 2023, Josh Green has estimated net worth of $3-$5 million.
After Dallas Mavericks picked him as their 18th overall in the 2020 NBA Draft, Green signed a four-year deal worth $13.64 million on November 30, 2020. It averaged $3.4 million in annual salary.
In the first two NBA seasons (2020 & 2021 NBA season), he earned a base salary of $2.816 million & $2.957 million, respectively.
In the 2022-23 season, the Mavericks shooting guard's salary stood at $3.10 million- thanks to the option deal signed on October 19, 2021.
The top-two earners of the Mavs with a $30 million+ salary are Kyrie Irving & Luka Doncic.
On October 11, 2022, Josh Green exercised another option year for the 2023-24 season; it will see him a paycheck of $4.765 million.
At the end of his rookie contract, the NBA player becomes a restricted free agent in 2024 with a qualifier offer of $6.762 million.
Interesting Facts
Josh Green and Jalen Brunson share a strong friendship. They formed a close bond while Brunson was a member of the Dallas franchise. Their friendship is characterized by playful interactions that they share on social media.
Green lost his wallet on July 24, 2022, while traveling to catch a flight. A person informed him via Twitter that they had found it. And since Josh was not much active on social media, he had to reinstall the app to retrieve information about his lost wallet.
Frequently Asked Questions
What number is Josh Green?
The shooting guard for the Dallas Mavericks, Josh Green, wears jersey number 8.
How much Green earns annually?
With an option contract with the Mavericks, Green's salary for the 2022-23 season is $3.1 million. Another one-year option for the 2023-24 season records his payroll at $4.77 million.
Who is Josh Green married to?
No, the NBA player Josh Green is not married or dating anyone at the moment.