The young swingman, Josh Hall, is an American professional basketball player for the Raptors 905 of the NBA G League.
Hall is a four-star recruit by 247 Sports and ESPN and a five-star recruit by Rivals. Further, he' is a decent outside shooter with a sharp and strong shooting stroke.
Moreover, Hall took an extraordinary route to the NBA and was labeled as one of the fresh prospects on the whole Oklahoma City Thunder roster.
Uncover further exquisite information about the American-born small forward Josh Hall below the article.
Also, have a brief look at the informational quick facts illustrated beneath.
Quick Facts
Full Name
Joshua Karon Lee Hall
Birth Date
October 8, 2000
Birth Place
Durham, North Carolina
Nick Name
Josh Hall
Religion
Christianity
Nationality
American
Ethnicity
Unknown
Education

Southern High School (Durham, North Carolina)
Oak Hill Academy (Mouth of Wilson, Virginia)

Horoscope
Aries
Father's Name
Quincy Hall
Mother's Name
Tenika Rudisell
Siblings
None
Age

22

years old
Height
6 feet 9 inches
Weight
86 Kilogram (190 lb)
Jersey no.

3 – Raptors 905
15 – Oklahoma City Thunder

Hair Color
Black
Eye Color
Black
Body Type
Athletic
Profession
Basketball player
NBA Draft
2020/Undrafted
League
NBA & NBA G League
Active Years
2020–present
Sexual Orientation
Straight
Marital Status
Unmarried
Girlfriend
Not available
Kids
None
Net Worth
$1-$5 million
Position
Small forward
Current Team
Raptors 905
Social Media
Instagram, Twitter
Merch of NBA
Basketball
Last Update

March 2023
Josh Hall | Early Life & Family
The athletic young hoopster Josh Hall was born in Durham, North Carolina, on October 8, 2000. His full birth name is Joshua Karon Lee Hall, but he's generally cherished with Josh Hall.
In addition, he follows Christianity, refers to American nationality, and his zodiac sign is Aries.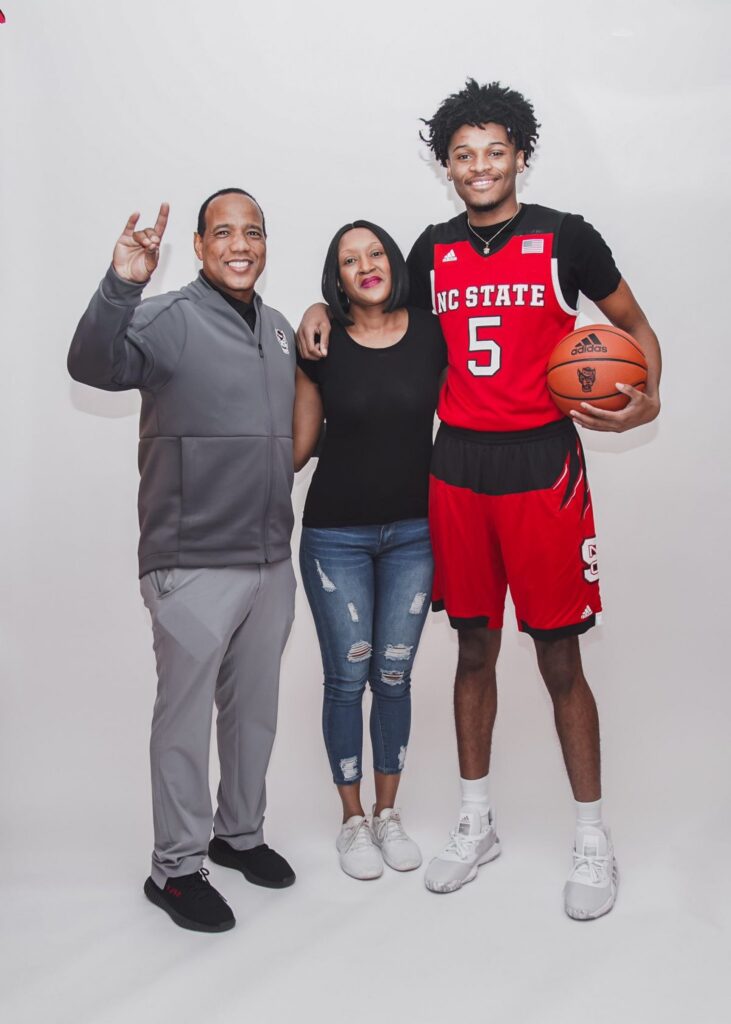 Hall is the only child born to his mother, Tenika Rudisell, and an athletic father, Quincy Hall, a former basketball player at East Carolina.
His parents got married in the spring of 1999 when Quincy was a student of East Carolina.
Moreover, his father played two seasons at East Carolina, overseas in Finland, and had a stint with National Basketball Development League.
Josh was an infant when his father switched from college to overseas to living in his hometown, Durham.
Furthermore, it might be the bloodline that Hall is young and immensely skilled, making his direct doorway to the bigger platform.
Therefore, Hall has become one of the youngest yet most competent hoopsters to reach the NBA.
Josh Hall | Basketball Career
High School Career
During his freshman season, Josh Hall enrolled at Southern High School in Durham, North Carolina.
Then, he transferred to Oak Hill Academy, where he played for the local team for two years.
He played for Moravian Prep in Hudson, North Carolina, and logged 24 points and 4.4 rebounds per game during his postgraduate season.
Therefore, he was labeled the North Carolina Player of the Year by the scouting service Phenom Hoops. Thus, he was deemed a five-star recruit by Rivals and a four-star recruit by 247 sports and ESPN.
In November 2019, Hall joined the NC State to play college basketball over offers from Louisville and DePaul, and others.
Later in April 2020, Hall announced for the 2020 NBA Draft forging the college basketball.
Disclose everything about Jeff Adrien Bio: Career & Net Worth
Professional Career
Josh went undrafted in the 2020 NBA Draft; then, in December 2020, he signed a two-way deal with the Oklahoma City Thunder.
Moreover, he logged 25 points, 10 rebounds, and two assists in 43 minutes against the Los Angeles Clippers.
Before that, Hall had the opportunity to play with the Thunder in NBA Summer League, where he logged 6.6 points and added 4.6 rebounds.
In addition, he began the season with a bang and could speculate for better performance in his first NBA start.
In the meantime, he logged a double-double and has stood as one of the two Thunder players to score at least 25 points. Then, the Thunder waived him in September 2021.
Afterward, he signed a 10-day contract with the Toronto Raptors and was later waived by the team and assigned to the Raptors 905.
Net Worth & Salary
The competent 6'9″ small forward Josh Hall has a net worth of $1-$5 million.
Addressing his salary, his estimated salary was $449,115 in 2020-21 with Oklahoma City Thunder.
Therefore, he was the 512th best-paid NBA player and 221st best-paid forward last year.
Get all the intriguing details about Rudy Gay: NBA, Family, Net Worth & More.
Age, Height & Weight
An agile hoopster was born on October 8, 2000, and assessing his birth date, he is 22 years old.
He stands at an enormous height of 6'9," and he weighs around 190 lb (86 kg). The efficient forward has a wingspan of 7'2."
Moreover, at 6-9, he's got the enormous size for a small forward position and displays some good abilities on the court. His tremendous length and big hands help him to handle the ball well, pass, and score off the dribble.
Appearance-wise, he has a unique persona in terms of outfitting significance. He steps up with confidence in his outfit and admires all aspects of fashion. Neutral colors and classic cuts dominate his closet.
Furthermore, the other striking thing about him is his hairdo's dreadlocks, which seemingly are unique yet sights seizing.
Alike, he adores tattoos which could be conceded looking at his entire inked body with quotes and other tattoos.
The quote tattoo on his right hand stated, "God gives his Toughness 2 his Strongest Soldiers," which seemingly is a strong sensation.
Who is Josh Hall's Girlfriend?
The snappy hoopster Josh Hall's relationship stature is inaccessible at the eternity as he has not disclosed anything about the subjective topic to the public.
Furthermore, he might be delighting in his alone being, or he's all focused on this career over romance.
On the flip side, he perhaps is a decent mysterious player who had kept everything related to his love life out of public views and controversies.
Accordingly, many credible sources claim that he's single as of now, and in one of his interviews, he confided he didn't want any relationship presently.
Also, he added, he's been overseeing to carved his professional career at the height of glory.
Therefore, time will uncover his details as his fanatics need little calmness and patience with their curiosity.
Social Media Presence
Josh Hall is presently an active persona on social media sites, Instagram and Twitter.
After surfing his social media sites, he has thousands of followers who glimpse his profile and content feed updates.
Moreover, he has dapper self pictures that show his off-court appearance with a brief cutline.
Interestingly, Hall is a famous face as some fanatics like him for his game, whereas some admire him because of his personality.
Therefore, find the athlete on social media sites to get notified about his recent updates and information timely.
Injury
As is the case, injury is an integral part of the sport, and each day, there are chances players encounter devastating damages.
Following this, Josh Hall has too endured injuries. In 2022, he was ruled out due to an ankle injury and missed the next playing opportunity.
Likewise, in 2021, he's out due to a knee injury. He was suffering knee soreness and missed the playing chances.
High-performance Spirit
Josh Hall is an athletic, competitive forward who recently got drafted to the biggest rostrum of the basketball world, the NBA.
Accordingly, he is a young hoopster whose journey has just begun, and he'd been detected with multiple pros that NBA enthusiasts appreciate.
Thus, he's a decent scorer off the dribble and also scored a decent rebounder. He uses his tremendous length to his advantage and converts key shots down the stretch.
Likewise, his potential to shoot and handle is extraordinary for many players coming straight out of high school.
Additionally, he's a good athlete with somewhat endowed abilities at getting blocks and steals.
Furthermore, former Kentucky star Tayshaun Prince, who had a long stint with NBA, is the player whom Josh is often compared to.
Big Leap
After High School, Hall straight went for NBA; he; claimed that taking the big leap to the NBA is no effortless mission on or off the floor.
Likewise, Hall shook out not being selected on the night of the 2020 NBA Draft, but later, he deserved the great shot to sign a two-way contract with Oklahoma City Thunder.
Moreover, leaping to the NBA by skipping college has become more prevalent, but it's still a huge adjustment.
Accordingly, Hall has been living independently since he was 15, and scheduled residing wasn't a big transition for him.
Afterward, he began his new journey with a recurring skit, waking up and training every day, and learned the pattern of working out daily.
In addition, taking trips and flying to various places daily, everything was a whole different thing for him.
As a two-way player, Hall had the chance to play for both Oklahoma City Thunder and their affiliate team Oklahoma City Blue of G League.
Hence, he received a great chance to grow, progress, and develop as a basketball player at an early age.
Get engaging details about Jordan Poole Bio: NBA, Family & Net Worth>>
Frequently Asked Questions | FAQs
What are some weaknesses about Josh Hall?
Josh Hall is a shining star with numerous decent integrity, but he'd lot to improve himself to battle his way to the NBA. Thus, his weakness that needs to improve is; his shooting, playmaking, decision making, and free throwing skills.
Who is Josh Hall's Agent?
Josh Hall's agent is Nathan Conley of Pro Sports Management.
Who are the players he modeled his games after?
Hall modeled his game after Paul George and Jayson Tatum. Thus, both play small forward positions, and if Hall played similar to them, he could shine on the league.