Josh McDaniels is a professional football coach who now serves as the head coach of the National Football League's Las Vegas Raiders (NFL).
During McDaniels' initial tenure as offensive coordinator, New England Patriots set a record for points scored and became the first team to win all 16 games.
Similarly, The Patriots won three Super Bowl championships during Josh's second tenure, which lasted from 2012 to 2021: Super Bowl LIII, Super Bowl XLIX, and Super Bowl LI.
Likewise, Josh was one of the Patriots players who were present for each of their six championship victories during the Brady-Belichick era.
In 2022, Josh relocated away from New England once more to become the Raiders' head coach.
Want to know more about Josh McDaniels? Then, give this article a read. Here, we have gathered all the information about McDaniels, including his salary, net worth, wife, and children.
Before that, have a look at some quick facts about Josh!
Quick Facts
| | |
| --- | --- |
| Full Name | Joshua Thomas McDaniels |
| Known As | Josh McDaniels |
| Birth Date | April 22, 1976 |
| Birth Place | Barberton, Ohio |
| Age | 47 years old |
| Religion | Christian |
| Nationality | American |
| High School | Canton McKinley High School |
| College | John Carroll University |
| Zodiac | Aries |
| Chinese Zodiac | Dragon |
| Father's Name | Thom McDaniels |
| Mother's Name | Christine McDaniels. |
| Siblings | Jason McDaniels, Ben McDaniels |
| Height | Not available |
| Weight | Not available |
| Build | Athletic, Muscular |
| Shoe Size | Not known |
| Hair Color | Black |
| Eye Color | Black |
| League | NBA |
| Active Years | 2007- present |
| Marital Status | Married |
| Wife | Laura |
| Children | Four |
| Profession | Head Coach |
| Career Highlights | 6× Super Bowl champion (XXXVI, XXXVIII, XXXIX, XLIX, LI, LIII) |
| Currently Coaching | Las Vegas Raiders |
| Net Worth | $6 Million |
| Salary | $1 Million + |
| Social Media | Not available |
| Merch | |
| Last Update | June, 2023 |
Josh McDaniels: Net Worth and Salary
American professional football coach, Josh McDaniels, had a very successful career at the NFL. He was recently appointed the head coach of the Las Vegas Raiders on January 31, 2022.
Josh is earning an annual salary of approximately $1 Million. His net worth is estimated to be $6 Million.
Las Vegas Suburbs Home
Josh McDaniels spent over $5 million for a luxury house that is only six miles from the team's headquarters. The purchase was done in July 2022.
The suburban Henderson, one-story Santa Barbara-style home has four bedrooms, six bathrooms, and two powder rooms and is a little larger than 6,700 square feet.
The house is actually more like 7,700 square feet, but it has around 1,000 square feet of covered patios. Likewise, the rear has a pool and spa, a huge outdoor fireplace, and a built-in BBQ hidden under a curtained cabana by the pool.
The expansive property, which is situated on more than half an acre and has expansive views of the golf course, was built in 2005 in the guard-gated Anthem Country Club neighborhood.
Similarly, a luxurious kitchen, formal living and dining rooms, a pool room with a wet bar, a movie theater, and a home office are all located inside.
The three-car garage, polished marble flooring, Sonos surround sound with iPad interface, and indoor and outdoor speakers are other attractions.
McDaniels was represented in the transaction by Michael Mair of EXP Realty and Kristen Routh-Silberman, a partner with Corcoran Global Living, held the listing.
The other details about his investments, purchases, car collection, etc., apart from the purchase of the house, are still under review. We will get back to you once we get our hands on it.
American sports journalist and ESPN host Rachel Nichols are well-known. She is regarded as one of the Top 10 Sports Media Voices. Click here to learn more!
Josh McDaniels Career Highlights
Josh McDaniels played wide receiver at John Carroll University while attending Canton McKinley High School. Likewise, from 1999 to 2000, McDaniels worked as a graduate assistant at Michigan State University, where he began his coaching career.
Josh then started working as a personnel assistant for the NFL's New England Patriots in 2001. From 2002 to 2003, he worked as the Patriots' defensive coaching assistant before taking over as the team's quarterbacks coach from 2004 to 2008.
Josh also worked for New England as its offensive coordinator from the year 2006 to 2008. Similarly, from 2009 to 2010, McDaniels served as the head coach of the Denver Broncos.
He served as the St. Louis Rams' offensive coordinator in 2011 before joining the Patriots once more as an offensive assistant.
McDaniels has been the New England Patriots offensive coordinator since 2012. He was the NFL's youngest head coach at the time of his hire, aged 33.
In 2022, Josh relocated away from New England once more to become the Raiders' head coach.
Josh McDaniels: Early Life and Family
Josh was born on April 22, 1976, in Barberton, Ohio. His father's name is Thom MacDaniels, and his mother's name is Christine McDaniels.
His full name is Joshua Thomas McDaniels. Additionally, Josh also has two brothers, Jason McDaniels and Ben McDaniels.
Athletic blood runs in the MaDaniels' family. It is evident from the fact that both Josh's father, Thom, and his brother, Ben, have contributed a lot to the NFL world.
Josh McDaniels' Father, Thom McDaniels
Josh's father, Thom McDaniels, also coached football for high schools in Ohio before retiring.
Thom held the position of head coach for 26 years, spending time at Massillon Jackson High School, Canton McKinley High School, and Warren G. Harding High School.
Similarly, Thom also coached for 40 years in total and was inducted into the Ohio high school coaches' hall of fame. In 2004 and 2010, Thom was a finalist twice for the NFL high school coach of the year.
Additionally, in 1997, while coaching his Canton McKinley team to state and national championships, Thom was voted USA Today's national high school football coach of the year. This was the final year of his first stint as Canton McKinley's head coach.
Thom mows greens on a golf course these days. However, over his 40 years as a high school football coach in northeast Ohio, he carved out a legend.
Josh's father doesn't hold back when he thinks his son needs to hear anything, like most good fathers do.
When Josh was five years old, he first went to his practices with his father, and even now, Josh agrees with his father whenever he has something to say about coaching.
Apart from Josh himself, Thom coached several notable players, including Percy Snow, Maurice Clarett, Mike Doss, and Mario Manningham.
Hal Mumme, head coach of Dallas Renegades, has a net worth of $1 million. Mumme reportedly makes $3,49,000 annually, of which his estimated football income is $1,50,000. Click here to know more!
Josh McDaniels' Brother, Ben McDaniels
Ben McDaniels, Josh's younger brother, was born on June 6, 1980. He currently serves as the wide receivers coach and passing game coordinator for the National Football League's Houston Texans (NFL).
Prior to late 2018, Ben held the positions of interim wide receivers coach and quarterbacks coach at the University of Michigan.
Ralph Friedgen opted to step down as offensive coordinator following the season, which led to Ben being elevated to wide receivers coach for the Rutgers Scarlet Knights football team.
In 2010, Ben worked as a quarterback assistant with the National Football League's Denver Broncos. From 2000 to 2001, he competed as a quarterback for Kent State.
Josh McDaniels: Wife & Kids
Josh hardly ever discusses his personal life in media and interviews. So, very less is known about his wife and kids. However, we know that the coach got married to Laura, his wife, in 2002.
The couple had been dating for two years prior to the wedding. Josh first met Laura in 2000 when he worked as a laminated plastics salesman for Fiber-Tech Industries in Cleveland. Laura was also an employee at FiberTech.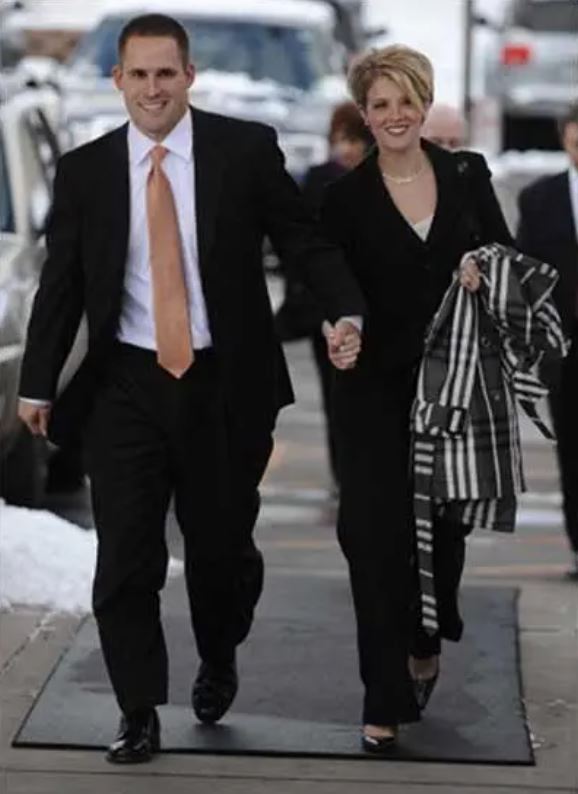 After two years of togetherness, Josh and Laura decided to tie the knot. Now, they are proud parents of four children; Jack McDaniels, Maddie McDaniels, Livia McDaniels, and Neenah McDaniels.
Josh is an amazing father to his kids. He makes an effort to spend as much time with his kids as he can despite his busy schedule.
Josh McDaniels: Videotaping Scandal
The Denver Post reported on November 27 that the NFL was looking into the Broncos.
The investigation was carried out after it was revealed that Steve Scarnecchia, the team's director of video operations hired by McDaniels in 2009, recorded a walkthrough practice of the San Francisco 49ers during the team's Week 8 game at Wembley Stadium.
The NFL levied a $50,000 fine against the Broncos and McDaniels the same day, and Scarnecchia lost his job as a result of the event.
Following the departure of the rest of the Broncos staff, Scarnecchia admitted to NFL investigators that he acted alone and "understood it was improper" to record the walkthrough practice.
After the investigation carried out by the NFL security, both the NFL and the Broncos came to the conclusion that McDaniels was unaware of the incident.
The investigation also included a forensic examination of the computer from which Scarnecchia later deleted the tape.
However, the NFL penalized McDaniels for failing to notify the league office of the occurrence right away as required by regulation.
Similarly, because "clubs are ultimately liable for the conduct of their personnel," the NFL also punished the Broncos.
Sean Williams, the American basketball player, had a life full of controversies. Click here to find out what they are!
Frequently Asked Questions
Josh served as the head coach of the Denver Broncos from 2009 to 2010. The Broncos had a record of 11-17 record at the end of McDaniels' time. The coach was let go before the end of his second year.
Other than football, Josh is interested in the National Association for Stock Car Auto Racing (NASCAR). Likewise, the head coach also plays a little bit of golf.
What was Josh McDaniel's first car?
Josh's first car was a used Saturn with a stick shift that had no power windows, seats, or locks. His father purchased it for him after he received his college diploma,