Julius Deion Randle, commonly known as Julius Randle, is an American professional basketball player who plays in the National Basketball Association (NBA) League. He is currently a power forward for the New York Knicks of the NBA.
Julius entered the NBA when the Los Angeles Lakers selected him in the 2014 NBA draft.
Previously, before making his career in the NBA, he played college basketball for the Kentucky Wildcats. While there, he made tremendous progress and became eligible for the draft soon after his first year.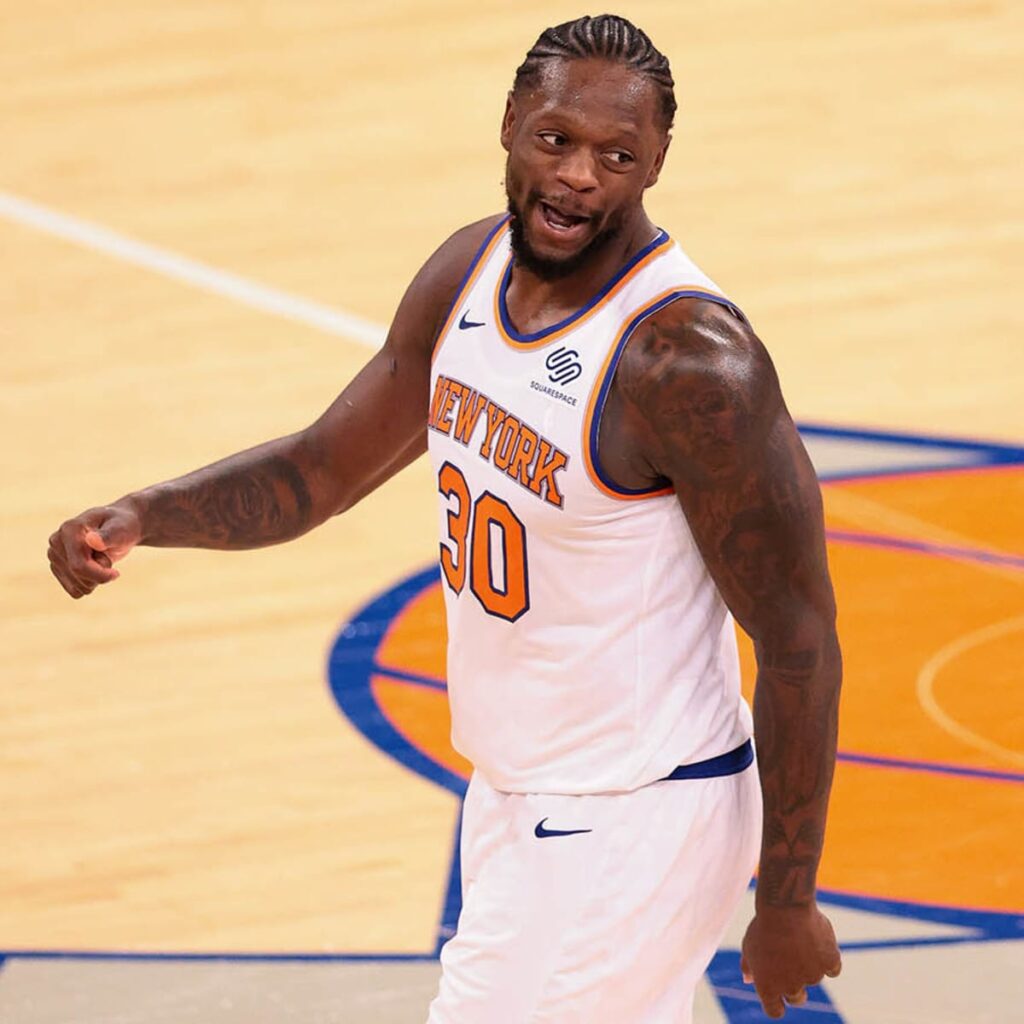 Randle is very tall and has strong arms. Despite that, he can easily cover the entire court and pass with pinpoint accuracy. His stats table in the NBA except his rookie season is quite a spectacle.
The Texas native can also play as a center. Even though he is not quite fit to play as a center as they are usually about 7 feet tall, he does his job pretty efficiently when assigned that position.
Let's explore more about this NBA All-Star's early life, professional career, personal life, and much more.
But before hopping into the details, here are some quick facts about Julius Randle.
Quick Facts
Full Name
Julius Deion Randle
Known As
Julius Randle
Date of Birth
November 29, 1994
Birth Place
Dallas, Texas, the USA
Nick Name
Beyblade
Religion
Christianity
Nationality
American
Zodiac Sign
Sagittarius
Age

28

years old
Height
2.03 m (6 feet 8 inches)
Weight
250 lb (113 kg)
Hair Color
Black
Eye Color
Dark brown
Build
Athletic
Father's Name
Not available
Mother's Name
Carolyn Kyles
Siblings
An elder sister
Siblings' Name
Nastassia Caldwell
Education

Prestonwood Christian Academy (Plano, Texas)
University of Kentucky (Lexington, Kentucky)

Marital Status
Married
Sexual Orientation
Straight
Wife's Name
Kendra Shaw
Kid
Two sons
Kids' Names
Kyden Randle, Jayce Randle
Profession
Professional basketball player
NBA Draft
2014
Position
Power forward/center
League
National Basketball Association (NBA)
Active Years
(2014–present)
Net Worth
$6-$11 million
Currently Plays For
New York Knicks
Former Clubs

Los Angeles Lakers
New Orleans Pelicans

Jersey Number (recent)
30
Career Highlights & Awards

NBA All-Star (2021)
NBA Most Improved Player (2021)
SEC Rookie of The Year (2014)
McDonald's All-American (2013)
All-NBA Second Team (2021)

Social Media
Instagram, Twitter
Merch
Trading card, Book
Last Update

May 2023
Early Life, Family & Education
On November 29, 1994, Julius Randle was born in Dallas, Texas, United States. There is no information about his father. However, his mother is Carolyn Kayles. They are the natives of Texas state.
Born and brought up in Texas, Randle attended Prestonwood Christian Academy (PCA) in Plano. He began playing basketball with his friends from a very young age. As his mother was a former basketball player, she inspired her son from the very start.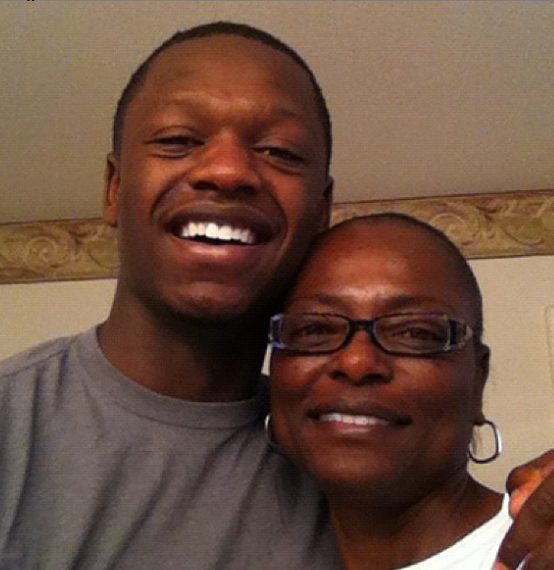 Carolyn started teaching him basketball when he was still a toddler. He, too, enjoyed playing with his elder sister, Nastassia, and mother.
Moreover, his mother admitted him to the Amateur Athletic Union (AAU) when he was just in 5th grade. He soon started playing AAU tournaments and impressed the coaches and spectators alike.
Jeff Webster, a former NBA player, was one of those many spectators who saw the upcoming star player in him. As a result, he would often visit young Randle and mentor him.
Julius considers his mother as his everything and totally feels that her sacrifice and contribution brought him to the place where he is today. Likewise, Carolyn wanted her son to be strong and stand out in every arena of life.
Just like his mother expected, Julius made it to his high school team and played good basketball for his team. He showed great talent and always ranked at high positions in every event.
Even though it was a great challenge to maintain his status as the best player and be good in his studies, Randle handled it pretty well.
After high school, he enrolled in the University of Kentucky for his further education and continued his basketball career.
Julius Randle | Career
High School Career
Julius Randle played high school basketball for the Prestonwood Christian Academy. He was extremely good from his early games and continued to play exceptionally well till his last season.
In his junior season, the athlete led his team to the Under Armour Elite 24 dunk Contest win. As a result, he was declared the tournament's MVP. However, his performance already made him a star while still in high school.
Going into the senior season, he did much better, and at the end of the season, the basketball analysts and top experts named him one of the best power forwards in the country.
<<< Ja Morant Bio: Basketball Career & Relation >>>
As a result, many universities wanted him to pursue his career with them. It included the nation's top universities such as Texas, Kansas, Florida, Kentucky, etc. However, he chose the University of Kentucky for his college career.
College Career
The Texas native emerged as an even greater talent once he started playing for the University of Texas at Lexington. As a freshman, he played 40 matches, starting all of them.
He earned the coaches' trust, and they, in turn, gave their best to groom one of the top players from the team. Julius averaged 15.0 and 10.4 rebounds per game in his rookie season.
He finished the season with 24 double-doubles, coming second only to Dan Issel's record of 25 double-doubles. In addition, he led Kentucky to the national championship game. However, he did not become successful in helping them lift the trophy.
After his first season with an incredible stats table, he felt that he is fit to compete with bigger players of the NBA. He had been much more confident and believed in his own game.
Consequently, he decided to end his college career without playing three more years in college. Eventually, he decided to go for the 2014 NBA draft on April 22, 2014.
Professional Career
The Los Angeles Lakers selected Randle as the draft's first-round 7th pick. It came as a surprise as various top college graduates were participating in the draft, and he was a young guy who had played only a season in his college.
However, he could not have a good time in his rookie season as he missed the entire season after he suffered a leg injury in his debut game against the Houston Rockets.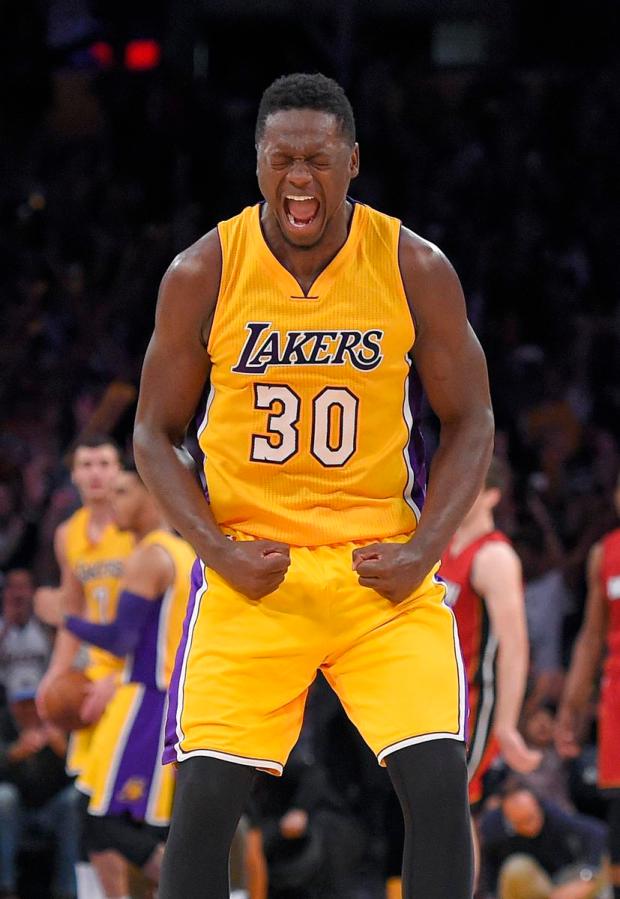 He came back the next season with much enthusiasm and delivered as expected. Playing 81 matches, he averaged 11.3 points and 10.2 rebounds per game throughout the season. In addition, he appeared in some games for the Lakers in the Summer League.
Julius played two more seasons for the Lakers before transferring to the New Orleans Pelicans. His numbers on the stats table improved more than his second NBA season.
Randle had signed a two-year contract with the Pelicans on July 9, 2018, but it ended just after one season.
In the 2018-19 season with the Pelicans, he averaged his second-highest 21.4 per game. He played 74 games and was good in rebounding record as well. However, the club had to let him go as he did not want to stay longer with them.
The then free agent eventually signed a three-year contract with the New York Knicks in 2019. Following the contract, he has already played two full seasons for the Knicks. In addition, the player achieved his career-best 24.1 rebounds per game in the 2020-21 season.
Similarly, he received the NBA All-Star and the NBA Most Improved Player in the same season for his unparalleled performance.
He is still with the New York Knicks in the ongoing NBA season.
Julius Randle | Awards & Achievements
Some of his awards and achievements include:
NBA All-Star (2021)
NBA Most Improved Player (2021)
SEC Rookie of The Year (2014)
McDonald's All-American (2013)
All-NBA Second Team (2021)
Third-team All-American-AP, NABC (2014)
First-team All-SEC (2014)
Age, Weight & Height
As of 2023, the NBA All-Star is 28 of age. He celebrates his birthday every November 29.
Talking about his body measurements, he stands 2.03 meters (6 feet 8 inches) tall. He believes he inherited such a height from his mother, Carolyn, who measures 6 feet 2 inches.
Moreover, he weighs around 250 lb (113 kg). Randle has black-colored hair and dark brown eyes.
The fans and his teammate has nicknamed him "Beyblade" as he frequently sprints on the court with his signature spin move, although he has a tall and bulky physique.
Net Worth, Salary & Career Earnings
One of the promising power forwards in the league, Julius Randle, has a net worth ranging from $6 million to $11 million. However, some sites have even mentioned it to be $25 million.
The NBA athlete has accumulated a lot of wealth through NBA league games. After signing with the LA Lakers, he received an annual salary of around $2.9 million in his rookie season alone.
Moreover, the LA Lakers paid him almost $10.4 million for his three more regular seasons for the club. Playing the 2018-19 season for the Pelicans, he earned approximately $8.64 million.
<<< 12 Best Women's Basketball Coaches of All Time >>>
He has already earned about $37.8 million from the New York Knicks. At present, his annual salary is about $21 million. Randle has already earned about $60 million from his NBA career to date.
In addition, he has earned some more amount through merch sales and endorsements from companies like Nike, Mountain Dew, etc.
Julius Randle | Wife & Kids
Julius Randle is married to his longtime girlfriend, Kendra Shaw. Randle and Kendra met each other during their college years and soon began dating.
He proposed to her on June 20, 2016, when they were on a trip to Greece.
They eventually married each other in the August of 2017. His close friends and family members attended the wedding ceremony. In addition, many of his NBA colleagues were present, including Nick Young, Jordan Clarkson, etc.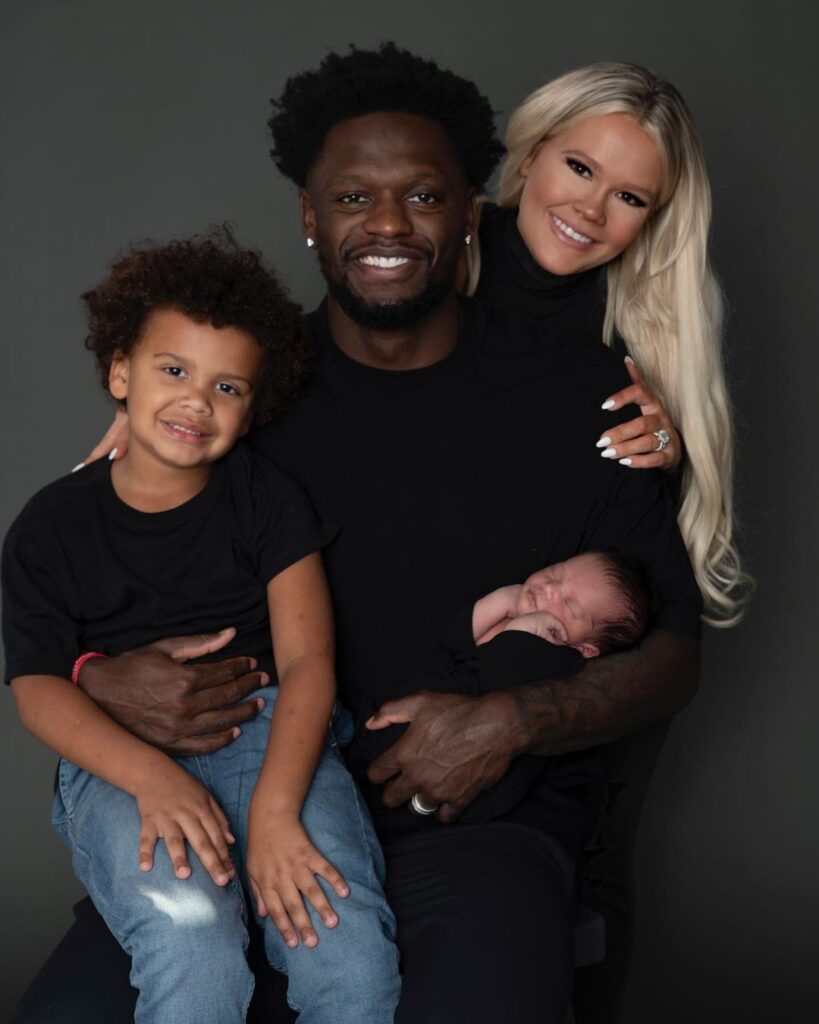 His wife, Kendra, is a fashion design graduate from the University of Kentucky. She runs a clothing brand, Kalore, which sells suits, pants, tops, etc.
The couple is currently blessed with two cute sons. Kendra gave birth to their first child, Kyden Randle, in 2016. Likewise, his second son, Jayce Randle, was born in 2021.
Julius Randle on Social Media
<<< Deandre Ayton Bio: Career, NBA & Net Worth >>>
Frequently Asked Questions (FAQs)
Where is Julius Randle now?
Julius Randle is in the New York-based NBA club, Knicks, presently. He has been with them since 2019 and has already appeared for them over two seasons. He has already played nearly 60 games in the 2021-22 season, in which he has averaged over 19.0 points per game.
Is Julius Randle staying with the Knicks?
There are presently some rumors about his transfer from the Knicks. However, it seems he is staying with them for some more years. He had recently signed a four-year contract during the 2021 offseason.