Deandre Edoneille Chidike Ayton, commonly known as Deandre Ayton, is a Bahamian professional basketball player. He currently plays for the Arizona club, Phoenix Suns of the National Basketball Association (NBA).
Ayton shifted to the United States to play high school basketball at the early age of 12. But, perhaps, nobody might have initially thought the young boy from the Bahamas would become the superstar of the NBA that he is today.
After signing for the NBA draft, he has played for the Phoenix Suns in the league consistently since 2018. However, he mostly plays in the center position for the team.
Likewise, he has already shown his abilities in a defensive position on many occasions.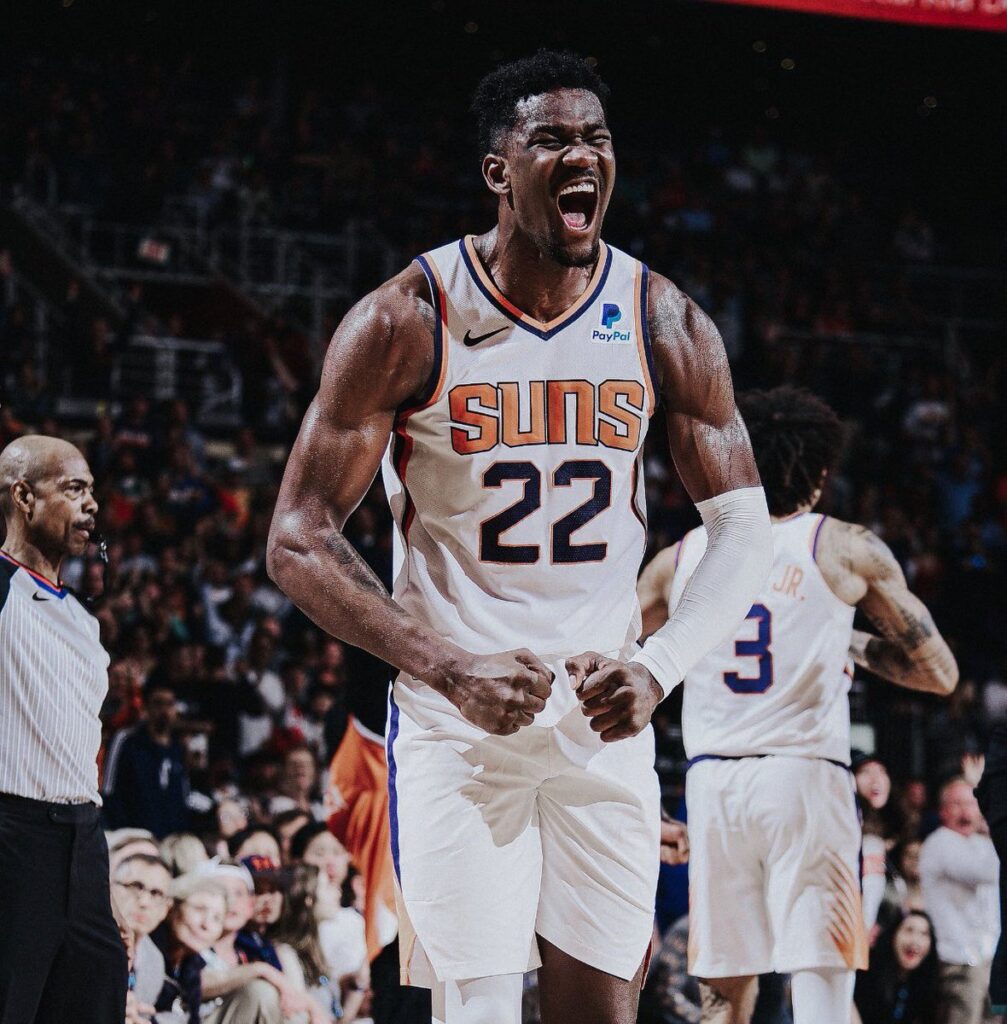 In 2021, Deandre Ayton led the Phoenix Suns to the NBA Finals for the first time since 1993. Moreover, he stood out as one of the best centers in the league's playoff in the same season.
The center of the Suns always appears on media every year at the beginning of the NBA season because of his contract rumors.
However, it appears that the athlete has the intention to become NBA champion with the Suns.
Discover more about his life, the journey from the Bahamas Islands to his career in the NBA, his wife, net worth, and kids in the article below. But before getting into the details, let's look at some quick facts.
Quick Facts
Full Name
Deandre Edoneille Chidike Ayton
Date of Birth
July 23, 1998
Birth Place
Nassau, The Bahamas
Nick Name
The Dominator
Religion
Christianity
Nationality
Bahamian
Ethnicity
Mixed
Zodiac Sign
Leo
Age

24

years old
Height
2.11 m (6 feet 11 inches)
Weight
250 lb (113 kg)
Hair Color
Black
Eye Color
Black
Build
Athletic
Father's Name

Biological father- Edward Egerue
Stepfather- Alvin Ayton

Mother's Name
Andrea Ayton
Siblings
Four siblings
Siblings' Name
Not available
Education

Balboa City School (San Diego, California)
Hillcrest Prep Academy (Phoenix, Arizona)
University of Arizona (Tucson, Arizona)

Marital Status
Unmarried
Girlfriend's Name
Anissa Evans
Kids
A son
Kid's Name
Deandre Obinna Ayton, Jr.
Profession
Professional basketball player
NBA Draft
2018
Position
Center
League
NBA
Active Years
(2018–present)
Net Worth
$5 million
Currently Plays For
Phoenix Suns
Jersey Number
22
Career Highlights & Awards

NBA All-Rookie First Team (2019)
Karl Malone Award (2018)
PAC-12 Player of The Year (2018)
Consensus first-team All-American (2018)
McDonald's All-American (2017)

Social Media
Twitter, Instagram
Merch
Cards
Last Update

June, 2023
Early Life, Family & Education
On July 23, 1998, Deandre Ayton was born to Edward Egerue and Andrea Ayton in Nassau, the capital of The Bahamas. His mother, Andrea, is of Jamaican and Bahamian origin. Likewise, he is of Nigerian Igbo ethnicity from his father's side.
While in The Bahamas, his life was somewhat complicated. His mother could barely fulfill the basic needs of the three brothers. In addition, he and his mother did not have a good relationship with his father.
He did his primary schooling at Bahamas Academy High School. As a child, he used to watch older boys play basketball. Over time, he became infatuated with the sport and learned to play in the church league.
While he was still at school, the All Bahamian Brand, a basketball game promoting agency, spotted him, and he started playing organized basketball in the Bahamas.
Some years later, he joined a summer basketball camp where coaches immediately noticed his abilities. Then, with the coaches' suggestion, Deandre's family sent him to San Diego, where he enrolled in Balboa City School.
Soon after, his mother separated from his father and eventually married Alvin Ayton, his stepfather. Eventually, he moved to Phoenix, Arizona, to join his new family and attend Hillcrest Prep Academy.
<<<Dennis Schroder Bio: Career, Relation, Salary & Net Worth>>>
Deandre Ayton | Career
High School Career
Deandre joined Balboa School in San Diego and played there for two years. The 6 feet 11-inch tall player averaged 21 points, 16 rebounds, and 3.8 blocks per game, leading Balboa to a 17-14 record in his sophomore year.
Ayton then transferred to Hillcrest Prep in Arizona for his last two years. Marvin Bagley III, currently a player for the Sacramento Kings, was his teammate at Prep School.
In 2015-16, he averaged 29.2 points, 16.7 rebounds, and 3.8 blocks per game.
The following year, Ayton displayed his high school's career-best performances. In addition, Ayton earned Finals MVP and season MVP for leading his team to a Grind Session World Championship.
Likewise, he scored 8 points and 7 rebounds while representing the World Select Team at Nike Hoop Summit in 2016.
At the end of his high school career, Ayton stood out as the No. 1 center in the 2017 high school class. At the end of 2016, he chose Arizona Wildcats to begin his college career.
College Career
Even though his college career lasted for a year, he registered various individual records, mostly playing as a power forward. He recorded 19 points, 12 rebounds, and 3 blocks in his debut against the Northern Arizona Lumberjacks, registering a win with a score of 101-67.
While he was having a great time in his freshman year, Ayton also got caught up in a controversy involving the then head coach, Sean Miller.
An FBI source revealed that former Arizona assistant Emmanuel Richardson reportedly told former Adidas consultant that Sean Miller was paying Ayton. They made this discovery through phone tapping.
<<Ranking 12 Best NBA Coaches of All Time>>
However, Ayton collected many awards for his outstanding performance throughout the season.
But, unfortunately, he decided to end his college career without playing the last three seasons after Arizona's defeat in the round of 64 at the 2018 NCAA Men's Basketball Tournament.
Professional Career
The Phoenix Suns chose Ayton with the first overall pick in the 2018 NBA draft. Ayton made a Summer League debut for the team against Dallas Mavericks, in which he scored 10 points and 8 rebounds.
In his first regular NBA season, Ayton recorded a double-double twice, once scoring 18 points and 10 rebounds during a win over Dallas Mavericks and another against the Golden State Warriors five days later.
Moreover, he recorded his third double-double of 17 points and 18 rebounds against the Toronto Raptors though his team lost this game.
Deandre registered various records in his rookie season, including breaking Alvan Adam's most double-doubles recorded by a rookie in NBA history.
In his second NBA season, Ayton played well in all the games he played for the Suns, but he missed 25 games for violating the league's anti-drug policy. He suffered from an ankle injury in the same season but returned to the court soon after.
Although Ayton could not play about 3 games due to Covid-19 protocols, his overall performance in the 2020-21 season was remarkable.
In addition, he led the Suns into the NBA finals, the team's first time since 1993.
While there were rumors about his transfer before the 2021-22 season, he is still with the Suns.
Age, Height & Weight
As of 2023, the NBA player is 24 of age. He celebrates his birthday on July 23 every year.
Likewise, Deandre Ayton stands tall at 2.11 m (6 feet 11 inches). He was already about 6 feet 5 inches when he migrated to the US at 12.
He weighs around 215 lb (113 kg). Ayton is a non-vegetarian.
Deandre Ayton | Girlfriend & Kid
The Bahamian athlete is not married yet. However, he is in relation with Anissa Evans, and she is from, Nassau The Bahamas, as himself.
Ayton and Anissa have been friends since their high school days. She is a model and currently studies at Queen's College.
The duo is planning to get married soon. However, Ayton and Evans are together in a live-in relationship.
Anissa Evans gave birth to a baby boy, Deandre Ayton Jr., in the March of 2021. The athlete is pleased with his family life.
Net Worth, Salary & Career Earnings
Considered one of the country's top centers since his high school days, Ayton has an estimated net worth of around $5 million.
The Overseas player mostly earns through his league games. Ayton received an annual salary of $8.1 million during his rookie season. However, his salary increased to $10 million during his second regular NBA season.
The Bahamian basketball star has earned around $27 million through the NBA to date.
Besides his career earnings, the NBA star has earned quite a lot of money through his merch deal with Puma at the beginning of his career.
<<<LeBron James's Daughter: All About Zhuri Nova James>>>
Deandre owns a lavish mansion in Paradise Valley, Arizona. Moreover, he has a good car collection which includes Rolls Royce Cullinan and the all-black Tesla Model X, among many others.
Awards & Achievements of Deandre Ayton
Although Deandre Ayton has not won trophies for his club, he has garnered many awards and accolades. In addition, he has set numerous individual records. Some of his achievements include:
PAC-12 Tournament MOP (2018)
NBA All-Rookie First Team (2019)
PAC-12 Player of The Year (2018)
Consensus First-team All-American (2018)
PAC-12 Freshman of The Year (2018)
Karl Malone Award (2018)
First-Team All-PAC-12 (2018)
Deandre Ayton on Social Media
Deandre Ayton is active on his Instagram and Twitter handles.
He posts photos and video clips of himself with his family members on various occasions. Likewise, he shares photos capturing joyful moments with his teammates and family with his fans.
Ayton's Insta account has around 508k followers (as of Jan 2022). Similarly, he has about 126k followers on Twitter (as of Jan 2022).
Frequently Asked Questions (FAQs)
Why is Deandre Ayton out?
Ayton hurt his ankle during the match between his team, Phoenix Suns and Detroit Pistons, and got out. So naturally, this has saddened the Sun's fans. The Suns have made clear that he has an ankle sprain and will not return to the game until later.
Is Deandre Ayton leaving the Suns?
No, Deandre Ayton is not leaving the Suns at present. He has already headed for the ongoing 2021-2022 NBA season from the Suns without extending his contract.
However, the player has nothing but to leave if the Suns do not extend his contract at the beginning of the next season.
Why did Deandre Ayton take diuretics?
Deandre Ayton took the diuretics, but the reason for the intake is quite unclear. He even later apologized on social media to his family, team, and all his fans for the mistake he committed.
But, unfortunately, he got suspended for 25 league games in his 2019-2020 NBA season for violating the NBA-NBPA's anti-drug policy.