Justin Anderson is a professional basketball player who currently plays for the NBA club Brooklyn Nets.
Before making his professional debut in National Basketball Association (NBA), he played college basketball with the Virginia Cavaliers. Dallas Mavericks selected him as a 21st overall pick in the 2015 NBA drafts.
Although he never satisfied the fans with their expectations in the NBA. He played for Dallas Mavericks, Philadelphia 76ers, Atlanta Hawks, Raptors 905, and Brooklyn Nets in his five-year-long NBA journey.
Before plunging into the details, here are some quick facts about Nets' forward-guard Justin Anderson:
Justin Anderson | Quick Facts
Full Name
Justin Lamar Anderson
Birth Date
November 19, 1993
Birth Place
Montross, Virginia
Nick Name
N/A
Religion
Christianity
Nationality
American
Ethnicity
Black
Education
Montrose Christian School
Horoscope
Scorpio
Father's Name
Edward Anderson II
Mother's Name
Kim Anderson
Siblings
Two (Edward Anderson III & Eurisha)
Age
29 years old (as of July 2021)
Height
6ft. 5in. (196 cm)
Weight
104.8 kg (231 lb.)
Hair Color
Black
Eye Color
Black
Build
Athlete
Relationship Status
Single
Children
N/A
Sport
Basketball
League
NBA
Position
Forward-Guard; Small Forward
Hand
Left
Current Team
Brooklyn Nets
Former Teams
Dallas Mavericks, Texas Legends,
Philadelphia 76ers, Atlanta Hawks, Raptors 905,
Long Island Nets
Salary
Not Available
Net Worth
$600,000
Agent
Zach Kurtin; Mark Bartelstein
Social Media
Instagram: @jusanderson1
Twitter: @JusAnderson1
Merch
Hardcover
Last Update
April, 2023
Justin Anderson | Early Life
Justin Anderson was born on November 19, 1993, somewhere in Montross, Virginia. He was born to his father, Edward Anderson II, and mother, Kim Anderson.
He is the youngest of three children. Jus has an elder brother named Edward Anderson III and an elder sister, Eurisha Anderson.
Anderson's brother Edward III is a former basketball player of the University of Mary Washington.
Moreover, his first cousin, Jermon Bushrod, plays in the NFL for the Dolphins.
He completed his education at Montrose Christian School. Also, he started the first steps towards a basketball career during his time at Montrose School. Usually, he used to play with the older boys to challenge himself.
Justin has always looked focused since his very young days. Because of his decent behavior, his parents always had vast expectations of him.
You may also be interested in Charles Barkley.
Justin Anderson | Height, Agent & Social Works
Anderson was born on 19th November 1993, which makes him 27 years old in 2020. Mostly, Forward-Guards are tall in height.
Brooklyn Nets, the forward guard is 6ft. 5in. (196cm) tall, and his last recorded weight is 104.8 kg (231 lb.). He has an athletic body figure.
Justin is an American National and belongs to the black ethnic group. This left-handed player has short dark hair and a couple of black eyes. Moreover, his zodiac sign is Scorpio, and his zodiac animal is the rooster.
Further, Justin Anderson is represented by the agents Zach Kurtin and Mark Bartelstein. As a player, Justin is busy playing basketball. So, his financial and legal side is taken care of by his agents.
Social Works
Jus Anderson teamed up with Malcolm Brogdon, Anthony Tolliver, Garrett Temple, and Joe Harris to form 'Starting Five.' The 'Starting Five' raised $225,000 in 2019 through Brogdon's Hoops2O.
They used the fund to help the poor communities of East Africa.
Justin Anderson | Career
College Career
At first, Anderson gave his verbal approval to join Maryland Terrapins in 2011. After the retirement of Gary Williams, he changed his mind about joining Maryland.
He contracted a national letter of intent on November 12 to play for Virginia Cavaliers.
Due to a star-packed lineup of Cavaliers, Anderson played off the bench in his first two seasons. Though, he helped his team with his skills at every chance he got.
In 2014, he was honored with the Atlantic Coast Conference Sixth man of the Year.
He became a regular starter after the promotion of his senior Joe Harris. On February 7, 2015, he broke his pinky finger on the left hand on Louisville's victory. That injury forced him out of the game for a few weeks.
Justin came back stronger after that injury and gave some match-winning performances. He was awarded NABC Third Team All-American and All-ACC Second Team for his excellent performance in 2015.
Justin was affirmed for the NBA draft on April 13, 2015.
Here, you can read about Draymond Green.
Dallas Mavericks
In the 2015 NBA drafts, Justin was selected by Dallas Mavericks as a 21st overall pick in round 1.
He started his career with the Mavericks playing in the 2015 NBA Summer League. He played six games and averaged 17.5 points, 1.5 assists, 4.2 rebounds, and 1.2 steals.
Justin signed a contract with the Mavericks on August 1st, 2015, and started his training with the team. On October 28, he made his debut in a win over Phoenix Suns, scoring 2 points and 1 rebound.
Anderson played his first double points (11) game against New Orleans Pelicans on November 10. Sadly, the Mavericks lost the match with a score of 120-105.
He recorded his new season-high of 13 points in a loss against the San Antonio Spurs. After that, he scored the first double-double of his NBA career. He scored 19 points and 10 rebounds in a victory over Memphis Grizzlies.
During his debut season, he completed many games with Dallas Mavericks' D league associate Texas Legends.
Justin once again joined the Mavericks team for the NBA Summer League 2016. He showed his talent by playing five games and performing at an average of 16.0 points, 2.6 assists, and 7 rebounds per game.
Although Dallas Mavericks were not performing in great form, Justin kept setting new bars for himself. On November 9, he recorded 16 points, eight rebounds, and seven assists in a defeat to the Golden State Warriors.
On January 22, 2017, Justin recorded his season-high of 16 points in a 122-73 victory over the LA Lakers.
Philadelphia 76ers
On February 23, 2017, Justin terminated his contract with Dallas Mavericks and joined the Philadelphia 76ers with Andrew Bogut. They were traded in exchange for Nerlens Noel.
On March 3, he made the go-ahead basket in a Sixers victory over New York Knicks in the final seconds. He matched his career-high 19 points in that match.
Again, he produced another 19 points performance just three days later in a loss to Milwaukee Bucks.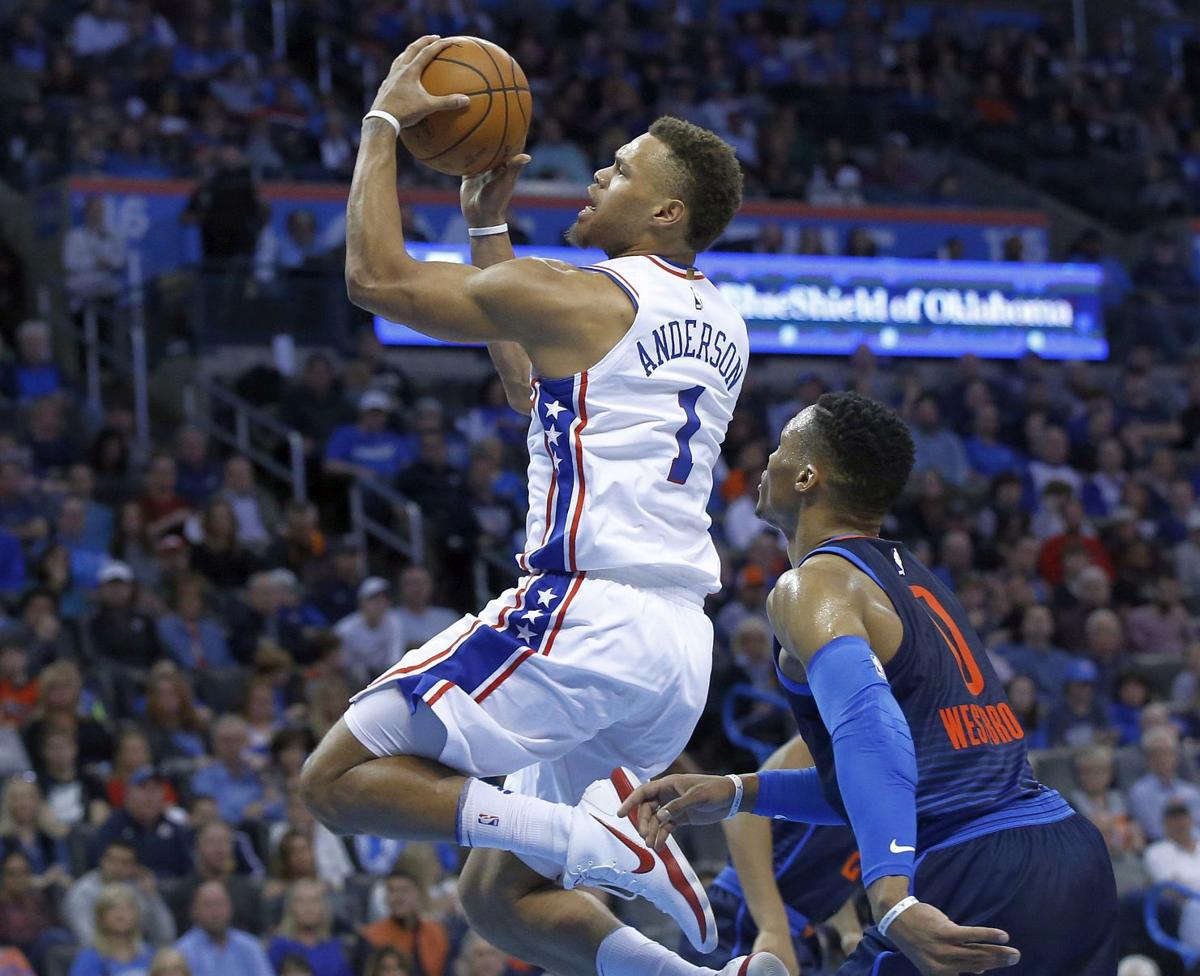 Justin matched his career-high of 19 points for the fourth time in the 2016/17 season. With that performance, he helped the Sixers to beat his former team Dallas Mavericks.
On April 12, 2017, Justin played his career-high of 26 points in the season finale. Despite his astonishing performance, the Sixers closed the season with a loss against Knicks.
After that, he had a rough 2017/18 season. Nevertheless, he once again scored his season-high 25 points against Milwaukee Bucks in April 2018. Also, he added six rebounds to his 25 points.
Discover the life and career of Carlos Salcido
Atlanta Hawks
After two seasons with the Philadelphia 76ers, Anderson was exported to the Atlanta Hawks on July 25, 2018.
Soon, he made his debut with the club and kept performing on the same level as before. However, he couldn't impress his coaching staff.
He showed his best performance in a Hawks jersey on March 31, when he scored 24 points and 12 rebounds in a win over Milwaukee Bucks. That was his third 18+ points performance against Milwaukee Bucks.
After the end of the season, Atlanta declined to extend the Anderson contract. On June 29, he left the club as an unrestricted free agent.
Raptors 905
After leaving the Hawks, Justin signed a contract with Washington Wizards for the training camp. However, he was waived by Washington after just four pre-season games.
On January 15, 2019, Anderson was signed off waiver by Raptors 905. He played with the Raptors for one season and left the club in January 2020.
Brooklyn Nets
Anderson's first stint with the Nets came when he signed a 10 days contract on January 06, 2019. Though, he was released by the Nets after 10 days.
Brooklyn Nets announced Anderson's signing on July 18, 2020, for the rest of the season.
Long Island Nets
Long Island Nets signed Justin Anderson from the Raptors on a swap deal involving Henry Ellenson in January 2020.
Justin Anderson | Personal Life & Relationship Status
As of now, there is not any information about Justin's relationship or girlfriend available on the internet. In short, Justin is currently Single. This sounds like nice news for his lady fans out there.
Though, we can't say for sure that he is not having any secret relationship affairs. That's a mystery for now. We will update the information as soon as we find any news regarding his relationships.
Apart from that, he has a perfect relationship with his parents and friends. Justin often hangs out with his family and friends when he does not score points on the Basketball Court.
In July 2020, Justin Anderson became the ninth Nets player to suffer from Corona Virus. He missed Basketball for a couple of weeks due to the virus. Though, he is now back stronger than ever, playing on the top of his form.
Style of Play & Strengths
Justin Anderson is a smart basketball player with excellent knowledge of the game. He has played in many teams over the years and has adapted to all of their playing styles. Anderson holds exclusive athleticism with a height of six feet and five inches.
He is regarded as one of the exceptional leapers in the National Basketball Association. Also, this tireless hard work is considered a very skilled and unpredictable wing player. Besides that, he has good mechanics on his jumper.
Anderson is also capable of scoring from the three-point line. His physical strength allows him to body up big players inside and outside the paint. Also, he is very good at scoring rebounds in traffic.
As we know, every coin has two parts. Anderson also has some areas where he needs some improvement. He does not involve his defenders using his innovative moves. Occasionally, he makes some defensive errors too.
Justin Anderson | Net Worth & Salary
The exact figure of Justin Lamar Anderson's current salary is still unknown to the public. However, many online sources claim that his current salary is around $250,000 per year.
Moreover, Jus Anderson's total Net Worth is estimated to be around $600,000. He is currently living a happy life in Brooklyn.
Likewise, it is estimated that he has career earnings of $7,478,080. He is also a very generous player and uses his fame and fortune to help the people in need.
You may also be interested in Jamie Howe.
Justin Anderson | Awards and Achievements
All NBA G League Third Team 2020
Second Team All-ACC 2015
Third Team All-American NABC 2015
ACC Sixth Man of the Year 2014
Justin Anderson | Social Media Presence
Instagram (@jusanderson1): 91.1K followers
Twitter (@JusAnderson1): 44K followers
Justin Anderson | FAQs
What are Justin Anderson's career statistics like?
Justin Anderson has played a total of 226 games to date while averaging a playing minute of 13.1 per game.
Currently, he has career statistics of an average of 5.2 points, 2.5 rebounds, and 0.7 assists.