Kai Greene has demonstrated that you can achieve success even if you had a difficult childhood or find yourself in a difficult situation.
Kai was well aware of this, having been reared in foster homes and thus feeling "out of the community."
However, he discovered a love (bodybuilding) and worked hard to establish himself. Today, Kai Greene is regarded as one of the greatest bodybuilders of the modern era.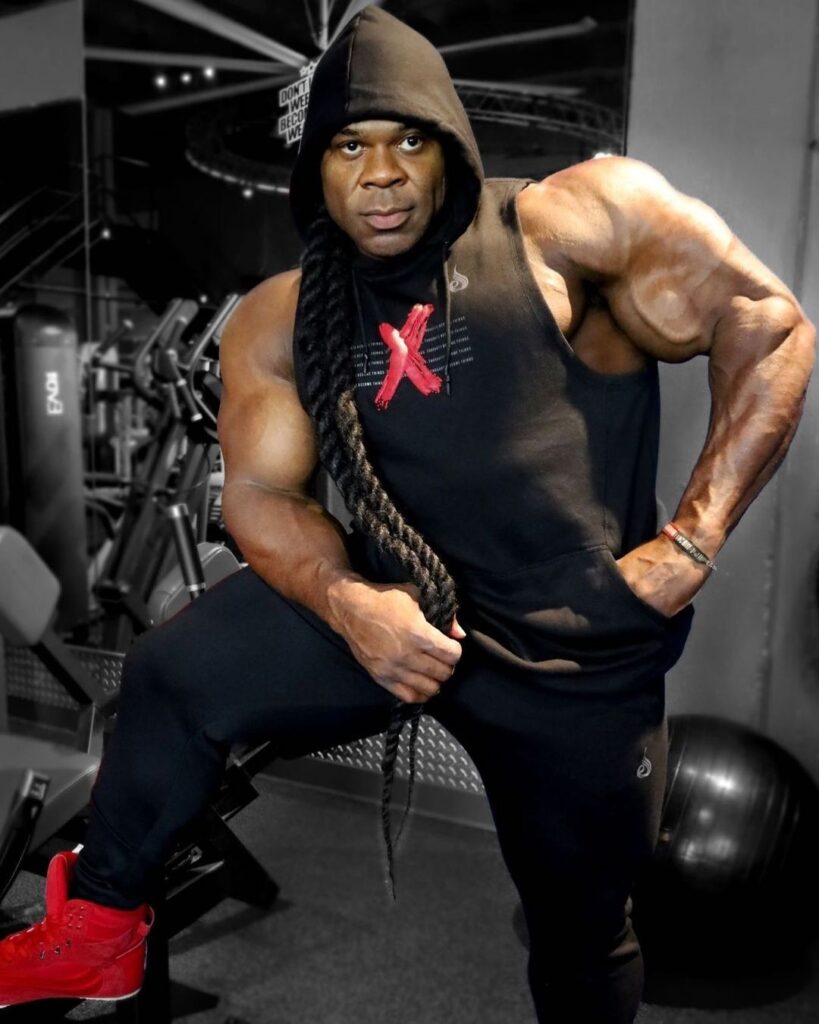 He is well-known worldwide for his remarkable body after winning multiple competitions and placing highly in Mr. Olympia events throughout his career.
"Never give up" is one thing we can learn from Kai. He didn't have the best start to his professional bodybuilding career, but he took time off to work on his physique and returned stronger to win multiple Arnold Classic competitions.
The Predator has gone on to become a bodybuilding legend.
Kai Greene: Quick Facts
Name
Leslie Kai Greene
Nickname
The Predator
Mr. Getting It Done
Birth Date
July 12, 1975
Birth Place
New York City, U.S.
Sexual Orientation
Straight
Age
48 years old
Zodiac Sign
Cancer
Chinese Zodiac
Not Available
Nationality
American
Body Type
Athletic
Hair Color
Black
Skin
Fair
Height
5 feet 8 inches (173 cm)
Weight
Contest: 267 lb (121 kg)
Off-season: 300 lb (140 kg)
Profession
Body Builder
Pro-Debut
IFBB New York Pro 2005
School
Not Available
College
Not Available
Best Win
Arnold Classic 2009–2010, 2016
Honors

2016 Arnold Classic Australia – 1st
2016 Arnold Classic Brazil – 1st
2021 Mr. Grapefruit Coin – 1st

World Championships

994 NGA American Nationals
1996 WNBF Pro Natural Worlds – 1st
1997 NPC Team Universe Championships – 2nd
1998 NPC Team Universe Championships – 3rd

Father's Name
Not Available
Mother's Name
Not Available
Relationship Status
In a relationship
Girlfriend
Dayana Cadeau
Children
Not Available
Net Worth
$2 million
Merch
Not Available
Social Media
Instagram, Facebook, Twitter
Last Update
December, 2023
Who is Kai Greene?
Kai Greene (born July 12, 1975), sometimes known as Kai L. Greene, is a former professional bodybuilder, artist, personal trainer, and actor from the United States.
He finished second in the IFBB's Mr. Olympia competition in 2012, 2013, and 2014 and hasn't competed since. However, he is widely recognized as one of the best bodybuilders.
Also, read about; Trey Mancini: Contract, Colon Cancer, Girlfriend & Net Worth.
Leslie Kai Greene, aka The Predator, was born on July 12, 1975, in the Brooklyn borough of New York City. He was reared in foster care and residential treatment clinics in Brooklyn from the age of six.
For much of his youth, he struggled to find a place in the community and felt like an outcast. As a result, the future champion began acting out at school.
He proceeded to misbehave to the point where he was in danger of being expelled from both his school and his foster home.
But there was one bright spot in Kai's early years: weight lifting. He began improving his physique at the age of 13 in 1988, using the gym as an escape from his issues.
While his ambition to become a Crypto Legend began long ago, he made steps to make it a reality in 2021 by promoting GRPFT/Grapefruit Coin. His brand has become the project's face, and he has enormous plans for the year 2022.
Introduction to Body Building
According to Kai's online biography, his rapid physical growth and development grabbed the notice of his seventh-grade English teacher.
Kai, born with exceptional genetics, noticed that his body was developing at a far faster rate than his peers his age.
His behavior in school was troubling; he was urged to compete in teen bodybuilding competitions as a way of expressing himself.
That was the motivation he needed to change his life.
Kai Greene: Body Stats
Kai Greene is one of the most talented and personable bodybuilders in the United States. In addition, as an artist, sculptor, and actor, he became well-known.
The athlete transformed his competition performances into magnificent displays using his body's flexibility. In addition, the bodybuilder's public presence is shocking and unforgettable.
Kai was dubbed "The Predator" by his fans. Greene has a powerful and commanding presence.
The athlete stands 5.67 feet (173 cm) tall and has biceps that measure 22 inches (56 cm). Kai's weight varies according to the competition, ranging from 255.73 pounds (116 kilograms) to 299.82 pounds (136 kg).
Early Career
Kai competed in several unauthorized teen bodybuilding shows over the next five years. Kai topped every show he joined since he was more extensive and more developed than other teenagers of his age.
Kai's achievements continued as he approached the conclusion of his adolescence. By the age of 19, he'd received his Pro Card in the 1994 NGA American Nationals, a natural bodybuilding federation.
This early accomplishment convinced him that he had a bright future in the sport. Kai's ambition was to become a bodybuilding legend.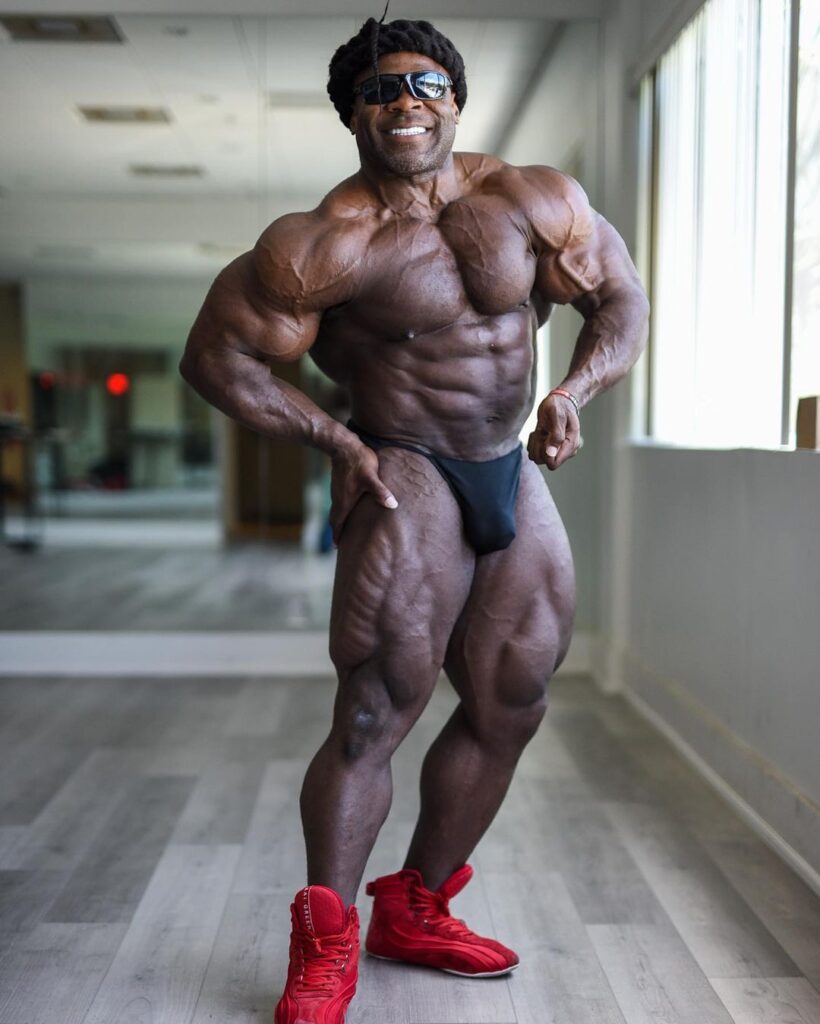 Kai decided to compete in the NPC federation after winning another trophy at the 1996 WNBF Pro Natural Worlds.
However, he was well aware that considerably larger athletes populated the NPC, and as a result, he swiftly stepped up his game.
Kai decided to devote the next year to improving his physique. The teen champion was motivated to make a strong comeback with a package capable of competing in the major leagues.
Professional Career
NPC
Greene began exercising with personal trainer Jakob Panotas at Johnny Lats Gym in Brooklyn in 1996, where he became an avid bodybuilder.
In order to progress into the IFBB, Greene competed in the National Physique Committee (NPC). However, he considers his performance in the NPC to be mixed.
He won the 1999 NPC Team Universe event but took a five-year hiatus from competitions before winning the 2004 NPC Team Universe championship.
When he began his professional career as a bodybuilder, this victory qualified him for an IFBB career.
Don't miss out; Nicco Montano Bio: MMA Career, Ethnicity & Net Worth
Break from Body Building
Kai's first professional show was in Slovakia in 1999 at the World Championships. He finished in a respectable fourth place, although he was dissatisfied with his performance.
Kai took a four-year break from competing in bodybuilding events in order to develop a name for himself in the IFBB.
He spent his time away from the gym working hard to create one of the world's best physiques.
Comeback
Kai returned to the spotlight after a five-year hiatus at the 2005 New York Pro. On the other hand, the Predator had a disappointing return, finishing 14th.
Greene struggled for the next two years, competing in only four shows and finishing in the top three only once. He was, nevertheless, adamant about making a reputation for himself and worked tirelessly to improve his physique.
After coming back from defeat and finding victory at the end of 2007, the Predator was finally rewarded for his efforts.
Kai won his first professional bodybuilding competition at the age of 32, the 2007 Shawn Ray Colorado Pro/Am Classic. He was only getting started, though.
The Arnold Classic
Kai entered nine more shows over the next four years, winning six more awards. During this time, he won the Arnold Classic in 2009, his best win to that point.
Arnold Schwarzenegger was the one who presented Kai with the prize. He also qualified for his first Mr. Olympia competition due to his success.
The Predator then set a new objective for himself: to win the coveted Mr. Olympia competition.
Mr. Olympia & New York Pro
Kai began working with preparation coach George Farah in 2011 and won the New York Pro Championship that year.
Because his third-place finish at Mr. Olympia in 2011 qualified him for the 2012 competition, he skipped the 2012 New York Pro to concentrate on Mr. Olympia.
Kai finished second in 2012, 2013, and 2014 Mr. Olympia. Due to unclear circumstances, Greene did not compete in 2015.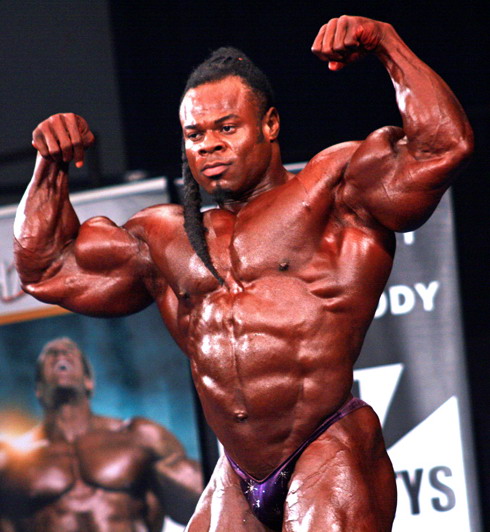 Greene requested and received a two-month extension on the registration period, but he failed to make this deadline as well.
Kai won the Arnold Classic in 2016, after winning it in 2009 and 2010. He hasn't raced since then.
He was offered an exceptional opportunity to compete in that year's Mr. Olympia competition without having to re-qualify in June 2017, but he declined.
Kai Greene: Visual Artist
Kai had a strong connection with art and desired a different approach to expressing himself than merely painting on canvas.
He began experimenting with various art forms and began sharing his creativity on the streets and subways. Kai became famous for posing in public, wearing masks and costumes, and entertaining his followers around the United States.
The Predator's graphic art attracted a large following. As a result, he was asked to appear as a 'guest poser' at several bodybuilding events.
Kai wore strange attire during these guest appearances, using his posture and clothing combinations to create his unique art style.
Documentaries
Kai was approached in 2009 about appearing in a documentary about his preparation for the Mr. Olympia that year.
This was Kai's first taste of acting, but the film 'Generation Iron' (2013) really placed him on the map.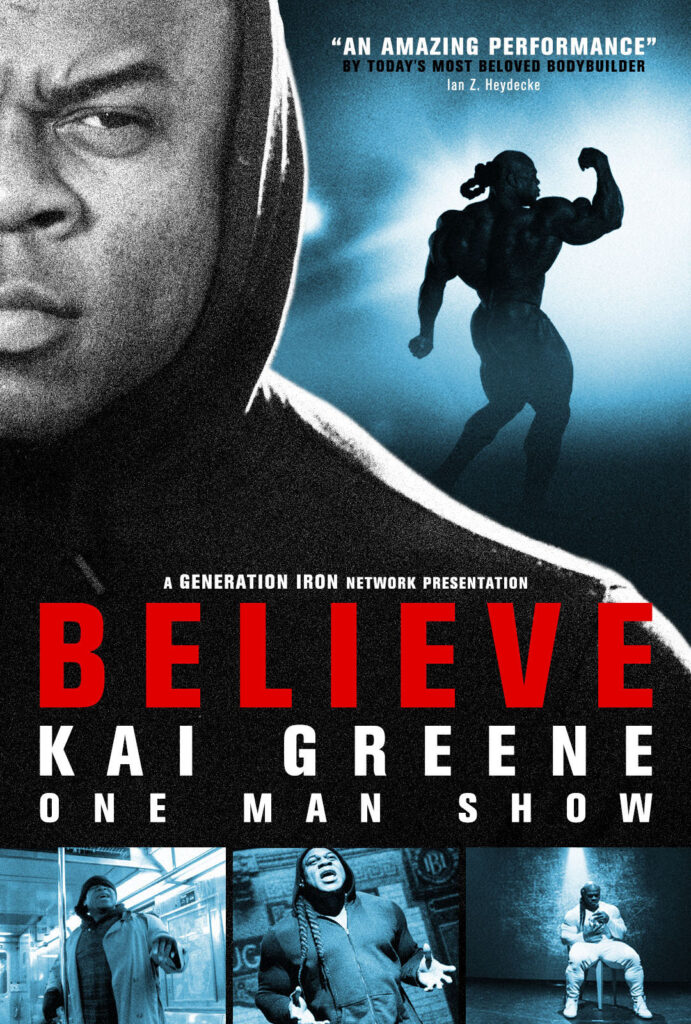 'Generation Iron' was widely regarded as the authentic follow-up to the classic documentary Pumping Iron.'
It was the most popular documentary of 2013, and it remained at the top for three weeks after its debut.
Kai Greene: Entrepreneur
Kai's popularity had risen by 2015 due to his bodybuilding achievements and art. He capitalized on his newfound fame by establishing his own supplement firm.
His company swiftly established itself as a reputable name in the sector, selling everything from protein powders to pre-workouts.
Technique
Greene has talked about the "mind-muscle connection" a lot. Flex wrote an article as part of his "The mind-muscle link is the number one aspect in training," he noted in his Top Ten Big Back Principles.
"By posing your muscle and paying close attention to how your muscles feel as you train them, you can improve it over time."
"Eventually, your mind will be able to read the feedback your muscles are giving you, and your muscles will be able to respond to the stimuli your mind is offering."
"Posing can be done between sets or at any moment. Throughout your sets, feel your muscles working. Your mind and muscles will eventually speak the same language and communicate with one another."
Other Media Presence
In the 2015 comedy movie College Debts, Kai played a male stripper. Then, in November 2016, he traveled to Guizhou, China, to begin filming Crazy Fist, a 2018 martial arts film.
Kai plays a villain who fights the protagonist in an arena during the film's opening sequence. Greene's signing with The Gersh Agency was announced in January 2017.
In the second season of Stranger Things' Netflix series, Greene played Funshine. In 2021, he starred in the Indian action thriller Pogaru.
He's also the face of GRAPEFRUIT GRPFT, a gaming cryptocurrency that he's actively promoting on Twitter.
Kai has worked with Jimmy Z Productions and appeared in various gay erotica scenes.
Learn about; Tony Finau Net Worth | Earnings & House
Greene and fitness model Krystal Lavenne started co-hosting a weekly podcast called Generation Iron in November 2015, where they covered various topics while answering fan questions.
He abruptly ended the podcast at an unknown time. Greene launched his podcast, Getting It Done, in October 2020.
Kai promoted GRPFT/Grapefruit Coin in July 2021 and aimed to become a Crypto Legend… Unfortunately, the Road to the Arnold Classic was swiftly derailed, but a new Gaming Play with SUPERCRUSH may be able to save the project!
Training
Kai understands the value of stretching and abs training and spends 15-20 minutes stretching and abs training before every session. However, he feels the core plays a significant part in all workouts.
Kai believes that working one muscle group per day is the most excellent way for his body to respond. He does not, however, recommend lifting large weights for low reps.
The Predator chooses to lift lower weights for higher reps to improve his mind-muscle-connection.'
He prefers to do three to four sets of each exercise, with reps ranging from eight to twenty.
Nutrition & Diet
Kai attempts to ingest 1.5 grams of protein per pound of bodyweight to guarantee optimum muscle building.
He bases his meals on lean proteins, complex carbohydrates, and good fats.
Kai bulks up by eating five meals per day in somewhat more significant portions. He does, however, eat up to seven meals in smaller quantities during his pre-contest training.
When it is about cheat meals, the Predator permits himself one when he feels like it. He thinks that cheat meals can help you gain weight.
He enjoys shocking his body with these cheat meals in order to keep his physique improving.
Kai Greene: Net Worth
Greene has an estimated net worth of a massive $2 million. The majority of his wealth is accumulated from his professional career as a bodybuilder.
Apart from that, Kai is also involved in various endorsements and sponsorships that add a decent amount to his wealth.
With all the wealth he has amassed throughout his career, we can imply that he must be living a lavish lifestyle.
Moreover, аftеr wіnnіng thе Аrnоld Сlаѕѕіс ѕеvеrаl tіmеѕ, Kai hаd bаggеd $130,000 wіth еvеrу wіn аnd $15,000 frоm numerous оthеr соmреtіtіоnѕ.
Endorsements & Sponsorships
Flex was Greene's sponsor. In 2015, Kai launched Dynamik Muscle, a supplement line, and in May 2016, Kai debuted The 5P, a training program.
The latter is named after his philosophy, "Proper Preparation Prevents Poor Performance," which is an acronym for "Proper Preparation Prevents Poor Performance."
Greene is sponsored by Ryderwear, which has developed signature clothing and footwear in his name.
Moreover, Kai secured a deal with the sports supplement and clothing business REDCON1 in 2020.
Kai Greene: Wife
Dayana Cadeau, a Haitian Canadian professional female bodybuilder, is Kai's current girlfriend. They met in 2007 when they were both in their early twenties.
They fell completely in love after getting to know each other well. Since then, Kai and Dayana have lived a joyful and blissful life together, with no separations or extramarital affairs.
There was once a rumor that Kai was gay, but his girlfriend, Dayana, refuted the claims.
Dayana was born in Haiti on June 2, 1966. She came to Quebec City, Quebec, with her mother when she was seven years old. Dayana also attended a private Christian school for the remainder of her education.
The couple is currently devoted to one another and their individual aspirations. Moreover, there is no information available concerning Kai's previous relationships or love adventures. Dayana appears to be his first and last love.
Social Media Presence
Kai Greene is active on various social media platforms. He utilizes his social media to update his life to his well-wishers and followers.
Most of Kai's social media post is related to his career. However, the photos that he shares never fail to wow his fans.
Below are the links to Kai's social media, along with the current number of followers he has amassed as of Nov 2021:
FAQs
Is Kai Greene's hair real?
Kai Greene has worn a variety of hairstyles throughout his career. However, he stated that he desired it because it is an easy way for people to recognize him.
He is most well-known for his attractive appearance and pleasant demeanor. When he was finally found, he was asked if his hair was real. He simply replied at the time:
"Of course, it's real hair." It's not my hair. But it's genuine."
Is Kai Greene on a plant-based diet?
After watching the pro-vegan documentary The Game Changers, top bodybuilder Kai Greene revealed in 2019 that he would try a plant-based diet for seven days.
Later, he invited Julius Björnsson to try a plant-based diet by posting a photo of him on his Instagram account.
Is Kai Greene strong?
Greene is tremendously strong. We've seen him do 495-pound bench presses before. However, he is more concerned with the sensation of his muscles moving than the amount of metal he moves when it comes to his back.