Kate Abdo isn't married to her former husband, Ramtin Abdo, and has already gone their separate ways. The former couple tied the knot in 2010 and was reported to have called off their relationship in 2017.
The CBS broadcaster, Kate Abdo, has a sizeable fanbase who have taken great interest in knowing her personal life. A soccer fan lifelong, Kate Abdo was raised in a household between two fierce rivals.
Currently, in broadcasting duties with CBS, Abdo is seen covering the Champions League alongside France and Arsenal legend Thierry Henry, former Liverpool player Jamie Carragher, and former City player Micah Richards.
Along with being known for her broadcasting skills, Abdo is also famous for her stunning looks. With Thierry Henry expected to reject the assistant coach's role at PSG, some soccer fans have joked that it's because of Abdo.
Kate Abdo Ex-Husband, Ramtin Abdo
Kate Abdo's ex-husband, Ramtin Abdo, is a millionaire businessman having a net worth of seven figures.
The soccer broadcaster tied the knot with her former partner, Ramtin Abdolmajid, in 2010, but have since gone their separate ways. Ramtin graduated from Seattle University in 2004.
He is the founder and CEO of INA Ventures GmbH and previously opened the company SAMP!, which shut down in 2017. INA Ventures was established in 2015 and deals, with IT solutions in logistics.
Kate has never talked much about her private life. But even after her separation from Ramtin, continues to keep his last name Abdolmajid, which she has shortened to Abdo.
Kate Abdo And Memes Related To Her Love Life
Almost every day on Twitter, you can catch Kate and her co-workers and former footballers, Thierry Henry, Jamie Carragher, and Micah Richards being the butt of jokes. But it's all in good spirits.
And most of the time it's the Arsenal legend, Henry, who is caught up in the middle of it all.
Recently, soccer fans joked Henry doesn't want to join Julian Nagelsmann at PSG. They said it because it would mean he would have to quit his punditry job and no longer be involved in banters with Abdo.
Some fans have nicknamed Kate Abdo's husband "God's Strongest Soldier," but little do they know the broadcaster is living a happy single life.
Kate Abdo Family Are Soccer Fans
Kate Abdo comes from a family with her parents supporting each other's fierce rivals. If her father supports United, then her mother is a Liverpool supporter.
Previously, her father, Tom Giles, made a rare appearance during one of their Champions League game coverage. Tom is a born and bred Manchester United fan, like Marcus Rashford, and a season ticket holder.
While interviewing Peter Schmeichel during Manchester City's champions league game in 2022, the former United GK brought out Tom to give his expert review.
Her father did provide his two cents on the United side and is probably much more satisfied by this season's performance by Ten Hag's United side.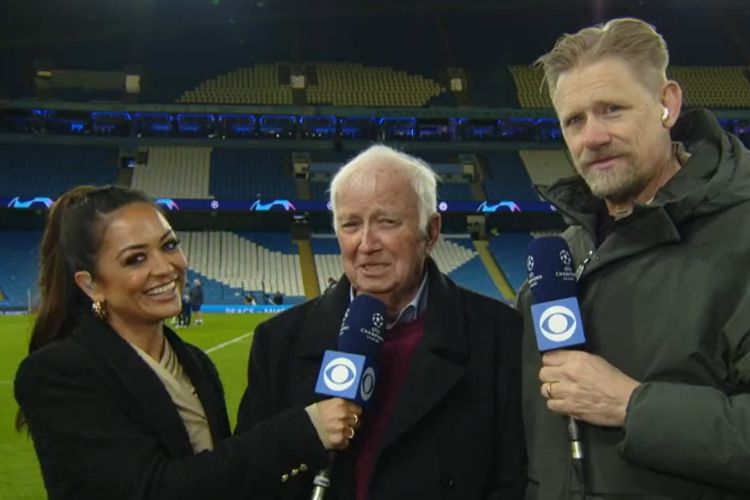 Previously, in 2021, Kate introduced her father during the Europa League game between United and Roma, which United won 6-3. During the short interview session, Jamie Carragher asked Tom how proud he was of his daughter.
Tom replied, "It's fantastic. I'm really proud. I loved watching her do the Ballon d'Or a few years ago, that was probably one of the proudest moments of my life."
Kate hasn't talked much about her mom except that she is a Liverpool fan. In the past, Kate has shared a few pictures of her mom and grandmom on her Instagram handle. With her parents supporting their direct rivals, the household on match days must be fun.