Kay Hansen is an American mixed martial artist who competes in the strawweight division of Invicta Fighting Championships.
Few brave people are not afraid of pursuing a career they are passionate about, even if it may cost them to leave a secure life behind.
Kay Hansen is a perfect example of such a brave athlete who left her Harvard Academic career to pursue mixed martial arts.
The ambitious and competitive athlete Kay initially participated in the Ultimate Fighting Championship (UFC) but was released in mid-April 2022.
She has been sidelined by a hand injury but is expected to make a comeback in the first quarter of 2023.
Before going any further into this upcoming MMA star's life, let's check some quick facts.
Quick Facts
| | |
| --- | --- |
| Full Name | Kaylyn Susan Hansen |
| Birth Date | August 14, 1999 |
| Birth Place | California, USA |
| Nick Name | Kay Hansen |
| Religion | Christian |
| Nationality | American |
| Ethnicity | White |
| Education | Whittier Christian High School |
| Horoscope | Leo |
| Father's Name | Not Available |
| Mother's Name | Not Available |
| Siblings | Three Younger Sisters |
| Age | 23 Years Old |
| Weight | 125 lbs (57 kg) |
| Height | 5 feet 3 inches/1.60 m/160 cm |
| Hair Color | Blonde |
| Build | Athletic |
| Married | No |
| Boyfriend | Not Available |
| Profession | Mixed Martial Artist |
| Style | Brazilian Jiu-Jitsu (BJJ) |
| Children | Not Available |
| Net Worth (2021) | $1 million-$5 million |
| Active Since | 2015-Present |
| Social Media | Instagram, Twitter |
| Last Update | June 2023 |
Early Life, Family & Trauma
When talking about family, most people often have good memories of the time spent, but not all. Kay remembers her early life with the family as dark and difficult.
Hansen further describes her childhood as unstable and filled with family pressure.
Though the former UFC strawweight was fond of her mother, she could not spend much time with her due to her full-time job.
The mighty girl was raised by her mother until she was seven years old, but in the later part of her life, she was looked after by her father.
Yet, Hansen considers her mother as her best support system. Further, she gives credit to her mother for her career.
She recalls her parents' divorce as a difficult experience. During her traumatizing time, she found solace in Brazilian Jiu-Jitsu.
As for her education, Kay went to Whittier Christian High School in La Habra, California, where she was a brilliant student with a 4.3 GPA or above.
She was all set to play softball at one of the best American schools, but her aspiration changed, and she got into MMA.
As a result, Hansen dropped out of high school, giving up her academic career, and almost at the same time, she decided to become a UFC champion.
During her early MMA career, her father took care of her, and therefore he watched her closely and controlled her.
In fact, Kay felt that his presence was harmful and discouraging. She confessed that her father's presence damaged her early career development.
Age, Height & Body Measurements
Kay Hansen is one driven soul who is only 23 years old. She celebrates her birthday on August 14, which makes her a Leo.
Leos are leaders who can carve their paths with much strength and faith. In addition to their regal persona, they are family-oriented and would go the extra mile for their family members.
Moreover, the young talent is 5 feet and 3 inches (1.60 m) tall, and yet she stands straight and proud as if she has a world to conquer.
The MMA star poses a slim but well-toned body and weighs around 125 lb (57 kg).
Personal Life And Boyfriend
The ambitious mixed martial artist Kay is low-key about her personal life. There is not much known about her special person except his name, Aaron Garcia.
However, she has posted some pictures thanking him for being a good boyfriend, training partner, and best friend.
Some of the information, like where they met and when they started dating, is still missing.
But observing her social media posts, it looks like she shares a deep bond with her boyfriend, who supports of her career.
Early Career
A change of career occurred for Kay Hansen when she saw Ronda Rousey defeat Bethe Correia in UFC 190.
Hansen admits that when she saw that fight, she gave up all her plan of going to Harvard University to play softball, and instead, she chose to become a fighter.
She looks up to Rousey and wants to become like her one day. Let's get into the details of Kay's career development.
Kay trained with Erik Paulson at Combat Submission Wrestling (CSW). Soon after she started training, Hansen made her amateur debut in September 2017.
Hansen was not even 18 years when she went for her first fight against Cecilia Padilla in the flyweight division at the Gladiator MMA Championship Series 3.
Luck was with her, and she won her first fight; it was a technical knockout.
Professional Career
Invicta Fighting Championships
After Hansen's amateur fights, she entered Invicta Fighting Championships as a strawweight at "Invicta FC 26: Maia vs. Niedzwiedz."
The aggressive Kay became the youngest Invicta FC winner; she defeated Emilee Prince in just two minutes using an armbar to beat her opponent.
The glory of victory did not last long when she participated in "Invicta FC 28: Mizuki vs. Jardiroba." She faced Kalyn Schwartz and lost through a technical knockout in the second round.
After the loss, came another win for Kay during her California Cage Warriors fight. She defeated Gabby Romero via technical knockout in the third round.
In September 2018, when Kay returned to Invicta, she defeated Helen Peralta at Invicta FC 31. It was a third-round TKO victory.
After that, she dared to call out Erin Blanchfield, an undefeated flyweight prospect. Unfortunately, Kay lost against Erin, which was a majority decision.
Then came Invicta FC 33 in December 2018, when Hansen returned to strawweight and defeated Sharon Jacobson via third-round submission.
In May 2019, Kay suffered a loss from Magdalena Sormova. In October of that same year, she faced Nicole Caliari and won via submission in the third round.
As 2019 ended with a victory, she was ready to enter the Ultimate Fighting Championship (UFC), her ultimate dream.
UFC Career
The daring fighter's dream came true on June 27, 2020, when she made her UFC debut. She faced Jinh Yu Frey at UFC on "ESPN: Poirier vs. Hooker."
Kay got her first UFC victory via submission in the third round. Also, her first win led her to earn the Performance of the Night award.
Then, she went against Cory McKenna on November 14, 2020, at "UFC Fight Night: Felder vs. dos Anjos," but she lost via unanimous decision.
She was supposed to appear in an MMA fight against a newcomer, Cheyanne Buys, on March 20 but pulled out for an undisclosed reason.
Later on, it was revealed that she was struggling with an eating disorder and had to take a break from the sport.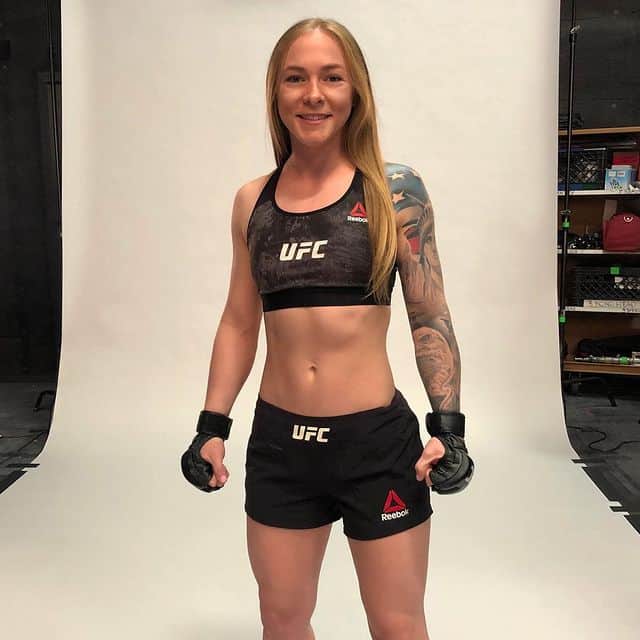 Hansen returned on January 22, 2022, and fought against Jasmine Jasudavicius but lost the fight via unanimous decision.
On April 9, 2022, she competed against Piera Rodrguez at UFC 273; however, she lost by unanimous decision.
The UFC let Hansen go in the middle of April 2022. Nonetheless, the news of Hansen's multi-fight agreement with Invicta FC was released on April 29, 2022.
There will be higher expectations from Kay's fans and followers from the upcoming fights.
Boxing Match
Besides MMA, Kay also tried boxing professionally. She has participated in 5 fights until now, 4 of which were losses and one win for her.
She confessed that female fighters are not as popular in boxing as in MMA. Therefore, she is more appreciative of MMA fights now than before.
Highlight
s, Accomplishments, And Stats
Let's have a look at some of the accomplishments of Kay Hansen:
Performance of the Night (Ultimate Fighting Championship)
Performance of the Night (Invicta Fighting Championships)
Fight of the Night (Invicta Fighting Championships)
MMA Record
Professional Fight Record
13 Matches
7 Wins
6 Losses
By Knockout
2
1
By Submission
4
0
By Decision
1
5
Net Worth
MMA may not among the highest-paying sports, but great players have made millions of dollars. When it comes to her professional career, she has been active as an MMA fighter since 2015.
Therefore, Kay has acquired a great net worth. Her exact net worth is unknown, yet we have an approximate value.
As of 2023, the UFC star Kay Hansen has an estimated net worth of $1 million to $5 million.
Moreover, Hansen is still young and ambitious; who knows what she will pursue in the upcoming years, adding more to her net worth.
OnlyFans
Even though it has drawn considerable criticism, OnlyFans has benefited Kay Hansen's MMA career.
Yes, you've heard it right! The fighter is making a living out of the content subscription service.
Her OnlyFans account has kept her afloat and allowed her to focus entirely on fighting.
Due to her OnlyFans career, she is not required to work a 9 to 5 job and is free to organize her camps and concentrate on fighting.
Social Media Presence
The brave fighter is active on Twitter and Instagram. She shares posts about her fights and personal life on Twitter, like her pet and choices.
Similarly, on Instagram, Kay has posts of her fight events and pictures of her colleagues and her pet.
Twitter: 64K Followers
Instagram: 112K Followers
Interesting Facts about Kay Hansen
Kay admitted that her father controlled her social accounts at the beginning of her MMA career. Her father would send messages to colleagues and coaches on her behalf, which ruined her relationships with some significant people.
She played softball and was prepared to go to Harvard University and continue softball professionally. But she ended up pursuing Brazilian Jiu-Jitsu and went for an MMA career.
Hansen also took boxing professionally; she continued her MMA career due to less female popularity in boxing.
Popularity Graph
The former UFC fighter is quite popular among admirers of mixed martial art. Moreover, with her Onlyfans career on the rise, she has been viral.
The above graph illustrates her 12 months search trend.
Frequently Asked Questions (FAQs)
What is Kay Hansen's fight record?
Kay Hansen has a professional fight record of 7 wins, 6 losses, and 0 draws.
Is Kay Hansen from Scottsdale, Arizona?
No, she was born in California.
Does Kay Hansen have a tattoo?
Yes, Kay Hansen has a tattoo on her right arm.
Did Kay Hansen have an injury?
Kay Hansen was left bleeding heavily from the face during her fight against Kal Schwartz in 2018. After the fight, she was immediately taken to hospital but was not seriously injured.
Does Kay Hansen have an eating disorder?
Yes, during one of the interview, Kay Hansen revealed that she struggled with an eating disorder for a while.