With her magnetic on-screen charisma garnering a devoted fan following, the subject of Kaylee Hartung's husband has become a prime topic of interest for her admirers.
Kaylee Hartung is a name that has become synonymous with sports journalism and reporting.
In this article, we will explore the relationship status of Kaylee Hartung, including whether she is married or dating anyone.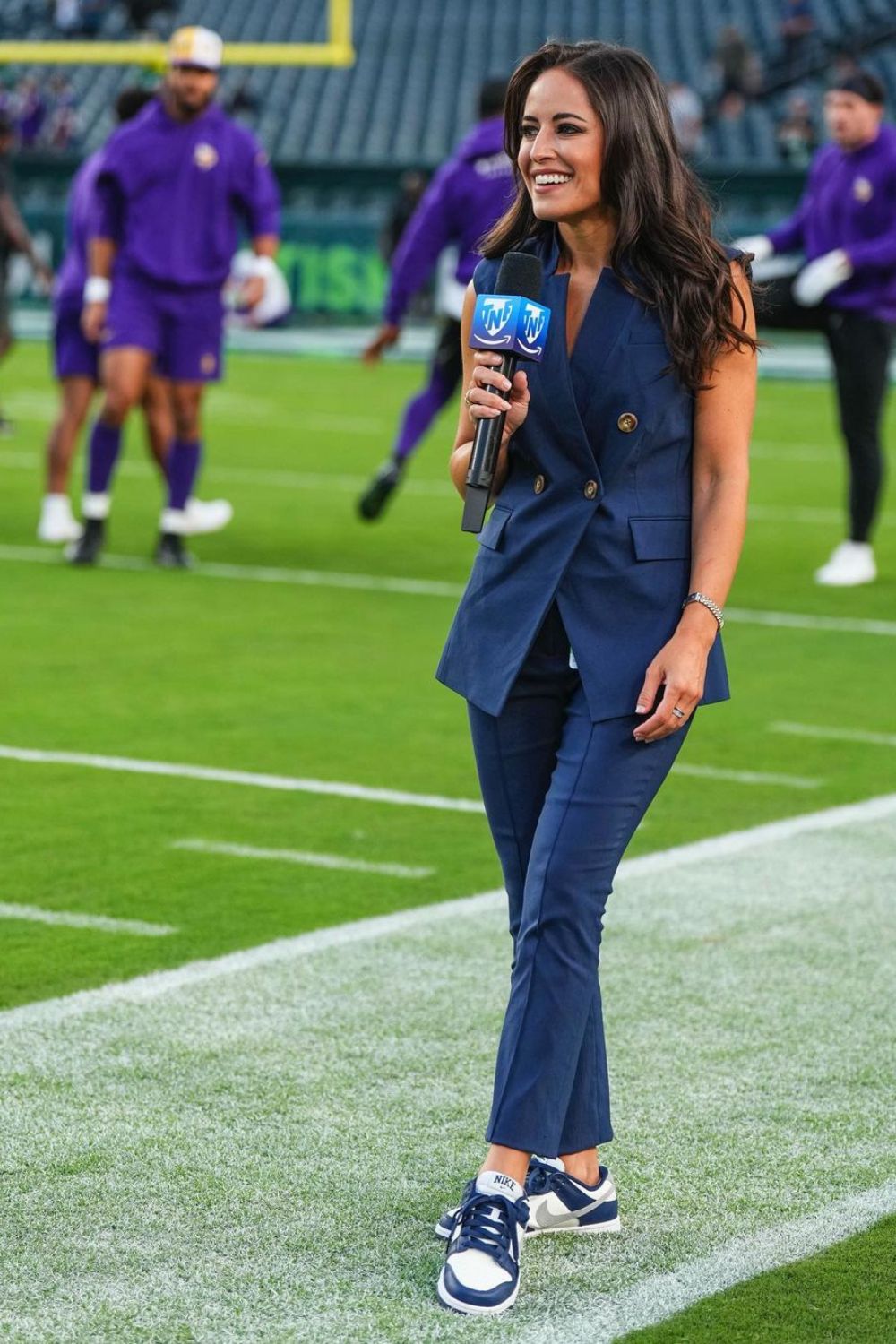 Kaylee Hartung is a renowned American journalist and correspondent. She is widely recognized for contributing to CBS Network, ESPN, CNN, ABC, and NBC News.
Hartung graduated from Washington and Lee University in 2007 with a Bachelor of Arts in Journalism and Politics.
Likewise, Hartung's career took off when she joined CBS News as an assistant to former Washington correspondent Bob Schieffer.
Hartung has several reputed broadcasting networks on her resume, where she covered various events as a correspondent.
In July 2022, Amazon Prime Video announced Hartung as the sideline reporter for Thursday Night Football.
Additionally, she made valuable contributions to NBC Sports' NFL Wild Card Weekend alongside Al Michaels and Tony Dungy.
Her passion for journalism and sports led her to pursue a career in the field, and she has since become a prominent figure in the industry.
Is Kaylee Hartung Married Or Dating Anyone?
While fans wonder about the sportscaster's personal life, especially Kaylee Hartung's husband, let's address the burning question many fans have: Is she married or dating anyone?
As of writing this article, Hartung is not romantically involved with anyone and has never been married.
She has always maintained a private and low-key personal life. That further makes it challenging for fans and media to gather information about her relationships.
As a result, there is no public information available that can verify her past relationships with a degree of certainty.
However, similar to numerous media figures, her private life has not been devoid of relationship rumours and speculation.
There were rumours regarding her alleged hookup with former NFL superstar Tim Tebow as soon as he broke up with model Olivia Culpo.
Nonetheless, the journalist quickly sidelined the rumour and said Tebow was like a brother to her.
When asked about her preference for men during an interview, she said: "I definitely need someone who likes watching sports and talking about sports."
So, it might be possible that Kaylee Hartung is still in quest of finding the right partner.
Kaylee Hartung Parents
The American broadcaster Kaylee Hartung was born in Baton Rouge, Louisiana, on November 7, 1985, to her parents, Joe Hartung and Julie Tucker.
As per reports, Kaylee's father, Joe Hartung, was a pilot. He was born in Indonesia in 1952 and grew up in the Netherlands.
Eventually, Joe followed in his father's footsteps and learned to fly, serving in the Royal Dutch Air Force.
In 1975, he moved to the US in search of adventure and started his own aviation company in 1985.
Subsequently, Joe Hartung made a name for himself, flying WWII fighter planes in air shows around the world.
One of those significant air shows took place in New Orleans in 1988, and it was attended by none other than President George H.W. Bush himself.
Unfortunately, Kaylee lost her loving father in a plane crash on May 4, 1996, while he was performing aerobatics.
In her eyes, Joe was not just an extraordinary pilot but also the greatest man she had ever known.
Albeit, Kaylee still has her mother, Julie, guiding and supporting her through her endeavours.