An American football wide receiver for the Florida State Seminoles, Keon Coleman was born to his parents, mother Ravin Savoy, and father, on May 17, 2003, in Opelousas, Louisiana.
Keon grew up with his older brother Kalin Coleman and three other siblings in Opelousas.
Coleman's educational journey began at Opelousas Catholic School in Opelousas, Louisiana, where he showcased his athletic prowess by excelling in both football and basketball.
His talent and dedication earned him a coveted spot at Michigan State University, where he committed to competing in both college football and college basketball.
Keon Coleman, a remarkable three-sport athlete, earned national recognition for his outstanding skills.
He was consistently ranked among the top wide receivers in the nation by prominent sources such as 247Sports (No. 42), ESPN.com (No. 58), and Rivals (No. 60).
Furthermore, his exceptional talent placed him among the elite prospects in the state of Louisiana, with ESPN.com (No. 8), MaxPreps (No. 9), Rivals (No. 18), and 247Sports (No. 23) all recognizing his exceptional abilities.
During his time at Opelousas Catholic High School under the guidance of Coach Thomas David, Keon Coleman demonstrated his exceptional abilities on the field.
In 2020, he received the honor of being named an all-state choice by the LSWA (Louisiana Sports Writers Association) and was also recognized as the team's Most Valuable Player.
Keon Coleman Has High Praise To His Parents
While limited information is available about Keon Coleman parents, one thing remains crystal clear – the support and dedication of his mother, Ravin Savoy, who stands as a steadfast pillar in her sons' lives.
Coleman's upbringing is a testament to the strength and resilience of his single mother, who admirably raised five children in challenging circumstances. In a world where adversity was a constant presence, she persevered.
During these trying times, she reached out to individuals like Randy Livingston Keon's AAU basketball coach and longtime family friend and Jonathan Fisher for assistance.
Their support wasn't just a lifeline; it was a beacon of hope.
It helped not only in caring for her two daughters but also in ensuring that her three sons had positive outlets and opportunities that kept them away from the temptations and dangers of the streets.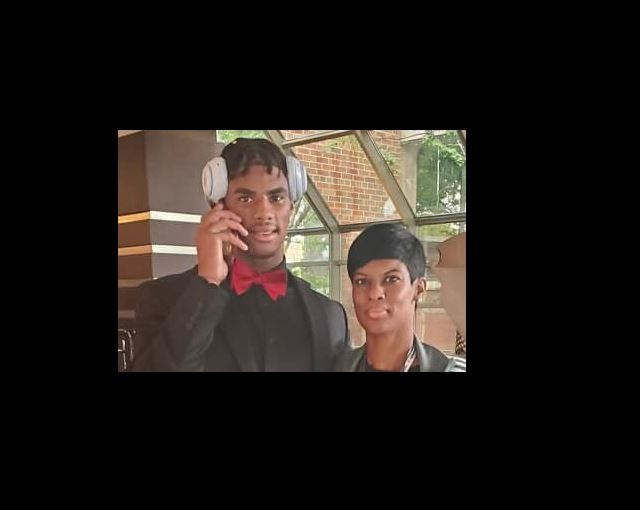 Keon Coleman consistently showers his mother and brother with praise, recognizing their invaluable role in his journey.
His older brother, Kalin, took the remarkable step of following his little brother to Michigan alongside Keon.
What sets this family bond apart is Kalin's commitment – he never misses a single one of his younger brother's games, demonstrating his support and pride.
In one of the interviews, Keon said, "He's pretty much been my trainer, my brother, [and] part of a father figure. He's just been everything helping me with all that".
Remarkably, while the details about Keon's father remain shrouded in mystery, including his name, he appears absent from Keon's public presence, including on social media.
Mother Ravin Savoy Is A Philanthropist
Ravin Savoy, the mother of Keon Coleman, is a resident of Opelousas, Louisiana.
Based on her social media profiles and professional information, it appears that she has a career in insurance and is actively involved in community development.
On her Facebook profile, it seems she might be working as an insurance agent, as suggested by her profile picture that says, "Need Insurance?"
In addition to her professional endeavors, she is a dedicated member of Hope for Opelousas, where she actively contributes to empowering the community through educational support, neighborhood outreach, and fostering intentional relationships.
Her LinkedIn profile indicates that she holds the position of a Board Member at Hope for Opelousas, underlining her commitment to the organization's mission.
Furthermore, Ravin Savoy is employed as a sales agent at Kemper, a position she has held since May 2017, demonstrating her experience and expertise in the insurance industry.
For her education, she is an alumna of LSU E. J. Ourso College of Business, highlighting her academic background in business-related fields.
Keon Coleman High School & College
Opelousas Catholic School
Hailing from the town of Opelousas, Louisiana, with a population of approximately 15,000, situated just 50 miles west of Baton Rouge, Keon Coleman's journey to success faced some unexpected twists.
Despite his remarkable talents and impressive performances on both the basketball court and the football field, the Tigers of Baton Rouge did not extend a scholarship offer to him. There were valid reasons behind this decision.
One significant factor was Coleman's desire to excel in both basketball and football, a challenging balance to strike in the competitive Baton Rouge sports landscape.
Additionally, the Tigers had already secured commitments from other talented receivers within the state during that year's recruiting cycle, some of whom were more seasoned in their skills.
It's worth noting that even Livingston, Coleman's mentor, acknowledged that Keon was a bit raw in certain aspects of his game.
However, Livingston possessed an unshakable belief in Keon's potential to shine brightly.
He tirelessly advocated for Keon, passionately sharing his conviction with anyone willing to listen, knowing that this young talent had the makings of a future star.
College
In his first season as a true freshman at Michigan State in 2021, Keon Coleman showcased his versatility and talent by making appearances in 10 games.
During this time, he recorded seven receptions for a total of 50 yards and impressively added a touchdown to his name on the football field.
Following the football season, he seamlessly transitioned to the basketball court, participating in six games for the school's basketball team in a true display of his athletic prowess.
As a sophomore in 2022, Keon's growth and dedication saw him ascend to a starting role, where he emerged as the team's top receiver, leading in receiving yards and solidifying his status as a key player on the football team.
However, in a surprising development in April 2023, Keon Coleman decided to enter the transfer portal, marking a significant chapter in his collegiate journey and sparking intrigue about his future endeavors in both football and basketball.