Kevin Devon Knox II is an American professional basketball player who plays small forward/power forward for the Portland Trail Blazers of the National Basketball Association (NBA).
As fans call him, "Fort Knox" is an athlete with an overwhelmingly unexpected history to become the player he is today.
Kevin plays for the country's national team and has won two national championships.
Knox played college basketball for the Kentucky Wildcats and was drafted as the ninth overall pick by the New York Knicks in the 2018 NBA draft.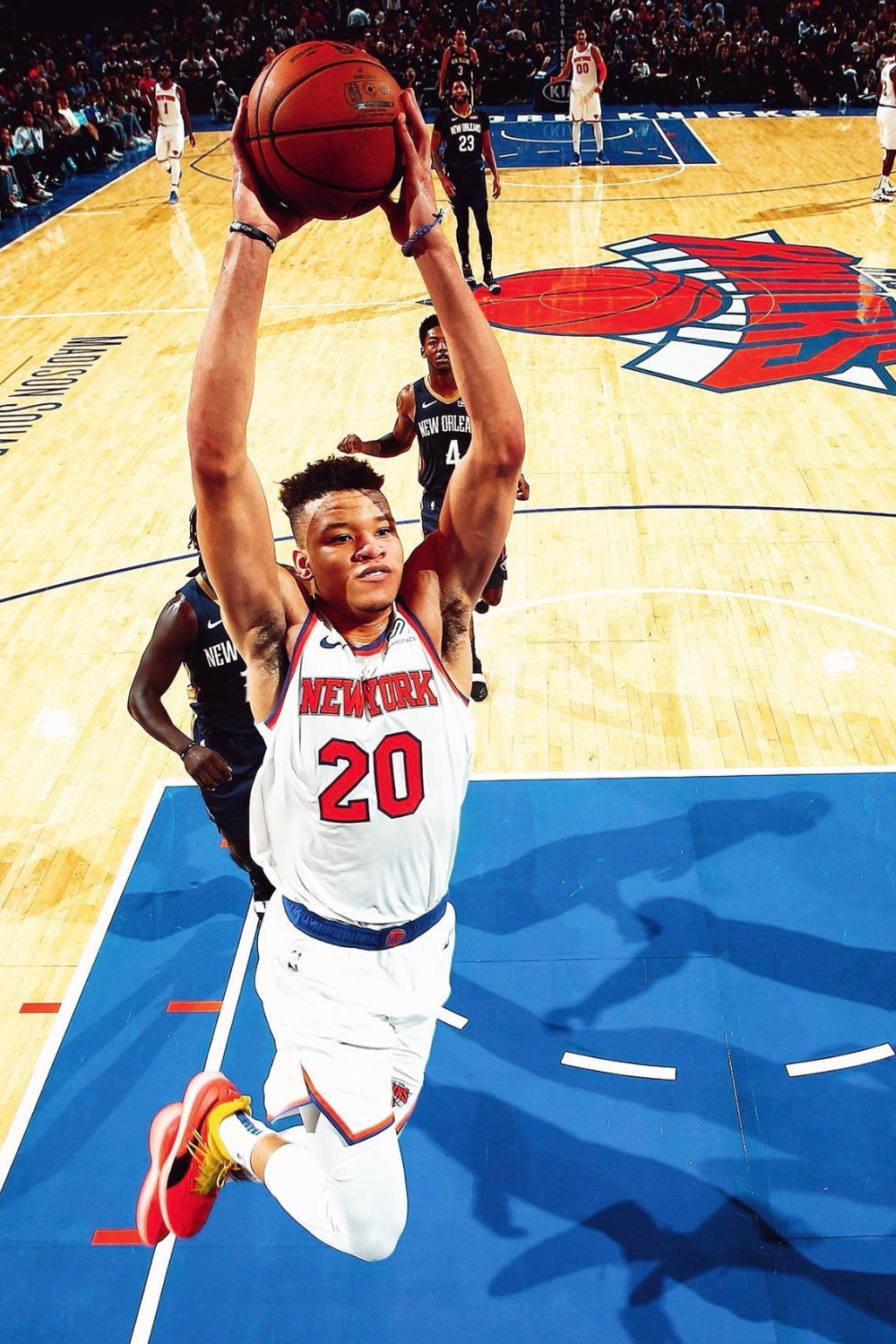 Not to mention, Kevin is the sixth youngest player in NBA to score at least 30 points.
Later, the small forward played with Atlanta Hawks and Detroit Pistons before joining the Blazers on February 9, 2023.
But with a specific type of attitude, confidence, and competitive edge, Knox was sure to make it big in the NBA.
We will try to cover as much information about this player in this article, including his early career, the NBA, and some personal information.
Without further ado, let's start with the quick facts.
Quick Facts
| | |
| --- | --- |
| Full Name | Kevin Devon Knox II |
| Birth Date | August 11, 1999 |
| Birth Place | Phoenix, Arizona, United States |
| Nick Name | Fort Knox |
| Nationality | American |
| High-School | Tampa Catholic High School, Tampa, Florida |
| Horoscope | Leo |
| Father's Name | Kevin Knox |
| Mother's Name | Michelle Knox |
| Siblings | Three (Kobe, Karter, and Ashley) |
| Age | 24 years old |
| Weight | 98 kg/215 lb. |
| Height | 6'7″/2.01 m/201 cm |
| Build | Athletic |
| Marital Status | Unmarried |
| Girlfriend | Not Available |
| Profession | Professional Basketball Player |
| Position | Small Forward / Power Forward |
| League | National Basketball Association (NBA) |
| Teams | National Team |
| Jersey Number | 5 |
| NBA Draft | 2018 (Round: 1 / Pick 9) |
| Net Worth | $13 million |
| Salary | $3 million |
| Active Status | 2018-present |
| Social Media | Instagram, Twitter, Snapchat |
| NBA Merch | Rookie Card |
| Last Update | November 2023 |
High School & College
Knox played in the high school team Crusaders of Tamp Catholic in Tampa, Florida.
During his junior year, he averaged 30.1 points, 11.2 rebounds, and 2.4 assists per game.
His exceptional performance aided the Crusaders to the regional and district championships. In addition, Crusaders was the runner-up of the Florida Class 4A Semifinals.
Joining the AAU team, E1T1 United, on the Nike Elite Youth Basketball League (NEBYL) Circuit, Knox scored 28 points against All Ohio Red on May 14, 2016.
The EYBL circuit saw Knox average 19.6 points and 7.6 rebounds per game.
As a senior, Kevin managed to score 28.5 points and 11.3 rebounds per game.
Besides, he also played in the McDonald's All-American and Jordan Brand Classic during their high school year.
Recruiting
As a star player in the high school 2017 class, he got offers to play for various universities like Duke, Florida, Missouri, and North Carolina.
However, the five-star recruit got enrolled at the University of Kentucky. Committing to the Kentucky team, Knox turned down the offer to play in the Chinese Basketball Association.
The overall recruiting points :
Scout: #7
Rivals.com: #9
247 sports: #8
ESPN: #7
Collegiate Career
In his freshman year, Knox helped the Wildcats finish 4th in the SEC with a 10-8 conference record, averaging 15.9 points per.
Playing good games wasn't enough for his team coach. The coach complained Knox had" too many" minutes of playing time even though he was the team's only three-point shooter.
Despite all the internal feuds, Knox helped his team win the SEC tournament, recording 18 points and 7 rebounds in a win over Tennessee in the final game.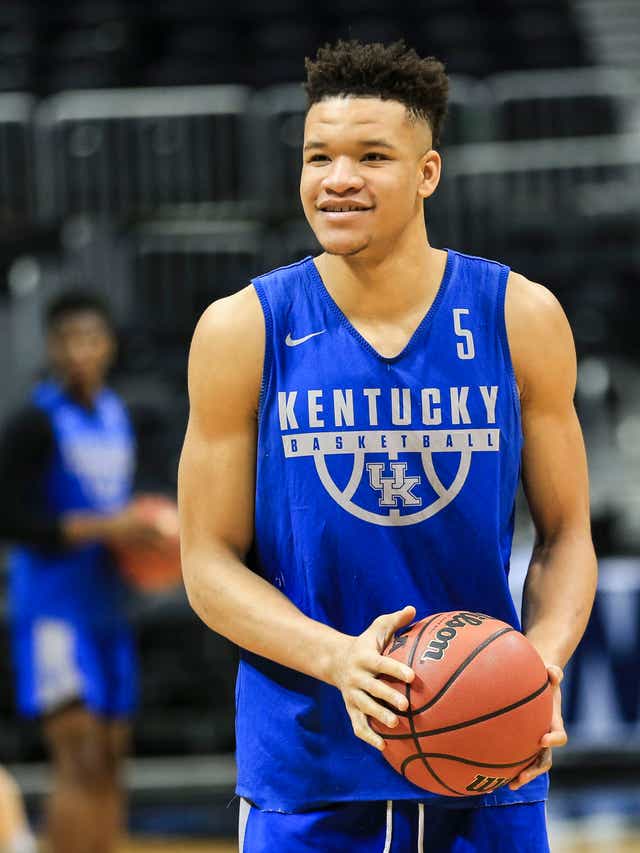 Among many tough battles, critics believed Kentucky had an easier path to the Final Four.
However, their journey to the 2018 NCAA men's basketball tournament title was halted by Kansas State, with Knox posting 13 points and 8 rebounds.
Hiring an agent, Knox declared for the 2018 NBA draft, forgoing his three years of college eligibility.
NBA Draft 2018
Strength And Weakness Going To The NBA Draft
He already has the NBA range, so his solid shot mechanics translate well to another level.
The one-handed floater for scoring can get over any defender
He has been making improvements day by day
Kevin is not careless about the passes, has clear mid-range, and can rebound well
Lose focus when the ball doesn't move the way he wants
Instead of attacking, he will rather force or settle for long shots
Difficulty in creating his offense while struggling to get past opponents
Second to none, harmony between offense and defense playmaking
Bad Outweigh With Good
Being one of the top prospects of the NBA draft, he averaged 21.3 points per game in his summer league matches.
But after that, Kevin hasn't been able to show significant performances, which is not good for the team. He has played for over six games without being able to show his offensive upside lately.
The head coach made some statements about this matter.
"He is a solid player with a good body frame but needs to work. Kevin lacks energy and has a low motor. We can teach him, but if he doesn't want to learn and doesn't make an effort, it will not be good in the long run."
The coach added, "Knox is young, and we need him as a shooter because he is also an important part of our team. If Kevin continues to improve and concentrate in matches, the team will be happy to put him for a few more minutes."
Professional Career
New York Knicks
After being picked 9th overall in the 2018 NBA Draft, Knox began his professional career with New York Knicks. He signed a rookie contract with the team on July 5, 2018.
On October 17, 2018, Knox made his debut for the team and recorded 10 points, two steals, and one block in a 126-101 win over the Atlanta Hawks.
In his second game with Brooklyn Nets in a 105-107 loss, he registered then team-high 17 points and six rebounds.
A well-performing Kevin sprained his left ankle in a 103-101 loss to the Boston Celtics.
On December 1, 2018, he made his return scoring then career-high 26 points with four rebounds, four assists, a steal, and a block in a 136-134 overtime win against the Milwaukee Bucks.
After playing a great season, he was honored Eastern Conference NBA rookie of the month award.
Kevin's career-high points (31 points) came in a 108-105 win over the Philadelphia 76ers, with seven rebounds and two steals.
On December 21, 2020, the Knicks exercised their fourth-year option on Knox. However, he and a protected future first-round pick were traded to the Atlanta Hawks.
Atlanta Hawks & Detroit Pistons
After being traded in exchange for future teammate Cam Reddish, Solomon Hill, a 2025 second-round and cash consideration, the small forward made his debut for the Hawks on January 19.
The Hawks qualified for the postseason, where they faced the Miami Heat and lost the series in five games, with a not-so-impressive performance from the Phoenix native.
The former Hawks small forward signed with the Detroit Pistons on August 1, 2022. He debuted for the Hawks in a 113-109 win over the Orlando Magic, recording 3 points and 3 rebounds on October 19.
Knox was gaining momentum with the Pistons but was being traded to another team.
Portland Trail Blazers
On February 9, 2023, Kevin was traded to the Portland Trail Blazers in a three-team trade involving the Atlanta Hawks and Golden State Warriors.
He made his debut for the Blazers in a 127-115 win over the Los Angeles Lakers on February 13, recording 4 points and 2 rebounds.
National Team Career
Before joining the NBA, Knox had a chance to play for the country. He played for both the U16 and U17 teams.
With the national team, he won gold at the 2015 FIBA America Under-16 Championship and the 2016 FIBA Under-17 World Championship.
Personal Life
Kevin Knox was born on August 11, 1999, to Kevin Devon Knox Sr. and Michelle Knox.
Kevin Devon Knox Sr. is a former NFL player, while his mother worked as a social worker with Hillsborough High School.
Knox Sr. was drafted in the 1994 NFL draft as Buffalo's 9th overall pick. He always recalls playing football either at home, school, or college.
Sr. did his college at Florida State University and contributed to the team winning the National Championship in 1993. He was always a great player who made his mark.
Knox Jr. grew up with three younger siblings; Ashley, Keates, and Kobe.
Looking around at Knox Jr.'s dating life, he is single. But his wise playstyle surely attracts a lot of attention.
Inspired By His Family
2016 was a rough, as well as a straight year for Knox. His grandfather, Thomas, had cancer for a long time. And it was the same year when his grandfather got freed from cancer.
The stress and the therapy his grandfather had to go through to fight the disease had always inspired him.
Kevin's uncle, Major Raymond G. Estelle II, served in the Air Force for 19 years. Unfortunately, on 27 April 2011, uncle Ray got killed in Afghanistan.
His grandfather's victory over cancer and his uncle's loss has inspired him in many ways. He also believes that his uncle must be proudly looking down from heaven.
Not to mention, his aunt, Lt. Colonel N'Keiba Estelle, is working in the Air Force.
With a supportive family, he is ready for anything, and challenges don't faze Knox.
Kevin's Love For Fortnite
It was an epic moment when Kevin Knox came flaunting his Fortnite suit to the NBA draft.
Mentioning his love for Fortnite from time to time, the franchise was ecstatic to find out about young players' passion for video games.
Fans even expected collaboration between Fornite and Knox as it was a trending topic on Twitter for a time.
They even managed a perfect name, "Fort Knox." But, sadly, Epic Games never responded.
However, we have to say Knox owned his dress, and he will be forever etched in our hearts for being the only person to wear video game-themed clothes to the NBA draft.
What Is Kevin Knox's Net Worth?
Earnings from his career and Puma endorsement have helped Knox make a decent fortune.
His rookie contract with the Knicks was 4-year/$4.59 million, and after being traded to different teams, he signed several other multi-million dollar deals.
Kevin's net worth is estimated to be around $13 million as of 2023.
Besides his career earnings, Knox makes decent money from social media promotions. The young, enthusiastic player has a large number of followers.
Social Media Presence
Along with introducing himself as an athlete, he is a great style icon too. The fans can view his relaxed and bougie sense of fashion.
He is quite a photogenic person as well. So, Knox's Instagram doesn't disappoint its viewers.
You can find him on Instagram under the handle @kevinknox, Twitter @KevKnox, and Snapchat @kevinknox_23.
Instagram: 220k followers
Twitter: 83.3k followers
Snapchat: 311k subscribers
Popularity
Being selected as the 9th pick in the 2018 NBA draft and playing with different teams in the NBA, the small forward has gained thousands of followers.
The above graph gives brief information about the popularity of Kevin Knox II based on Google searches in the United States over a year.
Frequently Asked Questions
What is Kevin Knox's career-high salary?
As per spotrac, Knox bagged around $8,768,967 in the 2021-22 season, $5,845,978 from the Hawks, and $2,922,989 from the Knicks.
Does Kevin Knox own a car?
We don't know the details, but as per his Instagram, the guy was seen posing around a stylish silver-colored whip.