As known, prodigies display talent from an early age. For example, Rachel Homan was the child prodigy of curling as she showed her exceptional curling skills when she was just five.
Her natural curling skills needed just a little bit of polishing to become the National Curling Champion. Today, Homan is one of the greatest Curlers in the world.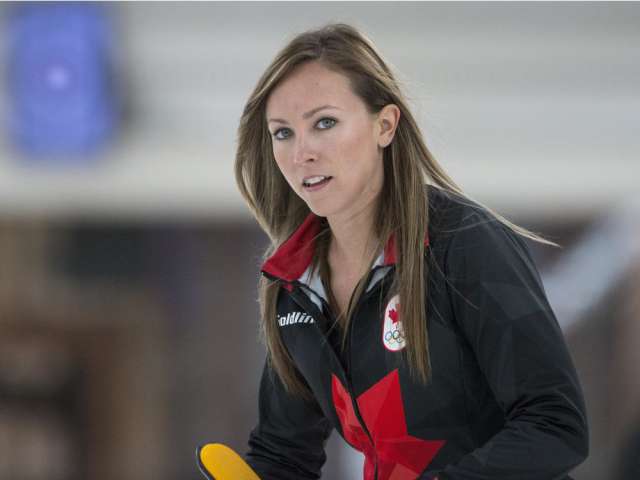 Homan is best known for her exceptional curling skills, strategies, and leadership qualities, bringing her to win in several international tournaments.
In this article, we will talk of the remarkable curling life of Rachel Homan and more about her.
But before that, let's take a glance at her quick facts.
Quick Facts
| | |
| --- | --- |
| Name | Rachel Homan |
| Full Name | Rachel Catherine Homan |
| Nickname | Rachel Germain |
| Birth Date | April 5, 1989 |
| Age | 34 years old |
| Birth Place | Ottawa, Ontario, Canada |
| Religion | Christianity |
| Nationality | Canadian |
| Ethnicity | White |
| Star Sign | Aries |
| Father | Craig Homan |
| Mother | Catherine Homan |
| Siblings | 1; Mark Homan |
| Height | 5'5″ (168 cm) |
| Weight | 63 kg (139 lb) |
| Eye Color | Grey |
| Hair Color | Blonde |
| Marital Status | Married |
| Spouse | Shawn Germain |
| Children | 2; Ryatt Mitch Germain & Bowyn Germain |
| High School | Cairine Wilson Secondary School |
| University | University of Ottawa |
| Educational Qualification | Bachelors in Human Kinetics |
| Profession | Professional Curler |
| Debut | 2010 |
| Retirement | N/A |
| Club | Ottawa CC, Ottawa, ON |
| Coach | Adam Kingsbury |
| Medals | 6 Gold, 6 Silver & 3 Bronze |
| Net Worth | $3 million |
| Social Media | Facebook, Instagram, Twitter |
| Merch | Curling Gloves |
| Last Update | June, 2023 |
Who is Rachel Homan?
Rachel is a professional Curler who is also a three-time Canadian National Champion and a 2017 World Champion. Homan also represented Canada at the 2018 Winter Olympics.
In addition, Rachel is best known for her exceptional curling skills, strategies, and leadership capabilities. She has won the Canadian women's national curling championship seven times.
Considering her exceptional skills and outstanding performance in international tournaments, the Sports Network (TSN) named Homan the fourth greatest Candian Female Curler in history.
Rachel Homan | Early Life and Education
Rachel Homan was born on April 5, 1989, in Ottawa, Ontario. She was born the youngest child to her father, Craig Homan, and mother, Catherine Homan.
Rachel also has an elder brother named Mark Homan, who happens to be a professional curler.
As for her education, Homan attended Cairine Wilson Secondary School. Homan has a degree in Human Kinetics from the University of Ottawa.
Trey Mancini Age, News, Stats, Contract, Colon Cancer, Girlfriend, Net Worth >>
Rachel Homan | Curling Career
How did Rachel Homan start curling?
Rachel has devoted her life to Curling since her childhood. She started curling when she was just five years old.
Initially, Homan did curling in the Little Rock program at Rideau Curling Club in Ottawa. After that, it was just her passion for curling, but she had that skills that amazed everyone.
When her parents noticed that, they supported her to the fullest. And hence, the journey as a curler.
By the age of 16, Homan had already won four provincial championships in a row. As well, she made a record of winning the competition back to back from 2003 to 2006.
Rachel's exceptional talent on the ice rink got attention from the Canadian team Scouter. Her professional junior curling started when they recruited Rachel to the National Canadian Junior team.
Professional Junior Curling Career
After being recruited to the National Canadian Junior team, Rachel was coached by Adam Kingsbury, who helped Rachel unleash her true potential. She was the skip in the team.
In 2006, Rachel got the victory in the Optimist International Under-18 Curling Tournament, which allowed her to qualify for the 2007 Canada Winter Games. She and her team won gold in the event.
Rachel's name was already popular with the people in the Curling, and they had high hopes for the team's performance in national and international tournaments.
But, the team faced a losing crisis as they failed to win tournaments. They had a rough two years as they couldn't bring any win at any tournament.
However, they didn't give up and instead worked on their skills to bring their first win in the Canadian Curling Championship in 2009. They also won the AMJ Campbell Shorty Jenkins Classic.
The team had another win at the 2010 provincial championships and then represented Ontario at the Canadian Junior Curling Championships. Soon, they proved that though starting rough, they were the strongest junior team.
They had the record of winning every match they played, becoming the fourth women's team in history for that historic win.
Rachel's team tried to participate in Scotties Tournaments of Hearts playdowns, but they were ineligible as juniors weren't allowed to participate.
Professional Senior Curling Career
Homan participated in the 2011 Ontario Scotties Tournaments of Hearts in her senior year, winning her first senior gold medal.
Then, she participated in Ontario Mixed Championship with her brother. Rachel did not play her usual position of Skip but played third. However, Homan won the championship alongside her brother.
The finale curse
In 2011, Rachel's team participated in the Grand Slam, where they made it to the finale but unfortunately lost against Jennifer Jones in the finale.
They performed exceptionally well and had almost won the competition.
However, the finale curse followed Rachel to Scotties Tournament of Hearts, Curlers Corner Autumn Gold Curling Classic, the next Grand Slam, where their team was too close to winning but was defeated in the finale.
The final curse finally came to an end after their win in the third grand slam making this her first-ever grand slam win.
The world curling championship
After their long finale curse ended, Rachel and her team looked to win some international tournaments, including the world curling championship.
In 2013, they participated in Scotties Tournaments of Hearts. They finally won the tournament by beating the world champion, Jennifer Jones.
The win boosted their confidence and allowed them to represent Canada in the World curling championships. The team brought home the bronze medal.
The team won the 2014 Scotties Tournaments of Heart and won the silver medal in World Curling Championships.
Athlete Alex Greenwood's Bio: Partner, Manchester, Salary, Age >>
Making a debut at the Olympics
Rachel and her team participated in Olympic trials in 2009 and 2013 but failed to make it to the Olympics.
Finally, in 2017, Rachel Homan and her team won the gold at the Candian Olympic trials thus, making it to the Olympics 2018.
There were high hopes that Rachel's team would bring gold to Canada. But, the pressure seemed too much for the team.
Rachel's team started with three consecutive losses, then won the next three games to stay in the playoff but lost the other two games. Thus, the team failed to make it to the playoffs.
Post Olympics
Rachel's team was down after not meeting the expectations in the Olympics. But, the fans supported them, which brought up their spirit.
They started participating in International tournaments where they won the 2018 Tour Challenge and the 2018 National grand slam. In 2019, they won the Colonial Square Ladies Classic.
They were doing well with their international tournaments until the Covid pandemic in 2020, which halted all their international games. But, to the positive side, the team got the break they needed after going through all these back-to-back tournaments.
Rachel Homan | Awards and Achievements
Canadian Winter games -Gold (2007)
World Junior Curling Championship -Silver (2010)
World Curling Championships – Gold (2017), Silver (2014), Bronze(2013)
The Scotties Tournament of Hearts – Gold (2013, 2014)
The Sandra Schmirler Most Valuable Player Awards
Grand Slam victories – 2012, 2013, 2015 (Masters)
Listed as the fourth greatest Candian Female Curler in history by TSN.
Rachel Homan | Husband
Rachel Homan is married to Shawn Germain, a former Canadian Ice hockey player. The two dated for some years before tying their knot in September of 2016.
In 2018, Rachel's husband made it to the headlines when he was spotted drinking beer during the Olympic game of Rachel. Shawn was seen double-fisting beers while watching Rachel competing for Olympics with Japan.
This photo of Shawn went viral, making the headlines and filled with mixed reactions from the public. Some supported that he might be under colossal stress back then that pounding beers was the only way to cope with that stress.
Others argued he shouldn't drink when his wife played her best to win Canada a gold medal.
Shawn later tweeted that he was not ashamed of his action as he was very stressed back then. He said he wasn't drunk, just Canadian.
In addition, Shawn proved to be a supportive husband after writing a message supporting her wife even if she didn't win at the Olympics.
Rachel Homan | Children
Rachel Homan is blessed with two beautiful children; one son and a daughter. The national curler gave birth to her first son in 2019. The baby boy named Ryatt Mitch Germain was born healthy.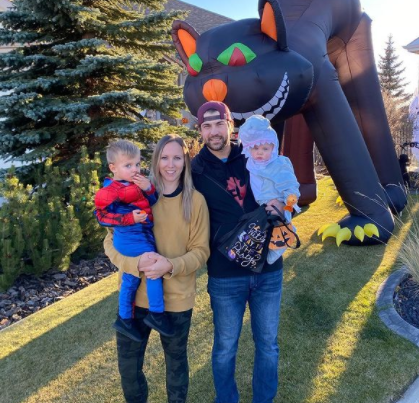 In 2021, she welcomed her beautiful daughter Bowyn Germain. The baby girl was born on March 25.
Rachel Homan | Net worth
Homan's net worth is estimated to be $3 million. She earned this net worth with her professional curling tournaments, endorsements, investments, and championships. Homan also has her clothing line, namely Team Homan.
For a more detailed dissection of her net worth, check out this article >>
Rachel Homan | Social Media
Instagram: 40.5k Followers
Facebook: 29k Followers
Twitter: 25.8k Followers
FAQs
Who is Rachel Homans new second?
Rachel Homan's new second is Sarah Wilkes. Rachel's team officially announced in March 2020 that they would be parting their ways with Lisa Weagle and would sign Sarh Wilkes as a new second in the team.
Why did Rachel Homan miss mixed doubles 2021?
In her curling career, Rachel hadn't missed any tournaments. However, she missed the mixed doubles curling championship as she was eight months pregnant at that time. She was pregnant with her second child.