A goalkeeper has lots of privileges, but along with those privileges comes certain liabilities. It's a challenging and demanding position to play. Although not a very prominent figure in the world of soccer, Kevin Trapp is one of Germany's best goalkeepers.
This German athlete has gained many admirers through his seemingly good looks and intellect over the years.
Occasionally associated with the best, Manuel Neuer himself, Trapp has yet to be established as a distinguished figure.
However, if he became one of Germany's promising goalkeepers in the near future, it would not be a surprise.
Before we begin, let's have a quick fact check on his early life, clubs, net worth, age, relationships, and social media.
Quick Facts:
| | |
| --- | --- |
| Full Name | Kevin Trapp |
| Birthday | 8 July 1990 |
| Birthplace | Merzig, West Germany |
| Age | 32 |
| Height | 1.89 m (6'2″) |
| Weight | 194 lbs. (88 kg) |
| Nationality | German |
| Religion | Christianity |
| Ethnicity | Caucasian |
| Horoscope | Cancer |
| Relationship status | Engaged to Izabel Goulart |
| Current team | Eintracht Frankfurt |
| Net worth | $30 million |
| Market value | €6.50 million |
| Position | Goalkeeper |
| Jersey Number | #1 (Eintracht Frankfurt), #22 (Germany national football team) |
| Social Media | |
| Merch | PSG Jersey, PSG Apparel |
| Last Update | March, 2023 |
Kevin Trapp | Early Life, Family, and Education
Born on the eighth of July, 1990, in Merzig, West Germany, Trapp began his football career at seven when he joined FC Brotdorf.
Not much has been made public about Trapp's family, his early schooling, and education, but it is mentioned that he attended Peter-Wust-Gymnasium.
At the age of twelve, Kevin moved to a neighboring town, SSV Bachem, and after two years joined SV Mettlach.
He later wrote an email to 1 FC Kaiserslautern as they were having trials but got put off the first time. Finally, a year later, in 2004, he was allowed to participate in the training, which was an uprear to his career.
Not every journey begins with a victory. Trapp made his first appearance through 1. FC Kaiserslautern on 9 August 2008, facing a loss.
On 12 March 2011, when Tobias Sippel was sidelined with influenza, turning every crisis into an opportunity, he made his Bundesliga debut with a sweet victory. That match was a turning point in his career.
Aside from Kevin, who are the other players bagging popularity? Check out The 13 Popular Soccer Player of 2021 >>
Kevin Trapp | Age, Height and Weight
Born in 1990, this 32-year-old impenetrable wall of Eintracht Frankfurt stands about ft 2 inches (1.89m) tall, which is the average height for goalkeepers and weighs about 88kg (194lbs).
Along with his height and judgments, he can be deemed as one of the best goalkeepers in the Bundesliga.
Kevin Trapp | Career
One cannot achieve success overnight. So, he learned to be patient from an early age and wait for his time to shine.
Making his debut through many youth clubs and national clubs, this competitive young man finally made his big break in the international arena.
Youth Career
In his teens, Trapp was a member of several German youth national teams. Germany U17, Germany U18, and Germany U19 are sometimes substitutes, sometimes as an established team players.
But whenever he was on-field, his performance never ceased to astound the spectators. Finally, as a payoff of his hard work and dedication, Trapp made his Germany U21 winning debut on 7 September 2010.
Senior career
Making every chance you get to outshine others is what a substitute must do in the field. So, after being a substitute for about two years, Trapp made his international debut on 6 June 2017.
Kevin was selected for the 2017 FIFA Confederations Cup in Russia later that month, which his country ultimately won.
Likewise, Trapp made two more appearances representing his country Germany, coming against France and Brazil.
Although his appearance in the matches was vague, that did not stop people from noticing his presence in the team. As a result, he got selected in Germany's final 23-man squad for the 2018 FIFA World Cup.
By making measurable progress reasonably, Trapp was selected to the squad for the UEFA Euro 2020 on 19th May 2021.
Kevin Trapp | Clubs and Injury
Transfer of players after the termination of the contract is prevailing. At first, Trapp started playing from 1 FC Kaiserslautern as a substitute. However, after his commendable performance, he became a stabilitated player on the team.
Soccer is an aggressive sport, so later, after debuting from Eintracht Frankfurt when playing a match against Erzgebirge Aue, Trapp was sent–off in the 19th minute for a professional foul.
However, after this setback, he improved in his gameplay and led his team to face head-on with the scoreboard leader, Bayern Munich.
Getting back stronger and better, Trapp was given the role of captaincy. The young player did full justice to the role, but it was short-lived because he suffered an ankle injury and was put on hold.
However, after his recovery, both his captaincy and goalkeeping were resumed.
After ending four-year-long goalkeeping in Eintracht Frankfurt, Paris Saint-Germain signed him on 8 July 2015 for 5 years.
Giving his best for the team and himself, Trapp made his winning debut through PSG.
Gradually succeeding in his campaign, getting some major victories in the matches and winning the 2016 Trophée des Champions in Austria and the 2018 Coupe de France Final.
He was assigned back to Eintracht Frankfurt on loan for the 2018–19 season on 31 August 2018; he made his major comeback from the same club. However, he was happily re-signed for 5 years deal later.
Kevin Trapp | Personal Life and Relationship
All along his journey in football, he's been an avid admirer of Oliver Kahn, a german football executive, and a former world-class goalkeeper.
In 2015, he began dating a Brazilian fashion model, Maria Izabel Goulart Dourado. She's best known for having been one of the Victoria's Secret Angels from 2005 to 2008.
On July 5, 2018, they became engaged.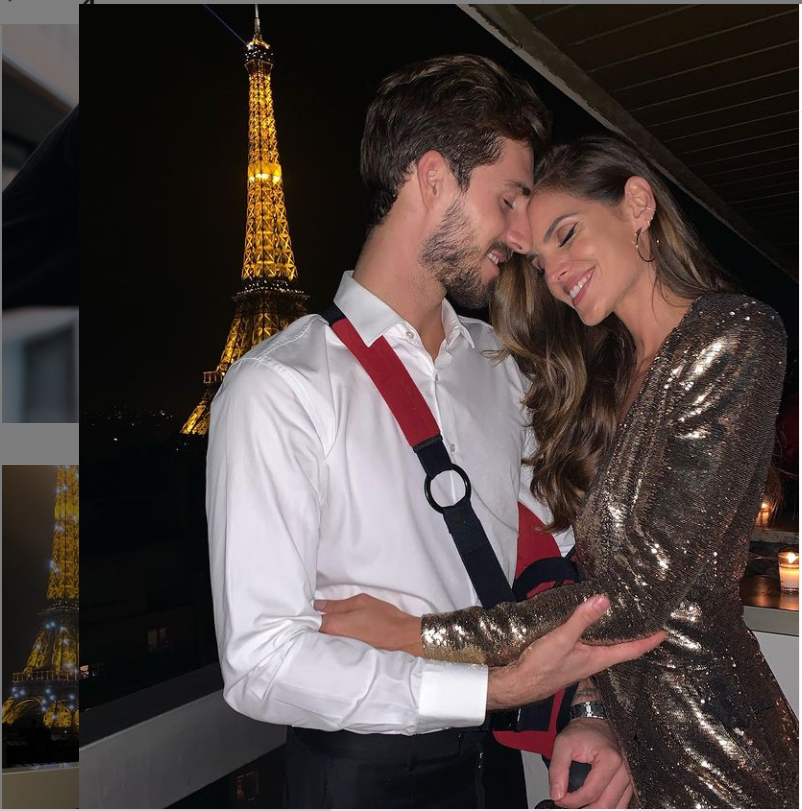 Time and again, conveying his innumerable love not only for football but also for his fiancé, Trapp learned to speak Portuguese as he wanted to understand his fiancé and her family, who are from Portugal.
Thus, he is multilingual, knowing 5 languages (English, German, French, Portuguese, and Italian).
Top 12 Most Successful Soccer Teams in England >>
Kevin Trapp | Net worth and Lifestyle
Soccer is a favored sport worldwide, so the clubs playing the leagues are flushed with money. As a result, the players are also well-paid.
With the constantly increasing market value and net worth, living a luxurious life is not unconventional.
The current net worth of Kevin Trapp is $30 million, and his market value is €6.50 million.
So, owning a 2015 Audi RS 7 worth ranging from $67,000 to $69,300 is no biggie for him. However, further information about his assets and property is still under review and has not been disclosed.
On top of soccer, he also earns by modeling for various luxurious fashion lines, including Hugo Boss, Germany's largest clothing company.
Kevin Trapp | Hobbies and Rumors
Along with his athletic side lies his artistic side. Trapp has a keen interest in the music and fashion industries. He cannot go unnoticed in a fashion show alongside David Beckham and Neymar.
He either learns to play piano showing his musical side or releases his fanboy side for tennis by getting on a court in his leisure time.
It's not uncommon for an incredibly charismatic man like himself not to be engaged in some rumors.
Back in 2015, after Paris St-Germain's win over Marseille, a photo of him bagging a kiss from the world-famous RnB singer, Rihanna, was posted on his Instagram account.
This led many fans to speculate about his relationship with the singer. Nonetheless, it was just two people celebrating an artistic triumph.
Kevin Trapp | Best Season and Saves
On many occasions, Kevin Trapp frustrated strikers with his saves and gained his team some valuable points.
At the end of 2012-2013 Bundesliga, the extraordinary performance given by Trapp has undoubtedly been one of his best seasons.
By saving 72% of shots on his goal, he played a big role in Frankfurt qualifying for the Europa League.
His sensational double saves in a match against Bayern back in 2018, Bundesliga had taken everyone by awe.
Taking the reference of the 2018 Bundesliga stats, the average point of Eintracht with Trapp on the goal was 1.3 points, but without him, it fell to 0.7 points.
Thus, regarded as the keyman at the back, Trapp can be considered one of Bundesliga's best.
Kevin Trapp | Major Wins
When Trapp played from PSG, his team backed Ligue 1, Coupe de France, Coupe de la Ligue, and Trophies des Champions.
Internationally, his team won FIFA Confederations Cup: 2017 held in Russia in his presence.
Kevin Trapp | Social media presence:
We can take a sneak-peak into Trapp's day-to-day activities through his social media.
He constantly keeps his fans updated about what he's up to by posting training videos filmed from home, playing the piano, or a getaway with his fiancé.
Instagram: 1.7 million followers
Facebook: 637k followers
Twitter: 5k followers
Kevin Trapp | FAQs
Is Kevin Trapp Vegan?
No, Trapp is not a vegan. However, he surely is the co-founder of a vegan oat milk company, Oat Mølk, which he started along with his friends.
He was opting for a healthier lifestyle by switching cow's milk to a plant-based one, which led to the company's formation.
In an interview with Forbes, Kevin said he wanted to put his money into something he was really passionate about, which led to him being an integral member of the vegan company.
Top 20 Richest Soccer Players in the World >>
How did Trapp and Goulart end up together?
The couple's romance began in the city of romance, Paris, back in 2015, where Trapp was playing from PSG while Goulart was there for her line of work.
After 3 years of dating, they flaunted their relationship by announcing their social media engagement in 2018 and went viral.
Is Kevin Trapp an actor?
Making a most of his athleticism and good looks, Kevin Trapp has also played some minor roles in cinema. For instance, he was featured as a party guest in the 2016 short movie Afternoon Delight.