Kyler Murray (AKA The Kid), the American quarterback, is a gem for the Arizona Cardinals of the National Football League (NFL). Murray signed a new contract extension in 2022 with the Cardinals guaranteeing him $160 million.
The Young American professional, born on 7th August 1997, has augmented his image with his passion, determination, and outlandish playing tactics in the history of American football.
Kyler is honored and rewarded with multiple awards like the Davey O' Brien Award, Associated Press College Football Player of the Year, and many more.
Not only is Kyler a footballer, but also a baseball player. He has a history of impressive stats in baseball as well.
Kyler is the only player to be selected in the Under Armour All-America Baseball Game and the Under Armour All-America Football Game. This shows how good of a player Kyler is.
"I just hope everybody knows I never quit." -Kyler Murray
Before diving deep into the details of Kyler's personal and professional life. Let's give a thorough read through the quick facts.
Kyler Murray | Quick Facts
| | |
| --- | --- |
| Full Name | Kyler Cole Murray |
| Birth Date | 7th August 1997 |
| Birth Place | Bedford, Texas, United States |
| Nick Name | The Kid |
| Nationality | American |
| Religion | Undefined |
| Ethnicity | Afro-Asian |
| Horoscope | Leo |
| Father's Name | Kevin Murray |
| Mother's Name | Missy Murray |
| Siblings | One brother (Kevin Murray Jr.) and a sister (Precious Murray) |
| Height | 5'10″/1.78 m/177.8 cm |
| Weight | 93.9 kg/207 lbs. |
| Hair color | Black |
| Eye color | Black |
| Education | Allen High School and the University of Oklahoma |
| Build | Athletic |
| Profession | NFL player |
| Current Team | Arizona Cardinals |
| Active Years | 2019 – present |
| Total Passing Yards | 13473 |
| Total Rushing Yards | 2085 |
| Awards | Madden NFL 21 Pro Bowl MVP (2021), NFL Honors-AP Offensive Rookie of the Year (2020), Heisman Trophy (2018), Davey O'Brien Award (2018), Associated Press College Football of the Year (2018), Big 12 Offensive Player of the Year (2018), USA Today Offensive Player of the Year (2018) |
| Marital Status | Unmarried |
| Relationship Status | Dating |
| Girlfriend | Morgan LeMasters |
| Kids | None |
| Net Worth | $40 million |
| Social Media | Twitter, Instagram |
| Merch | Jersey, Rookie Cards |
| Last Update | 2023 |
Kyler Murray's Personal Life | Dating Status, And Girlfriend
Though the American quarterback is very open about his playing tactics, he is extremely private about his romantic and love life.
He is rumored to be in a relationship with Morgan LeMasters, who is a native American and seems to be very private as not much information is available about her on the internet.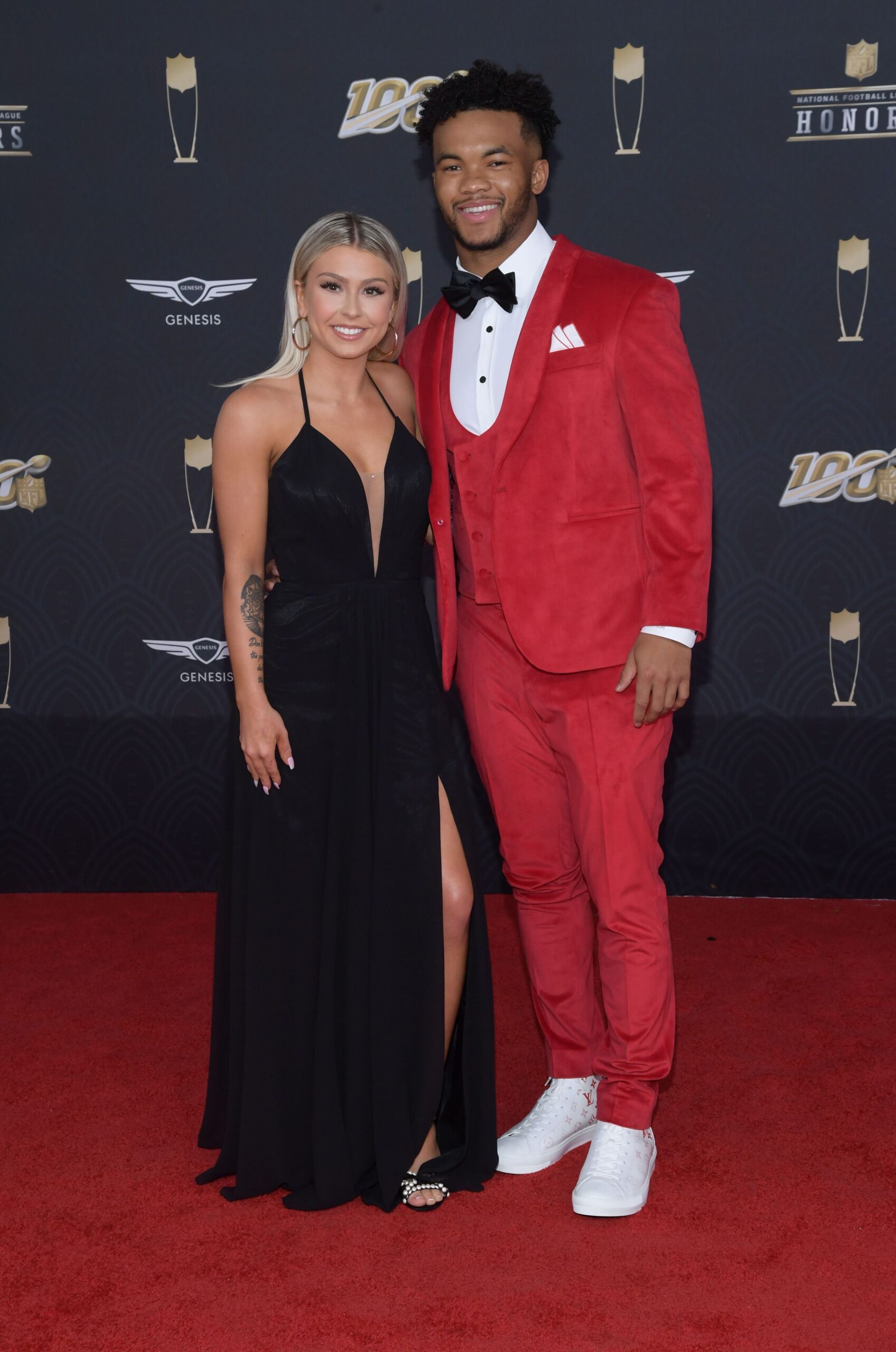 Apparently, her Instagram account is private, so not much information cannot be extracted from her socials.
Kyler Murray | Early Life, Age, And Education
Kyler, born in 1997, lights the birthday candle on the 7th of August. He was born in Bedford, Texas, United States. Kyler spent his childhood with his sister, Precious Murray, and a brother, Kevin Murray Jr.
Kyler Murray's Education
Speaking about his education, Kyler went to Allen High School, located in Allen, Texas. After completing his school studies, he enrolled at Texas A&M University (2015). He soon transferred to The University of Oklahoma (2016-2018).
Kyler Murray's Family Details
Kyler is a son to his father, Kevin Murray, and a South Korean mother named Missy Murray. He is of Asian lineage. For elaboration, Kyler's father is African-American, while his mother is half Korean.
As for the profession, his father, Kevin, was a quarterback at Texas A&M. Kyler's father devoted his life to playing from 1983 to 1986.
As a result, it is crystal clear where Kyler got the motivation to be indulged in football.
Talking about Kyler's mother, it is unknown about her work.
Kyler Murray's Physical Structure | Body Measurement
The American football quarterback stands tall at 5 feet and 10 inches (1.78 meters). He has got a muscular body that weighs 93.9 kg (207 pounds).
To keep himself in shape and to maintain his speed, Murray is more into weight lifting. Often his workout schedule starts at nine in the morning. Following it, he works on single-leg exercises, plyometrics, hopping, jumping, leaping, and bounding workouts.
Kyler Murray | Career
High School Career
Since his high school days, he has been into football. While Kyler was there, he and his teammates played football and set a record for winning three straight state championships. And Kyler and the team have also won 43 games in a row during their high school career.
Similarly, in 2014, he was the Gatorade Football Player of the year. Also, ESPN, Scount.com, and 247Sports ranked Kyler as the five-star recruit and the best dual-threat quarterback.
Kyler Murray's College Career
After the completion of his period of playing football in high school, Kyler started his journey in college. On 4th February 2015, he made a deal with Texas A&M University to play football.
During his freshman year, Kyler played against Kyle Allen before the season for the starting quarterback position, but he lost it. After losing the games twice in October 2015, the match opened again before the South Carolina game.
After that game, Kyler was able to win the starting quarterback position. Isn't it shocking that Kyler threw for 223 yards in his first start?
Also, he rushed for 156 yards with both passing and rushing touchdowns. On top of that, he finished the first extended action of his career without a turnover after 28 passing attempts and 20 carries on the ground.
However, Kyler left Texas A&M and got transferred to the University of Oklahoma on 24th December 2015. His transfer to the University of Oklahoma resulted in him missing the 2016 season as per the NCAA's rule.
How Long Did Kyler Murray Play For Oklahoma?
The American quarterback played as a backup quarterback to Baker Mayfield in his 2017 season. During this season, he had excellent opportunities and experiences while playing.
By playing against UTEP, Kyler made his season debut and showed into the game in the second half. In the fierce competition, he finished the game with 10-of-11 for 149 yards and a touchdown.
In the same season, on 25th November, Kyler started the game on behalf of Baker Mayfield as Baker had to sit down for breaking some rules in the previous match.
Kyler made the game exciting by hitting both pass attempts for 52 total yards. Plus, in the game, he contributed with 80 rushing yards on 3 carries.
The following year, Kyler and his fellow player, Austin Kendall, were considered to start a quarterback without Baker Mayfield. In the whole 2018 season, he made a record of throwing more than 4000 yards and 40 touchdowns.
Murray went on to break Mayfield's FBS single-season passing efficiency record while winning the Heisman and helped lead Oklahoma to a Big 12 Championship and the College Football Playoff.
Kyler's High School Career In Baseball
Well, don't be astonished after knowing how good Kyler is in baseball.
He was on the baseball team from the time he was committed to playing football for Texas A&M University in May 2014. Kyler was a shortstop and a second baseman in high school.
Like football records, The Kid has also made an outstanding record in his baseball career. For the 2016 season, he was selected to play as an infielder for the Texas A&M Aggies baseball team, but he couldn't participate as Kyler bid farewell on 17th December 2015.
Nevertheless, his journey in baseball didn't end there. In 2017, Kyler played as a left fielder for Oklahoma Sooners baseball, where he had a .122 batting average and six runs batted in 27 games.
After a year, Kyler scored a .296 batting average with 10 home runs, 47 RBIs, and 10 stolen bases by playing as a centerfielder.
Further, Kyler was selected by the Oakland Athletics with the ninth overall selection of the 2018 MLB draft. But, as he was in his junior year with the football team, Kyler decided to play baseball in 2019.
In the end, Kyler again postponed his participation until 2019. But, the good news is there is still time for him to take over the baseball stadium because while talking to the Arizona Republic, he stated,
Athletically, I think, yeah, I could do it. I've been playing my whole life. I would love to add to that resume."
Plus, he also admits that baseball still flows through his veins.
Kyler Murray | Professional Career
2019 Season
When Kyler announced giving his try for the 2019 NFL Draft, many people criticized him for not matching the height criteria. However, Kyler made it into the 2019 NFL Draft by being picked in the first round overall.
The pick in the 2019 NFL draft made him the first player to be drafted in both the NFL and MFL at an early phase.
In 2019, the American quarterback played his first NFL game against the Detroit Lions. He finished with the record of 308 passing yards, 2 touchdowns, and an interception, although the match ended with a 27-all tie.
As a rookie, Kyler played against many clubs including Baltimore Ravens, Seattle Seahawks, Cincinnati Bengals, Atlanta Falcons, Tampa Bay Buccaneers, San Francisco 49ers, and more.
Overall, in the 2019 season, Kyler made 3722 passing yards, 20 passing touchdowns, and 12 interceptions with 544 rushing yards and 4 rushing touchdowns on 93 carriers.
2020 Season
In the first week, The Kid played against the San Francisco 49ers and finished by making 230 passing yards, 1 passing touchdown, and an interception to go along with 91 rushing yards and a rushing touchdown. The team and Kyler lead the game 24-20.
In the same way, Kyler and the team competed against Washington Football Team in the second week. He again assisted the team in winning the match by passing 286 yards. For the first time in his career, Murray was named to the Pro Bowl.
In his 2020 season, his stats were; 3971 yards, 26 touchdowns, and 12 interceptions for passing and 819 yards, 11 touchdowns, and 133 carriers for rushing.
2021 And 2022 Season
In the 2021 regular season, the Kid recorded 3,787 passing yards, 24 passing touchdowns, and 10 interceptions along with 88 carries for 423 rushing yards and 5 touchdowns in 14 games. He also made the Pro Bowl for two consecutive seasons.
On July 21, 2022, Kyler signed a 5-year contract extension with the Cardinals. In Week 14, he suffered a knee-injury and was placed on injured reserve on December 14, 2022.
The quarterback ended the season with 2,368 passing yards, 14 passing touchdowns, and 7 interceptions along with 88 carries for 418 rushing yards and 3 rushing touchdowns in 11 games.
Injuries
As an athlete, injuries come and go in the most unexpected moments. Similar to Kyler, injuries have lurked around once in a while.
Back on September 5, 2015, Kyler struggled with an inguinal hip strain but returned immediately a week later.
Kyler also faced a hamstring injury on a third-down scamper and missed a game on December 22, 2019.
In 2020, he suffered from a shoulder A/C joint sprain. Fortunately, he didn't miss a single game.
The following year, he missed three games to a pedal ankle sprain grade 2. On August 9, 2022, he suffered a minor wrist bruise that limited his practice participation.
The Cardinals quarterback went down with non-contact knee injury in the first quarter against the New England Patriots on December 13, 2022, and was carted off the field. The following day, MRIs confirmed that Murray suffered a torn ACL. He was placed on injured reserve on December 14.
Kyler Murray underwent a knee surgery in Dallas and he confirmed that the surgery was successful and appreciated his well-wishers via Twitter on January 5, 2023.
Kyler Murray | Net Worth And Endorsements
Being AN American professional footballer, Kyler has collected a net worth of $40 million.
In 2019, he made $35 million by agreeing to sign a deal with the Arizona Cardinals. The agreement he made became more worthy for Kyler as he got a $23 million signing bonus.
Talking about his salary, he makes UP TO $8.8 million per year.
Murray signed a contract extension with the Cardinals in 2022, keeping him with the team until 2028, worth up to $230.5 million; $105 million at signing and guaranteed $160 million in case of injury.
With this renewed contract, he is expected to earn an average annual salary of $46.1 million.
Besides, Murray has signed endorsement deals with Mizzen+Main, BODYARMOR, Rocket Mortgage, and Nissan. Likewise, he is also linked with Nike, Perfect Hydration, and EA Sports.
Indeed, the American quarterback lives a lavish life from the considerable fortune he has been piling up for many years. Looking at his travel history, Kyler travels to different places renting a private jet.
Kyler Murray | Achievement And Awards
From the time Kyler stepped into football until writing this article, he has won many awards. Plus, he has also earned the trust and love of his fans as well.
For instance, Kyler was the USA Today All-American and Mr. Texas Football from 2013 to 2014. In 2014, the quarterback became the Gatorade Football Player of the Year and the USA Today Offensive Player of the Year.
Almost after four years, in 2018, Kyler played football for his college in Oklahoma. And he was able to lift the Heisman Trophy and Davey O'Brien Award.
In the same year, he added other tags like Associated Press College Football Player of the Year, Big 12 Offensive Player of the Year, a first-team All-American, and first-team All-Big 12, to his playing career.
Cardigans' Quarterback has also won the 2019's AP NFL Offensive Rookie of the Year Award.
Kyler Murray | Social Media Presence
Kyler Murray is available on Instagram using the handle @K1 and Twitter with the same handle @k1. Unfortunately, he seems to be not available on Facebook.
Twitter: 360.3k followers
Instagram: 1.3m followers
View this post on Instagram
Kyler Murray | Popularity
The name "Kyler Murray" seems to be popular among the people of the USA.
The above graph gives a brief information about his popularity in the past 12 months in America.
Kyler Murray | FAQs
What nationality is Kyler Murray's mom?
Kyler's mom, named Missy Murray, is a South Korean.
What is Kyler Murray's Jersey Number?
Kyler's jersey number is 1.
What is Kyler Murray trade value?
Trade value on the open market is 17.35 which ranks him 5th among quarterback's and 55th overall. His maximum trade value within the past 60 days is 18.77.
Did Kyler Murray run the 40-yard dash?
No, Kyler didn't run the 40-yard dash at the 2019 NFL Combine nor at his Oklahoma pro-day. Though, he does have a record of running it just in 4.38 seconds for the Oklahoma Brass in 2017.
How much does Kyler Murray make?
Kyler is expected to earn an annual salary of around $46.1 million.