Kylian Mbappe is one with the lightning pace and ability to make the ball kiss the net. He is a French professional player currently playing for league one club Paris Saint-Germain and the French national team.
Well known for a clinical finish, impressive dribbling, and quick pace, Kylian Mbappe is considered one of the best in his field.
Today he is listed as one of the world's most expensive players and the third-highest goalscorer in the PSG's history.
Mbappe is also considered the world's best emerging football player, having a huge fan base. Arsene Wenger has described him as a "huge football talent" who possesses similarities to Theirry Henry.
The excellent performance of Mbappe in FIFA World Cup 2018 has also led the media to compare him with Pele.
Furthermore, with the ability to perform from both feet, he can also play in the center with composure, clinical finishing, and an eye for the goal.
Overall he is one of the best French forward with every quality professional's must-have. Now, let's check the quick fact about French forward Kylian Mbappe.
Kylian Mbappe: Quick Facts
| | |
| --- | --- |
| Full Name | Kylian Mbappé Lottin |
| Birth Date | December 20, 1998 |
| Birth Place | Paris, France |
| Religion | Christian |
| Nationality | French |
| Sexuality | Straight |
| Ethnicity | Cameroonian (Father), Algerian(Mother) |
| Education | School in Clairefontaine |
| Horoscope | Sagittarius |
| Father's Name | Wilfried Mbappe |
| Mother's Name | Fayza Lamari |
| Siblings | Brothers- Jires Kembo Ekoko and Ethan Mbappe |
| Age | 23 years old |
| Height | 1.78 m (5'10") |
| Weight | 73 kg |
| Hair Color | Black |
| Eye Color | Black |
| Marital status | Unmarried |
| Girlfriend | Alicia Aylies |
| Profession | Professional footballer |
| Net Worth | $110 million (estimated) |
| Car collections | Ferarri, Audi, Mercedes Benz, BMW, and Rangerover |
| Followers | Instagram: 49.5 million, Twitter: 5.9 million |
| Career History | Monaco, PSG, and France International |
| Current club | Paris Saint-Germain(PSG) |
| Position | Forward |
| Dominant Foot | Right |
| Outfitter | Nike |
| Current Market Value | $213.79 million |
| Social Media | Twitter, Instagram, Facebook |
| Merch | Soccer Card, Funko Pop, Kylian Mbappe: The Ultimate Fan Book |
| Last Update | August, 2022 |
Kylian Mbappe: Early Life & Family
In Paris, France, Kylian Mbappe was born and raised in Bondy on December 20th, 1998. He was born to his father, Wilfried Mbappe, and his mother, Fayza Lamari, who were both associated with a sports background.
Mbappe's father, Wilfried Mbappe, is from Cameroon, while his mother, Fayza Lamari, is of Algerian origin. Wilfried is a football coach who now is an agent of Kylian Mbappe, while Fayza is a former handball player.
Mbappe has his adopted elder brother Jirès Kembo Ekoko who was a professional footballer. Also, he has his own younger brother named Ethan Mbappe, who had played for PSG's under-12 squad.
During Mbappe's early age, he was a great fan of Portuguese legend Cristiano Ronaldo.
Similarly, he was a great football fan having huge football potential, as acknowledged by his father, Wilfried, a football coach.
At just the age of six, Mbappe conquered France's excellent child footballer's achievement and recognition. He got training from his father, Wilfred, at AS Bondy to prepare him as a professional footballer in the future.
Afterward, Mbappe got lots of attention due to his extraordinary performance at Clairefontaine academy. Later he played from the under 11s Chelsea team and settled at A.S Monaco later.
Also, read about Tomas Rosicky: Early Life, Family, Wife & Net Worth >>
Kylian Mbappe: Age, Body Measurements, & Nationality
As Mbappe was born on December 20th, 1998, he is currently 23 years old. His horoscope is Sagittarius, according to his birth chart.
Astrology says that people with the horoscope Sagittarius possess a loyal personality with unerring judgment. Sagittarius is the kind of person with independent and unique artistic nature.
Mbappe had a very fit athlete body with a height and weight of 1.78m and 73 kg.
Meanwhile, in terms of Nationality, he is a French citizen by birth as he was born in Paris, France.
Kylian Mbappe: Career Stats
The French professional Mbape started his early career at AS Bondy, where his father coached him. He was a great performer in the club and was a fantastic dribbler with a fast pace.
"In Paris, there are many talents, but I'd never seen a talent like him-Antonio Riccardi."
Mbappe moved to Clairefontaine academy later, where he gave an impressive performance and attracted big European clubs.
However, Mbappe played an invitation match from Chelsea at the age of 14 against Charlton Athletic; later, he joined Monaco.
Monaco Career Accomplishments
Mbappe joined Monaco's first team being the youngest player ever in Monaco's history at just 16 years.
In contrast, Mbappe's first debut for Monaco was in a match against SM Caen on 2015 December 2nd, where he touched the pitch, replacing Fabio Coentrao in 88 minutes of the game.
On 2016 February 20th, he scored his first goal for Monaco against Troyes in a stoppage-time.
With his first goal for his team, he became the first youngest player for Monaco to achieve the goal at just 17.
Then, on December 14th, 2016, Mbappe scored his first hat-trick in a 7–0 rout of Stade Rennais in the Coupe de la Ligue round of 16 at the Stade Louis II.
He also became the first Monaco player to score a hat-trick in the competition since Sonny Anderson in 1997.
Mbappe made Monaco's score in the eight-minute UEFA Champions League round of 16-second leg match on March 15th, helping Monaco to reach the quarter-finals.
Besides, Monaco beat Manchester city 3-1 with an aggregate of 6-6 and advanced to the quarter-final with the away goals rule.
Mbappe won a penalty and scored two goals as Monaco won the away leg 3–2 against Borussia Dortmund in the quarter-finals.
Meanwhile, in the second leg, Monaco won 3–1 and progressed to the semi-finals thanks to Mbappe's goal.
But in the semi-finals, Monaco tasted a loss in the match against Juventus with an aggregate of 4-1.
With his single goal contribution in the second leg, he ended the season leading Monaco to the Ligue 1 championship in 2016–17, scoring 26 goals in 44 games across all competitions.
Paris Saint-Germain
Paris Saint-Germain signed Mbappe on loan from Monaco on August 31st, 2017. Mbappe became the second most expensive player after his teammate Neymar after a full transfer fee of €145 million-plus €35 million in add-ons.
On September 8th, Mbappe made his Ligue 1 debut, scoring in a 5–1 victory over Metz.
Besides, Mbappe scored his 10th Champions League goal in a 3–1 loss to Bayern Munich on December 6th, making him the youngest player at 18 years and 11 months.
Mbappe was assigned the number 7 jersey for the upcoming season with PSG in July 2018, filling the void left by Lucas Moura.
Mbappe scored twice in the final 10 minutes of PSG's 3–1 win over Guingamp in Ligue 1 on his first game of the season.
Meanwhile, after scoring and assisting in a 4–2 away win over Nîmes on September 1st, he was sent off in injury time for the first time in his career after shoving Téji Savanier.
Mbappe became the youngest player (19 years and nine months) to score four goals in one game in Ligue 1. It was during the last 45 seasons scoring four goals in just 13 minutes in a 5–0 home victory, against Lyon, on October 8th.
The young player became the first winner of the Kopa Trophy on December 3rd, which France Football gives to the best player under 21 in the world.
David Luiz: Family, Wife, FIFA, Injury & Net Worth >>
2020/2021 Career
After contracting the coronavirus while playing for the France national team, Mbappe missed the season's first three games.
He made his comeback on September 20th, 2020, in a 3–0 away win over Nice, scoring a penalty kick goal.
Mbappe scored his 100th goal for PSG in a Ligue 1 match against Montpellier on December 5th, becoming the fifth player in the club's history.
The French player became the third player in Champions League history to score a hat-trick against Barcelona, joining Faustino Asprilla and Andriy Shevchenko after victory in PSG's 4–1 round-of-16 at the Camp Nou on February 16th, 2021.
International Career
Mbappe was called up to the France squad for the 2018 World Cup in Russia on May 17th, 2018.
In France's 1–0 Group C victory over Peru on June 21st, 2018, he scored his first World Cup goal at the age of 19 and became the youngest French goalscorer in World Cup history.
He was announced man of the match in a 4–3 win over Argentina on June 30th, 2018, after scoring twice and being fouled in the box, allowing Antoine Griezmann to open the account with a penalty kick.
After Pelé in 1958, Mbappe became the second teenager to score two goals in a World Cup match.
"It's flattering to be the second one after Pelé but let's put things into context – Pelé is in another category."-Kylian Mbappe
Mbappe scored a 25-yard goal in France's 4–2 victory over Croatia in the 2018 World Cup Final on July 15th.
He also won the FIFA World Cup Best Young Player Award with four goals in the tournament.
Kylian Mbappe: Personal life, Girlfriend & Net Worth
Kylian Mbppe has been a born footballer and a great fan of footballers since a young age. He was a great fan of Portuguese professional football legend Cristiano Ronaldo.
Mbappe has sacrificed a lot in this teenage period to fulfill his dreams in the football sector. Meanwhile, currently, he is living the life that he dreamed about.
According to numerous online sources, Kylian Mbappe is rumored to be dating Miss France 2017, Alicia Aylies.
However, it has not been confirmed by either Mbappe or his rumored girlfriend Alicia Aylies, as both of them choose to make it secret.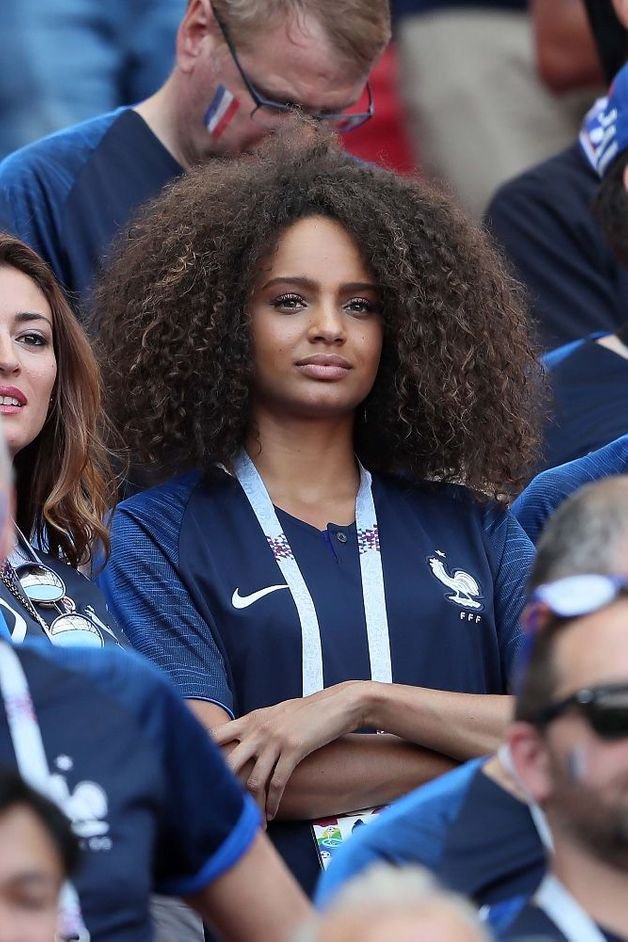 Alicia, a former Miss France, rose to prominence in 2018 when cheering on France, the eventual Tournament winners, during the World Cup in Russia.
After winning the 2017 Miss France competition, the 5'10" model became an instant sensation and star in her homeland.
In terms of Net Worth, Kylian Mbappe's net worth is estimated to be about $110 million including the earnings from his contracts and endorsement deals.
Mbappe made approximately $30 million in salary in 2019, according to Forbes, and has a significant endorsement and sponsorship contract with Nike worth up to €3 million.
Trent Alexander Arnold Bio: Stats, Parents, Injury & Net Worth >>
Kylian Mbappe: Social Media
Kylian Mbappe has a tremendous fan following on his social media Twitter, Instagram, and Facebook.
Mbappe keeps his followers updated about his personal life, lifestyle, Professional life, Training section, and workout plans.
FAQs
Is Kylian Mbappe a youngest player in Monaco FC?
Kylian Mbapee was the youngest player ever in the history of Association Sportive de Monaco Football Club SA.
Furthermore, he signed to Monaco at just the age of 14 years and started playing 16 years for the team.
Is Kylian Mbappe an expensive player? What is his car collection like?
Kylian Mbappe became one of the most expensive players after Neymar in the history of football in 2017 when he was transferred for €145 million-plus €35 million in add-ons to PSG.
In the meantime, he has an endorsement contract with Nike Football.
Kylian Mbappe owns a Ferrari, which reportedly costs around €486,000. Furthermore, he has an Audi, a BMW, and a Range Rover.
What does Mbappes celebration mean?
Thierry Henry has revealed he was happy to see Kylian Mbappe copy his memorable corner flag goal celebration as it means his children are aware the pair know each other.
Is Mbappe going to Real Madrid?
Kylian Mbappe insisted on Sunday that he has yet to make a decision regarding his future and stressed that there are "new elements" that could tempt him to stay at Paris Saint-Germain and turn down Real Madrid.
Who is Kylian Mbappe's soccer idol?
Kylian Mbappe has regarded Portuguese footballer Christiano Ronaldo as his idol since his childhood.
(Make sure to comment down below if any information goes missing. We are ready to update in case of useful information.)