During his college days, one of the elite players, LaMichael James, never lived up to the NFL's expectations. During his four seasons in the league, James played as a running back for the San Francisco 49ers and Miami Dolphins.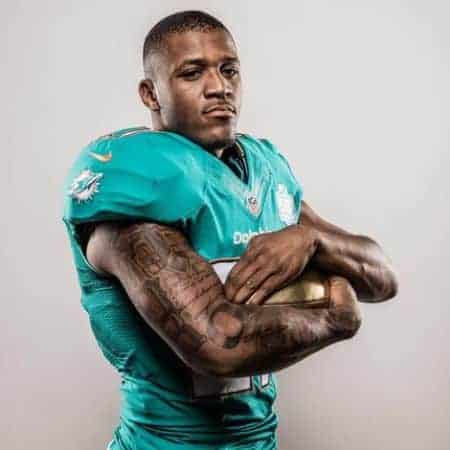 After his retirement in 2015, the 34-year-old opened a restaurant that has now evolved into an 11-establishment chain. Thus, life post-retirement life has turned out to be more fruitful for LaMichael.
Below is an article on James that goes on to explain his personal and professional life till now. There is also intel on LaMichael's net worth, salary, age, education, and social media.
But first, have a look at some quick facts.
Quick Facts
| | |
| --- | --- |
| Full Name | LaMichael Keondrae James |
| Birth Date | October 22, 1989 |
| Birth Place | New Boston, Texas, U.S.A |
| Nick Name | Not available |
| Religion | Not available |
| Nationality | American |
| Ethnicity | African-American |
| Education | University of Oregon |
| Horoscope | Libra |
| Father's Name | Herbert Blacksherv |
| Mother's Name | Rosemary James |
| Siblings | No |
| Age | 34 Years Old |
| Height | 5 feet 9 inches (1.75 m) |
| Weight | 195 lb (88 kg) |
| 40 Time | 4.45 seconds |
| Hair Color | Black |
| Eye Color | Black |
| Body Measurement | Not available |
| Build | Muscular |
| Married | No |
| Girlfriend | No |
| Children | No |
| Profession | NFL Player (Retired) |
| Position | Running Back |
| Salary | $408,000 |
| Net Worth | $2 million |
| Social Media | Instagram, Facebook |
| Merch | Jersey, Magazine |
| Last Update | November, 2023 |
LaMichael James: Wiki Bio
LaMichael Keondrae "LaMike" James is an ex-NFL running back. He was born to his parents Herbert Blacksher and Rosemary James, on October 22, 1989. Likewise, James was born and raised in New Boston, Texas.
Besides that, LaMichael is the only child of his parents. Further, James is an American citizen and African-American by ethnicity.
Early Life
The early life of LaMichael is filled with tragedies. Before he was even born, James's father, Herbert, was killed. Then, during his high school years, his grandmother, Betty James, expired due to cervical cancer.
Education & College Stats
LaMichael attended the Liberty-Eyalu High School in Texarkana, Texas. There, he played for the high school team, where he became a star.
In his senior year, James recorded 2,043 yards and 24 touchdowns on 230 touches, averaging 8.9 yards per carry. Consequently, Rivals.com listed him as the no.12 all-purpose back in the U.S in 2008.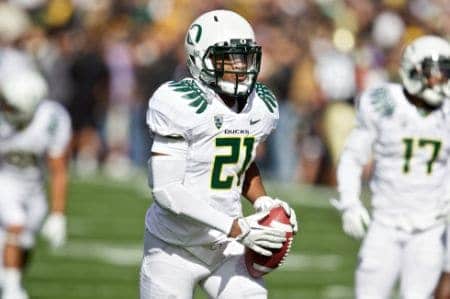 After that, James went to the University of Oregon, where he played for the Oregon Ducks football team under coach Chip Kelly. During his time in Oregon, LaMichael won the Pac-10 Offensive Freshman of the Year.
LaMichael James: Career & Stats
To begin, the San Francisco 49ers drafted LaMichael as the 61st overall pick in the 2012 NFL Draft. Consequently, everyone expected James to transition his college form to the NFL.
But, sadly, he never really could make it on the big stage. Having said that, James did have some memorable moments. For instance, the 30-year-old carried the ball eight times for 30 yards on his debut against the Miami Dolphins.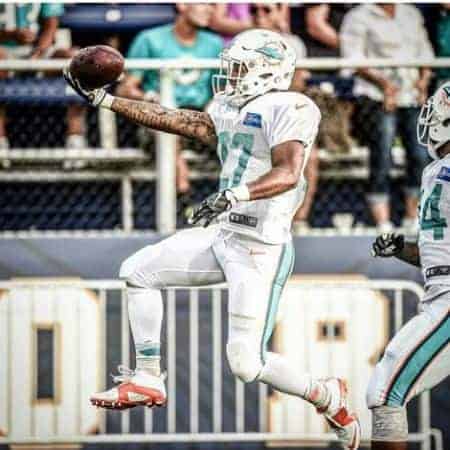 Further, LaMichael scored his first touchdown in the NFC Championship game against the Atlanta Falcons. Subsequently, he played in Super Bowl XLVII, recording three rushes for 10 yards.
Unfortunately, the 49ers lost the match 34-31. After that, LaMichael signed for the Miami Dolphins in 2014 and remained there for two seasons before retiring.
Awards & Honors
Heisman Trophy Finalist 2010
Two-time First-team All-American (2010, 2011)
2010 Doak Walker Award
Two-time first-team All-Pac-10/Pac-12
Pac-10 Offensive Freshman of the Year (2009)
Three-time Pac-10/Pac-12 Champion (2009-2011)
Aching Injury
During his tenure with the San Francisco 49ers, the backup running back and return man faced a gruesome elbow injury while the practice session was going on.
LaMichael had to miss a month as he dislocated his left elbow during a routine blitz pickup drill in 2014. If he had taken the injury more seriously, then he could not have made it to open the regular season on the road against the Dallas Cowboys on September 7.
Prior to this, LaMichael dislocated his right elbow in 2011 while playing for Oregon Ducks in a 43-15 win over Cal. But that injury cost him to miss two games during his last season in Eugene.
Elbow Injuries are familiar to LaMichael as he suffered the same dislocation in high school and returned to the field within a week.
LaMichael James: Age, Height & Horoscope
LaMichael was born in the year 1989, which makes him 34 years old currently.
Likewise, his star sign is Libra. Moreover, people who fall under the sign of Libra are idealistic perfectionists who cannot stand chaos, mess, or dickery.
Moving on, James stands at 5 feet 9 inches (1.75 m) and weighs 195 lb (88 kg). During his playing career, LaMichael played as a running back, a position where knocks and bruises are part and parcel of the game.
LaMichael James Number 27
LaMichael wore the no.27 on his back while playing for the Miami Dolphins. However, he later changed it to no.33.
Before that, James played for the San Francisco 49ers and donned 23 on the back of his jersey.
LaMichael James 40 time
LaMichael's last known 40-yard dash time was 4.45 seconds. He recorded the time during the Pre-draft measurements.
LaMichael James: Net Worth & Salary
As of 2023, LaMichael has a net worth of $2 million accrued from his career as an NFL player. Moreover, he played in the league for four seasons. In that period, James earned $2.5 million.
Moving onto his salary, James took home $408,000 in 2015, which is also the last year of his professional career.
However, he received much more during his rookie year. To be precise, in 2012, LaMichael made $1.2 million after getting drafted by the San Francisco 49ers.
LaMichael James Killer Burger
LaMichael has a restaurant chain called Killer Burger spread across the U.S. Precisely, it has 11 locations. From those establishments, James earns thousands of dollars each year.
Recently, James posted an Instagram message regarding his outlet. As per the post, Killer Burger is now available for online orders. So, what are you waiting for folks? Head on to the website and order some burgers this instant!
LaMichael James: Personal Life
When it comes to LaMichael's marriage status, he belongs to the bachelors club as of now. Having said that, he is involved in a romantic relationship with his longtime girlfriend, Courtney Eckhart.
Just like almost all the college movies, James was a star running back while Eckhart was the captain of the cheerleading team. Inevitably, the two fell in love with each other and have been together ever since.
Talking more about Courtney, she is a former ambassador of her alma mater, the University of Oregon. As of now, Eckhart is working as a leasing manager.
Social Media Presence
Check out LaMichael's Instagram page, where he frequently posts pictures of his vacations and his restaurant's exciting offers. Besides, he also has a Facebook page with 88,000 followers.
Instagram: 18.8k followers
Facebook: 88k followers
Frequently Asked Question
Is LaMichael James still in the NFL?
No, he is just tasting the real-life fun that exists after his stop at a football career. He is taking a bite out of the burger world as an owner and operator of his own Killer Burger venture in Beaverton.