From standing out for his looks to standing out for his skills, Pleasant Grove Defensive end Landon Jackson is one of the best aspiring football players in America.
He is a four-star prospect who has been one of the country's most dominant high school football players. Currently signed under the LSU tigers, Landon Jackson is a rising name in the world of football.
Standing at 6 ft 7 inches, this tall and bulky footballer had to face many difficulties to be in the position he is now.
We shall discuss the life, career, and achievements of Landon Jackson in this article.
Landon Jackson | Quick Facts
Full Name
Landon Jackson
Age
21 years old
Birthdate
January 2, 2002
Birthplace
Texarkana, Texas
Residence
Texarkana, Texas
Nationality
American
Mother
Katie Crowder Peek
Father
Larry Jackson
Siblings
Lance Jackson
Grandfather
Terry Jackson
Religion
Christian
Married
No
Star Sign
Capricorn
Height
6'6″
Weight
240 lbs
Girlfriend
Grace Duffer
Eye Color
Black
High School
Pleasant Grove High School
Profession
Footballer
Position
Defensive End
Tackles
154
Sacks
20.5
Prospects

125th overall prospect
8th best defensive end
19th best player in Texas

Status
Active
247sports Composite score
0.9893
Achievements
Texas Sports Writers Association 4A Defensive Player of the Year
Football Team
LSU Tigers
Social Media
Twitter, Facebook
Merch
LSU Tigers shirt, LSU Tigers Merchandise
Last Update
November, 2023
Landon Jackson | Family Background
On January 2, 2002, Landon Jackson was born in Texarkana, Texas, as the eldest son to the father Larry Jackson, and mother, Katie Crowder Peek. Apparently, His father is a divorcee, and Landon has been living with his father.
At the same time, his mother has remarried and has twins from his stepdad. The football player also has a younger brother named Lance Jackson. He is also a high school footballer who is following in the steps of his brother.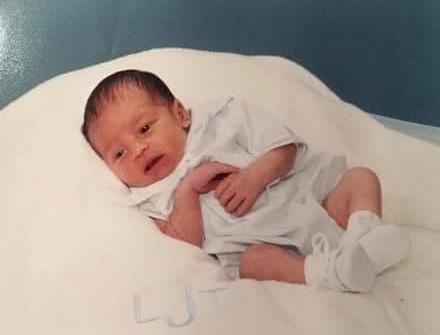 Landon was born into a family of sports enthusiasts. His grandfather, Terry Jackson, and father Larry Jackson were well-known sportsmen in the community in the early days.
Similarly, Terry Jackson, his grandfather, had a big touchdown run in Rogersville's shutout and won over Sullivan in 1970. A year later, as a defensive back, he was named to the All-Smoky Mountain Conference team.
On the other hand, his father, Jackson, spent two seasons on Texas A&M's basketball team. His father then transferred to McNeese state and finished out there.
Landon's mother used to play volleyball in McNeese. Despite the transfer, his father was always an Aggie in his heart.
Nonetheless, Jackson's father is proud of what he has achieved so far in the fields.
Landon Jackson | Medical Condition
One of the things many people noticed about Jackson is his appearance, specifically his hair. Landon was only four or five years old when his hair started to fall off.
His parents were concerned, so they took him to the doctor. Later, he was diagnosed with Alopecia, also known as spot baldness. It is a medical condition in which the body's immune system attacks its hair follicles, resulting in hair loss.
Likewise, the condition left hair patches when he decided to shave them off. As a young child, Jackson's condition affected his confidence as well. It took him a long, but he grew to accept it and embraced it.
Today, he raises awareness about this medical condition and serves as an inspiration to anyone suffering from a similar condition.
Curtis Samuel Bio: Football, Career, NFL, Family & Net worth >>
Landon Jackson | Difficult Childhood
Due to his medical condition, he would stand out amongst his peers. It was something Jackson was always bothered about. He felt different. He wanted to be just like everyone else.
Not only was Jackson's hair falling out, but so was his self-esteem. On top of being bald, he was also bald, very tall, and skinny.
Likewise, Jackson was severely bullied in his school due to his appearance. He would be called out with different funny nicknames and would always be stared at like an alien.
It wasn't until Jackson reached the fourth or fifth grade that the player embraced his look and grew comfortable in his own skin.
Then in fifth grade, Landon moved to Gilmer, a town 80 miles southwest of Texarkana. There he realized that he was pretty good at football. It quickly became an important part of his life.
Similarly, Jackson moved back to Texarkana and enrolled on the football team at Pleasant Grove High School.
Landon Jackson | Football Career
Landon began his football career at Pleasant Grove High School. He played as a defensive end in the football team and quickly became well-known for his defensive abilities.
Since high school, he has been regarded as one of the nation's top defensive line prospects. Jackson didn't take long to establish himself as an elite edge rusher, amassing 20.5 sacks between his freshman and sophomore seasons.
In 2017, he was awarded Defensive Newcomer of the Year as a freshman. Jackson was a unanimous first-team all-district selection as a sophomore in 2018, but his season was cut short due to an ACL injury.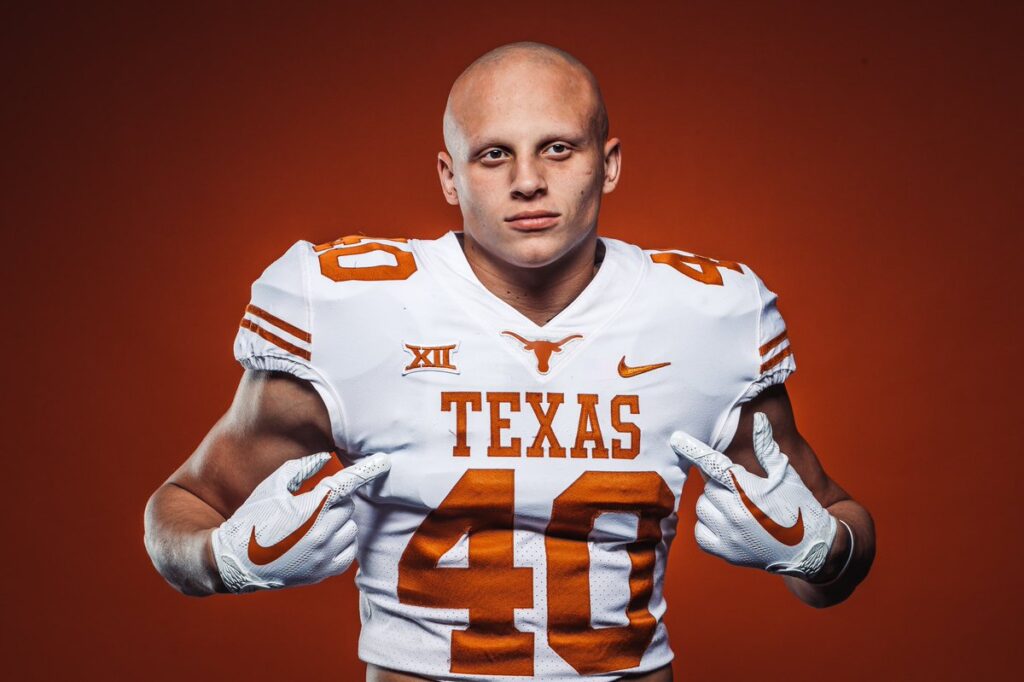 However, Jackson made a comeback to earn Texas Sports Writers Association 4A Defensive Player of the Year as a junior.
In 2019, he led the Hawks to their second 4A Division II state championship in three years, finishing with 111 tackles, 28 tackles for loss, and 17 sacks.
As a senior, Landon appeared in seven games before suffering a second season-ending ankle injury.
Landon Jackson | Goals and Achievements
Jackson's ultimate football goal is to play in the National Football League (NFL). Watching the Tigers' success in the NFL Draft truly opened his eyes and fueled his passion for playing in the NFL.
247Sports.com ranked him 16th nationally, first as a weak-side defensive end, and fourth in Texas for the class of 2021.
Similarly, Jackson was also given a combined score of 0.9893. The football player is ranked No. 8 in the country at his position and No. 19 in Texas. ESPN rates him as the nation's No. 76 talent in the 2021 class.
Andrus Peat Bio: Endorsement, Wife & Net Worth >>
Landon Jackson | LSU Tigers
Landon received offers from Alabama, Ohio State, Texas A&M, and 28 other big institutions. But it was a Saturday night in Death Valley that pushed Louisiana State University (LSU) to the top.
That very LSU-A&M game influenced Landon's decision to choose the LSU Tigers.
When asked why he chose LSU, he replied that he chose LSU as it has one of the craziest fan bases there, and he loved the atmosphere and coaching there.
Moreover, Coach Orgeron of LSU tigers contacted him and showed him how much they wanted him.
Though Coach Orgeron was the one who first contacted him, Landon had a good relationship with other coaches at LSU.
He said his relationship with coaches and the environment of LSU made him choose the LSU tigers.
Landon Jackson | Injury
Landon had a serious ACL injury in his sophomore season during practice hours. He was having fun before practice as he would normally do. His teammates, along with him, were running one on ones.
Jackson was playing receiver and went running a corner route. But, when he planted, his ankle rolled over, and all of his weight fell on it, causing a tear of the anterior cruciate.
This leg injury ended his senior year of high school, and people were disheartened to see Landon Jackson take a break when his career was starting.
There were doubts about if he would recover from the injury and get back to the field. So Landon took good rest after his surgery.
Luckily, Jackson recovered from an ACL injury and returned during his sophomore season. There he became the Class 4A state defensive player of the year.
However, Landon suffered a second-season ankle injury during practice and had to miss the remainder of the 2020 football season.
Not to mention, frequent injuries have impacted his career of Landon. But, after injury, his comebacks became stronger than ever.
Michael Pittman Bio: Football, NFL, Family, Net worth & Girlfriend >>
Landon Jackson | Girlfriend
Landon Jackson is in a relationship with Grace Duffer. The best friend turned lovers have publically disclosed their relationship and can be seen posting each other photos on their social media.
Likewise, the two have been best friends for a long till they figured out they had romantic feelings for one another.
Landon Jackson | Social Media
Jackson has a strong social media presence, especially on his Twitter. Landon, on his Twitter, tweets about his game, interest, and his personal life.
However, he doesn't seem to be much active on his Facebook account.
Twitter: 5.1k Followers
Landon Jackson | FAQs
What medical condition is Landon Jackson suffering from?
Landon is suffering from a medical condition called Alopecia, also known as spot baldness. It is a medical condition in which the body's immune system attacks its hair follicles, resulting in hair loss.