Players who look big, tough, and hard from the outside but are gentle and humble at heart are one of a kind and true blessings to the sports field.
Leki Fotu will soon become one of the household names in the world of football.
For those who still go unnoticed about him, Leki Fotu is a professional football player for the Arizona Cardinals in the National Football League(NFL).
He serves as a defensive end there. Fotu was hired by Arizona in the 2020 NFL draft with the 114th pick in the 4th round.
Before making it huge in football, he was a rugby player. And that, too, a super explosive one. So it's no doubt that Leki has his own story to tell.
He has his own side of hurdles and hardships in life, which he has managed to overcome for sure with all due strength, love, and support from his loved ones.
Let's explore Leki's life through this article and get glued to the article if you want to dig in deeper about his life, pain, and agony.
But before that, let's have an easy sneak peek into the quick facts about this Arizona guy, Leki Fotu.
Leki Fotu | Quick Facts
| | |
| --- | --- |
| Full Name | George "Leki" Fotu |
| Birth Date | August 23, 1998 |
| Birth Place | Oakland, California |
| Nick Name | Leki Fotu |
| Religion | Not known |
| Nationality | American |
| Ethnicity | Black |
| Education | Herriman High School, University of Utah |
| Horoscope | Virgo |
| Father's Name | Likiliki |
| Mother'sName | Toa |
| Siblings | Five siblings (Joey, Anthony, Alice, David, and Late Ema) |
| Age | 24 years old |
| Height | 1.96m (6 feet 4 inches) |
| Weight | 335 lbs (142kgs) |
| Shoe Size | Not known |
| Hair Color | Black |
| Eye Color | Black |
| Body Measurement | Not known |
| Build | Athlete |
| Marital Status | Single |
| Girlfriend | Not known |
| Position | Defensive end |
| Profession | NFL Player |
| Net Worth | Around $4 million |
| Salary | $70,588 base salary |
| Currently Plays for | Arizona Cardinals |
| League | NFL |
| Active Since | 2020-present |
| Social Media | Twitter, Facebook, Instagram |
| Merch | Cardinals Hoodie, Jersey, Face Mask |
| Last Update | June, 2023 |
Leki Fotu | Early Life, Family & Education
On August 23, 1998, Leki was born to his parents, Likiliki Fotu and Toa Fotu, in Oakland, California.
Along with his parents, Leki has five siblings by his side. He is an American by nationality and has black ethnicity.
Leki's parents hail from Tonga, a Polynesian island nation in the Pacific Ocean, more than 3,000 miles east of Australia, but they moved to America when he took birth.
But migrating was not that easy; they stayed undocumented and did not work.
They just adjusted with Toa being a caregiver and Likiliki being a landscaper. By 1998, they were thriving equally hard to save up money for a permanent flat.
That's when she got pregnant with Leki, which turned out to be the toughest pregnancy as she was fighting against pneumonia at the same time.
She could not digest food for three months, which led to a doctor's ultimate suggestion to have an abortion. After that, she was just skin and bones, unhealthy.
However, staying strong throughout everything helped, and Leki was born. After his birth, Likiliki and Toa had more babies, David and Ema.
Eight years after, in 2004, Toa paid $17,000 to a legal advisor to apply for permanent residency overstaying their visas. And shortly, they were allowed with the work permits.
Further, Toa began working as a caregiver, and she was allowed to work at both places, a private home and as a certified nursing assistant.
Likiliki was suffering from health issues like diabetes and high blood pressure.
The decision to work was all in favor of Likiliki to stay at home and take care of the family, including six children, while Toa becomes the breadwinner.
Likiliki on being a housemaker
Likiliki completely nailed the role as a housemaker. He was terribly enjoying it. Not to mention, the family had to quest harder for money, but love soared in an ample amount.
He had the whole breakfast set-up on the table and made sure nothing went lacking in the house as in grocery wise.
He tried his level best. Fotu's responsibilities were not only limited to the family members to the outsiders too.
You might be interested in reading: <<Paolo Banchero Bio: Early Life, Career, Girlfriend, ESPN & Net Worth >>
Life-Changing Moment
When Likiliki and Toa lived in Tonga, Likiliki earned his money working as a DJ at nightclubs.
In the US, while the couple was saving up for a permanent residence, they were saving up a few for the DJ kit.
As per their plan, If Likiliki gets part-time work after having the much-needed equipment, they could make around $200 and $300 per gig.
Similarly, Likiiki received one such offer to play his tracks at a family member's graduation party at a San Francisco Hotel in June 2006.
Out of nowhere, he just asked Toa, Alice, to join in for the event and bring Ema along.
Later, Ema just went out of her way, and in a moment, she just hopped into the open elevator, which elevated a few floors above.
And while seeing a potted plant, she just missed her balance and fell. They immediately rushed to the hospital, but nothing worked.
Sadly, she lost her life. Ema was just three years old, and Toa was eight; she was the light of the family.
According to Toa, the first five children of theirs were quite calm, reserved, and silent. On the contrary, Ema was quite different.
She was loud, cheerful, jolly. While the rest of her kids were an introvert, Ema stood as an excellent extrovert.
Ema just pulled everyone's attention; she usually peeked into her mother's wardrobe and wore oversized dresses and high heels.
The next day when Toa uttered the whole moment to Leki, he did not understand anything, but he knew Ema was not coming home. That simply broke everyone's heart.
Also, as per Leki, if Ema were alive, she would probably be the most popular girl in the school because of her charming and attractive demeanor.
The aftermath of the incident
The playful saddening incident took on his dad quite seriously. The young gentleman, Likiliki, who was already battling several health issues, could not take the loss of his little girl.
He was dripped into depression and anxiety as if he had lost his soul, which kept mourning for his darling daughter Ema.
Just a month after his daughter passed, his body was not in that shape to battle the sadness and grief.
His blood pressure rose, his diabetes heightened, and he suffered a stroke. In about a two-month period of time, Leki lost his 3-years-old sister and his father.
Everything falling into places
Well, as they say, there are no rainbows without rain. Something similar applied to their life.
Everything started falling into places. Likiliki's first cousin, Viliami Mafi, offered help raising her family and later married Toa as well in 2010.
They migrated from Oakland to San Leandro. Viliami also guided the path for Leki and his brothers. He became a justified helping hand.
Toa continued her profession as a caregiver and started a home-care agency two years down the line. She hired her own employees and was able to serve her children at home.
Football in the genes
It's a promulgated fact that Leki is the brother of the other three football players.
Though his father was 5 feet 8 inches, he and his brother inherited the height thing quite bizarrely. All the brothers aced to having a height of at least 6 feet 5 inches.
Joe and Anthony were the first to play football. Joe, taking up the advice of the counselor, ended up playing at Illinois to get his frustration out.
Anthony made way for Arizona and West Georgia. His younger brother, David, plays at Utah. They also played Rugby and were titled All-American.
Besides being a football player, his elder brothers established themselves as the best father figure in the absence of their birth father to Leki.
How old is Leki Fotu? Age, Height & Body Measurements
Having been born in 1998 makes Leki's age 24 years currently. Likewise, the talented athlete shares his birthday on August 23, making his birth sign Virgo.
Standing 6 feet 5 inches tall with 323-pounds, Leki has it all. He has speed, length, and athleticism that have helped him make a mark on the ground.
Fotu has a good workout routine and he spends adequate time at the gym and training.
Now, talking about his strength and abilities, Leki has quick feet to work through the trash at the line of scrimmage and stay off the ground.
Likewise, according to the NFL scouting report, he has the ability to move side-to-side down the line to make plays against the run.
All in all, Leki enjoys every moment of his career in every match and does what he does the best.
Leki Fotu | High School Career
Leki was a big-time rugby player before. He played on the USA Rugby Boys High School All-American team and shared training with the London Wasps' in 2013.
Likewise, he also played basketball during his youth, all dunking and breaking backboards.
His mother used to drive him to Redwood City to play for the local rugby club from San Leandro. Leki was the finest player on the rugby team with his powerful lower body.
It was merely tough for his opponents to stop him when he had the ball. All loved Leki because of his performance. Not to mention, Leki was a high school football player too.
However, he did not play in the middle of school but took up the sport as a freshman at San Leandro High School.
The family was slowly overcoming the unbearable loss, but soon an unfortunate financial crisis hovered them.
Leki's mother, Toa, was unable to afford the San Leandro house, and they had to move into a relative's house at Herriman, Utah.
Losing their house in California was a wake-up call to Leki. He had to manage things again all over.
His two older brothers were in college, and it was just him, his uncle, his mom, his younger brother in the house.
Not knowing where to live how to survive was a different kind of trouble.
After understanding that his mother was going through a financial crisis, Leki decided to go back to football as a main to acquire his education.
He then soon joined Herriman high school and came in contact with coach Dustin Pearce.
Leki served as the defensive end and sporadic tight end for the Herriman team. His team went on grabbing the Utah 5A state championship in his senior year.
Leki Fotu | College Career
Leki went on to choose Utah over USC, Brigham Young, and Oklahoma State. Selecting Utah was an easy decision for Leki.
When they migrated from California, Utah was the only school and first school to offer him and stayed with him from the start.
His action was just a result of his loyalty. Well, he just proved himself from the very beginning, as a freshman, when he appeared for his first game.
He went on playing from defensive end to offensive tackle. But in the end, Leki instead opted to play defensive tackle and grabbed the starting spot.
By his junior season, he was titled to first-team all-Pac-12 Conference. Notably, ESPN also named him a preseason All-American.
After venturing for a game against California Golden Bears Football, Leki grabbed the "Pac-12 Defensive Player of the Week" after scoring a 13- yard sack.
Further, the Associated Press titled him with the honor of second-team midseason All-American.
You can find the college stats of Leki Fotu on the ProFootballReference website.
Leki Fotu | Professional Career
Arizona Cardinals hired Leki in the fourth round with the 114th overall pick of the 2020 NFL draft.
Later, he was placed on the injured list due to an ankle injury on November 14, 2020. However, he was back on the field on December 5, 2020.
In Week 15, Leki was positioned against Philadelphia Eagles; he earned his first career sack on fellow rookie Jalen Hurts with a 33–26 win.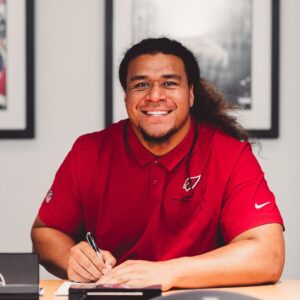 Not to mention, Leki might look huge with that bulky biceps and exaggerated body coming out of his fitting uniform and long hair flowing from his helmet.
But what's on the inside, no one knows. He is a giant body in a tender soul. Only he knows that his wounds can be healed by playing hard and living a good life.
Before hopping in the ground, Leki prays, and that prayer is slightly a decent conversation to his father and younger sister Emma in heaven.
He still misses them a lot. No one can come and occupy their spot in his life. Leki has dedicated all his hard work and effort to his sister Emma.
"13 years have gone by, but her memories are not gone."
His performance would be a tribute to her. At times, Leki plans to go back and share that moment with his dad and his little sister back in the Bay Area, where they're buried at.
Don't forget to check out another interesting article: <<Ronaldo Souza- Early Life, Professional Career, Net Worth & UFC >>
Leki Fotu | Personal Life
Well, after having a deeper and lost conversation about his dreadful past and NFL career, it's a must for us to let you know about his relationship status in brief.
On the top, many would also love to know about his affairs only if he had one.
Keeping this topic in our head, we tried surfing the internet searches, but we could not hint at his private affairs, relationships, and girlfriends.
Leki has seen a lot in his life, from financial lack to losing his most loved ones.
As his fans, we can only pray that the one who is going to stay in his life forever may that girl erase all the pain and hardships with her love for our NFL talent Leki.
Leki Fotu | Net Worth and Salary
Without any further ado, let's grab a straight gossip on his net worth and salary section.
Aligning with facts and figures available on Spotrac.com, Leki Fotu has inked a 4 years contract with the Arizona Cardinals worth $4,068,472.
This contract offers him a $773,472 signing bonus, $773,472 guaranteed, and $1,017,118, an average annual salary.
For further salary predictions in the coming years, please click here.
When asked about…
Here, a few questions were asked to Leki, and he ended up answering this way. This is all mentioned based on the site named 247 sports.com.
When asked about the animal who could talk and be the rudest at the same time, Leki answered pig as it stays in the mud and probably gets irritated.
When asked about the walk-up football song just as baseball has, Leki's favorite song would be "Adorn" by Miguel.
He loves listening to this song whenever he is in his car. It has badass music.
When asked about the title of your autobiography, Leki answered the Front line.
And furthermore, if he is ever asked to play in a movie version of his life. He answered Jackie Chan as he loves him. There is no way with a question mark.
Social Media Presence:
Leki is fairly active on social media. We can surely get connected to him on his Twitter account. By that, we mean Leki seems to be fairly available on Twitter.
A whopping number of 3,517 followers are there on his Twitter account. You can click on @LekiFotu to give him a follow.
Additionally, you can find Leki on Instagram as L. Fotu (@leki_beki), with 9.4k followers, and also, do catch him on Facebook by clicking here.
Also, read another interesting article: <<Alize Johnson Bio: Early Life, Career, Stats & Net Worth >>
Some FAQs:
What is Leki Fotu's jersey number?
Leki Fotu features in jersey number #95 while playing for the professional football team Arizona Cardinals.
What was Leki Fotu's NFL Draft?
The professional football team Arizona Cardinal drafted Leki Fotu in the fourth round as the 114th overall pick in the 2020 NFL Draft.
What are the NFL statistics of Leki Fotu?
Leki Fotu has a total of 11 tackles and one sack to date.