Eight-time world Jiu-Jitsu Champion Ronaldo Souza is a Mixed Martial Artist from Brazil who competes in the UFC.
He is considered one of the best in the Light Heavyweight division of the UFC.
This ruthless fighter from Brazil has already taken the Strikeforce by storm as he is the Middleweight Champion.
He is not just hailed as one of the best fighters in UFC for nothing. Notably, he has defeated UFC champions like Vitor Belfort, Robbie Lawler, Chris Weidman, and many more.
Let's look at some quick facts about Souza before looking at his life in all his glory.
Ronaldo Souza | Quick Facts
| | |
| --- | --- |
| Full Name | Ronaldo Souza dos Santos |
| Nickname/Moniker | Jacaré (Alligator) |
| Birth Date | December 7, 1979 |
| Birth Place | Vila Velha, Espírito Santo, Brazil |
| Religion | Christian |
| Nationality | Brazilian |
| Horoscope | Capricorn |
| Father's Name | N/A |
| Mother's Name | N/A |
| Marital status | Married |
| Wife's name | Larissa Carvalho |
| Children | Yes, three children. |
| Age | 44 Years Old |
| Height | 6'1″ (185 cm) |
| Weight | 84 kg (185 lbs.) |
| Reach | 72 inches (193 cm) |
| Body type | Athletic |
| Eye color | Dark Brown |
| Hair Color | Black but generally Bald |
| Profession | Mixed Martial Art (MMA) Fighter |
| Current division in MMA | Light Heavyweight |
| Stance | Unorthodox |
| Style | Muay Thai, Brazilian jiu-jitsu, Submission Wrestling |
| Affiliations | Ultimate Fighting Championship (UFC) |
| Team/Gym at TUF | Fusion X-Cel Performance |
| Fighting out of | Manaus, Amazonas, Brazil |
| Ranking | 4th Degree black belt in Brazilian Jiu-Jitsus, Black Belt in Judo |
| Active Years in MMA | 2003- present |
| Net Worth | $2 million |
| Social Media | Twitter, Instagram |
| Last Update | December, 2023 |
Where Is Ronaldo Souza From? Early Life and Upbringing
Ronaldo Souza was born in Vila, Velha, Brazil, on December 7, 1979, under Sagittarius' sun sign.
His family later moved to Cariacica, Brazil, where he was raised until he was 15 years old.
As a child, Souza's first love was "soccer," and he used to spend most of the time with friends playing the game.
Furthermore, Souza loved the goalkeeper position in the game. Thus, he had even competed in the competitive level from that post.
However, that part of the country was unsafe and dangerous. As a result, Souza had to go through a rough childhood.
Then came an especially traumatizing incident in his life when Souza had to witness one of his good friends' death as he was shot on the day of his 15th birthday.
Likewise, this incident shook his family, and as a result, he and his mother moved to Manaus in the Amazon to live with his brother.
It was during those tenures when he met his future master, Henrique Machado.
Introduction to MMA
As a short glance on Henrique Machado, he was a BJJ black belt under Osvaldo Alves, and not to mention, he was also the 5th Dan in Judo.
Therewith, Souza began his training under Machado every day, and there he even started Jiu-Jitsu.
Initially, Souza wasn't interested in the game and joked about it as they needed to have too much hugging in the game.
However, after his first few fights in the local arena, he started loving it. Following it, Souza enrolled in the A.S.L.E ("Associação Sensei de Lutas Esportivas") alongside Machado.
Under the firm, Souza competed in many fights until finally moving to the professional arena in 2003.
You might be interested in reading: <<Alan Jouban Bio: UFC, Model, Awards, Family & Net Worth>>
How old is Ronaldo Souza? Age, Height &Body Measurements
Ronaldo Souza is a 44 year old champion who is still active and fighting in UFC as a professional despite being in his early 40s.
Born on December 7, 1979, this champion is a god-loving man who said that he would take it as God's wish and retire officially when he feels like it is time to stop.
Ready to rock the octagon Ronaldo Souza stands at 6 ft 1 inch (1.85m) and weighs around 185 lbs(84 kgs). With his heavy build and incredible speed, he is a fierce fighter.
Souza has got an athletic physique and trained body thanks to his years of training.
Ronaldo Souza | Harnessing the Trauma, UFC & Champion
The Journey Begins
Ronaldo Souza first made his way into the octagon officially was through a missed martial arts competition at the inaugural fight "Jungle Fights" in September 2003.
In his first-ever official match, he was defeated by Jorge Patino by a Knockout.
Souza returned eight months later in Jungle Fights 2 to defeat Victor Babkir under a minute in the first round itself.
Similarly, Ronaldo had his third fight in Jungle Fights 6 in 2006. The fight was with Alexander Shlemenko. He won the fight through an arm-triangle choke submission.
Also, the highlight of 2006 for Souza was when he fought and made a draw with UFC Hall of Fame Randy Couture after a seriously competitive match.
Couture was so impressed by Souza during the match that he invited Souza to train at his gym called Xtreme Couture.
Further, Ronaldo graciously accepted the offer and began training at the gym in Las Vegas.
In the first fight of 2007, Souza successfully won over veteran fighter Bill Vucick at Gracie Fighting Championships: Evolution with submission after strikes.
Moreover, he went on to win two more matches within the next two fights within two weeks, both by submissions that too impressively within the first rounds.
Then 2008 marked a new beginning for Ronaldo Souza as he signed with the Japanese MMA-production DREAM. He participated in the 2008 DREAM Middleweight Grand-Prix.
Further, Souza first defeated Ian Murphy by submission through a rear-naked choke in the first round in the said championship.
This impressive win landed him a spot in the quarter-finals.
Championships
In the quarter-finals of DREAM 4, Souza fought the ICON Sport Middleweight Champion, Jason Miller.
For a long time, the game went on, with Souza continuously dominating and trying to submit. Later, Souza won the match via unanimous decision.
Also, the win with Miller earned Souza a position in the semi-finals, where he fought and defeated Zelg Galesic in the first round through armbar submission.
After defeating Galesic in the semi-finals, Souza accelerated into the finals. This meant that he had a shot at the DREAM Middleweight Championship.
Later, Ronaldo competed against Gerard Mousasi in the finals on the same night he defeated Zelig, but a knockout defeated him in the early half of the first round.
He was knocked out by an uptick when he tried to dive past Mousasi's guard.
After he was done with the competition, he left the Xtreme Couture and moved on to San Diego, California, where he began training with Saulo and Xande Ribeiro.
There he then trained alongside Anderson Silva and Andre Galvao to prepare for Silva's fight with Thales Leites at the UFC 97 happening at Black House.
Furthermore, Ronaldo Souza gave another go at the DREAM Middleweight Championship when he fought in a rematch with Jason Miller at DREAM 9.
This was only possible because Gerard Mousasi left the championship and moved to Light Heavyweight.
The match with Souza and Miller had to be called a no contest because of Miller's illegal attack. It also caused Souza's gash in the head to open up from the impact.
Strikeforce: A better and improved Souza
Ronaldo Souza was ready for Strikeforce. His gameplay was evident as he started strong in the first match at Strikeforce: Evolution, winning with a first-round submission by Matt Lindland.
After his stand-up striking had been improved by the time he started Strikeforce, Souza next went against Joey Villaseñor in 2010 at Strikeforce: Heavy Artillery.
Luckily, he won that fight owing to the unanimous decision. Up next, Ronaldo Souza was against Tim Kennedy at Strikeforce: Houston.
There he was fighting for the Strikeforce Middleweight Championship's empty position.
Moreover, he won through the unanimous decision and became the Middleweight Champion of Strikeforce.
Likewise, he also defended his title for the first time against former UFC Champion Robbie Lawler.
Further, Souza also came out victorious from the match and was successful at defending his championship.
For Souza, the second time was not so lucky as he lost his championship title to Luke Rockhold of the American Kickboxing Academy via unanimous decision.
Later, Souza appeared in the Strikeforce for the sixth time in 2012 as he competed against Bristol Marunde, who lost against Souza with submission in the final round.
Ronaldo impressively took down his next opponent in the Strikeforce as he placed a right-hand punch that knocked out Derek Brunson in 41 seconds.
In his final match at Strikeforce, he had to face UFC Veteran Ed Herman. Souza put up an amazing match as he won due to submission in the first round itself.
This was also one of his most amazing matches as he took down a UFC Veteran that fast in the ring.
Ultimate Fighting Championship (UFC)- Later Part of Souza's Career
In 2013, Ronaldo Souza signed a five-year contract with UFC.
Initially, he was expected to debut opposite Costas Philipou in May 2013 at UFC on FX 8. But, Philipou unexpectedly dropped out, citing injury.
Further, Costas was replaced by Chris Camozzi, who was defeated by Souza in an arm-triangle choke that left the former unconscious in the first round.
Souza also knocked out his last opponent for 2013, Yushin Okami, at UFC Night 28.
For his first fight of 2014, Souza defeated Francis Carmont by a unanimous decision.
However, Souza incurred an injury during training that took at least six weeks for recovery.
The highlight of the year for Ronaldo was when he won the Performance of the Night bonus award after he beat Gerard Mousasi through submission in the third round.
Unfortunately, Ronaldo Souza started on a bad note the next year as he came down with pneumonia.
His list of injuries went on as he also suffered from a ligament and meniscus tear in his knee.
These injuries caused his match to be rescheduled twice before he could fight with Yoel Romero.
Sadly, he lost the match as a result of the split decisions. He also lost the match with returning veteran Chris Camozzi in the brawl.
Ronaldo Souza vs…..
Over the years, Souza faced Vitor Belfort again at UFC 198. He won this specific fight through a knockout in the first round.
Notably, for that fight, Souza was awarded the Performance of the Night Award and bonus.
Ronaldo also went against Tim Boetsch in 2017 and won the fight through submission in the first round.
Similarly, Souza won the performance of the night award and bonus yet again for his brilliant gameplay.
In another match with Robert Whittaker, Souza lost through a knockout in the match's second round.
Likewise, Souza also won another Performance of the Night award and bonus when he knocked out Derek Brunson in 2018 in the main event at UFC on Fox 27.
In UFC 224, Souza fought Kelvin Gastelum and lost via a split decision.
Similarly, he also won the Fight of the Night and Chris Weidman, who he fought with that night because of the brilliant performance by both of them.
But, he lost the match via a split decision. Moreover, Souza also competed with Jack Hermansson and lost the fight from a unanimous decision.
In 2020, Ronaldo Souza had to cancel his match as he got infected from COVID-19. Apparently, he was scheduled to face Uriah Hall for UFC 249 in Jacksonville, Florida.
In December 2020, Souza faced Kevin Holland and lost the match as he was knocked out in the first round.
Don't forget to check out: <<Geoff Neal: Career, Health, Personal Life, UFC & Net Worth>>
Ronaldo Souza | Achievements
Starting during his teenage phase, Souza has achieved numerous feats to date.
Although Souza had his debut match in MMA as a loss, he was always marching forward to gain bigger targets.
As of now, Souza has a fourth-degree black belt in Brazilian Jiu-Jitsu, followed by a Black belt in Judo, both under Henrique Machado.
Not to mention, he is an eight-time Confederacao Brasileira de Jiu-Jitsu world champion.
At present, Souza's stats stand as 26 wins, 9 losses, and 1 no contest among the 36 total games he has played.
Amidst the wins, Souza has eight wins via knockout, fourteen by submission, and four by decision.
Similarly, his losses account to four by knockout and five via decision. Well, below highlighted are the feats achieved to date.
2001 World Jiu-Jitsu Championship (Both gold)
2002 World Jiu-Jitsu Championship (A gold and a silver)
2003 World Jiu-Jitsu Championship (Both gold)
2003 ADCC World Championship (Silver)
2004 World Jiu-Jitsu Championship (A gold and a silver)
2005 World Jiu-Jitsu Championship (Both gold)
2005 ADCC World Championship (A gold and a silver)
2009 ADCC World Championship (Gold)
2011 ADCC World Championship (Silver)
2008 DREAM Middleweight Grand Prix Runner-up
2014 All-Violence Third Team
Strikeforce Middleweight Championship (One time)
Submission of the Night (One time)
Performance of the Night (Four times)
Fight of the Night (Two times)
Ronaldo Souza | Personal Life, Wife & Net Worth
Souza is an extremely private man, and as a result, we don't know much about his personal life.
But, what we do know is that he is married to Larissa Carvallo, and they have three sons together. Souza sometimes shares their pictures on social media with his family.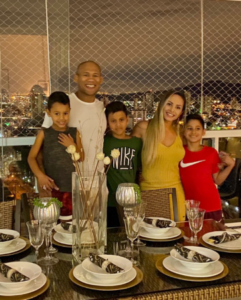 Moreover, Ronaldo is an ambitious man, and this is proven by the fact that he expressed a desire to open up his own Brazillian Jiu-Jitsu Academy in Orlando, Florida.
Also, his net worth is estimated at $2 million, with a career earning of $3,886,500. Additionally, Souza is one of the most paid fighters who earn around $75,000 per fight.
Nickname
Souza is famous for his nickname "Jacare," and many of you may be wondering what it actually means.
To illustrate, Jacare means alligator in Portuguese; likewise, it has stuck to him ever since his teenage phase.
Infact, back in his days, Souza was way focused on training and almost devoted all his time in the gym. Therefore, his friends and teammates started calling him "Jacare."
Apart from it, the reptile, the alligator, is also the symbol of the Associacao Sensei de Lutas Esportivas jiu-jitsu and judo academy in Manaus, Brazil.
Social Media Presence:
Ronaldo Souza is an active user of social media and shares his personal moments with fans from time to time.
Indeed, if you want to get into personal touch with the fighter, check out his social media pages.
Instagram handle (@ronaldojacare): 730k followers
Twitter handle (@jacaremma): 130.7k followers
Also, you can check out his wife's Instagram account, which goes by her real name Larissa Carvalho (@larascarvalho).
Currently, she has 6.8k followers on her page; however, her account's setting is set to private.
Some FAQs:
Where is Ronaldo Souza from?
Ronaldo Souza is from Brazil but currently lives in the USA for his MMA/UFC career.
What is Ronaldo Souza MMA record?
Have a look at the MMA record of Ronaldo Souza.
MMA record
37 matches
26 wins
10 losses
By knockout
8
4
By submission
14
1
By decision
4
5
No contests
1
How did Ronaldo Souza have a broken arm?
Ronaldo Souza suffered a terrible arm injury during his fight against Andre Muniz at UFC 262 on June 18, 2021.