Lester Hudson is an American-born skilled basketball player who is currently active playing for Shandong Heroes of the CBA.
He has been a professional basketball player for fourteen seasons and continues to demonstrate his commitment to the game.
Hudson's incredible basketball talents and enthusiasm for the game have earned him accolades and recognition from his admirers.
Furthermore, Lester has played for sixteen different basketball teams and is a tough competitor on the basketball court.
Hudson's agility, rebounding, and defense abilities have made him a difficult opponent to deal with.
Similarly, his physical power enables him to complete after contact, compete physically and improve his range.
Let's take a look at Lester Hudson's personal life, job earnings, and more, but first, let's look at some quick facts about him.
Quick Facts
Full Name
Lester Hudson III
Birth Date
August 7, 1984
Birth Place
Memphis, Tennessee
Nick Name
Not Known
Religion
Christian
Nationality
American
Ethnicity
Black
Education

Central High school
Southwest Tennessee CC
University of Tennessee

Horoscope
Leo
Father's Name
Not Known
Mother's Name
Not known
Siblings
Two
Age
38
Height
6 feet 3 inches (1.91 kg)
Weight
190 lb (86 kg)
NBA Draft
2009 / Round: 2 / Pick: 58th overall
Hair Color
Black
Eye Color
Black
Career Highlights & Awards

CBA All Import Player First Team (2021)
2× CBA Foreign MVP (2014, 2015)
CBA Finals MVP (2018)
6× CBA All-Star (2012–2017)

Build
Athlete
Marital Status
Married
Wife
Imesia Hudson
Children
Three daughters (

Insley, IIlea, and Iyla

)
Position
Point guard / Shooting guard
Profession
Basketball player
Net Worth
Around $1.5 million
Salary
$862,495
Currently Plays for
Shandong Heroes
League
CBA (Chinese Basketball Association)
Active Since
2009-present
Social Media
Instagram, Facebook , Twitter
Merch
Trading Card
Last Update
March, 2023
Lester Hudson | Early Life & Family
On August 7, 1984, Lester Hudson was born in Memphis, Tennessee. Any information about his parents, on the other hand, is entirely private.
Similarly, Hudson has two siblings, a younger brother, and an elder sister. His elder sister, Cocoa Hudson, is someone he adores and often praises and appreciates for taking care of him since he was a youngster.
Lester's grandparents adored him, and because he was so close to them, his grandfather frequently asked about him and wished to spend time with him. Similarly, his grandmother Dorothy V. Hudson passed away in 2015.
Hudson also came from a challenging background, where he had to wear Payless shoes and spend the majority of his time working out to get to where he is now.
Lester adores his parents, especially his mother, whom he constantly acknowledges and appreciates for shaping him into today's person.
Furthermore, any other information about his childhood or relatives is unknown yet.
Lester Hudson | Basketball Career
Early Career
Lester Hudson attended Central High School in Memphis, Tennessee, where he was born and raised.
After graduating from high school, he began his collegiate study at Southwest Tennessee Community College.
Similarly, he transferred to the University of Tennessee to complete his academic degree after two years at Southwest College.
His devotion and hard effort helped his team progress in games and qualified them for the OVC Tournament.
Lester was also the first Division men's player to record a quadruple-double in a collegiate game, thanks to a series of fortunate college seasons.
Furthermore, he recorded a triple-double in a league during his rookie season and concluded the season ranked seventh nationally in assists per game.
Lester has received several trophies as a result of his enthusiasm for the game of basketball. He was the first player from UT Martin to be named OVC Player of the Year.
Hudson was also named the OVC All-Newcomer team and the OVC All-Newcomer team in the 2008-09 seasons. He was also named All-American by the Associated Press and collegeinsider.com, making him the first athlete in the history of UT Martin to do so.
In addition, he declared for the 2008 NBA Draft but later decided to withdraw.
Professional Career
In terms of his first professional season, he was selected by the Boston Celtics in the 2009-10 NBA Draft, and he then opted to manage his time between the Celtics and the Maine Red Claws.
During his game with Toronto Raptors, Lester was replaced with one of his Celtics teammates who was injured. Before being claimed by Memphis Grizzles on January 8, 2010, Lester was waived by the Celtics.
Lester was able to play with several teams in a year after being assigned to the Dakota Wizards in February and competing for the Washington Wizards during the NBA's 2010 Summer league.
Similarly, Hudson appeared in six games with the Wizards and resigned from a deal in December 2010.
He signed a deal with the Guangdong Southern Tigers in China for the 2011 season before moving to the Qingdao Doublestar, a Chinese team, in November 2011.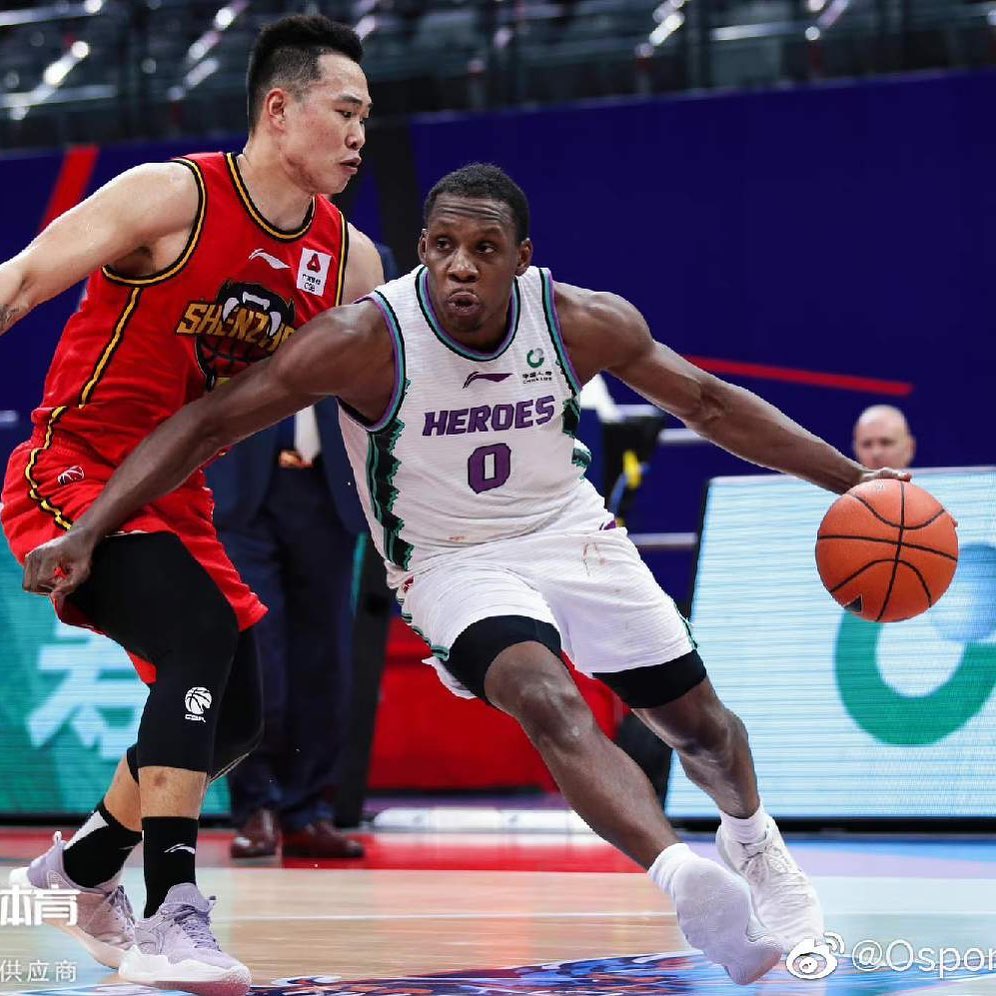 Speaking of his 2012 season, Lester signed a 10- days contract with Cleveland Cavaliers. When his contract expired, he joined the Memphis Grizzlies and Dongguan Leopards in China, continuing to play in the 2012 season.
Lester was signed by the NBA D-League's Austin Toros in 2013 and then played with the Utah Jazz and Xinjiang Flying Tigers, finishing the season in 2013.
In the 2014-15 seasons, Hudson played with Liaoning flying Leopards and signed with the Los Angeles Clippers with a ten-day contract in March 2015.
Moreover, he signed a multi-year deal with them and was waived in July. Lester returned to Liaoning Flying Leopards with a three-year contract and again signed in August 2018.
Furthermore, he has played with Shandong Heroes since 2019 and has performed admirably for the squad, resigning with them in 2020.
Awards & Recognitions
Lester, a professional player, has worked hard with passion and a desire to provide for his family. Throughout his career, his efforts have earned him various honors.
The following are some of Lester Hudson's awards and career highlights:
CBA All Import Player First Team (2021)

2×

CBA Foreign MVP

(

2014

,

2015

)

CBA Finals MVP

(2018)

CBA B

e

st Defender

(2015)

6×

CBA

All-Star (

2012

–

2017

)
Lester Hudson | Age, Height & weight.
Hudson is presently 38 years old, yet he continues to play and contribute to the profession in his 30s.
Lester stands at 6 feet 3 inches tall, which is rather impressive. As a basketball player, his excellent height allows him to score effortlessly.
Hudson's exceptional height is also a genetic gift from his father, who was always taller than him.
He works out three times every day and is careful about his practices and workouts when it comes to his fitness regimens.
Lester wants the young people who lack skills but have the will to succeed, saying, "Keep trying, and you will all get there."
Similarly, Lester weighs around 190 pounds (86 kg).
Also, read about Chris Paul's Bio: Contract, Stats, Net Worth & Wife>>
Lester Hudson | Net Worth
Hudson has been earning a good amount by actively playing with different basketball teams.
Furthermore, his actual net worth is unknown, but it is assumed to be $1.5 million.
Lester has earned $862,495 in total earnings while playing for several NBA teams. On hoopshype.com, you can also look into his previous salary history.
Also, read about the Top 10 Point Guards in the NBA>>
Lester Hudson | Personal Journal
Speaking of Lester Hudson's love life, Lester has been married to his long-term fiancée, Imesia Hudson, for the past six years and is the father of three lovely daughters.
After having two daughters, Insley and IIlea Hudson, the couple planned their wedding in 2017 and welcomed their third child, Iyla, in 2019.
Hudson's family is as happy as ever, and Lester misses his family every time he has to go to a game. His Instagram bio also reads, "Father first," emphasizing how much he adores his kids.
Love For The Loved Ones
Lester also shares a great bond with his parents and siblings. Lester's mom, whom he praises and appreciates in most of his posts, sadly demised in 2021 because of cancer, where he expressed his grief through his Instagram post.
Moreover, Hudson's younger brother owns a Landscape company, which provides services for all residential and business landscaping and commercial cleaning. According to his Instagram handle, his name is M. Hudson.
On the other hand, Lester purchased a McLaren in 2018 worth over $2,99,000, which he flaunts on his Instagram post. Similarly, He also posted a photo of Tesla, which he gave his wife, Imesia, as a surprise gift.
Social Affairs
Hudson has also prepared a Back to School Bash event in August 2019, focusing on children participating in school supplies giveaways, face painting, and other fun activities.
Furthermore, Lester Hudson was also arrested at a protest in Memphis against the death of George Floyd. He is charged with three counts, including unauthorized possession of a firearm.
Also, as per the report, after CBA final game, Lester Hudson's Chinese team was involved in a hotel altercation with visitors in 2017.
Social Media Presence
Lester Hudson has constantly communicated with his followers via social media sites such as Twitter, Instagram, and Facebook.
Similarly, Lester has a verified account on his social media except for Facebook.
Furthermore, since his last post in 2015, he has not utilized his Facebook account.
You may follow him on social media by clicking on the following link:
Instagram : 22.1k followers
Facebook :2,093 followers
Twitter: 10.4k followers
Frequently Asked Questions (FAQs)
What is Lester Hudson's wingspan?
Lester Hudson has a wingspan of 6'9.
What are Lester Hudson's jersey numbers?
Lester Hudson wore a jersey number of 26 with Celtics, 14 with Cavaliers, Grizzlies, Clippers, 3 with Wizards, and 25 with Grizzlies.