Every American football fan should know one or two things about Ryan Fitzpatrick, the quarterback that is currently folding his trade with Washington Football Team.
Unfortunately for his wife, Liza Barber, this is not the case, almost nothing is known about her, but it ends here.
Liza Barber Fitzpatrick is a former college football player, a football fan, and the wife of the fine quarterback.
Ryan has always described her as his biggest supporter and backbone. Here are some interesting facts you would love to know about her.
Liza and Ryan have been together since their time at Harvard University. The lovely couple is also the parents of seven children.
Further, Liz's currently enjoying a whopping net worth of $24 million, which her husband has earned. Scroll the article till the end to learn more about Liza Barber's profile.
Quick Facts:
Full Name
Liza Barber
Birthdate
Unknown
Birth Place

West Des Monies, Lowa

Nickname

Liza

Nationality

America

Ethnicity

White

Father's name
Unknown
Mother's name
Unknown
Siblings
Unknown
Profession

Housewife

School
Valley High School
University

Harvard University

Marital Status

Married

Husband

Ryan Fitzpatrick

Children

Seven

Net worth

$25 million (Ryan Fitzpatrick's Net Worth)

Merch of Ryan Fitzpatrick

T-Shirt

, Trading Cards
Last Update
November, 2022
Liza Barber | Early Life, Childhood & Education
Very little is known about Liza until she meets Ryan. Her date of birth is unclear, and she has not disclosed any information about it.
Nothing much in particular is known about her childhood and early life and the kind of family she comes from. She is very private regarding her personal life.
Liza is believed to spend most of her childhood in West Des Monies, Lowa, USA. However, the exact and factual details about her date of birth are still behind stone.
Moreover, Liza is of American nationality and belongs to a white ethnic community. She has not yet shared any details about her parents and siblings.
Also, Barber has been so intrigued by soccer since a young age. She used to play soccer at Valley High School and also held a scholarship at Harward University.
Further, she completed her college degree in 2005. She graduated with an English degree from Harvard.
Barber played for her college and was captain of her squad in 2004 and chief of the defense unit in her final year in 2005. Before graduating, Liza Barber was already an 'All American' player.
Not much of her post-college life is also known except that she is now a housewife to NFL's quarterback, Ryan Fitzpatrick. And, she seems to love every bit of it from the look of things.
Liza Barber | Nationality and Ethnicity
Since Liza's birth date is not available, we can't tell what her sun sign is. She is an American and is of white ethnicity. Barber is a beautiful woman with a dashing personality.
We are also not aware of her exact height but looking at her pictures, she seems to be of average height, and as she was an athlete, she has a fit body shape.
Even after being a mother to six children, Liza looks perfectly fine and beautiful. She has an attractive personality and a beautiful smile.
Also, check out: <<Louis Riddick Bio: Wife, Career, Net Worth & Personal Life >>
Liza Barber | Professional Career
Ok, Liza's career still remains unknown to us. Possibly, she is busy looking after her kids. But her husband is professionally active, playing NFL football.
Furthermore, he was first selected by St. Louis Rams as the 250th overall pick in the seventh round of the 2005 NFL Draft.
Talking about her husband's career, he's represented various teams, including Cincinnati Bengals, Buffalo Bills, Tennessee Titans, Houston Texans, New York Jets, and Tampa Bay Buccaneers.
Further, he has played for 14 seasons so far and is currently playing for Miami Dolphins.
Liza Barber | Relationship, Marriage & Children
Yeah, Liza is the stunning wife of Ryan Fitzpatrick, the famous NFL quarterback. The pair first met at Harvard University during their tenure.
The couple both graduated in 2005 and lived together after graduation, keeping secrets about their relationship. The couple subsequently announced their engagement in 2006.
Ryan proposed to her in November 2006, although he said that he proposed earlier than he wanted because he and Liza had a joint account after moving in together.
What does it even have to be a question? We are going to tell you.
Ryan purchased from their joint bank account an engagement ring, which made him feel a little awkward.
When Ryan proposed to Liza to marry him, some funny moments occurred. The LA Times, a prominent newspaper, wrote:
"Fitzpatrick purchased a ring with money from a joint bank account that he and Barber shared. He hid it somewhere in his car, then picked it up for a day's shopping at the St. Louis mall.
"They stopped at a clothing store, the clerk unintentionally double-charged it, and Barber said she didn't care because she would check the account online when she got home."
Anyway, he got the ring and hid it, hoping to propose at the right moment. But then, they went shopping, and the clerk of a clothing store at St Louis mall, L.A., mistakenly paid double.
Liza told the clerk that, when she got home, she would check whether the money had been returned.
Now Ryan was left with no choice but to propose until she finds the missing sum that will eventually ruin her surprise.
He finally proposed a 'McDonald's' joint while Liza was munching her favorite chicken nuggets.
The couple got married in the same 2006, but nothing is known about the wedding venue, or even the exact date they became a man and woman.
We can only affirm that they have become life partners before family members and a couple of friends.
Children
Liza and Ryan have a huge family for an American couple, having seven children; 4 girls and three boys. Their children's names include Ruby, Maizy, Zoey, Lucy, Tate, and Brady.
The family's new member, their youngest son, was born in January 2019, and they have said nothing about his name to the media.
Miami Dolphins quarterback Ryan Fitzpatrick has a busy life with his partner, Liza Barber.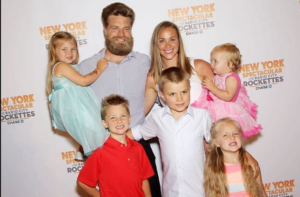 When Ryan does not run offense against the Dolphins, he still has plenty to do with the seven kids of the couple.
During the offseason, Ryan's family made headlines when the quarterback noticed his dad's birthday was tied to birthday parties for his friends.
You might also want to read: <<Tyler Ulis Bio: Early Life, Career, Net Worth & Social Media >>
Liza Barber Husband Ryan Fitzpatrick | Quick Facts
Born on November 24, 1982, in Gilbert, Arizona

Raised by his parents in Gilbert

Birth under Sagittarius

Stands at a height of 6.16 ft.

Attended a local high school and started playing football during his middle and high school days

Attended Harward University and Studied Mathematics

Started his career for St. Louis Rams

Played as the backup for Neil Rose.

He won IVY league MVP honors.

Played for teams like Cincinnati Bengals, Buffalo Bills, Tennessee Titans, Houston Texans, and New York Jets

Currently plays for Tampa Bay Buccaneers.

His net worth is believed to be around $25 million.
Liza Barber | Net Worth and Salary
Well, we are unfamiliar with Liza's career and have no information as to whether or not she works as a professional. Yet, she and her husband share a huge net worth of $24 million as of 2019.
Moreover, Barber enjoys an amassed net worth of her husband, which is estimated to be $25 Million as of 2022.
Besides, Ryan signed a 3-year, $7.405 million contract with the Buffalo Bills in 2009.
Moreover, in 2011, Ryan signed a six-year contract that amounted to $59 Million with Raiders, including a $10 million signing bonus.
Speaking of Ryan's contract, he signed a 2-year deal with the Miami Dolphins, $11,000,000, including $7,000,000 guaranteed, and an estimated annual salary of $5,500,000.
In addition, Ryan will receive a $1,500,000 base salary and a $4,000,000 roster bonus, while bringing a $5,500,000 cap hit and a $7,000,000 dead-cap value in 2019.
In addition, he gathered $58,041,098 from his entire playing career. The couple is also the owner of a house in Gilbert, Arizona.
Well, Liza has not made any signing deals or contracts with any luxury brands yet. Also, she lives an affluent lifestyle in the United States, along with her husband and son.
Don't forget to check out: <<Hubie Brown Bio: Game Career, Coaching, Net Worth & Family >>
Liza Barber | Fun Facts
She and her husband have an unspoken rule that their wedding rings can not be taken away for anything. So Ryan is one of the few NFL players wearing his wedding ring even when on the playing field.

As she played soccer all through high school and college, she is a great athlete herself.

Ryan Fitzpatrick claims she's his biggest fan, and he's number one. Often she even gives him some tips about his game.
Social Media Presence:
Sadly, Liza Barber is not present on social media. She lives a very private life and doesn't use any social media handles.
Some FAQs:
Why is Liza Barber famous?
Liza Barber is famous for being the wife of professional football quarterback Ryan Joseph Fitzpatrick.
How many children do Ryan Fitzpatrick and Liza Barber have?
Ryan Fitzpatrick and Liza Barber have seven lovely children: four daughters and three sons.
Which team does Ryan Fitzpatrick play in?
Ryan Fitzpatrick currently plays for the Washington Football Team of the National Football League.