Playing for the world's biggest and best football academy known as 'La Masia' is a dream that millions of children have.
Likewise, to play in 'La Masia,' you must be highly talented and extraordinary. One such player to join Barcelona's La Masia is Louie Barry.
The La Masia is the heritage of world football talent. Moreover, the academy has produced valuable talents like Lionel Messi, Cesc Fabregas, Gerard Pique, and Andres Iniesta.
Louie Barry or Louie Mark Bary is an English professional football player who plays for Aston Villa.
Moreover, Barry is just 19 years old, and he already plays as a striker and winger. Previously Barry had enrolled in Barcelona's and West Brom's academies.
Louie Barry scored a first-half goal against Premier League champions Liverpool on January 9, 2021. After this goal, he gained popularity overnight.
Today, here at Playersbio.com, we will look at some interesting facts about his career, net worth, and personal life. However, first, take a look at some quick facts about him.
Quick Facts:
| | |
| --- | --- |
| Full Name | Louie Mark Barry |
| Birth Date | June 21, 2003 |
| Birth Place | Sutton, Coldfield, England |
| Zodiac Sign | Cancer |
| Nick Name | Louie Barry |
| Religion | Christian |
| Nationality | English |
| Ethnicity | White |
| Father's Name | Unknown |
| Mother's Name | Unknown |
| Siblings | One Sister |
| Education | Bishop Walsh Catholic School |
| Age | 19 years old |
| Height | 5 feet 8 inch |
| Weight | 63 kg |
| Body Build | Lean |
| Hair Colour | Blonde |
| Eye Colour | Light Blue |
| Married | No |
| Girlfriend | Unknown |
| Children | None |
| Profession | Football Player |
| Position in team | Winger/Striker |
| Jersey/kit number | #12 (Ipswich Town Football Club), #19 (Swindon Town) |
| Clubs | Aston Villa, Barcelona, West Brom, Swindon Town |
| Net Worth | $250,000 |
| Social Media | Twitter: @LouieBarry6 Instagram:@LouieBarry6 |
| Merch | Soccer Training Equipment, Soccer Ball |
| Last Update | March, 2023 |
Who is Louie Barry? | Early Life, Family & Education
Louie Barry was born in Sutton Coldfield on June 21, 2003. Moreover, one interesting fact about Barry is that he holds dual citizenship.
Despite being British, he also holds an Irish nationality. Barry's father works at a company in London.
Likewise, there are reports that both Barry's mother and sister are teachers at different schools. Moreover, he is close with his grandmother, who used to take him to church.
As for his education, Barry attended the Bishop Walsh Catholic School. Furthermore, he played different football tournaments at the school level.
How tall is Louie Barry? Age, Height & Physical Appearance
Louie Barry is currently 19 years old. Likewise, as he was born on June 21, his star sign is Cancer.
A person with cancer as their zodiac sign is understood as an open-minded, compassionate, and generous person.
So, how tall is the young, exciting talent who comes from England? As he is just 19, we can say for sure that Barry has a lot of growth remaining in him.
However, currently, the English winger stands at a perfect height of 5 feet and 8 inches.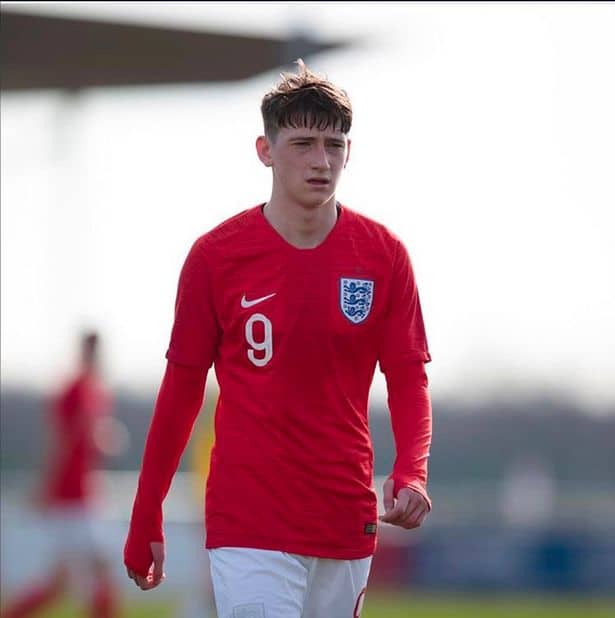 Similarly, the top-rated talent has a lean body. His body physique allows him to make quick runs and cause problems for defenders. Besides, Barry has blond-colored hair and blue-colored eyes.
When did Louie Barry start playing football? Professional Career
Barry and his entire family are fans of Aston Villa. Barry himself has supported Villa his whole life.
Due to this, he grew up watching and supporting the Villains. Moreover, Barry dreamt of playing for the Villas.
You might be interested in reading about: <<Trent Alexander Arnold Bio: Stats, Parents, Injury & Net Worth >>
West Bromwich Albion Academy
Louie Barry enrolled in the academy of West Brom during his childhood years. West Brom is a professional football club that plays in the English Premier League.
Moreover, Barry spent ten years in the academy. Likewise, after coming to the end of his contract, Barry chose to leave West Brom.
Consequently, he chose to sign for the European giants Barcelona's academy La Masia.
Barcelona's La Masia' Academy
Louie Barry joined La Masia or Barcelona's youth academy on July 11, 2019, for a reported fee of £230,000.
Doing so, he became the first-ever English player to join the highly famous academy.
It has been reported that the player snubbed top clubs like Manchester United and Liverpool to play for the Catalans.
La Masia has produced football stars such as Lionel Messi, Pep Guardiola, Andres Iniesta, and Mikel Arteta.
The transfer to Barcelona's academy to play for the Barcelona Under-19 was a piece of big news.
Louie Barry debuted for the Barcelona Under-19 side in October 2019. Moreover, in his debut match, he scored one goal in a 6-0 win against the Ebro.
During his time at Barcelona, Barry featured in the UEFA Youth League and the Under-19 League. Likewise, he contributed to the team by scoring a goal in the UEFA Youth League.
Controversies with the move
Louie's transfer isn't free from any controversies. West Bromwich Albion accused Barcelona of not paying the required fee for the player.
According to the club, Barcelona is yet to pay the agreed amount of £230,000 for the highly-rated player.
However, Barry didn't get to spend a lot of time in the talent hub of Barcelona. Just six months into his move, there were reports regarding his return to English football.
Further, clubs like Aston Villa were actively pursuing a move to bring him back to his boyhood club.
Aston Villa
After things didn't work well in Barcelona, there was huge interest by Aston Villa to sign the player.
Likewise, Louie Barry signed for Aston Villa on January 23, 2020. The signing was made for £880,000 for three years, which could rise to £3.5 million.
The highly-anticipated signing was made for long-term reasons. Barry had been showing great playing ability from a very young age.
As a result, Villa wanted to help him develop and make him a future star. Barry went on to feature in several games for the under-18 and under-23 sides of Villa.
Moreover, he trained with the first team on a few occasions and made cup appearances for the team.
That game against the Champions of England
Unfortunately, on January 8, 2021, ten Aston Villa players were tested positive for the covid-19 pandemic.
Likewise, Aston Villa was scheduled to play Liverpool FC on January 9 in the 3rd round of the 2021 FA Cup.
As Aston Villa didn't have enough first-team players, the academy player had to step up to play.
Consequently, Louie Barry also made a first-team appearance alongside several other academy players. The match was an imbalance from the very first minute.
Aston Villa fielded an in-experienced youthful side against the highly experienced Premier League and Champions League winners.
Moreover, the Liverpool team included stars like Mohamed Salah, Sadio Mane, Roberto Firmino, Trent Alexander-Arnold, and Thiago Alcantara.
The Liverpool side had Bundesliga, Premier League, Champions League-winning experience. In comparison, Villa had a team with an average age of 18 years.
Moreover, Aston Villa's squad was so young that some of them needed to be dropped by their mother and father.
The Goal that changed his fate
During the game, Sadio Mane's header gave Liverpool an early lead. However, Louie Barry scored in the 41st minute after running past Liverpool defender Revan.
Barry used his right foot to score the goal in the bottom right corner. After the goal, Barry and all of his teammates celebrated ecstatically.
Moreover, this goal came as a shock as everyone had thought that Liverpool was going to win the game comfortably.
Despite Barry's goal and the young team's effort, Liverpool played efficiently in the second half with the help of Thiago. Villa went on to lose 4-1.
However, the young Villains were praised by the whole football world for their effort against the mighty Liverpool.
You might be interested in reading: <<Dani Alves: Early Life, Family, Football Career, Wife & Net Worth >>
The Praise and The Reward
The young players of Aston Villa, including Louie Barry, were highly praised for their performances. Many premier league players and pundits praised the youthful side.
Among those to give the praises are Jurgen Klopp, James Milner, Gabby Agbonlahor, and Paul Lambert.
James Milner expressed great compliments for the young Villains. He said the following comments.
"They've done well. They're a good set of lads. They worked hard for each other and showed quality. They're good players; they're at Aston Villa for a reason…"
Likewise, Liverpool manager Jurgen Klopp praised Barry by referring to him as "Little Jamie Vardy."
Further, Barry's goal against Liverpool was voted as the 'Goal of the Round' by BBC Sport readers.
International Career
Louie Barry also has a lot of international experience under his belt. He has featured for England at under-15, under-16, and under-17 levels.
Moreover, Barry has also represented the Republic of Ireland at the Under-16 level.
Similarly, Barry is eligible to play both for England and Ireland. However, he needs to make a decision soon about his full commitment.
Jersey Hassle
After a memorable night of scoring against the Premier League Champions, Barry swapped his jersey with Liverpool midfielder Fabinho. However, he had second thoughts soon after the swap.
Due to the special occasion of scoring in the night, Barry ran back to Fabinho to get his jersey back. Likewise, Fabinho cheerfully agreed and gave back Barry's shirt.
Ipswich Town
In the 2021 season, Barry signed with Ipswich Town on a season-long loan. Further, he made his debut with the team on August 10, with a 1–0 EFL Cup defeat to Newport County.
Swindon Town
Barry signed with professional team Swindon Town on loan on January 28, 2022. He debuted with the team as a second-half substitute on February 1, 2022.
Louie Barry | Highlights &
Honours
2018: Tournoi Val-de-Marne
2018: Tournoi Val-de-Marne – Top Goalscorer
2019: Syrenka Cup
2019-2020 (Barcelona U19): División de Honor Juvenil
2020–21 (Aston Villa U18): FA: Youth Cup
2021: Premier League 2 – Player of the Month
Is Louie Barry Dating? Personal life & Relationship
There are a lot of questions regarding the dating life of Louie Barry. Despite the huge interest, there is no concrete information regarding the girlfriend of Louie Barry.
Likewise, with new developments, we at PlayersBio will update the information about his relationship status.
What is Louie Barry's Net Worth? Net Worth & Salary
Louie Barry has accumulated his net worth through his playing career. Although the player has minimal professional experience, he still has played on many levels of football.
Moreover, Barry also has a few sponsorships and endorsements to his name.
"ACCORDINg TO VARIOUS ONLINE SOURCES, LOUIE BARRY HAS A NET WORTH OF $250K as of 2023. "
Louie Barry | Social Media Presence:
Louie Barry is quite active on social media. Moreover, the player uses Twitter and Instagram as his primary social media platforms.
Likewise, the player has a huge fan following on his social media accounts. On Instagram, Barry mostly posts about his training and game pictures.
Moreover, he also posts his in-game pictures and pictures of his friends and family. Also, he has a huge fan following of 148k followers.
Likewise, Barry has a fan following of 23.7k followers on his Twitter profile. Similarly, his tweets and re-tweets are mostly related to football. He also tweets about his vacations and training pictures.
You can follow Louie Barry on Instagram at @louiebarry. Moreover, you can connect with him on Twitter through @LouieBarry6.
Don't forget to check out another interesting article: <<David Luiz: Family, Wife, FIFA, Injury & Net Worth >>
Louie Barry | Some FAQs:
Who is Louie Barry's agent?
Louie Barry's agent is Elite Management Agency.
What is Louie Barry's current team?
Louie Barry currently plays for League One club Ipswich Town, on loan from Premier League club Aston Villa as a striker and winger.
Why did Louie Barry leave Barcelona?
Louie Barry left Barcelona due to a lack of playing timer. Moreover, strong interest from Aston Villa solidified his move back to England.
What rating does Louie Barry have in Football Manager 20?
Barry has a rating of 40/100 in the latest edition of Football Manager 20.
Is Gareth Barry the dad of Louie Barry?
Although Gareth Barry and Louie Barry share the same surname, they are not related.
Did Louie Barry score a hat-trick for Aston Villa?
Louie Barry scored a hat trick for Aston Villa with a win over Newcastle United in the 2021 season.
What is Louie Barry's goal record in 2021 for Aston Villa?
Louie Barry has 11 goals in 13 appearances for Aston Villa in the 2021 season.
What is Louie Barry's market value?
According to the TransferMarkt website, Louie Barry's current market value is €1.00m.
What is Louie Barry's FIFA 21 and FIFA 22 rating?
Louie Barry is a rising player who plays for Aston Villa. Professionally, he has very few league matches to his name. Likewise, he is in the process of gaining more exposure and experience.
Moreover, Louie Barry's overall rating in FIFA 21 was 62, with a potential of 83. Likewise, his overall rating in FIFA 22 is 63, with a potential of 83.