Once considered a Chelsea flop, Mohamed Salah is now one of the best football players in the world.
There aren't any single major big clubs that wouldn't want his service. In the player's market, his value has skyrocketed thanks to his amazing performance every season.
Salah has already played for seven different clubs winning UCL, Premier League, Club World Cup, Swiss League, and UEFA Super Cup.
But Salah's journey to becoming a feared Premier league winger has not been simple. Even to reach training, it would travel 4-5 hours bus journey during his childhood.
He also had unsuccessful spells in Chelsea. However, Salah rediscovered his form while playing for Italian clubs Florentina and Roma.
Later, after joining Liverpool, he evolved as a world-class player. He became PFA Players Player of the Year and 2 time Golden Boot winner playing for Liverpool.
Moreover, in the 2017-18 season, Mohamed Salah netted 32 goals breaking the record for most goals in a single Premier League season.
Salah has also been named CAF African Footballer of the Year and BBC African Footballer of the Year for two consecutive years, 2017 and 2018.
Likewise, his five goals in the 2018 World Cup Qualifying campaign fired Egypt to World Cups finals for the first time since 1990.
He has initiated many charity events to help eradicate poverty in his hometown.
Before exploring Salah's professional journey and personal life deeply, let's have a glance at his quick facts.
Quick Facts:
| | |
| --- | --- |
| Name | Mohamed Salah Hamed Mahrous Ghaly |
| Date of Birth | 15 June 1992 |
| Birth Place | Nagrig, Basyoun, Egypt |
| Nick Name | Egyptian king |
| Age | 31 years old |
| Gender | Male |
| Religion | Muslim |
| Nationality | Egyptian |
| Ethnicity | Unknown |
| Horoscope | Gemini |
| Profession | Footballer |
| Height | 5 ft 9 inches (1.75m) |
| Weight | 71kg (156.59 lbs) |
| Body Mass Index (BMI) | 23.1 |
| Build | Athletic |
| Hair Color | Black |
| Eye Color | Black |
| Tattoo | No |
| Father Name | Salah Ghaly |
| Mother Name | Unknown |
| Siblings | Nasr Salah (brother) |
| Relationship | Married (Magi Sadeq) |
| Children | Daughters (Makka and Kayan) |
| Preferred Foot | Left |
| Playing Position | Right Wing |
| Agent | Ramy Abbas Issa |
| Professional Debut | 3rd May 2010 |
| Team | Liverpool |
| Old Clubs | Al Mokawloon, Basel, Chelsea, Florentina, Roma |
| Salary | €200k per week |
| Net Worth | €70 million |
| Transfer Market Value | €120 million |
| Shoe | Adidas |
| Social media | Instagram, Twitter, Facebook |
| Jersey Number | 11, 10 |
| Liverpool Merch | Jerseys, Keyrings, Funko Pop, Hoodies |
| Last Update | November, 2023 |
When was Mohamed Salah born? Early Life & Family
Mohamed Salah was born on 15 June 1992 in Nagrig, Basyoun, Egypt. He was born to a proud father, Salah Ghaly, while his mother's name is unknown.
Besides his parents, Mohamed also has a brother named Nasr Salah, who he used to play football in his early years.
Salah started playing football at the age of 7. Growing up, he watched football games, mostly Champion League.
Moreover, he would try to imitate Ronaldo, Zidane, Totti while playing with friends on the street.
Long Bus Journey
Firstly, Salah signed used to play for the club just half an hour far from his village. Later, he signed with Tanta on 1.5 years deal.
During childhood, he participated in many local tournaments. But, Pepsi League was a game-changing tournament for Salah.
His game impressed the scout from Contractors FC based in Cairo. Then they immediately offered him a contract. Later, Salah joined their academy.
To reach an academy it used to take 4-5 hours by bus. So, Salah missed most of his schools because of training. He only used to study for 2 hours at school from 7 am to 9 am.
"Salah changed about 4 to 5 buses to arrive at the academy or reach Back home."
He used to reach training at 2 or 2.30 pm. Later, training would start at 3.30 ending at 6 pm. Finally, he used to reach home at 10 or 10.30 pm.
Salah used to repeat the same routine five days every week for 4 years. Because of his tight schedule, he didn't get a chance to spend much time playing football with his peers.
How old is Mohamed Salah? Age, Height & Body Measurement
The Egyptian king was born in the year 1992, which makes him 31 years old. Likewise, Salah shares his birthday on June 15, making his birth sign Gemini.
Salah has undergone a huge body transformation over the years. Moreover, Salah has definitely spent a large amount of time evolving from a skinny to a physique body.
His packed muscular mass has improved his strength to deal with the physicality demand of the premier league.
Salah, in an interview with CNN, shared his workout plans. He wakes up early for training and comes early to the training facility for 2hours of therapy or massages.
Likewise, after that, he goes to the gym. Later after completion of training, he again does some recovery and stretching.
Furthermore, Salah also mentions he is careful with his nutrition. His die varies from matches, including factors like travel, time.
Salah stands 5 ft 9 inches (1.75m) and weighs around 71 kg (156.59 lbs). Likewise, after computing his height and weight values, his BMI is 23.1.
Nowadays, tattoos have become a tradition in football. But, Salah doesn't have one mainly because he is Muslim as Islam forbids tattoos.
Likewise, he doesn't change his hairstyle. He always keeps his hairstyle to trademark bushy curls.
Don't forget to check out: <<Djibril Cisse Bio: Career, Injury, DJ & Net Worth >>
Mohamed Salah | Professional Career
Professional Debut
After, Mohamed Radwan, Al Mokawloon manager, noticed 15 years old Salah was moved to the senior squad.
Then Salah was provided with special diet and training programs for his muscle growth. Later, at the age of 18, Salah made his senior debut for the club on 3rd May 2010 against Mansoura.
Further in the 2010-11 camp, he started gaining more minutes on the pitch. But he struggled to score goals.
Because of his goal-scoring struggle, Salah sometimes cried in dressing rooms after matches.
However, Radwan always motivated him to thrive for success. On 25th December 2010, he scored his first goal for the club in a 1-1 draw against Al-Ahly.
"I always like to put myself under pressure to improve more." -Mohamed Salah quotes
FC Basel
After the 2011-12 Egypt football league's cancellation, Swiss club FC Basel organized a friendly game against the Egypt U-23 side.
Although he didn't play the second half, he scored a brace to help Egypt secure a 4-3 victory. Later, Basel invited Salah to a week-long training camp.
Then on 10th April 2012, Salah joined Basel for 4 years deal. But in the beginning, he found it difficult to settle because of a language barrier.
Salah made his Basel debut on 8th August 2012, in UCL preliminary game against Molde. Later, in a 2-0 win over Lausanne, he netted his first goal for the club on 18th August 2013.
First Silverware
In his first season for Basel, he scored 5 league goals in 29 matches, winning the domestic league title.
Likewise, in the next season, also he helped Basel win the league for 5 consecutive seasons scoring 4 goals in 18 matches.
Chelsea Flop
On 23 January 2014, Salah joined Chelsea for a fee of £11 million. Likewise, he became the first Egyptian to play for Chelsea.
Salah scored his first-ever Chelsea goal in the London derby against Arsenal on 22nd March 2014.
Before starting the 2014-15 season, he changed his jersey number from 15 to 17. But he rarely played in that season.
Later, after his poor performance against Shrewsbury Town, Salah and Schurrle were publicly criticized by Jose Mourihno.
However, despite making just 3 appearances for the club, he was provided a replica Premier League winner.
During Salah's spell in Chelsea, he spent most of his on loan. However, having huge potential, Salah was not used by Mourihno.
Loan to Italian Clubs
Florentina
On the 2015 January transfer, Mohamed Salah joined Florentina on an 18-month loan. To honor Port Said Stadium victims, Salah wore 74.
In his first start for Florentina on 14 February, he contributed a goal and assisted in a 3-1 win over Sassuolo. During 6 months period only he scored 6 goals in 16 matches.
Later, Florentina activated the option to make his loan move permanent. However, Salah refused to return and join the fellow Italian club Roma instead.
Roma
On 6 August 2015, Roma signed Salah for a €5 million season-long loan with a permanent deal option later. Since his time at Roma, he started wearing 11 jersey numbers.
During his first season, Salah won Roma 2015-16 Player of the Year. Over 42 games, he scored 15 goals helping the team qualify for UCL.
Before the beginning of the 2016-17 season, Roma triggered the option to make his loan move permanent for €15 million.
On 6 November 2016, Salah netted his first career hattrick in a 3-0 win against Bolongo.
Despite scoring 15 league goals, he could not help Roma clinch the Seria A title as they fell just 4 points behind Juventus.
Return to England
Individual Success Campaign
On 22 June 2017, Mohamed Salah joined Liverpool for £36.5m, breaking the club fee record previously spent £35m on Andy Carroll.
Salah then scored on his premier league debut in a 3-3 draw against Watford. Later, on 18 March 2018, Salah scored his first Liverpool hattrick in a 5-0 victory over Watford.
In that match, he scored 4 goals. That game helped Salah broke the club record of 36 goals in the debut season.
"Mohamed Salah won 2017-18 golden boot scoring 32 goals"
Mohamed's 32 goals are the most scored by any player in a single premier league season.
The 2018 UCL final has a sad ending for Salah as he was injured in just the 30th minute. The match finished 3-1 defeat to Real Madrid. However, he was named in the 2018 World Cup final squad.
Although Liverpool could not win any titles in the 2017-18 season, he collected some individual trophies.
Firstly, Mohamed Salah was awarded PFA Player of the Year, and then he also won Premier League Golden Boot award.
Champion League Winner
Despite being shortlisted in UEFA Men's Player of the Year, UEFA Forward of the Season, and The Best FIFA Men's Player of the year, he went home empty-handed.
However, his winning goal against Everton helped him controversially win the 2018 FIFA Puskas Award.
There was an online protest for that decision. On 24 October, Salah scored a brace against Red Star Belgrade in UCL.
Moreover, his two goals helped him become the fastest Liverpool player to reach half-century goals. Salah only took 65 games for it.
On 26 April 2019, Slah made his 100th Liverpool appearance against Huddersfield Town, scoring twice in a 5-0 win.
He scored 22 goals in the 2018-19 campaign. Later, Salah, alongside Mane and Aubameyang, was named golden boot winners.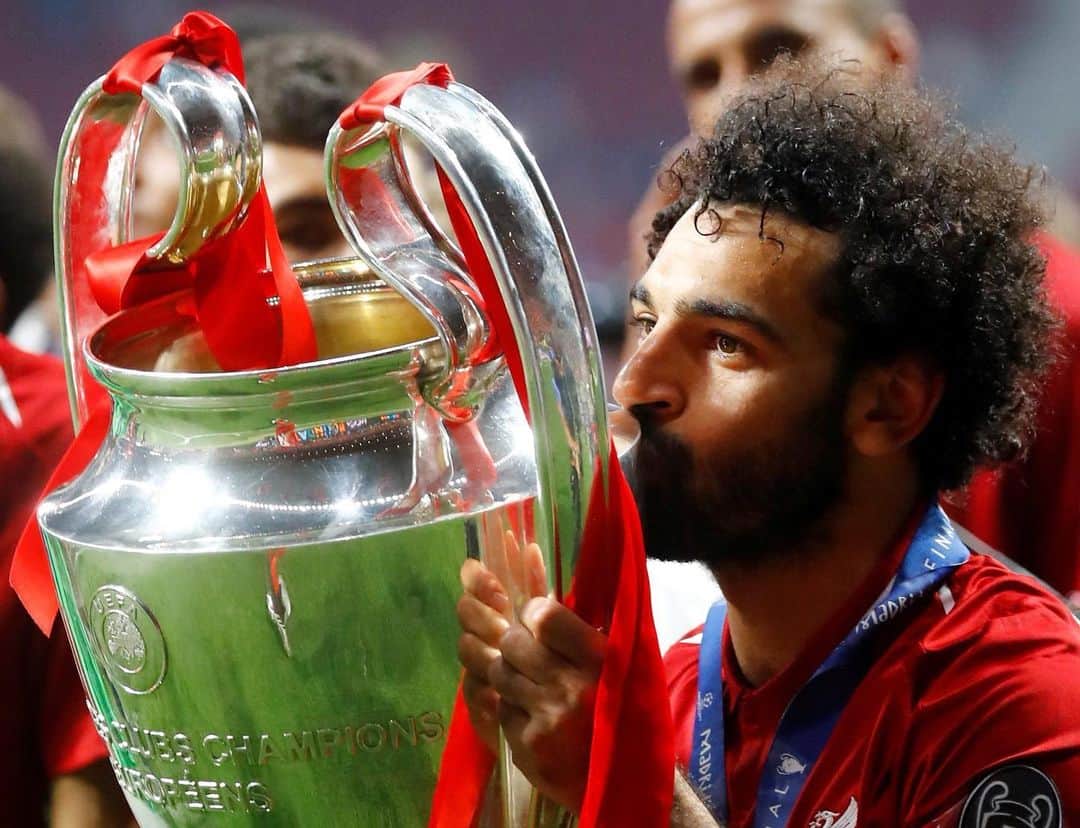 In the Champion League final on 1 June 2019, Salah scored the first goal to help Liverpool win 2-0 against Tottenham.
His goal in two minutes was the second-fastest UCL final goal behind Paolo Maldini in the 2005 final.
Premier League Winner
Firstly, Salah scored a decisive penalty against Chelsea to help Liverpool win the UEFA Supercup.
Later, on 7 December, Salah made his 100 Premier League appearances for Liverpool in a 3-0 victory against Bournemouth. In that match, he scored one and assisted for another goal.
Furthermore, Salah then won the Golden Ball award in the 2019 FIFA Club World Cup, helping Liverpool win their third title of the season.
On 24 June 2020, Salah scored a goal in a 4-0 victory against Crystal Place, helping Liverpool edge closer to winning the title.
After Chelsea defeated Manchester City, Liverpool won their first Premier League title for the first time before 7 games.
100 goal Milestone
Mohamed Salah began the 2020-21 Premier league campaign scoring a hattrick in a 4-3 win over Leeds United.
Later, on 17 October 2020, Salah scored his 100th Liverpool goal in a 2-2 draw against Merseyside rival Everton.
Mohamed Salah | International Career
2012 London Olympics
Salah was called up for the 2012 Summer Olympics to represent the Egypt U-23 team.
Later, he scored a goal in all the group matches against Brazil, New Zealand, and Belarus. However, his team lost 3-0 in the quarter-final against Japan.
Furthermore, Salah was honored with CAF's Most Promising African Talent for his performances in the Olympics. He has also represented Egypt in the U-20 world cup.
Senior Team
Salah made his senior team debut on 3rd September 2011 in a 2-1 loss against Sierra Leone. Later, on 8 October 2011, he scored his first-ever goal for the national team.
Salah scored his first Egypt hattrick in a 4-2 win over Zimbabwe on 9 June 2013. He also played an important role in helping Egypt reach the 2017 Africa Cup of Nations.
Over 6 matches, Salah recorded 2 goals and 1 assist, securing a place in the Tournament CAF Team of the Tournament. However, they lost to Cameroon 2-1 in the finals.
2018 FIFA World Cup
Mohamed Salah helped Egypt to reach its first World Cup finals after 28 years of absence. He was the team World Cup qualifying highest scorer with 5 goals.
Moreover, Salah's 2 goals in the decisive 2-1 win against Congo brought joy to all Egyptian fans and became their hero.
But, Salah missed the opening game against Uruguay due to a shoulder injury. However, he returned to play against Russia and Saudi Arabia. In both matches, he scored one goal.
However, he could not prevent Egypt from going home after group games, as they lost all their matches. Salah was the only scorer for Egypt in the World Cup.
Later, in 2019 Salah became Egypt's national team captain. To date, he has Egypt's second-highest top scorer with 43 goals.
Mohamed Salah | Playing Style
Salah, alongside Mane and Firmino, is one of the deadliest trios in world football. Among them, Salah is most of the prolific scorer for the Liverpool team under Jurgen Klopp.
Salah mostly plays as a right-winger. But as a versatile forward, he can play on either flank and even as an attacking midfielder or secondary striker.
He is well-known for his speed, dribbling, movement, control, and finishing. Salah uses his pace and flair to beat opponents to create goal-scoring chances for himself or his team members.
He usually prefers to cut from right side to center to shoot or make a quick play from his stronger left foot or run behind opposition defenses.
Mohamed Salah is dubbed as "Egyptian Messi" because of his goal-scoring ability, left foot, skills, speed, and positioning. Even Messi himself praised Salah's playing style in an Instagram post.
You might also be interested in reading: <<Lukas Klostermann Bio: Early Life, Career, Injury & Salary >>
Mohamed Salah | Personal Life & Wife
Mohamed Salah is happily married to his long-time girlfriend, Maggi Salah. According to sources, Mohamed and Maggi have dated each other since junior school.
They knew each other from the school they went to, and their love story started when they were classmates in junior years.
They dated each other for several years before getting married. Further, they tied the knot in 2013 in a grand wedding ceremony.
Interestingly, they invited the whole village to their wedding. Their special day was open for all with no limit on guests' numbers. As a result, thousands of people attended their wedding.
Moreover, the couple is blessed with two beautiful daughters Makka Salah and Kayan Salah. Mekka was born in 2014, whereas Kayan in 2020.
Interestingly, the duo named their daughter Mekkah after Saudi Arabia's holy site, Mecca. As of now, Mohamed is living a happy life with his family.
Charity
Mohamed Salah has not forgotten his roots where he grew up. He is doing his best to return to his hometown Nagriag.
"In 2018 Salah nitiated a regeneration project to help His hometown Nagriag."
In 2018, Salah supported opening a girls' school in his village so that girls didn't need to travel long distances for education. Salah also built a football ground and gym in his old school.
He also purchased 5 acres of land to construct a sewage treatment plant, ensuring clean and safe water in the area.
In June 2020, Salah opened a new ambulance center in the village. Likewise, he also provided food and masks to families affected by Covid 19.
Salah's charity is not limited to his hometown only. In 2016 he donated 5 million Egyptian pounds to the "Tahya Masr Fund."
Likewise, he made a 50 million Egyptian pound donation to the National Cancer Institute in 2019.
In 2017 his house in Egypt was robbed. After Egyptian police caught the thief, his father charged him.
But later, Salah requested his father to drop the charges and offered him some money. Furthermore, he also helped the thief to find a job.
Egyptian Gem
In 2014 Salah was called to Egypt to serve in the military after his educational program registration was canceled while studying abroad.
However, Egypt's prime minister spared him from military duties to continue his professional journey.
After helping Egypt qualify for the 2018 World Cup, one school in his hometown was renamed after his name. It's called Mohamed Salah Military-Industrial Secondary School.
In 2018 Salah also featured on the cover of the world's two major magazines, i.e., GQ and Time. He was honored for his influential role both regionally and globally.
Likewise, in the 2018 Egyptian presidential elections, Salah received more than one million votes.
Instead of candidates Sisi and Moussa, people wrote Salah's name. If they were legal, he would have been second during the election race.
Favorites
Salah idolized Muhammad Ali while growing up. But, like Alli, Salah came up against all odds to emerge as one of the world's best footballers.
His favorite movie actors are Leonardo Dicaprio and Khaled El Nabawy. Furthermore, he may also consider his career in movies after retirement.
Salah's favorite food is Egyptian food Kushari. While returning to Egypt, he always calls his friend to buy Kishari to later eat in his car.
Goal Celebrations
Salah scores many goals. Likewise, over the years, Salah has performed many celebrations after scoring.
Yoga Celebration
Salah debuted the yoga celebration in the 2018-19 season after scoring a goal against Chelsea.
During an interview with Sky Sports after the game, he said, "I am a yoga guy," and celebration just came to mind.
Outstretched arms celebration
It's one of the iconic celebrations of Mohamed Salah. This stance is from Gladiator's "are you not entertained" scene performed by Maximus. This particular celebration may be a tribute to Liverpool fans.
Prayer Celebration
Salah is a religious person. So, in each of his goal celebrations, he performs sujud. It's a prayer thanking god by getting on his knees and bowing down head on the field.
How much is the salary of Mohamed Salah? Net worth and Salary
In 2017 Salah initially earned £90,000 after signing with Liverpool. However, after his impressive goal-scoring campaign Liverpool offered him a new contract to secure their long-term future at Anfield.
In 2018 Salah signed a new deal of £200,000 per week until 2023. His new contract made him the highest earner in the Liverpool team.
He also earns bonuses for netting goals, assists, or win. Salah is one of the most endorsed players in the world.
"As of 2023 Mohamed Salah has an estimated net worth of $70 million."
Salah signed a multi-year deal with Adidas worth £40 million. In the 2019 advertisement campaign, Salah was made the face of Adidas iconic 1970-born Adicolor sportswear.
Furthermore, he also has endorsement deals with Vodafone, DHL, Uber, Electronic Arts, Oppo, and Exxon Mobil.
In 2020, Salah was named the fourth highest-paid footballer earning $35.1 million behind Ronaldo, Messi, and Neymar.
Here is detailed information on his net worth and earnings: <<Mohamed Salah Net Worth: Contract, Cars & Endorsements >>
Social Media Presence:
Mohamed Salah is quite active on social media. He usually uploads or posts his lifestyle, family, and football-related photos and videos on his social media handles.
In 2019 Salah deactivated all his social media accounts with a cryptic tweet shown above. Then many theories began to surface in social media later.
However, it was later discovered Salah's sudden disappearance was part of the marketing campaign by DHL express to celebrate the organization's 50th anniversary.
You can follow him on social media via these links:
Instagram: 43.1 million followers
Twitter: 14.6 million followers
Facebook: 14 million followers
Some FAQs:
What is Mohamed Salah's kit number?
Mohamed Salah's kit number is #11.
What rating is Mohamed Salah on FIFA 21?
Mohomed Salah's overall rating in FIFA 21 is 90, with a potential of 90.
How many Player of the month does Mohamed Salah have?
Mohamed Salah has been named Player of the Month three times in his career.
How many shots on target did Mohamed Salah have today?
As of now, Mohamed Salah has 52 shots on target.
How old was Mohamed Salah when he was at London Olympics?
Mohamed Salah was 20 years old when he competed at the 2012 London Olympics.
What is Mohamed Salah's 2021 market value?
According to the TransferMarkt website, Mohomed Salah's current market value is €100.00m.
How many goals has Mohamed Salah scored?
Salah currently plays for Liverpool and Egypt's national team. Playing for Liverpool, he has scored 118 goals in 190 matches. Likewise, for Egypt, he has scored 43 goals in 58 matches.
How many international goals does Mohamed Salah have?
Mohamed Salah has scored 45 international goals for his National team.
Is Mohamed Salah playing in the Tokyo Olympics 2020?
Sadly, Mohamed Salah is not playing in the Tokyo Olympics 2020. As a result, he is not included in the Egypt's Olympics squad.
He can't take part because his club Liverpool refused to let him go as the tournaments interfere with the start of the new season.
Moreover, another reason Salah is not taking part in the Olympics is that the Africa Cup of Nations will be held in January 2022. That means Liverpool will lose him at least for a month in the middle of the season.