The young and talented NFL star Mac Jones' girlfriend is Sophie Scott, an entrepreneur, and social media influencer. Although many Jones fans confuse her as his wife, the two are yet to tie the knot.
The New England Patriots football player began his relationship with her in 2019, and the two have been inseparable ever since.
The couple prefers hanging around with each other whenever Mac gets leisure time from his busy professional life. One can quickly tell how obsessed they are with each other by seeing their social media posts.
To learn more about the famous NFL star's girlfriend, Sophie, please read this article right up to the end.
In the article below, we shall closely look into Scott's life, career, relationship with her boyfriend, education, and almost everything we want to know about her as Mac's fan.
But before we move on to more important details, let's check out some facts about Sophie Scott.
Mac Jones Wife | Quick Facts
| | |
| --- | --- |
| Full Name | Sophie Scott |
| Date of Birth | September 2, 1999 |
| Birthplace | St. Louis, Missouri, United States |
| Nickname | Not available |
| Religion | Christianity |
| Sexual Orientation | Straight |
| Father's Name | Shane Scott |
| Mother's Name | Nichelle Scott |
| Gender | Female |
| Age | 23 Years Old |
| Profession | Influencer, Entrepreneur |
| Famous as | Mac Jones' Girlfriend |
| Nationality | American |
| School | Kirkwood High School (Kirkwood, Missouri) |
| College | University of Alabama (Tuscaloosa, Alabama) |
| Hair Color | Brown |
| Body Type | Slim |
| Favorite Sports | Football |
| Marital Status | Unmarried |
| Boyfriend's Name | Mac Jones (2019-Present) |
| Siblings | Three (Stella, Sydney, and Sammie) |
| Zodiac Sign | Virgo |
| Net Worth | Not Available, |
| Social Media | Instagram, TiKTok |
| Merch of Mac Jones | Signed Jersey, Patch Cards |
| Last Update | March 2023 |
Mac Jones Wife | Early Life, Family & Education
Sophie Scott was born to her parents, Shane (father) and Nichelle Scott (mother), in St. Louis, Missouri, United States.
Besides them, Sophie has three siblings, namely Stella, Sydney, and Sammie, in the family.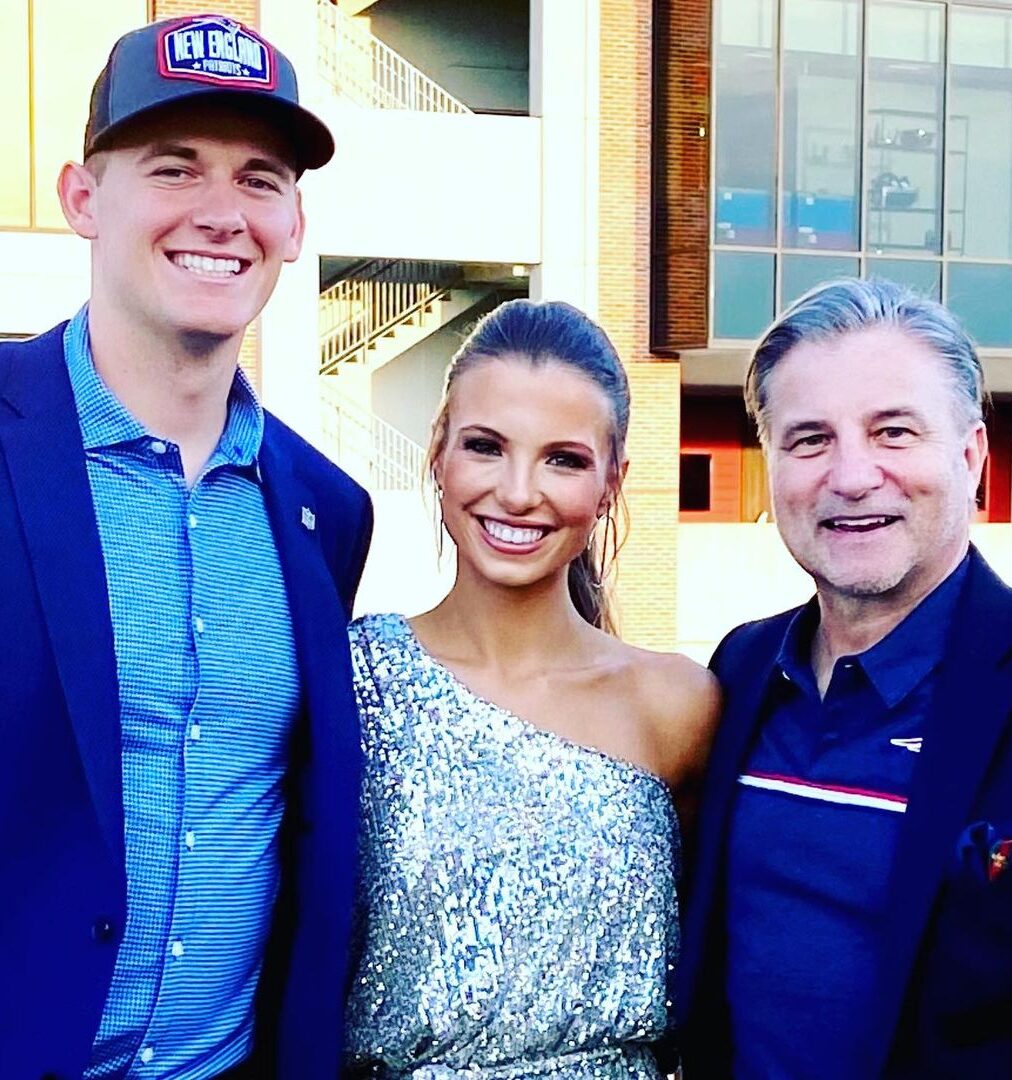 Scott attended Kirkwood High School in Missouri for her higher education, from where she graduated in 2018. Besides being good in academics, she was an excellent football player there.
She traveled away from her home to Tuscaloosa after high school graduation to pursue her college education at the University of Alabama. She recently graduated with a degree in Kinesiology and Exercise Science from the University.
You might want to learn about Mariah DelPercio, a fitness instructor and sports dietician who married the NFL star Chris Godwin in 2021!
Mac Jones Wife | Age, Weight & Height
As Sophie was born in 1999, she is currently 23 years old.
Regarding her physical features, she looks pretty lean and has a slim figure. From the looks of it, it seems like she is into workouts and has maintained her body well.
She uploads many solo pictures on her social media account and looks excellent.
Her height is unknown, but she looks much shorter when she stands alongside her boyfriend, Mac.
Mac Jones Wife | Career
Although still very young, Sophie understands the importance of work and believes financial independence is necessary for every modern woman.
So, despite having a star athlete as her partner, she does a job.
She currently works as a PT/OT aide at the University Orthopedic Clinic & Spine Center in Tuscaloosa, Alabama.
She had begun working there when she was a sophomore at her college, and now it has already been around three years.
Similarly, she worked for nearly ten months as a marketing intern for an advertising company named Kirkwood Collab, established by Kirkwood HS students.
In addition, she markets products of various brands such as Nordstrom, Revolve, Bloomingdales, etc.
Philanthropy & Volunteering Services
Apart from her job and her time with her man Mac, she makes sure that she is always up for some philanthropic work and volunteering services.
According to her LinkedIn profile, Sophie has worked as a camp counselor at Camp Rainbow Foundation since 2017.
The non-profit company provides free camping experiences to physically unwell children and chronic disease survivors.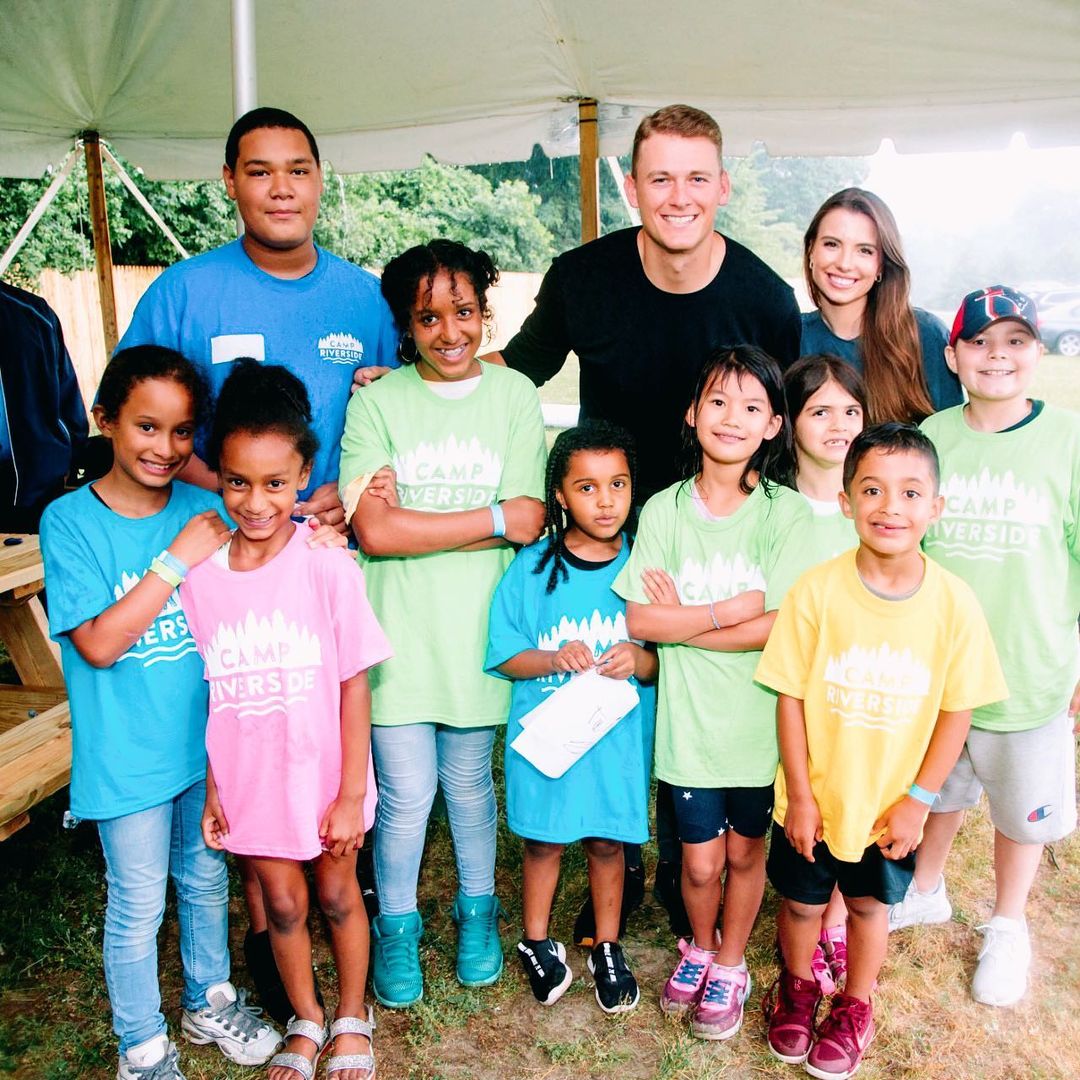 In addition, she has provided voluntary services, especially for children's benefits, in association with organizations such as the Boys & Girls Club and the Special Olympics.
Both Scott and Mac often go camping with kids to boost the young ones' confidence and enrich their potential through crafts, games, sports, etc. Moreover, they provide financial helps to organizations that conduct such programs.
Mac Jones Wife | Her Relationship With Jones
Sophie met Mac after she got admission to the University of Alabama in 2018.
Mac was a year senior to her at college and was already a celebrated football quarterback for the Alabama Crimson Tide.
After seeing each other for a while, they thought they were so much like each other as Sophie herself was a huge football fan. Then, they officially began dating in late 2019.
Mac graduated in 2021 and made it to the NFL.
Sophie, who has been watching Mac grow for the past few years, went to the 2021 NFL draft to be beside him and shared her happiness when the New England Patriots chose him in the first round of the NFL draft.
The couple likes traveling and has vacationed in several places, including abroad. They spent their summer vacation back in July in Bermuda, where they also attended Mac's sister's wedding.
Everything between Sophie and Mac looks excellent so far, and she is always around him in New England, although she works afar in Alabama.
Tony Boselli is a former American professional football player who became the first Jacksonville Jaguars player to get elected to the Pro Football Hall of Fame. Click here to learn more about him!
Mac Jones | Life & Career
Michael McCorkle Jones, famous as Mac Jones, is an American football quarterback who plays in the National Football League (NFL) for the New England Patriots.
He was born on September 5, 1998, to his parents, Holly (mother) and Gordon (father) Jones, in Jacksonville, Florida.
Raised in a family with a good appetite for sports in Jacksonville, Mac attended the Bolles School and played football for its team. He later played college football for the Crimson Tide for three seasons.
Although he redshirted his first year, Mac Jones had remarkable overall stats with 6126 yards and 56 passing touchdowns.
The Patriots eventually drafted Mac with the 15th overall pick in the first round of the 2021 NFL Draft.
Mac had a decent rookie season, ending with a 10-7 record for the team. He played and started all 17 games in which he recorded 3801 passing yards with 22 touchdowns.
The NFL named Mac to the Pro Bowl game for his impressive performance throughout the season and secured his position on the PFWA All-Rookie Team.
He had signed a four-year contract worth $15.56 million, so the team might keep him until his contract expires if he continues to deliver for them in the upcoming seasons.
Mac Jones Wife | Social Media Presence
Sophie Scott is active on social media, mainly on her Instagram account.
View this post on Instagram
She uses @sophiescott9 as her Instagram handle and already has over 100k followers. She mainly posts her pictures with her famous boyfriend and often posts her photos trying different brands' outfits.
Similarly, she has a TikTok account with the username @sophiescott999, which has over 4k followers and 17k likes. However, she rarely posts there.
Mac Jones Wife | Social Media Popularity
The following graph illustrates the search trend of Mac Jones' Wife over the Internet.
Mac Jones | FAQs
What was Mac Jones's GPA at the University of Alabama?
Mac Jones graduated with a bachelor's degree in communication studies from the University of Alabam in 2020. He had scored a 4.00 GPA, quite extraordinary for a regular athlete.
What is Mac Jones's QB rating?
Mac Jones's QB rating for the 2021 season was pretty high. He had a passer rating of over 92.0 in his rookie season.
Jordan Cameron is one of the stellar American football players with a short NFL career but had the most impact. The Cleveland Brown had chosen him in the 2011 NFL Draft. Learn more!