Man City Enter the Champions League Final After a 4-1 Aggregate Win Over PSG at Etihad Stadium on May 4, 2021. Will They Win the Coveted Cup in Istanbul and Earn a Treble?
For the first time in City's history, the PL club made it to the Champions League finals.
Tuesday's match against Paris Saint-Germain was the determining factor and when the closing whistle blew, the Citizens were jubilant.
Mahrez made two goals for City and became the hero of the evening.
Phil Foden and Kevin de Bruyne gave great performances too. Both were instrumental in contributing to the Algerian footballer's two scores.
Goalkeeper Ederson gave a splendid long ball that Kevin de Bruyne capitalized on; however, Marquinhos blocked it. Riyad effectively made the most on the rebound and his first goal went past PSG goalkeeper Keylor Navas.
City's strong defense paid off in the second half. Foden and Mahrez worked together and the winger bagged his second winning goal. It catapulted City's lead by 2-0.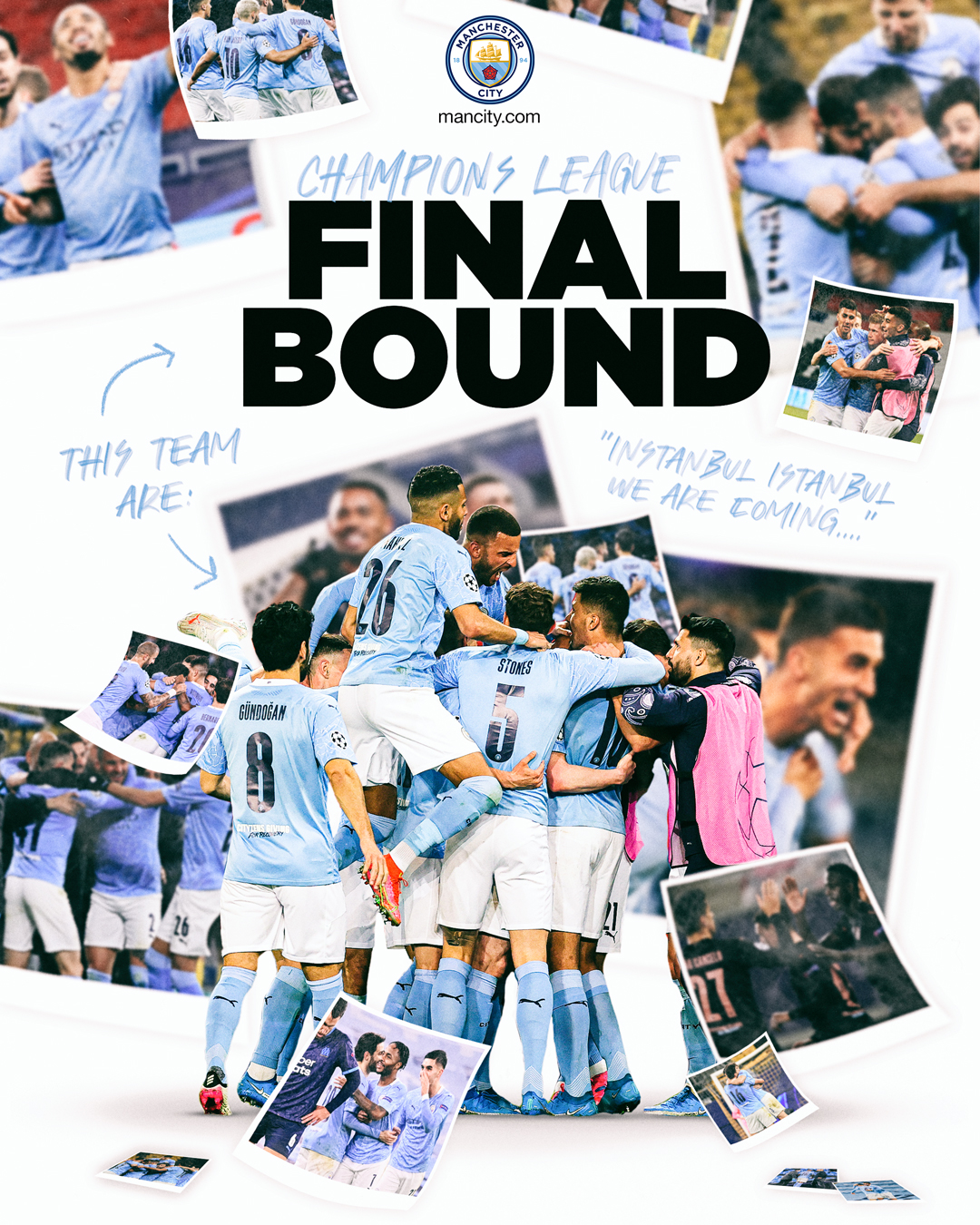 A Journey Well Worth the Wait
Man City has been chasing the Champions League dream since 2008.
Their match with Chelsea on May 29 will decide whether they'll be able to live that dream by winning the prestigious cup.
Under Pep Guardiola's managerial coaching, the Citizens have worked relentlessly to shape themselves into a team embedded in unity and premium quality of play.
He was appointed by the Abu Dhabi owners in the hope that the Catalan would capture the prize that has eluded the club for so long.
Pep has done well with the team domestically, but winning Europe's most sought-after cup is now the challenge and a palpable craving.
They won their fourth consecutive Carabao Cup on April 25 with a 1:0 score over Tottenham. Today evening, their match with Chelsea at the Etihad Stadium will decide their Premier League title. In 2019, the PL club was the FA cup winner.
So, by far, Man City fans don't have much to complain about.
City's Consistent and Resolute Play
In the last five years, Pep has trained a team to play against the likes of PSG or Munich. In fact, last season's finalists got more than they garnered for.
The Citizens were relentless and their counterattack with the French team intimidating.
With seven straight wins in the race for the Champion League title, they are the first club to earn such a reputation in English football.
PSG was bent on this season's Champions League final after they lost out to Bayern Munich last year. However, City's resilient defensive play was a factor that the formidable French team had to seriously work with. And Kylian Mbappe's absence didn't help either.
Guardiola told Sky Sports News: "It is for all of us and the club. I'm incredibly proud and my first thoughts are with the players who didn't play today. They all deserved to play, everyone has made a contribution and now it is time to enjoy it. We have to win the league and we have two or three weeks to prepare for the final.
"They put a lot of players in the middle and we struggled a lot in the first half to high press and we changed at half-time. We recovered the ball better in the second half and we were much better in the way we played and 4-1 on aggregate against a team that beat Barcelona and Bayern Munich – it means a lot to us…."
Is the Treble in Sight for Man City?
Three weeks away and City will be playing their most anticipated match with Chelsea this season.
To win the Champions League trophy is not only going to be a feather in their cap but the defining moment for the club to be reckoned with away from domestic games.
They will have established themselves as a superpower club.
The Premier League Cup title is almost in their hands and today's match with Chelsea will give the final verdict.
They already have the Carabao Cup, so now they need to hold the Champions League cup in their grasp.
They were in the running for a quadruple but lost the momentum after Chelsea defeated them on April 17 in the FA Cup Semi-Finals.
And, interestingly, the Blues are their opponents for the Champions League and PL match today evening.
Chelsea's head coach, Thomas Tuchel, spoke to football.london: "First of all, when you play against Pep, you know the most difficult game has arrived because he has coached the best teams in Europe. He leaves his footprints and style of play, which is full of courage, flexibility and his teams are always super hungry to win. He transforms all his teams into winning machines…."
Tuchel and his squad are geared up though.
The German regards City as the benchmark in the league, but he says, "Obviously, it is a big gap. It is on us, like in the semi-final, to close the gap for 90 minutes. We will do the same thing in the final and we will arrive at that final full of confidence because we have the feeling that we deserved to be there, we worked hard to be there."