Manti Te'o, the guy who infamously got catfished, is a former American football linebacker. Te'o participated in collegiate football at Notre Dame, where he won eight national honors and was a unanimous All-American.
He was drafted by the San Diego Chargers in the second round of the 2013 NFL Draft and continued with the team till 2016.
From 2017 to 2019, he played for New Orleans Saints and ended his career with Chicago Bears in 2020.
Manti was away from the limelight but again came back when he was the subject of the 2022 documentary film, "Untold: The Girlfriend Who Didn't Exist."
The movie tells the tale of how he became catfished in 2012 and the affects it had on his career.
The following article will give you a deeper understanding of Manti Te'o life, career, his net worth and discusses his wife.
First, let's look at a quick fact.
Quick Facts
Full Name
Manti Malietau Louis Te'o
Name
Manti Te'o
Nick Name
Manti Te'o
Date of Birth
January 26, 1991
Age
32 Years Old
Birth Place
Laie, Hawaii, United States
Nationality
American
Ethnicity
Samoan
Zodiac Sign
Aquarius
Religion
Christian
Height
6 ft 1 inch (1.85 m)
Weight
241 lb (109 kg)
Hair Color
Black
Eye Color
Black
Father's Name
Brian Te'o
Mother's Name
Ottilia Te'o
Siblings
Five (BrieAnne, Tiare, Eden, Maya and Manasseh)
High School
Punahou School
University
University of Notre Dame
Marital Status
Married
Wife
Jovi Nicole Engbino
Date of Marriage
August 29, 2020
Daughter
Hiromi (Born on August 12, 2021
Profession
Professional NFL Player
Position
Linebacker
Jersey Number
50 (Los Angeles Chargers) and 51 (New Orleans Saints)
NFL Draft
2013/Round: 2/Pick: 38
Playing Teams

San Diego Chargers (2013–2016)
New Orleans Saints (2017–2019)
Chicago Bears (2020)

Awards And Achievements
Lombardi Award (2012)

Bronko Nagurski Trophy (2012)

Net Worth
$3.5 million
Social Media
Instagram
Merch
Signed Photo, Signed Ball
Last Update
December 2023
Early Life, Family, And Education
Manti Te'o was born in Laie, Hawaii, on January 26, 1991, to Mormon parents Brian and Ottilia Te'o.
He grew up with five siblings; a brother, Manasseh, and sisters, Tiare, BrieAnne, Eden, and Maya.
Te'o went to Punahou School, a private institution in Honolulu, where he was selected to the second-team all-state roster during his sophomore year.
He drew considerable attention from colleges and recruiters when he earned first-team all-state honors with 90 tackles and five sacks on defense and 400 rushing yards, and ten touchdowns.
His senior year was marked as one of the most acclaimed and coveted years of his career.
Before the season even began, he landed on a number of national top-ten recruiting lists and received offers from 30 colleges.
In the 2008 season, Te'o helped Punahou win its first state football championship.
The same year, he was awarded the inaugural Butkus Award at the high school level and was also named the Sporting News High School Athlete of the Year.
Manti committed to the University of Notre Dame on the National Signing Day of 2009.
He is often recognized as the most decorative college football defensive player of all time.
The player made a total of 437 tackles in his 4-year collegiate career, starting in 47 consecutive games.
Furthermore, he was also the recipient of various awards, such as the Butkus Award, the Lombardi Award, the Maxwell Award, and the Walter Camp Award.
Age, Height, And Weight
Manti Te'o is a professional football player who stands at a respectable 6 feet 1 inch (1.85 m) tall.
The 32 years old athlete weighs 110 kg, which is normal for an athlete of his caliber and complements his playing personality.
Professional Career
Despite being projected as a late first-round pick in the 2012 NFL Draft as early as mid-season of 2011, Te'o decided to return to Notre Dame after the 2011 season.
The player was selected by the San Diego Chargers in the second round, 38th overall in 2013, alongside teammate Keenan Allen.
He made his NFL debut in a week 4 matchup against the Dallas Cowboys in the 2013 season and made three tackles.
After playing 13 games, he ended the season with 4 passes defended and 61 tackles.
On September 23, 2014, Te'o fractured his foot and only joined the team in the middle of the season.
After returning, Manti earned his first NFL sack by sacking Colin Kaepernick in a match against the San Francisco 49ers.
He finished the 2014 season with 61 tackles, one interception, one sack, and three pass deflections. Likewise, the 2015 season saw him have 63 tackles, one interception, and one forced fumble.
On September 5, 2016, he was named one of the Chargers' team captains but, after a few days, was placed on injured reserve.
Manti signed a new contact of two-year with the New Orleans Saints on March 21, 2017.
He played 16 games in the 2017 season and made 62 total tackles, 1 fumbled recovery, and 3 passes defended.
Te'o didn't play most of the 2018-2019 season, only appearing in a total of 8 games.
On October 20, 2020, he signed with the Chicago Bears practice squad, but it expired after the season on January 18, 2021.
In his professional career, he played 62 games and made 307 total tackles, 1.5 sacks, and 13 passes defended.
He Was Catfished In 2012
Manti Te'o revealed that his grandmother and girlfriend passed away around the same week on September 11, 2012.
Albeit, he continued playing crucial matches for his team, showing his dedication to the sport.
However, his reputation was tarnished after a publication, 'Deadspin,' revealed that his dead girlfriend doesn't exist.
Turns out, he was being catfished by a man, Ronaiah "Naya" Tuiasosopo, who created a fake account and became Kekua, his dead girlfriend.
Surprisingly, the player was in a serious relationship with Kekua but never met her in person. He even lied to his parents about meeting her to relieve any concerns of them.
After the news became viral, he was named the Most Disliked Athlete of 2013 by Forbes.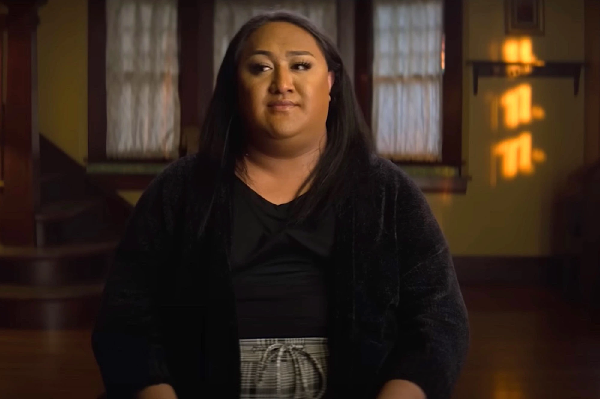 Manti was ashamed because of this controversy, and when Netflix wanted to make a documentary, he agreed to share his side of the story.
The film was released in August 2022 and was titled "Untold: The Girlfriend Who Didn't Exist."
After the release, fans and followers have shown a positive reaction, and many have understood his side of the story.
Now, he is a family man and has left the scandal far behind him. He is more into taking care of his family than revisiting his past.
In addition, Manti has recently joined Transcend, a telehealth provider that works with players.
Wife & Kids
Manti was lucky enough to marry his girlfriend, Jovi Nicole Engbino, in San Diego, California, on August 29, 2020.
They were engaged in February 2020 but have dated since 2016. The lovely couple has a daughter together, born in 2021, who is given a beautiful name, Hiromi.
Jovi was reportedly a former sales specialist but now works as a beauty consultant and personal fitness instructor.
She is apparently interested in everything relating to health, beauty, and fitness. In fact, Engbino is currently working as a nurse at Luxx Medical Spa.
Moreover, she gave birth to their second child, a son, Kyro Aumua Te'o, in January 2023.
Manti now wants to be the best father he can be and care for his family.
Net Worth, Salary, & Earnings
One of the talented NFL players, Manti Te'o, has a staggering net worth of $3.5 million as of December, 2023.
His major source of income was NFL deals, from which he earned a total of $10.4 million in his career.
After being drafted in 2013, Manti initially signed a four-year deal worth $5.172 million with San Diego Chargers.
The contract gave him a signing bonus of $2.14 million and included over $3 million in guaranteed money.
After his term was over, Te'o signed a two-year deal with New Orleans Saints in 2017, worth around $5 million. It was followed by a 1-year $805K deal on December 3, 2019.
In his last NFL season in 2020, he signed with the Chicago Bears and earned $132K.
Social Media Presence
The Notre Dame legend is active on social media and has used the platform to show his daily life and work to the world.
View this post on Instagram
Manti is available on Instagram under the handle @mantiteo, where he frequently shares pictures of his wife, children, and his lifestyle.
Instagram: 375K Followers
Three Interesting Facts About Manti Te'o
Te'o is an Eagle Scout who enjoys fishing and free diving at Clissold's Beach in his hometown of Laie.

Manti is a member of the Church of Jesus Christ of Latter-day Saints.

He is regarded as one of the most recruited athletes in Hawaii.
Popularity Graph
Manti Te'o was searched the most when his documentary was released on August 16, 2022. At any other time, it is seen that his popularity is almost none.
The graph shows his search trend for 12 months.
Frequently Asked Questions (FAQS)
What is Manti Te'o doing now in 2023?
Manti signed with UTA in 2022, and is currently working in publishing, broadcasting, public speaking, unscripted television, and audio.

'Untold: The Girlfriend Who Didn't Exist' is the Netflix documentary series on the life of Manti Te'o. If you are interested in Manti Te'o, you can watch the series on Netflix.
How much money did Manti Te'o make?
Manti made a total of $10.4 million in his NFL career.