Hailing from Chula Vista, California, Marcelo Mayer is a highly regarded and talented baseball player currently playing for the Boston Red Sox.
The Boston Red Sox organization selected him as the fourth overall pick in the first round of the 2021 Major League Baseball draft.
Two years after being drafted, Marcelo Mayer remains on the fast track to Red Sox stardom. He ranks as a top-five prospect in all of baseball and recently was selected to the Futures Game over All-Star Weekend in Seattle.
Likewise, the player has rocketed through the Red Sox minor league system, and on May 29, 2023, the 20-year-old became the youngest Red Sox draftee to earn a Double-A call-up since 2009.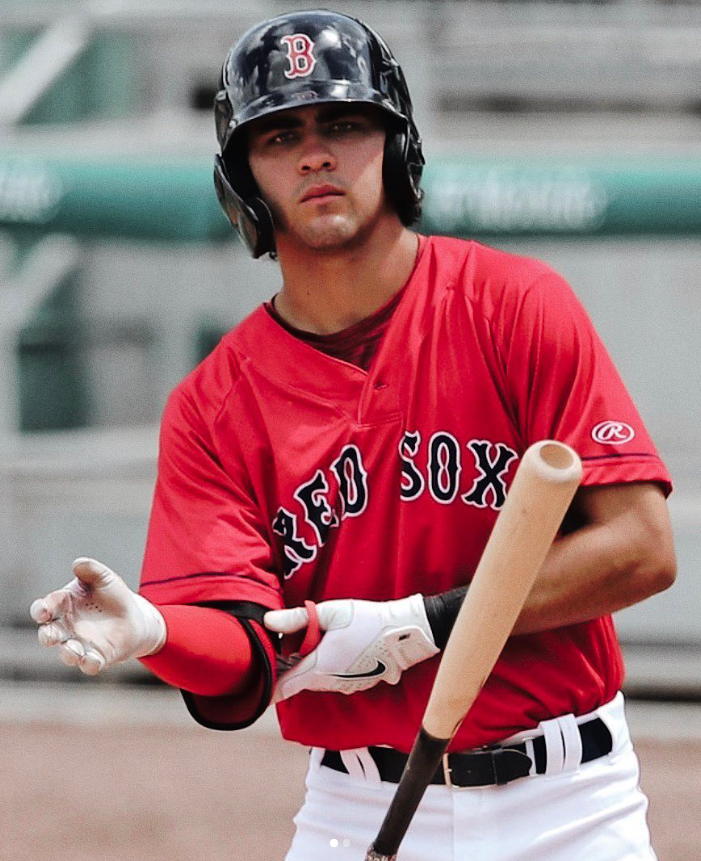 Marcelo will suit up for the American League on July 8 at T-Mobile Park for the All-Star Futures Game.
He is one of three Red Sox prospects named to the roster, along with second baseman Nick Yorke and left-handed pitcher Shane Drohan.
Read the whole article to know more about Marcelo. Before that, here are some quick facts!
Quick Facts
| Full Name | Marcelo Mayer |
| --- | --- |
| Birth Date | December 12, 2002 |
| Birth Place | Chula Vista, California, United States |
| Nickname | Not available |
| Age | 20 years old |
| Religion | Christianity |
| Nationality | American |
| Ethnicity | Hispanic |
| Father | Enrique Mayer |
| Mother | Myriam Mayer |
| Siblings | One elder brother, Enrique Mayer |
| Horoscope | Sagittarius |
| Chinese Zodiac | Horse |
| Height | 6 feet 2 inches / 1.88 meters / 188 cm |
| Weight | 188 pounds / 85 kilograms |
| Build | Athletic |
| Eye Color | Light brown |
| Hair Color | Black |
| Profession | Baseball player |
| Playing Position | Shortstop |
| Active Years | 2021-present |
| Batted | Left |
| Threw | Right |
| MLB Debut | Not yet made as of June 2023 |
| Marital Status | Not married |
| Girlfriend | Valeria Breton |
| Children | None |
| Net Worth | $500k (approx.) |
| Social Media | Instagram, Twitter |
| Last Update | September 2023 |
Early Life & Family
Marcelo Mayer was born in Chula Vista, California, on December 12, 2002. His father's name is Enrique Mayer, and his mother's name is Myriam Mayer.
His father played on the Nogales High School baseball team that won the Arizona state championship in 19811. He also has an uncle, Edward Mayer, who was on the same team.
Marcelo's mother was born in Nogales Municipality, Sonora, Mexico. She is related to Hector "Chero" Mayer, a Nogales native who played in the St. Louis Cardinals minor league system in the 1950s and the Mexican League.
Marcelo Mayer's parents met in Nogales and moved to Chula Vista, California, when they were young.
Marcelo has an elder brother, Enrique, who is also a baseball player. Enrique played high school baseball in Arizona at Nogales High School. In 1981, his team won the Arizona state championship.
After high school, Enrique moved to Mexico, where he played baseball in the league for five years.
Education
Marcelo Mayer attended Eastlake High School in Chula Vista, California. As a freshman, he started playing for the school's varsity team in 2018.
Marcelo's skills on the field caught the attention of the University of Southern California, and he committed to play college baseball there after his freshman year.
However, Marcelo had an exciting opportunity ahead of him. In 2021, Marcelo got drafted and got a chance to join a professional team instead of going to college.
Hence, Marcelo made the decision to forgo his college eligibility and signed a contract with the Boston Red Sox.
Age, Body Measurements &More!
The MLB player was born in the year 2002. Hence, he is currently 20 years old. His zodiac sign is Sagittarius.
Marcelo is 6 feet 2 inches tall and weighs 188 pounds. He has black hair and light brown eyes. Likewise, he has a left-handed swing and a right-handed throw.
Professional Baseball Career
Marcelo Mayer began his professional baseball career in 2021 when the Boston Red Sox selected him as the fourth overall pick in the Major League Baseball draft. It was their highest draft pick in over 50 years.
Mayer signed with Boston on July 22, 2021, for a signing bonus of $6.66 million. The player made his professional debut for the Florida Complex League Red Sox on August 5, 2021.
Marcelo had a solid first season, hitting .275 with three home runs and 17 RBIs in 91 at-bats. In 2022, he was ranked among the top prospects in baseball and was promoted to the Greenville Drive after performing well.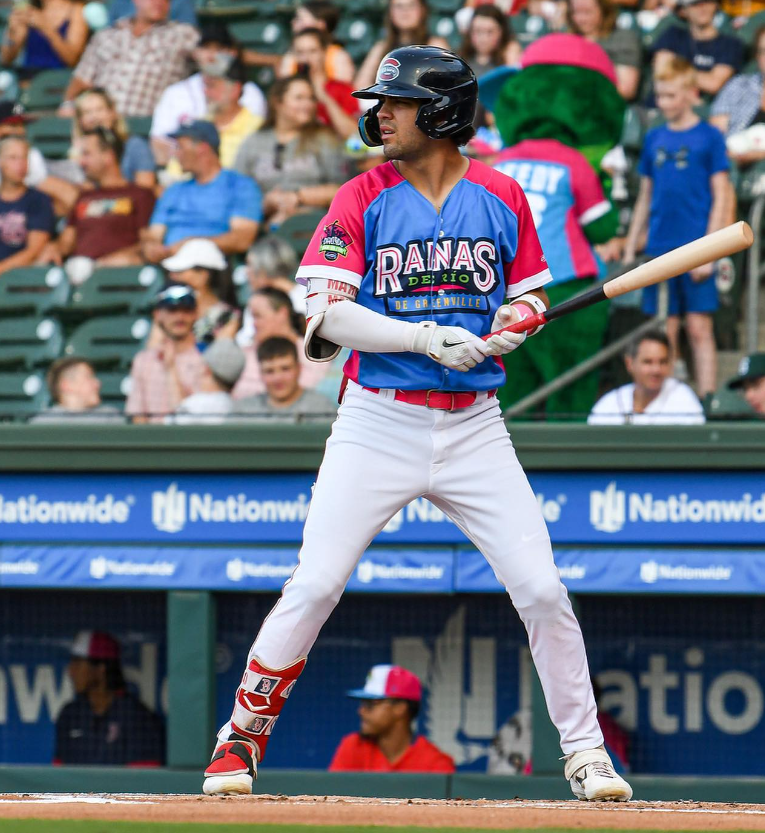 He finished the season with impressive numbers, including a .280 batting average, 13 home runs, and 17 stolen bases. In 2023, he continued to rise in the prospect rankings and earned a Double-A Portland Sea Dogs promotion.
In January 2023, Marcelo Mayer was recognized as the 10th-ranked prospect in Baseball America's list of the top 100 prospects.
Further, the player was named the South Atlantic League Player of the Week for the first week of May. During that series, he had an impressive batting record of 16 hits in 31 at-bats, including three home runs, six doubles, and 12 RBIs.
Interesting Facts
Marcelo Mayer is the third player from Eastlake High School to be chosen in the first round of the MLB draft, following Adrian Gonzalez and Keoni Cavaco.
He grew up as a Yankees fan but switched his allegiance to the Red Sox they drafted him. His favourite players are Corey Seager, Fernando Tatis Jr., and Francisco Lindor.
Mayer Is Dating: Name Of Girlfriend?
According to various sources, Marcelo Mayer is in a relationship with his high school sweetheart, Valaria Breton. They have been dating since 2019.
While they follow each other on Instagram, there aren't any publicly posted pictures of them together. Hence, it looks like they prefer to keep their relationship low-key.
Net Worth & Contract
Marcelo Mayer officially signed his contract with the Boston Red Sox on July 22, 2021. He received a signing bonus of $6,640,000 as part of the contract.
Based on his signing bonus and salary for the 2022 season, Marcelo Mayer has a net worth of approximately $500k.
Marcelo Mayer's salary at the Portland Sea Dogs is likely to be $27,300 for the 2023 season, which is approximately $525 weekly.
This is the minimum salary for minor league players at Class AA and does not include any bonuses or incentives that he may receive.
Frequently Asked Questions
Has he made his MLB debut?
No, Marcelo Mayer has not made his MLB debut yet. He is still playing in the minor leagues for the Red Sox organization.
What level is Marcelo Mayer playing at in 2023?
In 2023, Marcelo Mayer plays at the Double-A level for the Portland Sea Dogs. He was promoted to the Double-A team in May, making him the youngest Red Sox draftee to receive a call-up to Double-A since 2009. He is one of the top prospects in baseball and could reach the majors by 2024 or sooner.