Marcus Thuram is a professional French soccer player who currently plays for Borussia Mönchengladbach in the Bundesliga league. He serves as a forward and left winger to the team. He represents the French national team on an international level.
Besides that, he is the son of the legendary football player Lilian Thuram, who played for the French national team and led them to win the 1998 FIFA World Cup.
Similarly, Lilian also won the 2000 UEFA European Championship and the 2003 FIFA Confederations Cup.
However, he has not been listed in the names of French players boarding the plane to Qatar for FIFA 2022.
In 1997, he was the French player of the year. Not to mention, the father is the most capped player in the history of France's national team.
The former footballer made a total of 142 appearances and is considered to be a great player with commendable defense as well as offense.
As of 2022, Marcus is the #19 strongest and #62 fastest among all the Bundesliga players.
Marcus started playing professional football at the age of 17. As a result, he has the same dedication and respect for football as his father.
Before going into details about the French footballer's life and career, here are some quick facts about him.
Quick Facts | Marcus Thuram
| | |
| --- | --- |
| Full Name | Marcus Lilian Thuram-Ulien |
| Birth Date | August 6, 1997 |
| Birth Place | Parma, Italy |
| Nick Name | Tikus |
| Religion | Christianity |
| Nationality | French |
| Ethnicity | African-French |
| Education | Not Available |
| Horoscope | Leo |
| Father's Name | Lilian Thuram |
| Mother's Name | Sandra Thuram |
| Siblings | One; Khéphren Thuram |
| Age | 26 years old |
| Height | 1.92 m (6'4″) |
| Weight | 174 lbs (79 kg) |
| Hair Color | Black |
| Eye Color | Brown |
| Build | Athletic |
| Profession | Football Player |
| Current Team | Borussia Mönchengladbach |
| Position | Forward/left winger |
| Active Years | 2017 – Present |
| Marital Status | Unmarried |
| Girlfriend | None |
| Kids | None |
| Net Worth | £11 million or $12.94 million |
| Social Media | Instagram, Twitter, Facebook |
| Merchandise | Jersey, Soccer Equipment |
| Jersey Number | 10 |
| Last Updated | November, 2023 |
Marcus Thuram | Early Life, Family, And Education
Marcus Thuram was born in Parma, Italy. However, his nationality is French; likewise, his parents originated from Guadeloupe.
He also represents France on an international level. At the time of the footballer's birth, his father used to play professional football for a team in Parma.
Besides that, the athlete's parents are Lilian Thuram and Sandra Thuram.
They named him after Jamaican political activist and founder of the Universal Negro Improvement Association, Marcus Garvey.
Furthermore, Thuram also has a younger brother named Khéphren Thuram. The two are close in age, so they share an exceptional bond.
Similarly, they also share the same passion and love for football. Moreover, they grew up playing football with each other and are playing in prominent clubs now.
Although the left-winger's father wanted them to pursue passions other than football, they had their hearts set up on this sport.
Hence, the brothers learned from one of the best from a young age.
On top of that, Marcus started his youth career when he was only ten. Then, finally, at 17 years old, he started his professional career with Sochaux.
Lilian Thuram And His Career
Lilian is a retired professional football player who served as a great defender of the French National Team and several prominent football clubs.
Marcus started his professional career with Monaco in 1991 and won the Coupe de France the same year.
After that, the father of two had a highly-publicized transfer to Serie A club Parma.
Moreover, the club endured €41,316,552 during his transfer, and Lilian was very much worth it.
He won the UEFA Cup, Coppa Italia, and the 1999 Supercoppa Italiana while playing for Parma.
In 2001, the retired footballer transferred to Juventus and won the Serie A title twice consecutively. Similarly, he also earned the Supercoppa Italiana twice.
Finally, he signed a contract worth €5 million with Barcelona before retiring in 2008 due to a heart defect that resulted in his brother's death.
Besides that, he won the 1998 FIFA World Cup, 2000 UEFA European Championship, and 2003 FIFA Confederations Cup while playing for France. So, overall, Lilian had a pretty successful career.
He was sponsored by the well-known sports apparel company Nike during his playing career.
He even made cameos in their commercials. Furthermore, his defense and style of play were well-appreciated by most football experts.
His strength and stamina in the field, along with his skills and hard work, made him one of the most lauded defenders of his time.
Marcus Thuram | Age, Height, And Weight
Since the French footballer was born on August 6, 1997, he is 26 years old as of 2023.
He takes excellent care of his health and diet and works out daily.
💪🏿🏴‍☠️ pic.twitter.com/YMDvwiaHHX

— Marcus Thuram (@MarcusThuram) June 14, 2022

As a result, Marcus is reasonably fit and has a toned physique. Besides, he is 1.92 m tall and weighs 174 lbs.
Marcus Thuram | Football Career
Sochaux
The left-winger started his journey to becoming a professional football player early in life. After his youth career from 2001 to 2014, he made his senior career debut with Sochaux.
He played his first game in the Ligue 2 league against Châteauroux. Furthermore, Thuram departed from the club to join Guingamp in 2017. He appeared in a total of 43 matches with Sochaux.
Don't Forget To Check Out Former Borussia Mönchengladbach Forward Max Kruse Bio: FIFA 21, Injury, Wife & Salary >>
Guingamp
Following his career with Sochaux, he joined the French club Guingamp in 2017. His contract details with the club were kept private.
He played against his father's former teammate Gianluigi Buffon in a game against the Paris Saint-Germain team.
Moreover, the game received a lot of media attention.
After being with the club for two years, he announced his departure and, in 2019, joined the Germany-based team Borussia Mönchengladbach.
Borussia Mönchengladbach
In July 2019, Marcus signed a four-year contract with Borussia, who paid €12 million for his transfer. He scored the only goal in his debut game with the club at the DFB-Pokal.
Furthermore, in 2020, the athlete made two goals in a victory against the 1. FC Union Berlin.
He got on one knee after his first goal to show his solidarity with the protesters protesting against racism in the United States after the unlawful death of George Floyd.
Likewise, his father has frequently raised his voice against racism in France and called out officials for change.
Lilian has been a part of movements supporting same-sex marriage and has demanded equal rights for them.
Besides that, in the 2020–21 season, Marcus scored two goals in a tie against Real Madrid in the UEFA Champions League group stage.
Marcus Thuram – All Goals and Assists 2019/20
The footballer has come a long way and proved himself to be more than Lilian Thuram's son.
He has shown his potential and worth in many games and stepped out of his father's shadow.
Recently, he was fined €40,000 and given a six-match ban after he spitted in Hoffenheim player Stefan Posch's face during a game.
Highlights And Achievements
2016 UEFA European Under-19 Championship
Three-time Bundesliga Rookie of the Month in September 2019, October 2019, and November 2019
You can check the PES Stats and Playing Stats of Thuram on Pesmaster and TransferMarket sites.
Marcus Thuram | Girlfriend, Wife, And Kids
The footballer does not have a girlfriend and is single at the moment. But, likewise, there are very few details about his previous dating embarks.
Besides, the second-generation athlete is more focused on his growing career and training, so he has little time to focus elsewhere.
With his looks, sharp-dressing sense, and charm, it wouldn't be long before he would be pictured with his better half. But, for now, Thuram is giving everything he has and putting it towards his passion, i.e., football.
Similarly, the left-winger is neither married nor does he have any kids.
On the other hand, his father is dating a French TV host named Karine Le Marchand. The lovely duo has been together for quite a while now.
Marcus's mother and father divorced when he was only ten years old. Nevertheless, they have maintained a cordial relationship for the sake of their children.
You Might Be Interested In Barcelona Goalkeeper Victor Valdes Bio: Barcelona, Trophies, Stats & Net Worth >>
Marcus Thuram | Net Worth, Salary, And Earnings
The forward player has earned most of his wealth through his professional football career.
He has played for major European teams like Sochaux, Guingamp, and Borussia Mönchengladbach.
Hence, Thuram's net worth is estimated at £11 million (Estimated $12.94 million). Moreover, his transfer market value is €30 million.
Marcus Thuram earns £82,000 per week, £4,264,000 per year playing for Borussia Mönchengladbach.
View this post on Instagram

His current contract with Borussia Mönchengladba expires on June 30, 2023
Besides that, he earns a good amount from endorsements and sponsorship deals. In addition, Marcus lives a luxurious lifestyle.
Furthermore, his father's net worth is estimated at $15 million. However, many sources dispute that his wealth amount is much higher.
You Might Be Interested: 72 Broad and Inspiring Zlatan Ibrahimovic Quotes >>
Marcus Thuram | Social Media Presence
Instagram: 314k Followers
Twitter: 19.8k Followers
Facebook: 662K Followers
Marcus Thuram | Popularity Curve
As a rising European soccer player, Marcus Thuram is gaining popularity daily.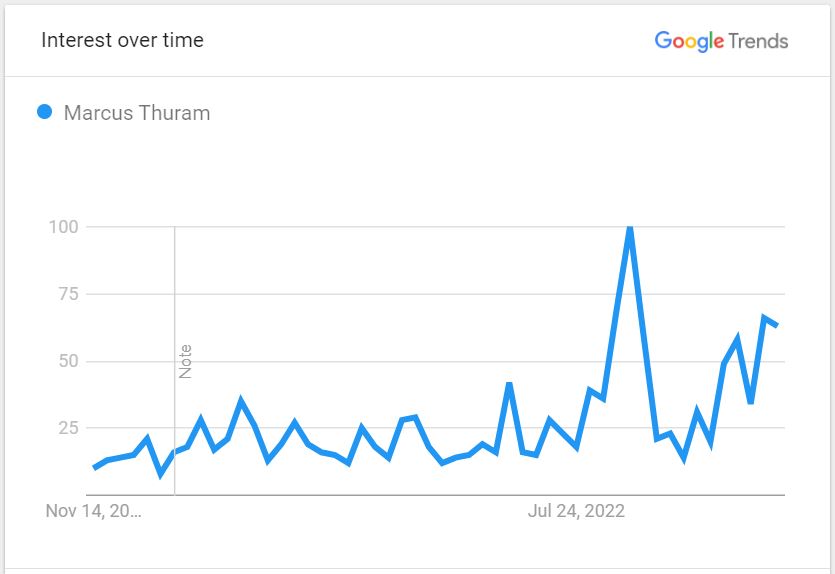 The above graph highlights the increasing internet searches for Marcus over a year worldwide.
Marcus Thuram | FAQs
What did Thuram do after he won the UEFA Europa League?
After winning the UEFA Europa League, he picked up the corner flag and started running into the ground.
What position is Marcus Thuram?
The footballer serves as a left-winger and forward.
What team does Marcus Thuram play for?
Currently, the athlete plays for a German-based team called Borussia Mönchengladbach.
Is Marcus playing for the Arsenal football team?
Marcus is not playing for the Arsenal football team anytime soon. However, there are rumors that Marcus is showing a good interest in Liverpool and probably signing with the team.
What happened to Marcus Thuram?
Marcus Thuram had a raptured intraarticular ligament initiation in the knee from August 22, 2021, to October 20, 2021. As a result, he missed a total of 6 matches.
Is Marcus a free agent?
Marcus has not been a free agent yet.
How fast is Marcus Thuram?
Marcus' speed is recorded to be around 35.97 km/h.
Learn More About Borussia Mönchengladbach's Goalkeeper, Yann Sommer Bio: Early Life, Wife, Clubs, Stats & Net Worth >>