The point guard Mario Chalmers is now signed with Zamboanga Valientes of the ASEAN Basketball League. He also played in the NBA for roughly 10 years with different teams.
The point guard first stepped into NBA after he was selected by the Minnesota Timberwolves in the 2008 NBA draft, after three seasons of varsity basketball with the University of Kansas.
Over the decade, the American professional player has played in different NBA and NBA G League teams, including Miami Heat, Memphis Grizzlies, Grand Rapids Gold, and Sioux Falls Skyforce.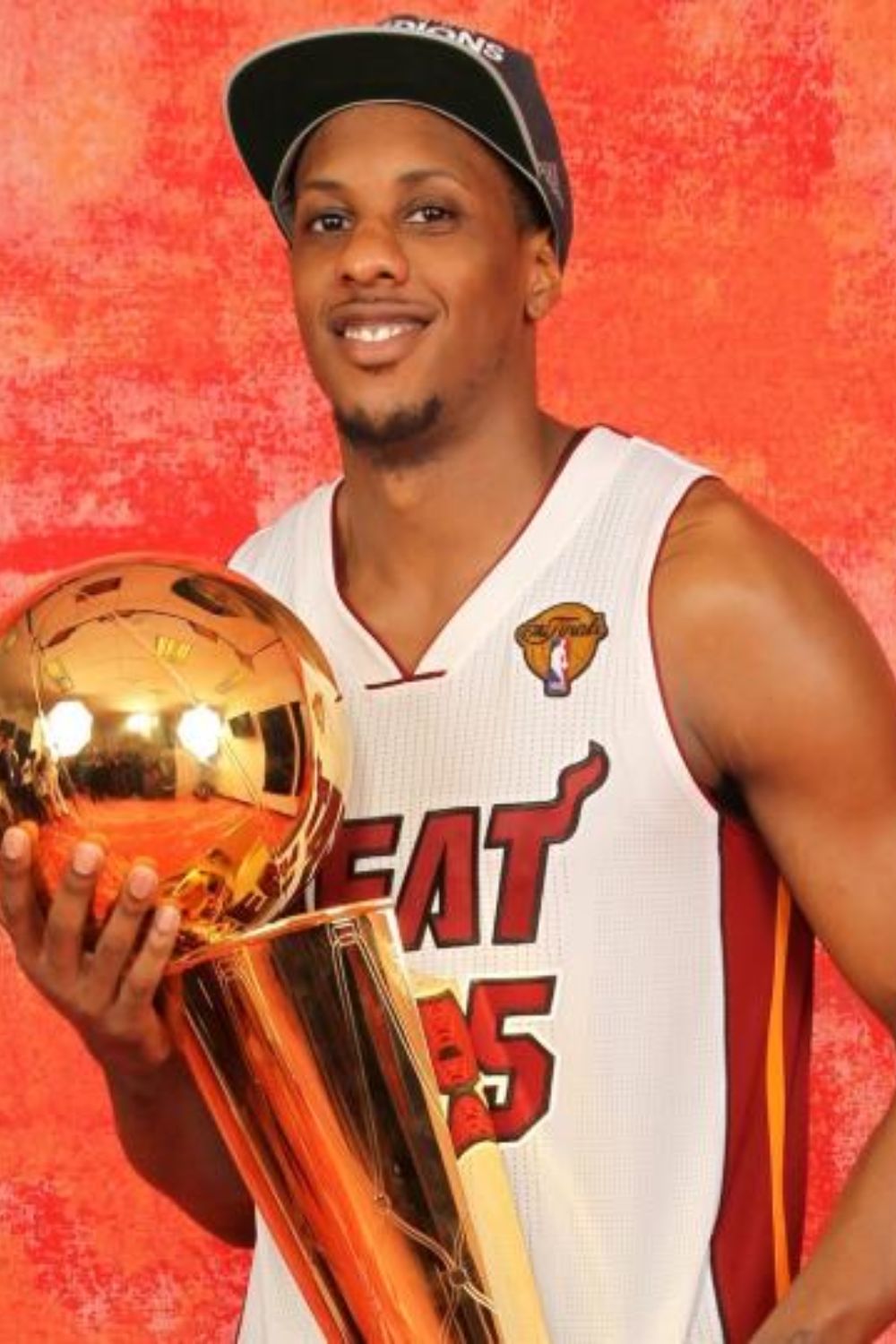 Throughout his basketball career, he has earned a lot of achievements, including his two NBA championships.
This article will cover important details about the NBA celebrity—ranging from his NBA contracts to his personal life. The article will also highlight the recent deal of Mario outside the NBA.
Let's look at some quick facts about Mario Chalmers without further ado.
Quick Facts
| | |
| --- | --- |
| Full Name | Almario Vernard "Mario" Chalmers |
| Known As | Mario Chalmers, Super Mario |
| Birth Date | May 19, 1986 |
| Birth Place | Anchorage, Alaska |
| Father | Ronnie Chalmers |
| Mother | Almarie Chalmers |
| Siblings | Roneka Chalmers |
| High School | Bartlett High School (Anchorage, Alaska) |
| College | University Of Kansas |
| Nationality | American |
| Zodiac Sign | Taurus |
| Age | 37 Years Old |
| Height | 6'2″/1.88 m/188 cm |
| Weight | 86 kg/190 lb. |
| Body Type | Athletic |
| Profession | Basketball Player |
| Position | Point Guard |
| Current Team | Zamboanga Valientes |
| Draft | 2008 NBA draft (34th Pick) |
| Active Years | 2008-Present |
| Marital Status | Unmarried |
| Girlfriend | Paije Speights |
| Children | 4 Kids |
| Net Worth | $12 Million |
| Social Media | Twitter, Instagram |
| Last Update | June 2023 |
Early Life & Family
Mario Chalmers was born Almario Vernard Mario Chalmers to his parents, Ronnie Chalmers and Almarie Chalmers, who played a crucial role in bringing up Chalmers to become a successful basketball player.
Mario's father, Ronnie Chalmers, was a former head coach at Bartlett High School and former assistant coach at the University of Kansas.
Since 2019 Ronnie has been working with 20Twenty Sports Management as the Vice President of basketball.
Mario's mother, Almarie Chalmers, too has coached at basketball camps. She also authored "The Ball is in Your Court: Embracing Your Child's Dreams," a book about raising a basketball family.
Chalmers is the first Alaska-born to play in the NBA and to win the high school, university, and pro levels championship.
High School Success
Mario Chalmers played basketball for Bartlett High School in Alaska and was named the 4A State Player of the Year for three consecutive years.
Chalmers starred in his high school basketball lineup, leading his team to three consecutive state championships from 2002 to 2004.
They won the championship twice (2002 and 2003) in their three title contests. However, his high school team had to settle in second place in 2004.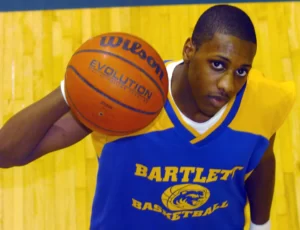 During his senior year at high school, in the 2004-2005 season, Chalmers was named to the third-team Parade All-American and McDonald's All-American.
In 2005, he had already become the No. 2 point guard and the No. 12 basketball player in the nation and was considered a five-star recruit by Rivals.com.
College Life
Chalmers committed to play for the University of Kansas and started his collegiate career on the bench behind Jeff Hawkins.
But he eventually got himself into the starting lineup and finished his freshman season averaging 11.5 points per game, which was the second-highest on the team.
Chalmers set the KU and Big 12 Conference record for most steals in a season by a freshman with 89.
He became the second freshman in the Big-12 history to win the Conference Player of the Week honors and was named National Freshman of the Week twice.
Besides, he was also named to the Big-12 All-Tournament Team, All-Big-12 Honorable Mention, the Third-Team All-Big-12, and most importantly, the Big-12 Tournament MVP.
In his sophomore year, Chalmers averaged 12.3 points per game and secured a spot at the top of most steals with (97 steals) in a single season for Kansas.
The professional basketball player set the record for most steals (97) in Kansas basketball history and was awarded the Co-Defensive Player of the Year for the 2006-2007 season.
Chalmers finished his junior year with similar performances, averaging 12.8 points and 4.3 assists per game. He also had 97 steals this season, repeating the feat he set in his sophomore year.
He aided his team in winning the 2008 NCAA Championship and was awarded the Most Outstanding Player award for the NCAA Men's Division I Basketball Tournament.
In 2008, the professional athlete declared his name for the NBA draft, forgoing his final year of college eligibility.
In 2013, the University of Kansas retired the number 15 jersey in honor of Chalmers.
Career
At Miami Heat
The Minnesota Timberwolves selected Chalmers with the 34th overall pick in the 2008 NBA draft. However, his draft rights were traded to the Miami Heat, and eventually, the Kansas native signed a deal with the Heat.
Chalmers and his former teammate Darrell Arthur were caught in the resort, where the NBA's rookie transition program took place, with two women and some marijuana.
In September 2008, Chalmers and Arthur were excused from the NBA's rookie transition program.
In his fourth game with the Heat on November 5, 2008, he made 9 steals, setting a franchise record for most steals in a game.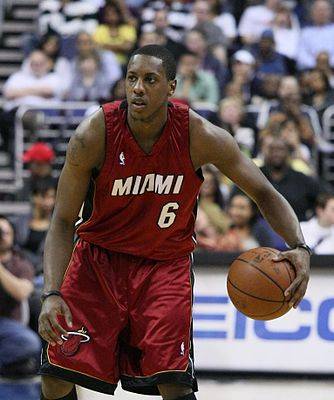 During his first two seasons, Chalmers wore jersey number no. 6 and later gave it to LeBron after he arrived in 2010.
Chalmers made a half-court shot at the buzzer of the first quarter to give the Heat a 31–30 lead during Game 5 of the 2011 NBA Finals.
On January 12, 2013, Chalmers scored a then career-high 34 points against the Sacramento Kings with 10 three-pointers.
He aided his team to clinch the NBA championship, his second championship, on June 20, after defeating the Spurs in an intense 7 game series.
With the Heats, he played 525 games and averaged 8.8 points, 3.8 assists, and 2.4 rebounds per game.
He ranks second in the franchise's all-time steals, fourth in the number of games played, and fourth in most assists and three-point goals.
Stats & Trade
In 2015, Chalmers was traded to the Memphis Grizzlies. He made his debut for the Grizzlies in a 101-100 win over the Portland Trail Blazers.
His continuous impressive performance came to a halt after he sustained an injury, ruling him out for the rest of the season. Subsequently, he was waived by the Grizzlies.
Although he recovered and was ready to return, he could not do so as he went unsigned for the 2016-2017 season. He was re-signed with the Grizzlies on July 19, 2017.
In 2019, he joined Virtus Bologna of the Italian Lega Basket Serie A and won the 2019 FIBA Champions League title.
Chalmers then signed a two-month contract with AEK Athens for the 2019-2020 season with an option to extend it for the rest of the season. After the AEK exercised the player option, he stayed with the team till the end of the season.
After that, he played with Aris of the Greek Basket League in 2020 and Indios de Mayaguez of the Baloncesto Superior Nacional in 2021.
Deal With The Miami Heat
In 2021, Mario was signed by Grand Rapids Gold, and he returned to the Miami Heat on a 10-day deal via the hardship exemption on December 31, 2021. However, he did not get to play any game for the Heat.
Alongside Chalmers, Chris Silva and Nik Stauskas signed a 10-day contract with the Miami Heat.
On January 14, 2022, Sioux Falls Skyforce acquired Chalmers, and later he signed with Zamboanga Valientes in the ASEAN Basketball League in January 2023.
Personal Life, Wife & Family
Mario Chalmers is unmarried, but he has a girlfriend named Paije Speights. Chalmers is a father of four children; three sons and a daughter.
His daughter, Queen Elizabeth Chalmers, is from his previous relationship with Brittany Burrough.
His sons are Zachiah Almario Chalmers, Juju Almario Chalmers, and Prynce Almario Chalmers. However, the mother of his sons is not known.
Mario and his girlfriend, Paije Speights, welcomed their child, a son, Prynce, on October 26. 2018.
Net Worth
Mario Chalmers' net worth is estimated at $12 million as of 2023. Reports suggest that he has earned over $24 million from his salary alone in the NBA career.
During his career at the Memphis Grizzlies in 2015, Chalmers earned $4 million, his highest annual salary.
Courtesy of his income from the NBA, he lives a luxurious life with large mansions and expensive cars.
Reportedly, Chalmers also owned an 11,011-square-foot manor in North Carolina, which he sold for $2.2 million in 2019.
Contract
His initial NBA contract was for 2-year/$1.47 million, and later, he inked a 2-year/$8 million contract in 2011 with the Heat.
In 2013, the Miami Heat exercised a $4 million team option for 2013-14. Following this, Chalmers and the Heat agreed on a 2-year/$ 8.3 million on July 14, 2014.
He also signed a 1-year deal with the Grizzlies for an undisclosed amount, but it was reported to be worth $2.1 million (veteran minimum).
In December 2021, Chalmers signed a 10-day contract worth $138,019 with the Heat.
Charity
Mario Chalmers is the founder of the Mario V. Chalmers Foundation, which supports educational and athletic programs for children.
The foundation funds programs for breast cancer research and treatment.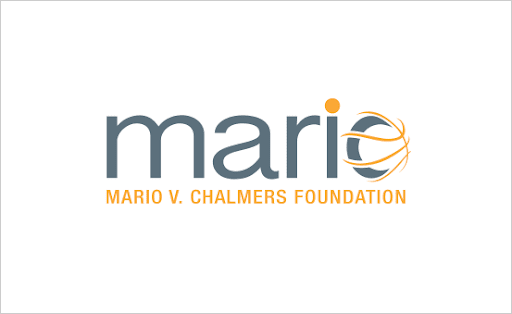 Chalmers has been involved in several such charitable works. For instance, he runs his annual basketball camp, the Mario Chalmers Miracle Shot Basketball Camp.
The camp is dedicated to kids who wish to develop basketball skills. He has also hosted camps in his college town, Kansas, and his hometown, Alaska.
Mario, in 2013, also established Team Rio National, a travel team program. His U-19 team is one of the top-ranked teams in the United States.
Awards & Achievements
Mario Chalmer's career highlights, awards, and achievements are mentioned below.
Greek Cup Winner – (2020)
FIBA Champions League Champion – (2019)
NBA Champion (2012 & 2013)
NBA All-Rookie Second Team – (2009)
NCAA Champion – (2008)
NCAA Tournament Most Outstanding Player – (2008)
Big 12 Co-Defensive Player of the Year – (2007)
Big 12 Tournament MVP – (2006)
McDonald's All-American – (2005)
Third-team Parade All-American – (2005)
Kansas Jayhawks retired the No. 15 jersey in his honor
Social Media Presence
The professional athlete is quite active on his social media handles and keeps his fans entertained by posting about his matches and often posts pictures of his family.
He is available on Instagram under the handle @mchalmers6 and Twitter @mchalmers15.
Instagram: 547k followers
Twitter: 877.5k followers
Popularity
Mario has earned fans from all around the world, playing in the NBA for roughly 10 seasons and in foreign leagues.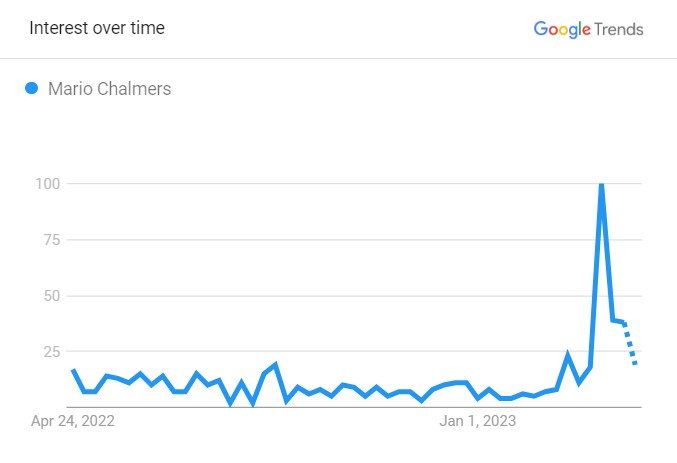 The above graph illustrates the popularity of Mario Chalmers based on Google searches in the United States over a year.
Frequently Asked Questions (FAQs)
Was Mario Chalmers the first pick in the 2008 NBA Draft?
No, Chalmers was the 34th overall pick in the 2008 NBA Draft. He was not picked even in the first round of the draft.
In how many teams have Mario Chalmers starred in the NBA?
Mario Chalmers has been a part of 2 NBA teams. He has starred for Miami Heat on two different occasions.
How many teams has Mario Chalmers changed in the NBA since 2020?
There have been five changes in Chalmers' teams since 2020.