Mark Thomas DeRosa, the New Jersey native, is a former professional third base and second base baseball player. Nonetheless, he was a versatile player who sometimes played a center fielder, first base, pitcher, and catcher.
DeRosa has 15 years of experience in playing professional baseball for the Major League Baseball since 1998.
Although he was injured over and over again in his fifteen years of tenure, he was still the highest-paid player on his team.
Likewise, DeRosa has not only played for one or two teams but a total of eight professional teams, even with his injured wrist.
Currently, DeRosa works for the MLB Network as a studio analyst on MLB Central.
Let's go through the quick facts about DeRosa before we go further into the details.
Mark DeRosa | Quick Facts
Full Name
Mark Thomas DeRosa
Birth Date
February 26, 1975
Birth Place
Passaic, New Jersey, United States of America
Known as
The Pulse, Mark, DeRosa
Religion
Christian
Nationality
American
Ethnicity
Italian-American
Education
Bergen Catholic High School,
Wharton School of the University of Pennsylvania
Horoscope
Pisces
Father's Name
Jack DeRosa
Mother's Name
Not available
Siblings
Not available
Age
48 Years Old
Height
185 cm
Weight
98 kg
Build
Athletic
Eye Color/Hair Color
Dark Brown
Profession
Former professional Major League Baseball player
Current studio analyst for the MLB Network
Active years
1998-2013
Position
Third base and second base
Team
Atlanta Braves, Texas Rangers, Chicago Cubs, Cleveland Indians, St. Louis Cardinals, San Francisco Giants, Washington Nationals, Toronto Blue Jays.
Marital Status
Married
Spouse
Heidi Lynn Miller (DeRosa)
Children
Two, Gabriella Faith DeRosa (daughter) and Brooks DeRosa (son)
Net Worth
Estimated $20 million
Social Media
Instagram, Twitter
Merch
Jersey, Poster
Last Update
December, 2023
Mark DeRosa | Early Life, Education, and Family
Born on February 26, 1975, in Passaic, New Jersey, DeRosa grew up in Carlstadt. His father is the late Jack DeRosa, who passed away in 2012 fighting cancer.
However, the name of DeRosa's mother is not available yet. Similarly, his siblings' information is also unclear; however, few reports state that he is not the only child.
Furthermore, DeRosa finished high school at Bergen Catholic High Schooling Oradell, New Jersey. Not to forget, he won the all-state honors in baseball and football as well.
Similarly, DeRosa graduated from Wharton School of the University of Pennsylvania in 1997. Also, he played college varsity baseball as a quarterback.
Mark DeRosa | Height and Weight
As a former professional baseball player, Mark DeRosa stands tall at 185 cm and weighs 98 kg.
Similarly, even as a retired professional, he has maintained his body to become fit.
He has dark brown hair to complement his dark brown eyes.
Additionally, his zodiac sign is Pisces, and naturally, he is selfless. For instance, he used to mentor his younger teammates.
Mark DeRosa | MLB Career
Atlanta Braves
In the 1996 Major League Baseball Draft, the Atlanta Braves selected DeRosa in the 7th round after college baseball. Further, on September 2, 1998, he made his MLB debut as a shortstop.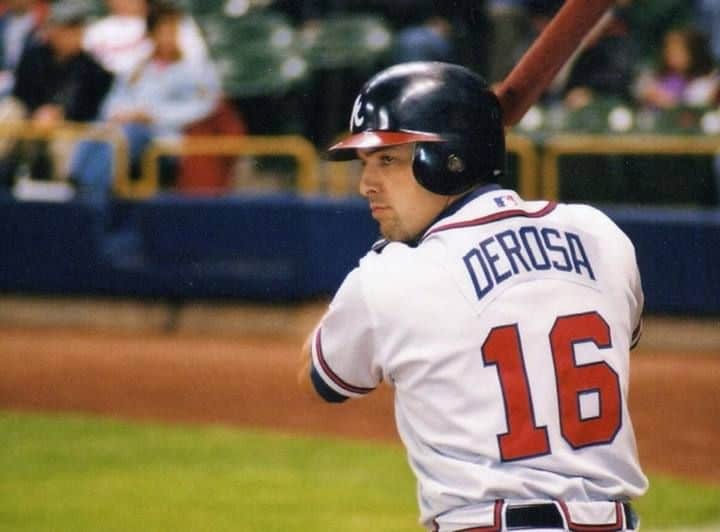 Even though the Braves drafted DeRosa, he spent much of his time from 1998 to 2001 as a backup. However, in 2002, as a backup player, DeRosa's field time was increasing than before, and they had a batting average of .297.
After a couple of years of playing as a backup, Derosa finally got the spot after Vinny Castilla's departure.
But unfortunately, DeRosa played unsatisfactorily, which he acknowledged himself. As a result, he was demoted back to a backup player.
As unfavorable for DeRosa as it could get, The Braves declined to sign a 2005 season contract.
Deion Sanders Bio: Height, Net Worth, Position, Children, Career, Age Wiki.
Texas Rangers
After he was opted out by the Braves, DeRosa signed with the Texas Rangers. However, he could not play for long due to injuries and delayed his starting lineup.
Finally, in May 2006, he got the opportunity to play to start over. Surprisingly, DeRosa played commendably and scored his career-high 74 points.
Chicago Cubs
Furthermore, DeRosa signed a three-year contract with the Chicago Cubs on November 14, 2006, an off-season signing by the Cubs.
Besides, DeRosa played 149 games for the cubs and recorded ten home runs along with 74 RBIs.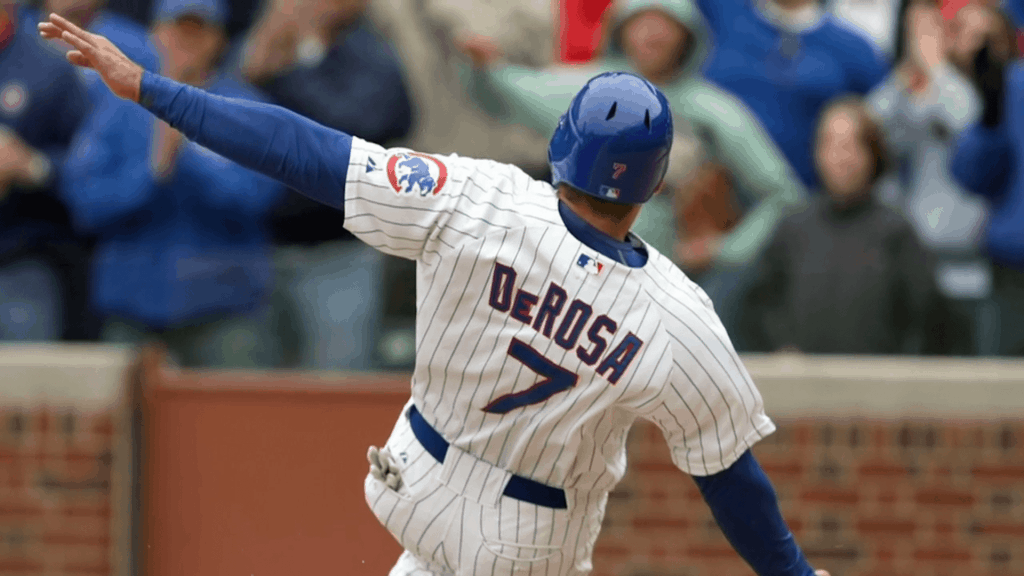 But tragically, Mark DeRosa was taken to a hospital on February 23, 2008, after he had trouble breathing and a rapid heartbeat.
A couple of days after that, he completed the heart procedure to improve his irregular heartbeat. Thenceforth, DeRosa got his nickname "The Pulse."
Besides his health in 2008, it was a pretty successful season for Mark.
He scored his career-high points with 21 home runs and 87 RBIs, leading the Cubs to the best record in National League.
Also read Casey Sadler Bio: 2020, Wife, Trade, Career, Contract, Net Worth Wiki.
Cleveland Indians
At a later date in 2008, the Cubs traded DeRosa to the Cleveland Indians. On April 10 in the following year, the New Jersey native played as a third base for the Indians for the first time.
As luck would have it, DeRosa received comparatively more time on the field due to injuries to other team members.
On June 19, 2009, when the Cleveland Indians played against the Cubs at Wrigley Field, DeRosa received a standing ovation from the Cubs' fans.
The fans praised the opposing player against their home team in a tie game.
St Louis Cardinals
Furthermore, on June 27, 2009, Cleveland Indians traded DeRosa to St. Louis Cardinals in exchange for Chris Perez and Jess Todd.
However, the former Cleveland third base player was put on the disabled list because of his wrist injury.
Moreover, on October 26, DeRosa had to undergo surgery to repair a torn tendon sheath. Further, in 2010, DeRosa turned down the Cardinals' offer of salary negotiation and moved on from them.
San Francisco Giants
Following his renunciation with the Cardinals, on December 29, 2009, DeRosa signed a two-year contract with the San Francisco Giants. Yet, he could not play his best at the beginning of the season because he experienced numbness in his left hand.
What's more is that, on May 11, 2010, when he went for a medical examination, the injured athlete found out that his earlier wrist surgery and been a case of total negligence.
To top that off, it was the end of the season for DeRosa, as the Giants announced that he had to go through a long-term surgery.
However, the Giants won the World Series that season.
Having said that, on May 18, 2011, after he returned to the field, ready and healthy, DeRosa injured the same wrist that had been operated on earlier. As a result, many people, including his team and his fans, though it was the end of his career.
However, on August 4, 2011, the third base swinger appeared in the Giants field for the last season.
San Francisco (SF) Giants Camo Hats: Carry Luck to the Ground.
Washington Nationals
Thereafter, on December 22, 2011, the Washington Nationals offered a one-year contract to DeRosa. And as if sequentially, DeRosa was put on the disabled list on April 29, 2012, due to muscle strain.
Further, when he returned from the disabled list on September 1, his playing was limited. However, he became a notable mentor for his younger teammates.
You might be interested in buying Mark DeRosa's autographed items like baseball, cards, and many more!
Toronto Blue Jays
On January 22, 2013, DeRosa signed a one-year contract with the Toronto Blue Jays. Surprisingly, on July 27, 2013, the former professional baseball player hit his 100th home run.
He solely led the team to an advantage point in the second inning.
He played as a pinch-hitter, third base, second base, first base, and a designated hitter for the Blue Jays in the 2013 season.
In August, Derosa received an offer of the trade from an unnamed team, but the exchange never occurred.
Later, in October, the Blue Jays decided to extend the contract with DeRosa. Despite the offer, it was announced on November 12, 2013, that DeRosa would be retiring.
You might be interested in Kevin Kiermaier – Tampa Bay Rays, Marriage, and Net Worth.
MLB Network
Shortly after his retirement in November, the MLB Network offered him a position as a studio analyst. DeRosa currently serves as a co-host and an analyst on the weekday morning show, MLB Central, in company with Robert Flores and Lauren Shehadi.
Besides, he was also the broadcast announcer for the MLB video game franchise, MLB: The Show.
Andrew McCutchen Bio: Early Life, Career, Love, Net Worth.
Mark DeRosa | Marriage and Personal Life
Mark DeRosa tied the knot with Heidi DeRosa in 2003. They have two lovely children; daughter Gabriella Faith DeRosa and son Brooks DeRosa.
@HeidiDeRosa 16 years of wedded bliss!!! #smoke pic.twitter.com/RTqG0FQvsA

— Mark DeRosa (@markdero7) February 2, 2019
Additionally, DeRosa's wife used to be a professional fashion model, but then she retired. Also, her maiden name is Heidi Lynn Miller, which she chose to change after marriage. Moreover, in 2008, Fantasy Baseball Dugout voted Heidi as the "Baseball's Hottest Wife."
To top that, Heidi makes mouth-watering delicacies and has a separate Instagram account (@lipglossandsweatpants) specifically for showcasing her cooking skills.
Similarly, DeRosa's daughter, Gabriella, who turned 17 years in July 2020, is also an award-winning member of her school volleyball team.
Currently, the DeRosa family lives in his traditional-style exquisite home in Atlanta, Georgia.
To the absolute Rock of our family!!! Happy Mother's Day @HeidiDeRosa pic.twitter.com/2vuyq6CU9R

— Mark DeRosa (@markdero7) May 13, 2018
Mark DeRosa | Net Worth and Income
Mark DeRosa, who has given almost sixteen years of his life to the MLB, was one of his team's highest-paid players.
He has an estimated net worth of $20 million as of 2020.
With his earnings from multiple contracts with multiple teams, he must have saved up a decent amount. As mentioned above, he has a luxurious house and is rumored to be sold for around $3.5 million. It is a seven-year-old house that has a vintage Hollywood vibe.
Moving on, as an analyst for the MLB Network, with many years of field experience, DeRosa probably earns around $1 million approximately.
Whatsoever, Mark DeRosa clearly lives a luxurious life with his gorgeous wife and two lovely children.
Mark DeRosa exemplifies the word versatile.
Since retiring with the Blue Jays in 2013, DeRosa has taken part in virtually every mode of MLB media.
He appears daily as a studio analyst on the MLB Network's flagship show, MLB Tonight, and MLB Central.
He has written for the Players' Tribune and appeared on TruTV's Impractical Jokers, a hidden camera show.
However, today's young baseball fans might be most familiar with DeRosa for his role in the world of video games.
Since 2018, he has performed as a reporter in expert baseball's best-known and best-selling game, MLB: The Show.
Just as he did as a player, DeRosa has tried out and gained success in various places across the baseball world, proving his versatility—a benefitted player on the diamond, and now one off of it as well.
Mark DeRosa | Social Media Presence
Instagram- @markdero7 – 7589 followers
Twitter – @markdero7 – 38.4k followers
Mark DeRosa | FAQs
What is Mark DeRosa's career statistic like?
Making his professional debut on September 2, 1998, for the Atlanta Braves, Mark DeRosa devoted fifteen years of his life to the field. Well, he had his last game on September 29, 2013, for the Toronto Blue Jays.
Altogether, he maintained a career statistic of .268 batting average, 100 home runs, and 494 runs batted in. During his career, Mark played a total of 1,241 games (3,633 at-bats), where he maintained 538 runs scored, 975 hits, 196 doubles, and 12 triples.
What is Mark DeRosa's batting stance?
Mark DeRosa is a right-handed batter.