When talking about the Mark Sanchez kids, we know he has a son named Daniel with his ex-partner, the supermodel Bobby T.
Daniel and Mark share a very incredible father-son bond, and they often do a lot of activities together.
Mark Travis John Sanchez was born in Long Beach, California, on November 11, 1986. He is an American former professional football player who was a quarterback in the National Football League (NFL) for ten seasons.
Mark joined his high school's football team while attending Santa Margarita High School.
Then, before joining junior year of high school, Sanchez transferred to Mission Viejo.
He kept pushing on through his high school journey, gaining recognition from colleges nationwide.
Several major college recruiting agencies named Sanchez football player of the year.
He was rated the top quarterback in the country when his high school football career ended in 2005. Sanchez then committed to the University of Southern California in July 2004.
Presently, Sanchez is a color analyst for Fox and Fox Sports 1's NFL coverage.
What Do We Know About Mark Sanchez Kids?
Talking about Mark Sanchez's kids, he has a handsome son named Daniel. Mark's son was born on November 27, 2016.
Daniel's mother is a supermodel named Bobby T, who has already separated from Mark. However, the pair are still looking after Daniel.
Mark's Instagram is full of Daniel's photos and reels, often showing how close the father-son duo are.
Daniel is a very ambitious young man with big dreams, dreams bigger than his father.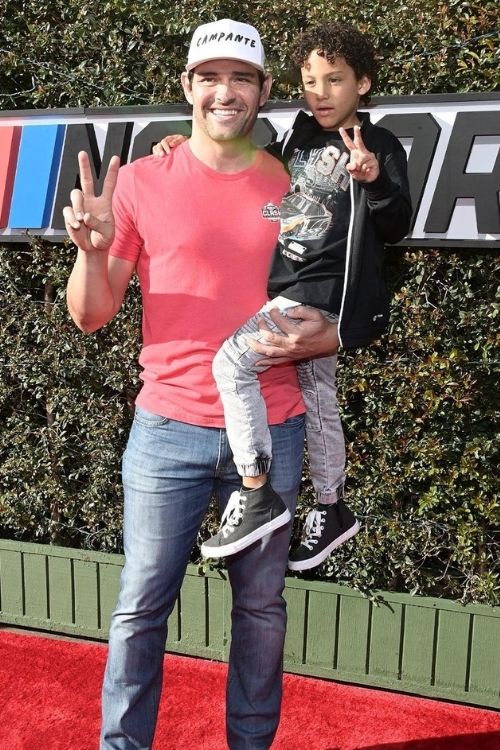 When asked what Daniel wants to do when he grows up, he said he wants to be a chef, a scientist, and a ball player.
Furthermore, he follows his dreams by accepting them as his hobby and practicing them with his father.
Mark can be seen teaching Daniel how to play ball along with the young man's other cousins.
On top of that, he also teaches Daniel to bake pizza and man the grill by showing him how to barbecue.
The duo do not only share similar hobbies but looks, too. Mark looked just like his son Daniel when he was still in college.
Their list of father-son activities is endless, as they often embark on voyages, fishing trips, and even golfing trips.
Looking at his Instagram, we can easily figure out that Mark loves and cares for his son very much.
His Childhood Was Tough As His Father Was Strict
Mark's parents got divorced when he was just four years old. It was a tough decision, but he had to stay with his father and brothers.
Nevertheless, their mother continued to play an active role in their upbringing. Initially, his father and his brother resided in Whittier and Pico Rivera.
However, when Mark turned six, his father relocated them to Rancho Santa Margarita, a mostly white city in Orange County.
Mark's father later remarried and instilled a strict upbringing to mold them into future leaders.
During Mark's childhood, his father made a routine that combined physical and mental training.
In this routine, Mark had to dribble a basketball without looking while reciting multiplication tables.
He also practiced baseball swings in a batting cage while fielding questions about the periodic table.
Mark's father believed that these integrated drills aimed to nurture quick thinking and self-assurance, skills he considered invaluable not only in sports but in all aspects of Mark's life.